Carve Out a Personal Pocket Knife this Christmas with Deejo's Engraving Kit
In Partnership with Deejo
With many of us carving up a ham this holiday season, why not take your talents to some quality EDC from Deejo? It's no secret that we love their fully-customisable pocket knives, so if you want a Christmas gift that's equal parts useful and unique, it's time to get designing. Using the MyDeejo platform, personalising your knife has never been easier or more fun. Within minutes, create a 100% original gift that is both practical, thoughtful, and Exciting, Deejo has taken it one step further this year, allowing customers to tattoo their own blades with an all-new engraving kit. This festive season, reward that special person with a present that reflects their personal flair.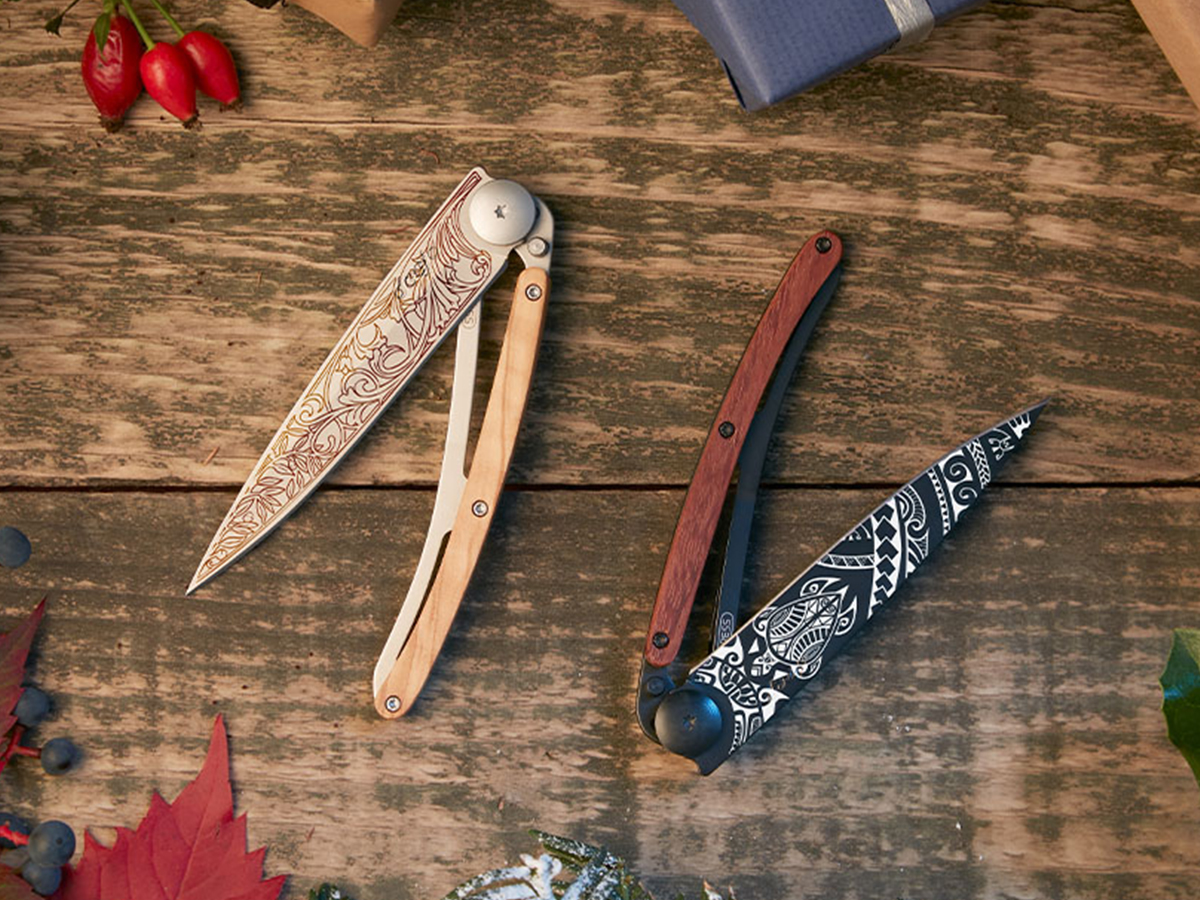 Through their online customisation platform, Deejo allows you to (effortlessly) construct something remarkable. Every part of the knife is up for grabs, including weight, tattoo design, handle material and finish. Choose from 60 individual illustrations to give the blade its own symbolic significance and striking aesthetic. If you're the indecisive type or overwhelmed with the abundance of quality options, some of the best selling tattoos during the holiday season are: Tree, Trout, Terra, Incognita, Eagle, Infinity, Dragon, Viking, Fish, and Art Nouveau. For that extra touch, you can even have their name printed or leave a personal message up to 35 characters down the side of the handle.
If you fancy yourself an artist, or simply want to leave an unforgettable mark, Deejo offers the ability to personally engrave your blade. With their Engraving Kit, tattoo a motif of your choice on the blade that will become yours alone, making the knife all the more special. The box contains its own Deejo 37G "black", with 3 handle mounts (carbon fiber, juniper wood, coralwood), a recto/verso test piece to practice on and an engraver stylus which you'll use to illustrate your steel canvas. Through the sheer power of customisation, Deejo turns a tool into something far more significant. Features such as the engraving kit drive home a keepsake quality, giving the owner something special to pass down from generation to generation.
It doesn't take a fortune teller to confidently predict online shopping is going more chaotic than usual this holiday season, which will in turn put pressure on delivery services. Get ahead of the Christmas shopping rush, so you don't have to worry about delays or other complications. Jump on the MyDeejo platform now and start building your masterpiece with all the customisation features and engraving kit at your disposal. With premium packaging and distribution a focal point of the company, you even can include a 'gift wrapping' option to send your gift across the country, or even around the world.