Soar New Horizons with the Deejo Eagle Pocket Knife
In Partnership with Deejo
When it comes to reliable, contemporary pocket knives, Deejo has you covered. Each item within their range of designer knives is suitable for use while hunting, fishing and foraging. And the unique artworks tattooed on the blades leave a lasting impression. Of all the available designs, it's arguably the eagle tattoo that best embodies the principles of the outdoorsman – freedom, exploration, living off of the land – all desirable traits that can be achieved with a little motivation and the right tools. Deejo can help make this happen. And where else can you find expertly crafted designer pocket knives for under $100?
Their ultra-light Eagle pocket knife is one of the most popular. It's crafted from hardened stainless steel, so there's zero chance of rust. The mirrored steel provides a crisp, light-catching finish. And yet, it's hard to pass up the black titanium coating. This optional finish is equal parts protection and flair, as it improves the blade's wear resistance extending lifespan by years. Plus, the black colouring adds a touch of contemporary styling. The blade is engraved with an eagle tattoo which can be interpreted in several ways. We like to think that this regal bird of prey represents our hunger and drive for success. You might appreciate the eagle as a symbol of freedom and take it as a sign to soar the great outdoors – even if it's only on weekends.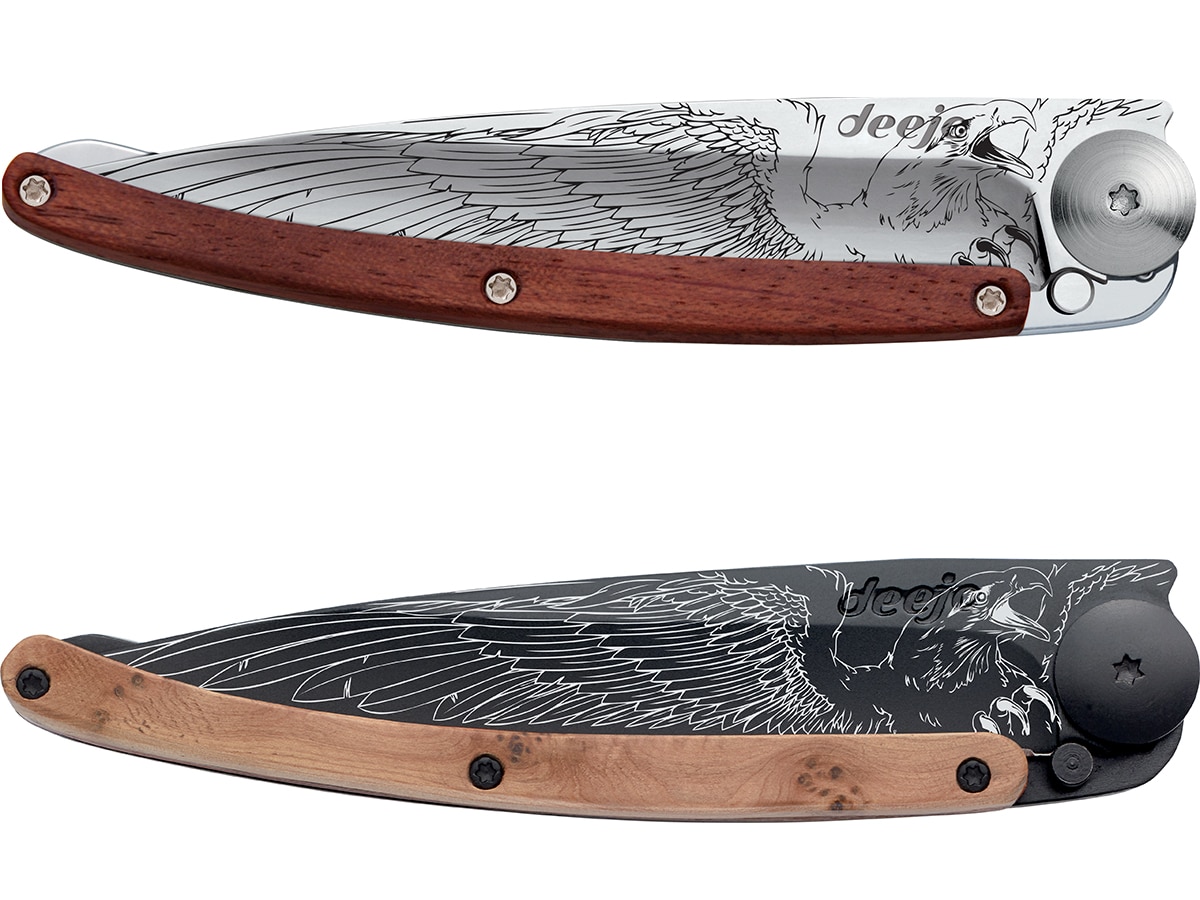 Whether it's in use or simply on display, there's no denying that the Deejo Eagle knife is in a class of its own. Deejo's Eagle knife has a handle of solid juniper. This is a naturally fragrant wood possessing light, peppery aromas. Each delicately veined handle differs in pattern and patina, making your Deejo a preciously unique piece and one of a kind.
A liner lock system keeps the blade secured in place, so there's no risk of it folding when in use. The belt clip provides fast access to the pocket knife and a functional way to carry it—one where everyone can see it on display. Of course, if you're the type to downplay these things, it's called a pocket knife for obvious reasons.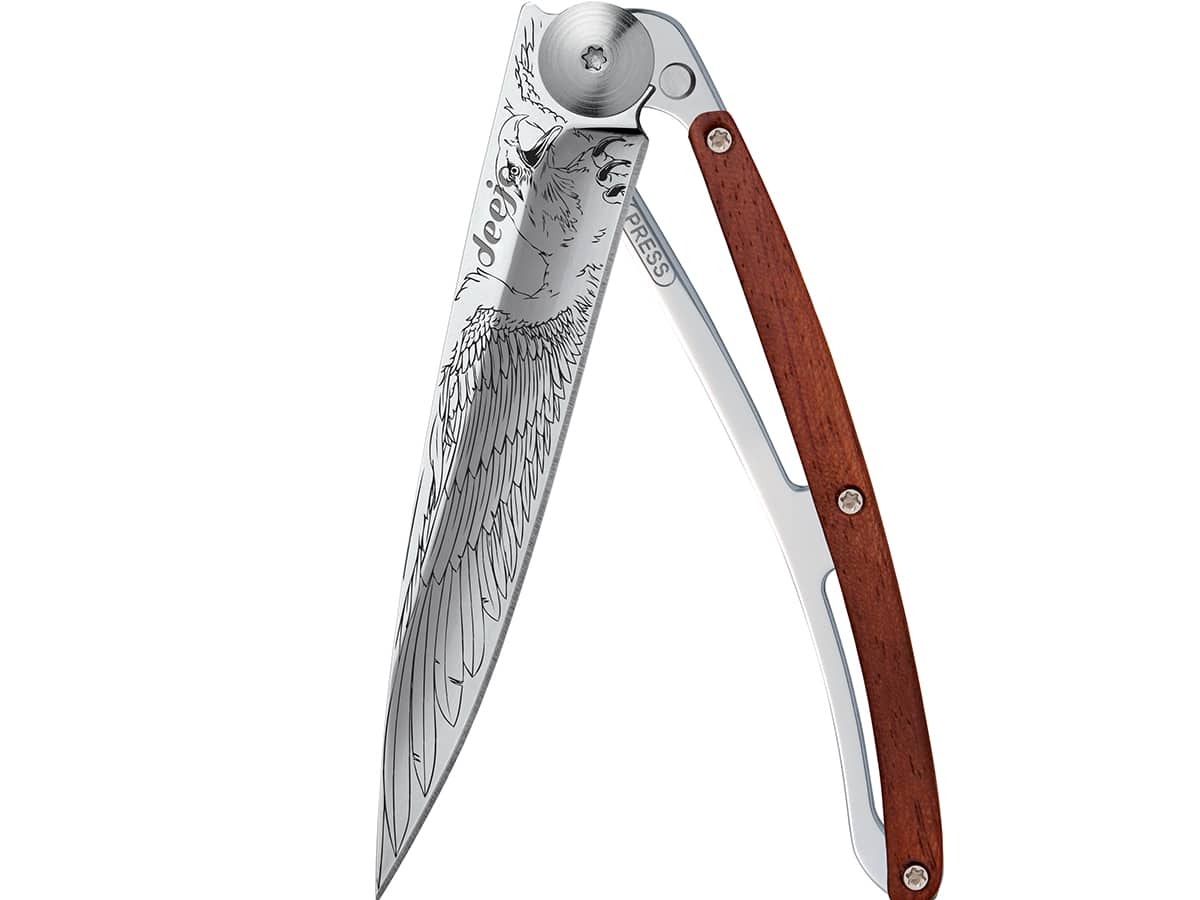 Deejo has a long reputation as purveyors of personalised pocket knives crafted for gents looking to make a statement indoors and out. Their blades are created with unique tattooing laser engraved during production to add further substance and meaning to the highly functional tools. Their knives are masculine and elegant, purposefully designed to accompany a chronograph watch or finely crafted leather goods like a wallet and belt.
If you're not feeling the vibes of an eagle tattoo, Deejo has a limitless selection of designs and materials to choose from, and each knife can be customised to suit individual tastes. Whether you're considering the eagle tattoo or any number of Deejo designs, we guarantee that you won't find another pocket knife with such class and craftmanship shy of $100.
Deejo Eagle Knife Specifications
Blade thickness: 0.9cm
Blade length: 9.5cm
Closed length: 11cm
Open length: 20.5cm
Weight: 37g
Material: Stainless Steel, titanium, juniper
Price: $89.90