Deejo Pocket Knives Make for the Perfect Father's Day Gift
In Partnership with Deejo
Not sure what to get your dad for Father's Day this year? If he likes to roll with some quality EDC in his pocket, we have just the gift for you (or him, rather). It goes by the name of Deejo and it takes foldable pocket knives to cool and customisable extremes. As such, this compact warrior makes for the ideal gift come the holidays and one that your dad will simply love. You've done good, son. Real good.
Combining quality and personalisation to powerful effect, Deejo Pocket Knives reimagines the entire concept of EDC. The journey begins with the brand's tremendously accessible online platform: MyDeejo. Once there, you have your options, to say the least. For starters, you'll decide whether you want the blade finished in mirror, grey titanium, or black titanium. Next up is the tattoo, i.e. the visuals that will grace the blade and give it an aesthetic edge. On that front, Deejo gives you over 60 illustrations to choose from, including dreamcatcher, feather, art deco, tribal, and many more.
After selecting the finish and the tattoo, you'll choose both the colour and material of the handle. For the material, specifically, Deejo puts premium options like natural wood or carbon fibre at your disposal. Put it all together and you end up with thousands of permutations and an overabundance of creative freedom. To seal the distinctive deal, you can engrave a personal message onto the handle.
Once you've landed on your overall design, Deejo uses its advanced 3D platform to bring your singular vision to life. And while the customisation factor reigns supreme, don't forget that this is one heck of a quality pocket knife. To that end, it's ultra-light, easily foldable, sharp, strong, and packaged in a trusty holster. Presuming you take good care of it, this premium pocket knife will last a lifetime, all the while resonating on a truly personal level.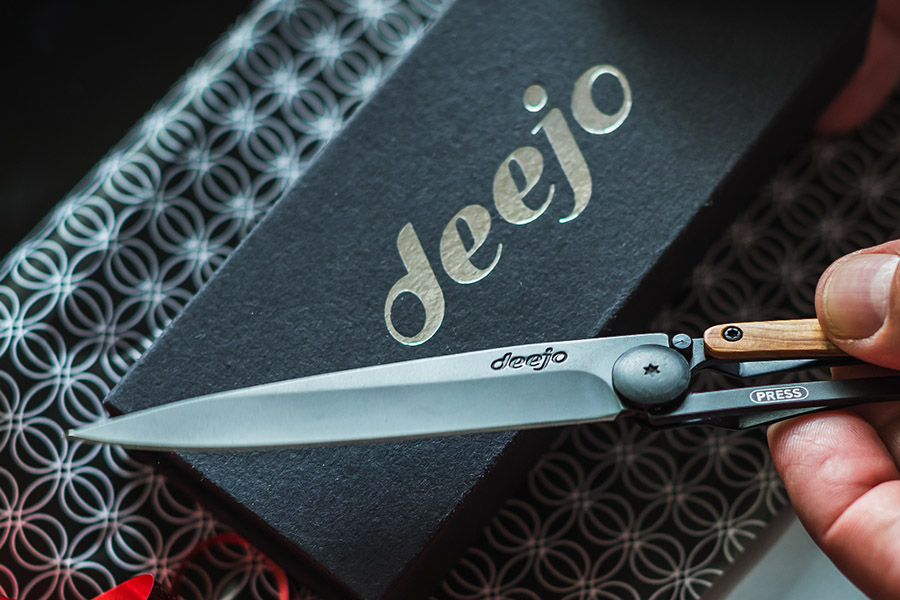 Should you be shopping for Dad, the process is no different. Of course, you'll want to consider his individual preferences every step of the way. For the engraving, you might go with a note of gratitude or a message that speaks to his outlook on life. If you can manage to land on an engraving that does both at the same time, more power to you. No matter what you decide, the result is a Father's Day Gift like no other, which emanates with identity, functionality, and thoughtfulness alike. Put simply, there will be no mistaking his pocket knife for any other.
As we mentioned above, using the MyDeejo platform couldn't be any easier and best of all, Deejo will deliver your order to your door within 3 to 5 days at the most. Not bad for such a gift on measure. However, don't take that to mean you should procrastinate or slack off until Father's Day. Get the proper headstart by visiting the site now so you can check "buy Dad his gift" off your list nice and early. While you're over there, you might want to get one for yourself. If not, you'll wish you had by the time you lay your eyes on Dad's brilliant new pocket knife.