Deejo Pocket Knives Are the Best Valentine's Day Gift You Didn't Think Of
In Partnership with Deejo
Flowers. Chocolates. Scented candles. Handmade soaps. Yawn. That's what we have to say about these common Valentine's Day gifts, which have been overplayed to the point of being downright predictable. For a gift that your partner will never see coming, go with a Deejo pocket knife instead. Not just useful for everyday needs, this unique EDC allows you to match your loved one's personality by customising the blade, handle, size, finish, and text. And for all the single folks out there, this is also the perfect gift to treat yourself any time of year.
Thanks to Deejo's customisable platform—aka MyDeejo—these incredible pocket knives take on singular allure for any given holiday or occasion. For Valentine's Day, some of the most popular text dedications include "Happy Valentine's Day, Love (insert name)," "Love You Forever," and "Forever and Always," to name just a few. You're also encouraged to create a special message of your own. Along similar lines, there are over 80 different 'tattoos' (i.e. symbolic illustrations) to choose from.
Meanwhile, the blade illustration and personalised text are but two amongst a host of customisable features. Choose between a variety of weights, finishes, and handle materials, until you've created something truly special and unique. Functional in its own right, the EDC doubles as a lasting heirloom and expressive personal statement. As a gift for yourself or a loved one, it will have enduring symbolic value both now and for years to come.
To help get you off on the right foot, here are some of Deejo's most popular Valentine's Day sellers:
You'll also like:
Shop Smarter This Valentine's Day: 10 Gifts For Every Budget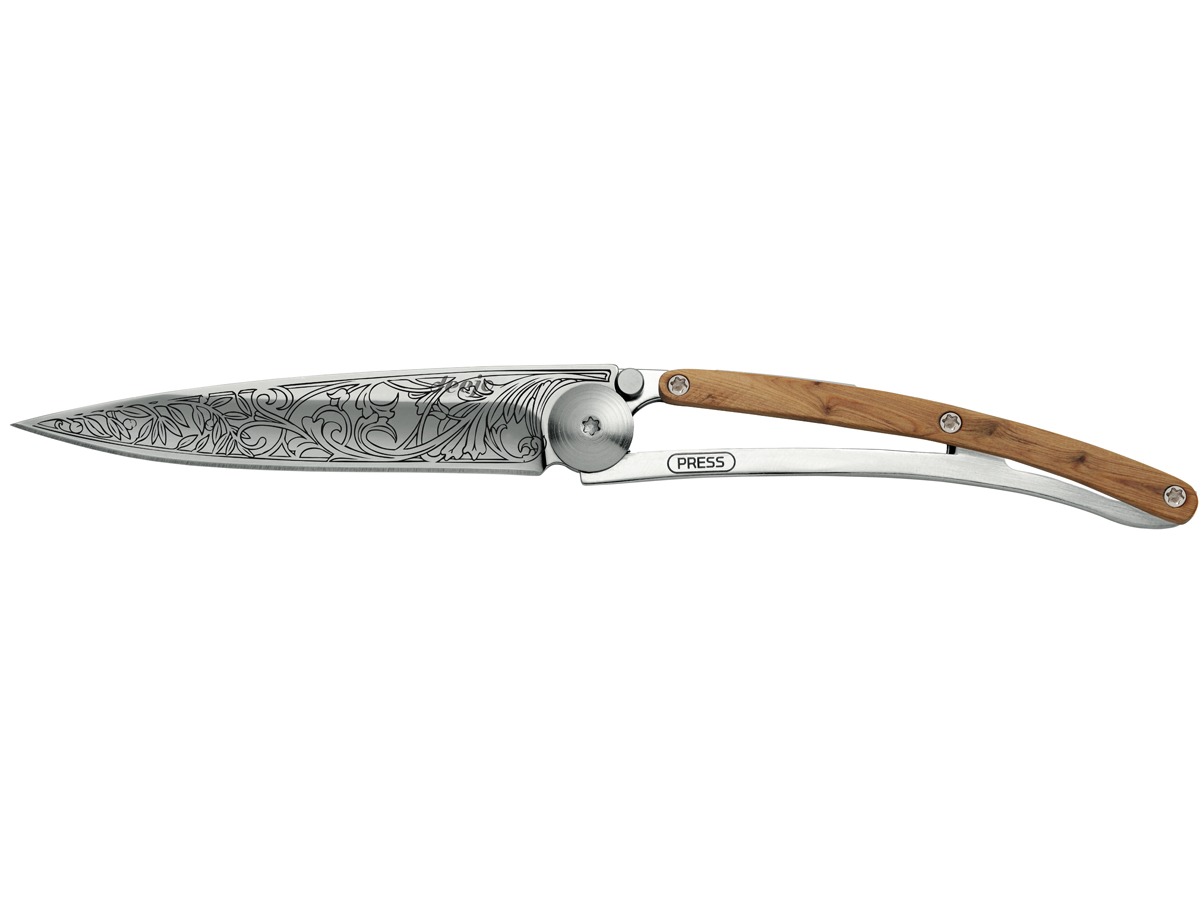 Art Nouveau
This signature blade illustration takes inspiration from the Art Nouveau period, which peaked in the early 20th century and never went out of style. Expertly rendered, it plays upon the natural forms and curves of plants and flower life.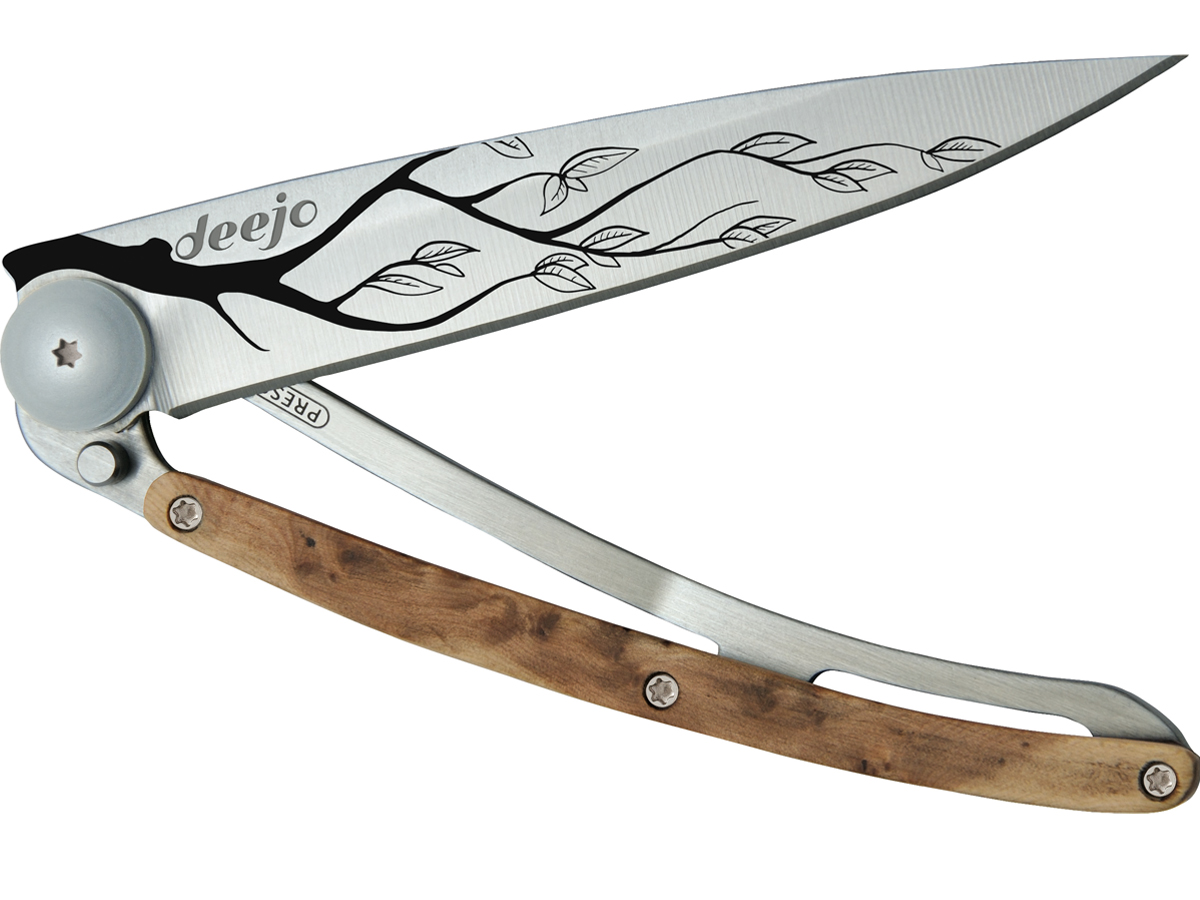 Tree
A solitary tree branch and its graceful leaves extend across the blade of this best-selling Deejo knife. Minimalist in spirit, it conjures a zen-like character through the use of meticulous detail.
Terra Incognita
The term "Terra Incognita" refers to unexplored territory and likewise inspires the illustrative design of this cartography-themed blade. With a distinctive old-world vibe, it invokes the timeless thrill of discovery and adventure.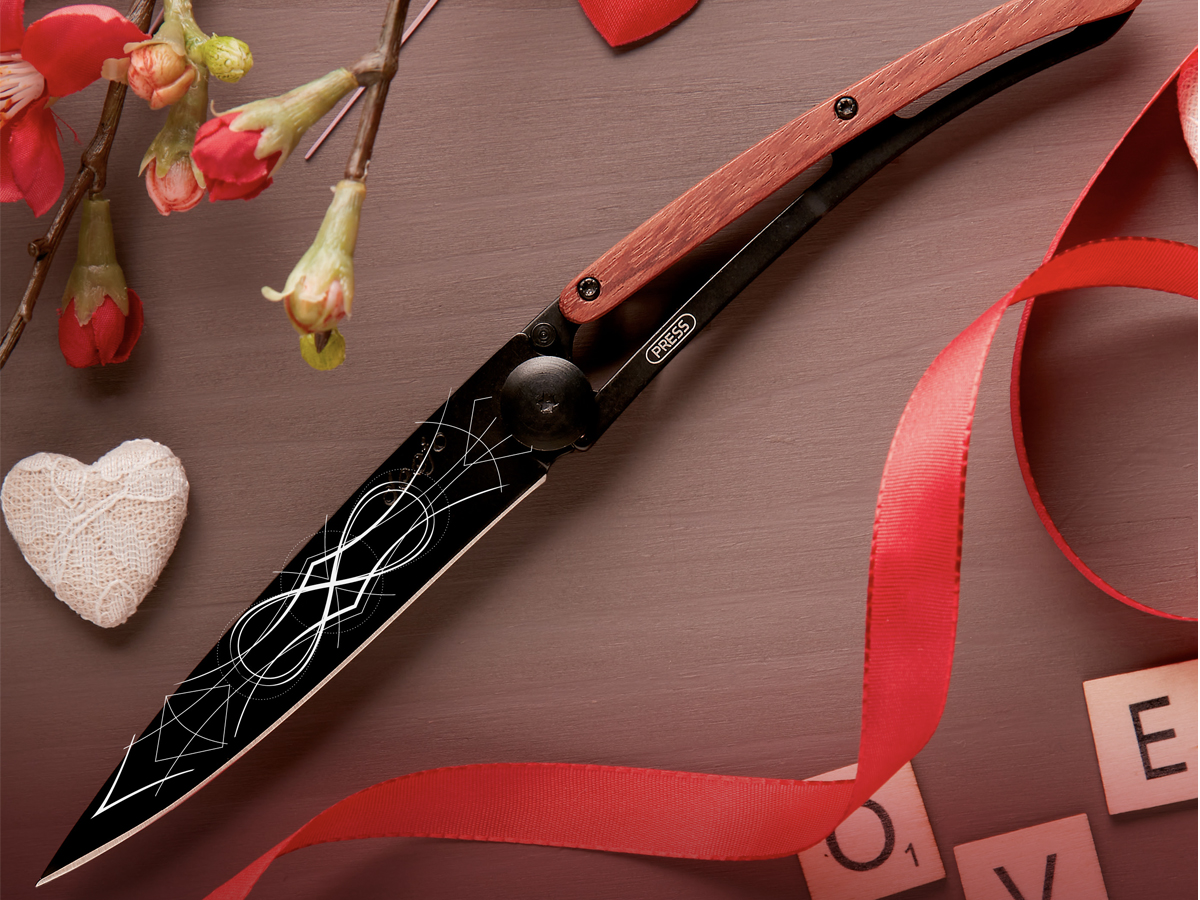 Infinity
One expects powerful things from a name like "Infinity" and this entrancing blade tattoo duly delivers. To gaze upon its intricate detailing is to lose yourself in the endless possibilities of time and space.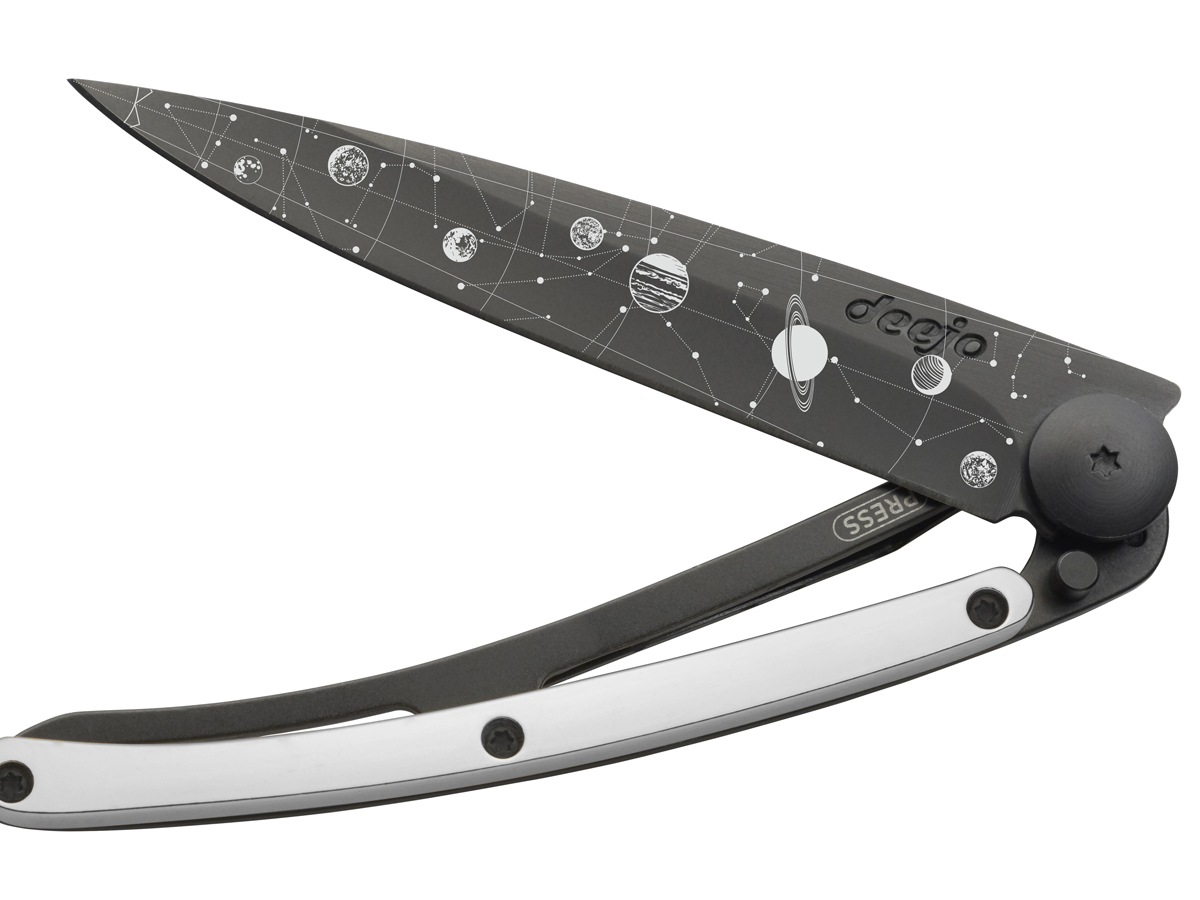 Astro
Does your loved one ponder the glories of the galaxy? Then he or she will adore this unmistakable blade illustration, which turns the planets and constellations into a compact work of art.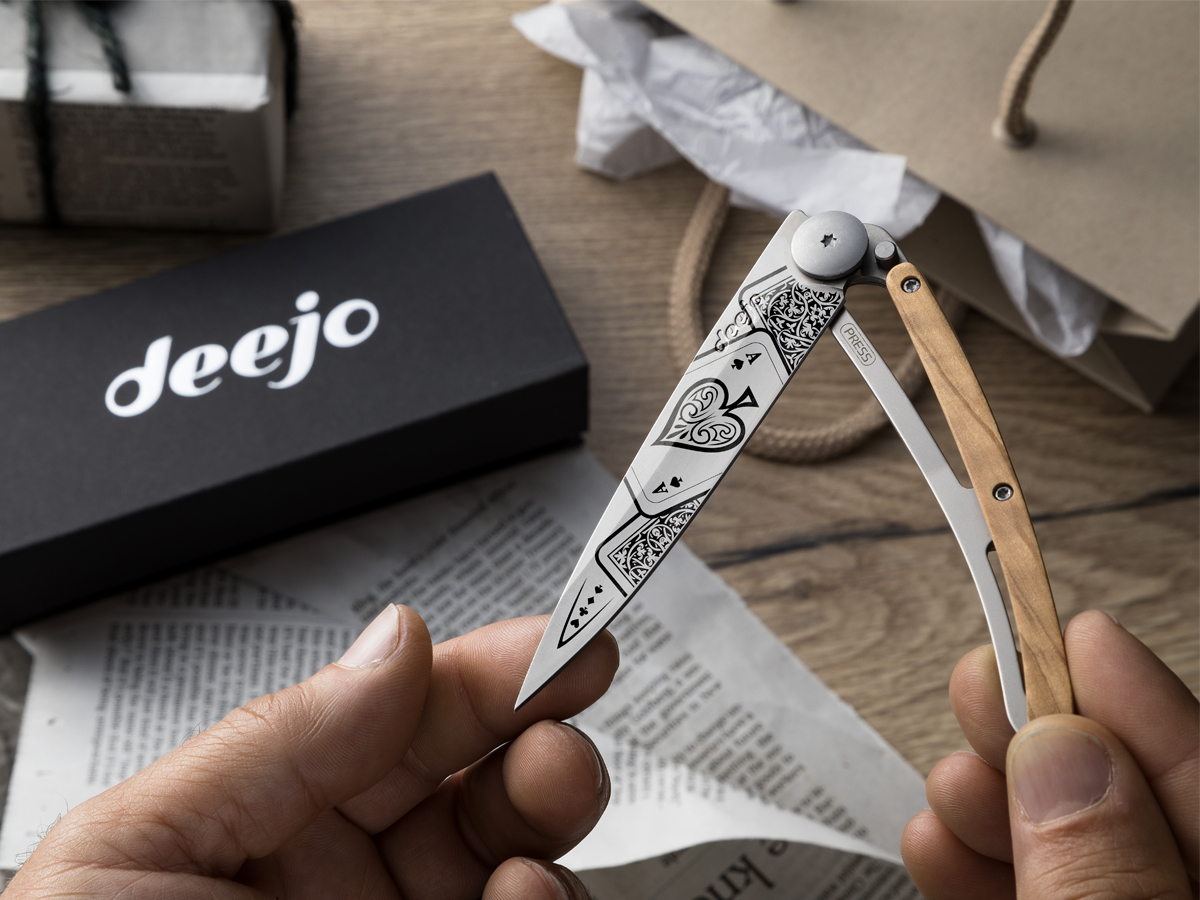 Sure, you can play it safe this Valentine's Day by picking up the same old boring fare, but where's the fun in that? For a gift that your partner will truly cherish and remember, make it a Deejo instead. There are over 80 blade illustrations to choose from and that's not to mention the text engraving and all the other customisable features. And if you're flying solo this year, get one for yourself. As you'll quickly discover, there's no wrong way to Deejo.
More Gift Guides:
5 Perfect Gifts That Say 'I Love You' Without Words
Moet & Chandon Launch Valentine's Day Gift Packages
2022 Valentine's Day Gift Guide For Her
View all of our 2022 Valentine's Day Gift Guides