5 Wine and Chocolate Pairings for Easter
That time of year where we drink too much and stuff our faces with chocolate is upon us again, and frankly, it couldn't have come sooner. This year has been a bit of a write-off so far, but that doesn't mean you can make the most of the Easter long weekend. Forget family barbeques and egg hunts, this is the real deal, pairing wine with chocolate. If you want to make a good Easter impression on a special someone, a well-paired wine and dessert combo can make you seem sophisticated, classy and, hopefully dateable.
Here are our top 5 picks for wine and chocolate pairings for Easter 2020.
You'll also like:
9 Easy Easter Cocktail Recipes to Kickstart the Long Weekend
How to Make Whipped Coffee: The Viral TikTok Recipe
How to Make the Perfect Old Fashioned for International Whisky Day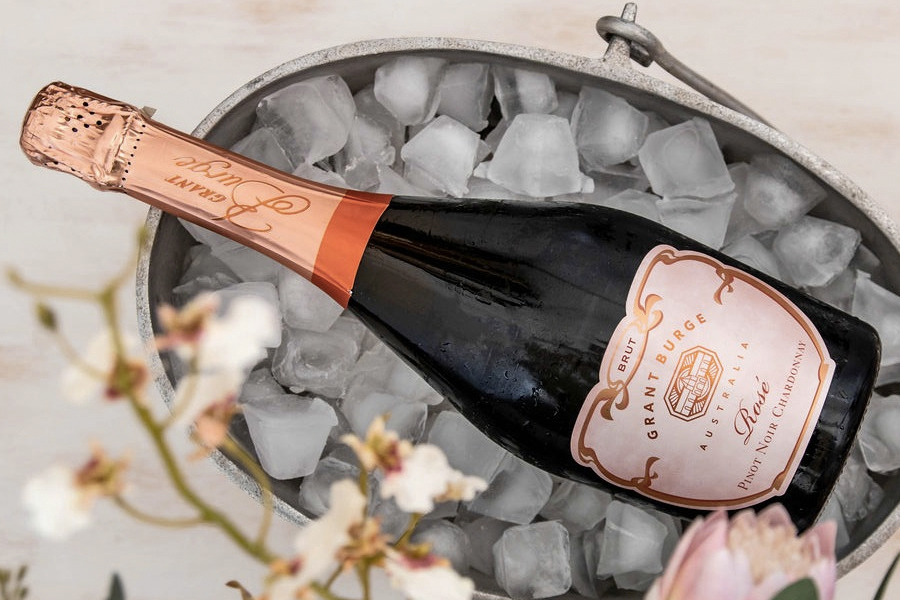 1. Citrus White Chocolate and Rosé
The late Autumn afternoon is prime time for wine, and rosé is the order of the day. When it comes to pairing a light and crisp rosé, working with natural acidity is key. For this reason, opting for citrus-infused chocolate will work well, but it is important to balance the flavour with a bit of sweetness. Dark chocolate works well with citrus but doesn't always compute with rosé, so your best bet is actually white chocolate. We recommend going for something with a bit of bite, like the Grant Burge Sparkling Rosé.
This rich wine is generous on the palate with a decadently creamy mouth-feel. It's balanced with a crisp acidity and vibrant fruit flavours, so when paired with a zesty white chocolate, these fruity notes are accentuated. Further, the sparkling component of the wine acts as the perfect bubbly compliment, playing off the celebratory nature of the long weekend.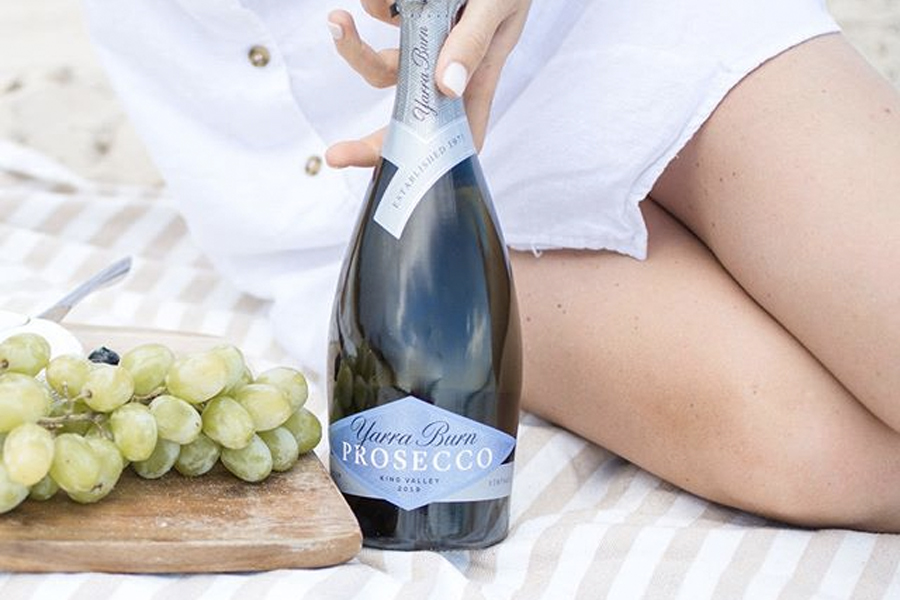 2. Milk Chocolate Almond and Prosecco
A light and vibrant combination, milk chocolate with almond is perfect for an afternoon tipple. Like a good grazing board, nuts like almonds work well with vibrant non-citrus fruits. For this classic pairing, we've gone with Yarra Brun Prosecco. Crafted with grapes from the King Valley, this Yarra Burn Prosecco has a vibrant and refreshing palate that features notes of pear, peach skin and pistachio. The wine works well with the almonds and when combined with the creamy rich texture of milk chocolate, the nutty flavours within the wine are highlighted, creating an indulgent match.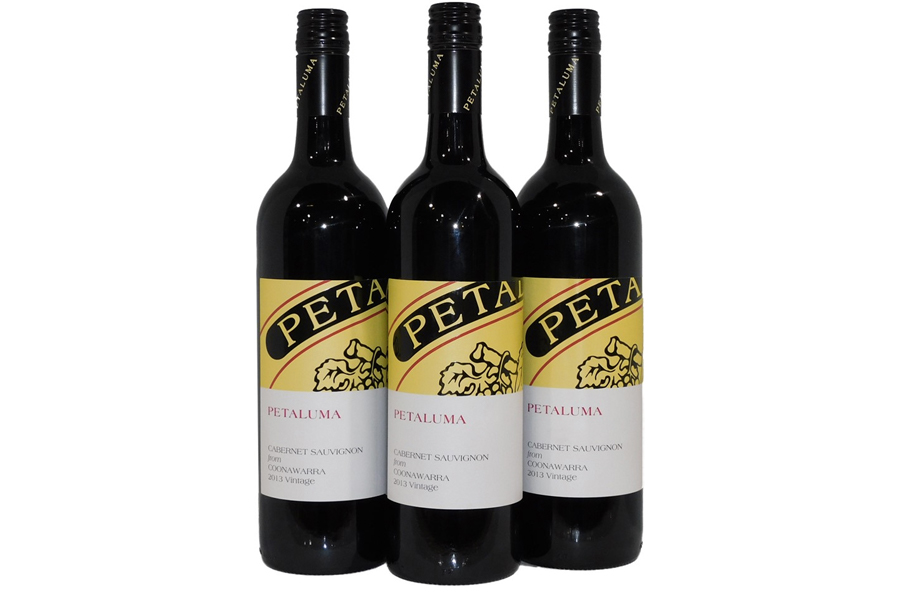 3. Dark Chocolate with Raspberries and Cabernet Savignon
Dark chocolate is indulgently rich, it's part of the reason why the flavours are loved the world over, so when you're pairing it with wine, it's important not to go over-board. Adding subtle notes of fruit can be an excellent way to bring out the vibrancy of the chocolate without overloading on decadence. This Easter, try pairing your favourite dark chocolate with the Petaluma White Label Adelaide Hills Cabernet Sauvignon. The medium-bodied, elegant, dry red wine displays hints of mint, blackberry fruit and cassis with supple tannins on the palate. The abundant berry essences pair well with dark, rich chocolate, but you can always add more fruit on the side for an added flavour hit.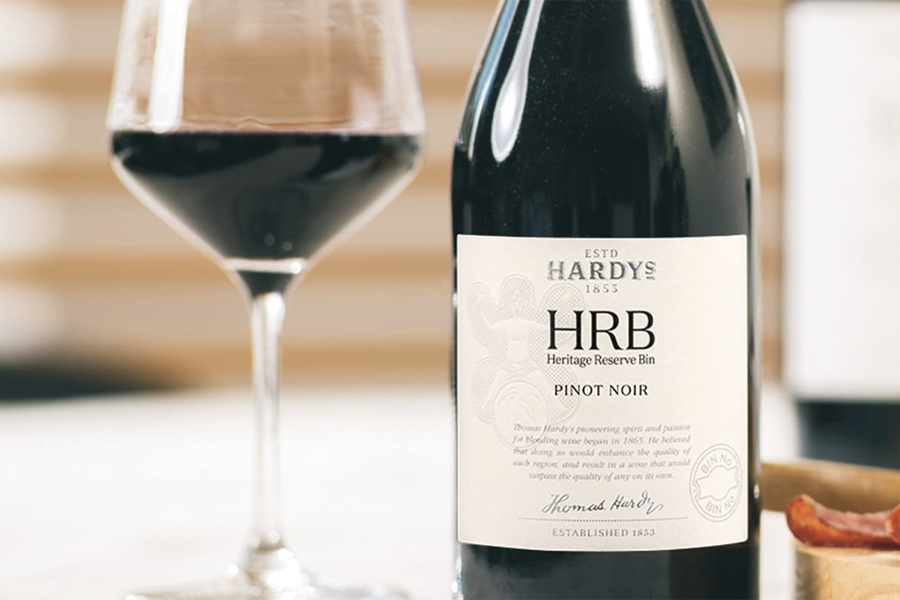 4. Milk Chocolate with Sea Salt Caramel and Pinot Noir
Everybody loves milk chocolate. Super sweet and super creamy, it's what Easter is all about, (other than the whole resurrection stuff). Milk chocolate gets its sweet and lasting flavour from the high sugar content. This cuts through the rich, creamy texture to create a delicate finish that is unforgivably morish. When you pair milk chocolate, you should definitely go for a light to medium-bodied wine that features ripe fruit characteristics to add a little acidity.
For Easter 2020, we've gone with Hardys' HRB Pinot Noir. We chose this one due to its ripe berry palate, fine tannins and subtle oak finish. But rather than just pair the Pinot Noir with the milk chocolate, we opted for a sea salt caramel combo to bring a little more balance to the final result.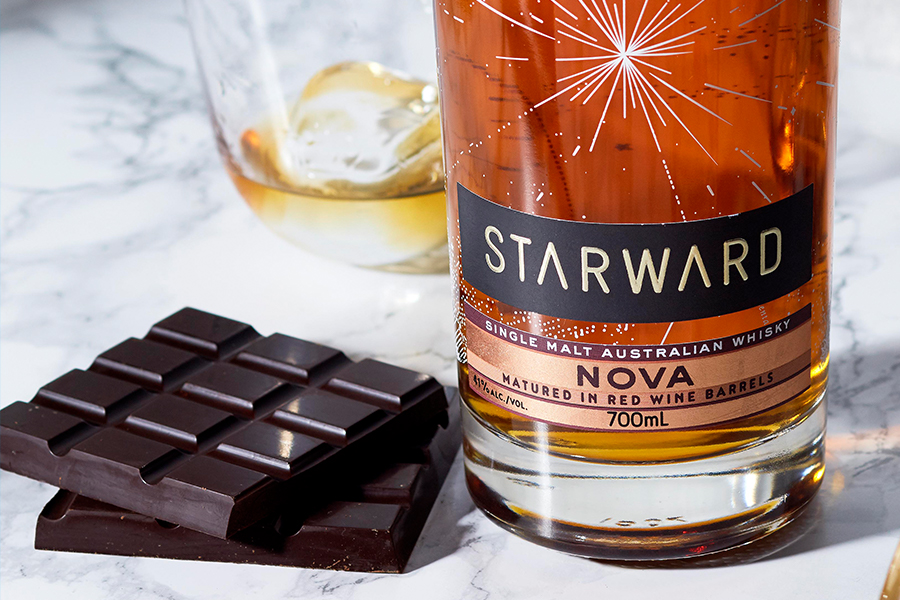 5. Dark Chocolate and Whisky
Once you've polished off the wine, it's time to move to something a little stronger, and that goes for the chocolate too. As we mentioned, dark chocolate can be very strong on the palette, so pairing it with a flavour that cuts through can be super effective, particularly if you're going for a chocolate with over 70 per cent cocoa content. For this pairing we went with a classic, matching an 80 per cent cocoa chocolate with the Starward Nova whisky.
Ok, so we know this is a chocolate and wine pairing list, but who cares? It's all about flavours and one combo we can never go past is whisky and dark chocolate. The smooth whisky works well when paired with rich, full-bodied food. In this instance, the sweet and bitter flavours of the dark chocolate complement the whisky's complex notes, leading a warm mouth-feel to a sweet finish.
Pairing Chocolate with Booze
Look, we know this year's Easter is a bit of no-go for romance, but there's no reason why you can't bring the lessons you've learned into the real world post-pandemic. Store these chocolate, wine and whisky pairings in the back of your mind and prepare your flavour combinations for the ultimate date-night experience. You can thank us later.
You'll also like:
9 Easy Easter Cocktail Recipes to Kickstart the Long Weekend
How to Make Whipped Coffee: The Viral TikTok Recipe
How to Make the Perfect Old Fashioned for International Whisky Day