How to Celebrate the Australian Open in Style with Peroni
For its second year as an official partner of the Australian Open, Peroni Nastro Azzurro—or just Peroni for short—is celebrating in true style. Whether you're at the event or watching from home, the Italian beermaker invites you to partake in a variety of exciting initiatives and offerings. It kicked things off with a summer garden party at Stonefield's, which we were lucky enough to attend (more on that below). Suffice it to say, the brand has mastered the art of hospitality and indulgence alike, and its partnership with the Australian Open is a match made in heaven. Nothing goes better with sports than a cold glass of delicious beer or a hand-selected Aperitivo box, to name just a few things this incredible pairing has in store.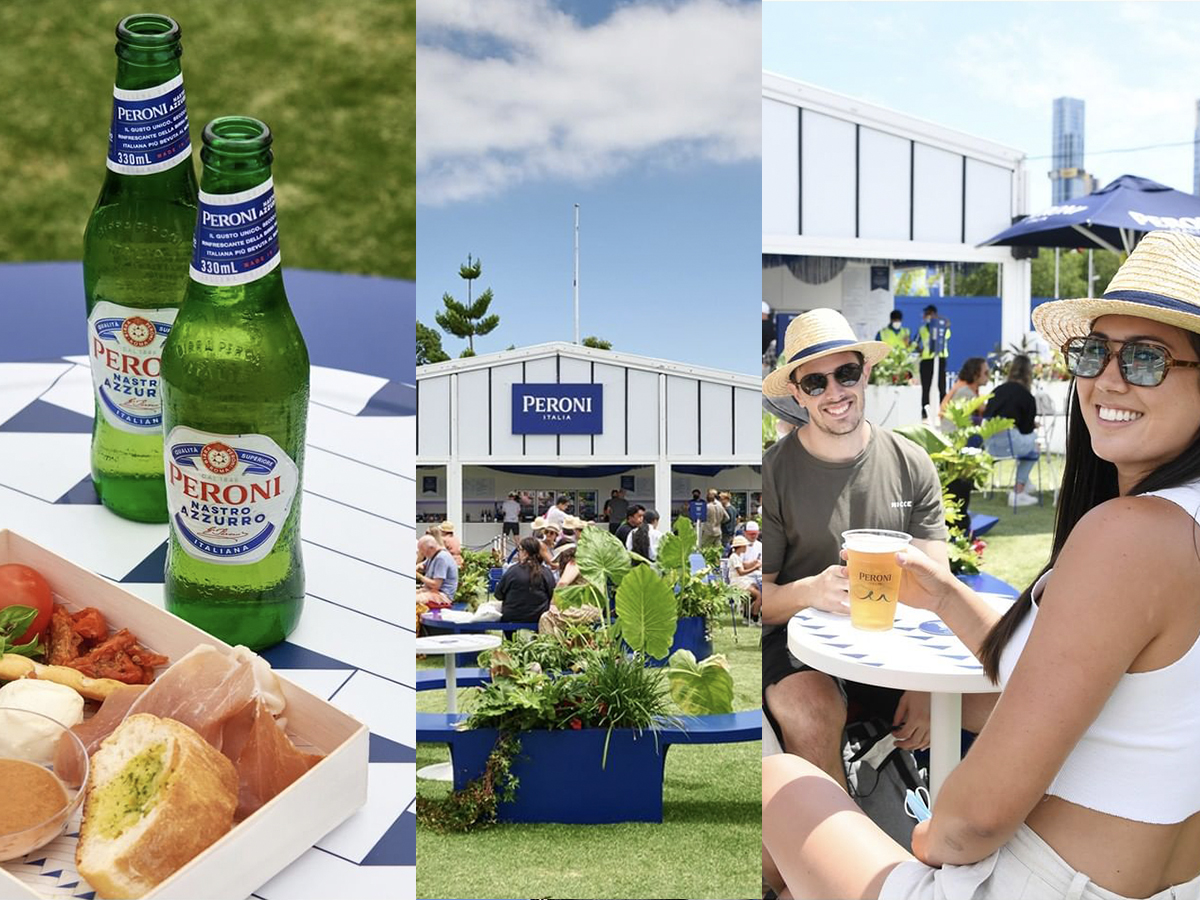 Peroni x the Australian Open 2022
Italy-based Peroni makes it their mission to elevate life's moments and occasions. Synonymous with quality and craftsmanship, it brings a boldly festive spirit to this year's Australian Open. Indeed, nothing sounds sweeter than sipping on some cold suds as you take in the summer heat and watch world-class Grand Slam action unfold before your very eyes. When it's time for a snack, hit up the custom-designed Aperitivo Bar in the Grand Slam Oval, where you'll discover all kinds of delicious food. The bar also provides direct access to Rod Laver Arena, which injects Italian-inspired architecture with flourishes of Peroni blue to create a Mediterranean-style courtside at Melbourne Park.
Whilst physically confined to one location, the Australian Open is really more of a nationwide (well, global) event. Knowing as much, Peroni has teamed up with some of our top hospitality destinations for the second year in a row. The result is a range of immersive in-venue experiences, complete with unique bespoke installations. Each experience is brought to life with help from local artists, musicians, and fashion stylists, and that's not to mention the refreshing beer or specially crafted Aperitivo offerings. This is a terrific way to enjoy the Australian Open without attending in person and it extends to the following venues:
Sydney's House Bar at Barangaroo
Brisbane's waterfront Riverbar
Melbourne's own Garden State
Those watching from home are likewise invited to celebrate, Peroni style. The brand has partnered exclusively with Dan Murphy's and BWS to bring an Aperitivo occasion straight to your door. Purchase a case of Peroni through Dan Murphy's and you're automatically given a chance to win a handsomely crafted Aperitivo box, which comes chock full of curated food items, Peroni glassware, a sharing board, and an AO tennis ball. Alternately, those who purchase a 6-pack or 24-pack of Peroni through BWS will receive a bonus Ecology serving ware voucher (to redeem online).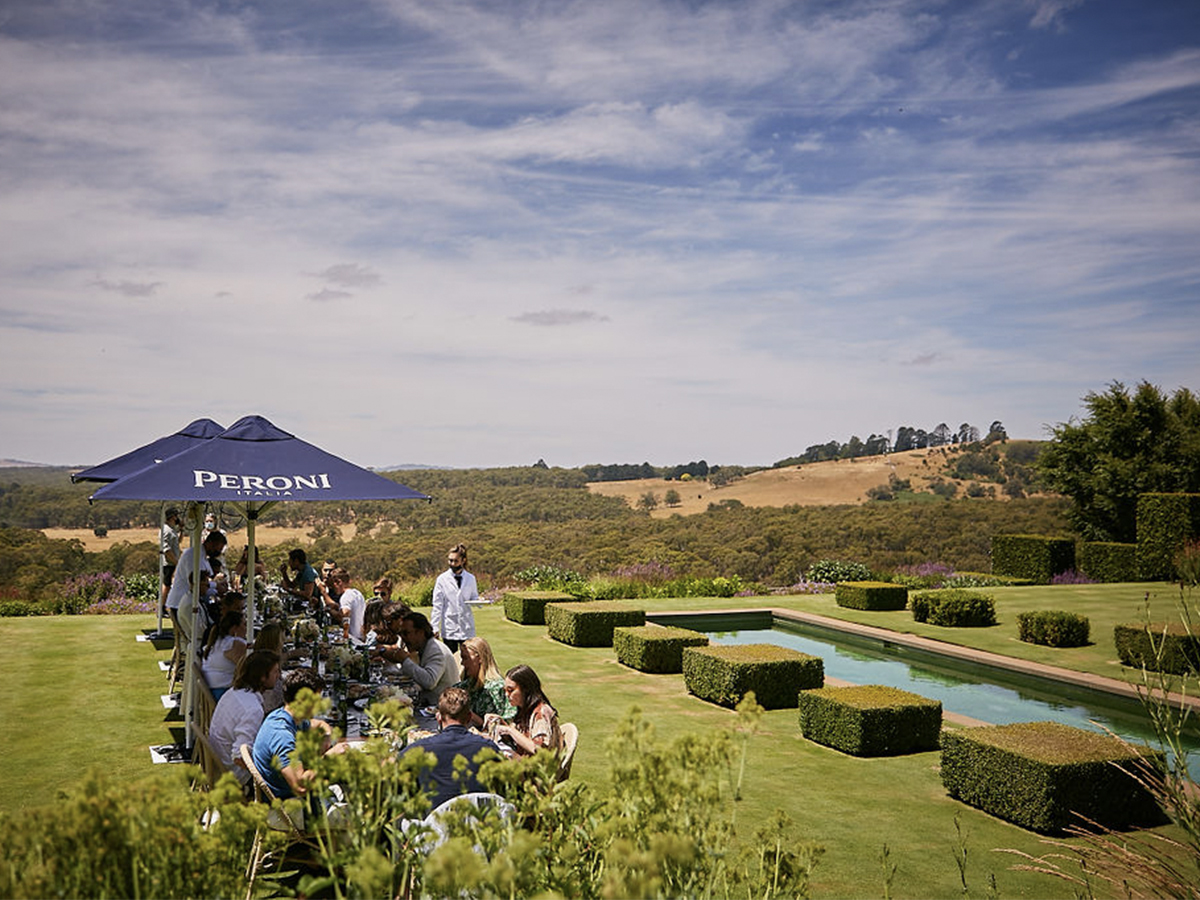 Summer Garden Party at Stonefield's
The private residence of landscape designer Paul Bangay, Stonefield's is a mind-blowing property and the perfect backdrop for an Italian feast. Bangay has over 30 years of experience under his belt and this expansive garden retreat is his palpable labour of love. Directly inspired by Italian villas, the multi-acre garden space is divided into nine different "rooms," each one linked through the use of certain floral or geometric motifs. There are also traditional gardens bordering the entrance as well as a lawned garden with a pool and breathtaking views of the Macedon Ranges.
It was in these vast and majestic surroundings that we found ourselves on a warm summer day, sipping Peroni upon arrival. Before we even took our seats, we were treated to a private olive tasting with beer pairing. Next came the main event, a moving feast that rotated guests between the property's Italian-style gardens. Chef Joe Mammone's Melbourne team created the menu, which drew from their three respective establishments: Bar Carolina, Il Bacaro, and Marameo.
An alfresco experience for the ages, we moved between hand-selected garden spaces whilst gorging on squid ink spaghetti, mushroom and truffle risotto, and pollo marinato. Each delectable dish was paired with a classic beverage from Peroni, such as a custom-crafted spritz, Nastro Azzurro lager, and Leggera lager. Between the gorgeous estate, the fantastic cuisine, and the refreshing drinks, we indulged in every permittable pleasure to the point of sensory overload. If only every summer party could be as blatantly epic as this one. Thanks for the memories, Peroni.