Big Lez x Tooheys Extra Dry Embrace the Ordinary
Would you say no to free cash? Big Lez sure didn't when he was asked to collaborate with a classic beer brand and their pretty ordinary beer. Embracing the ordinary flavours of a Toohey's Extra Dry, this new brand platform celebrates being 'Proudly Ordinary'.
Launched in collaboration with the Betoota Advocate and Big Lez, Toohey's has allowed both to roast the living sh*t out of the beer across every medium. Opening with Mike Nolan doing a bit of promo for Toohey's Extra Dry. The man in the high-vis shirt and the "yeah nah yeah" response, immediately reveals that while he doesn't normally drink "the stuff that much" he does, however, believe that a "cashie is a cashie". Too right mate. At the end of the day, you're not gonna say no are ya?
So what does he have to say about TEDs?
You'll also like:
Head to the Ballpark with French's Mustard Beer
Celebrate Christmas with Four Pillars' Pudding-Distilled Gin
Tanqueray Gets a Little Fancy with Blackcurrant Royale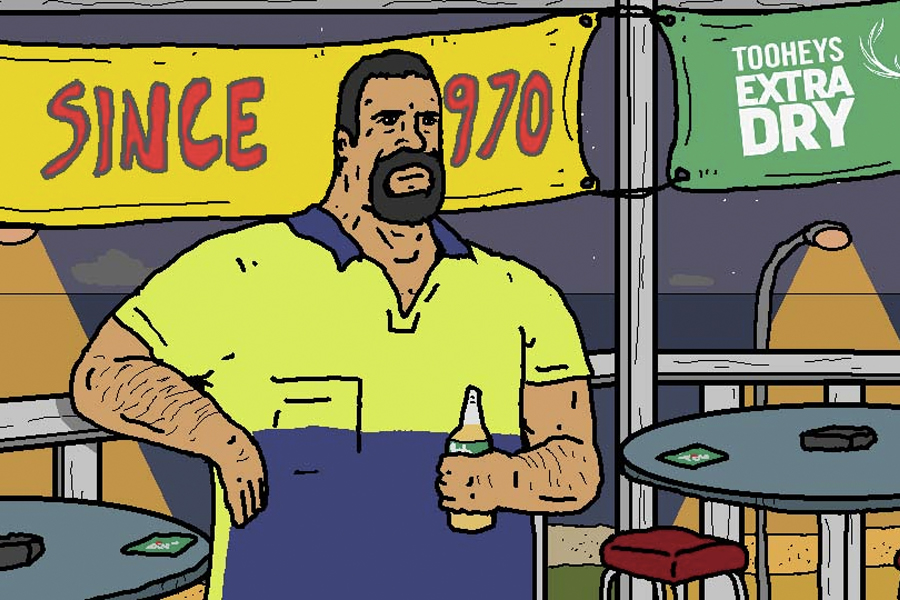 "It's kind of like the beer you settle for when you've run outta the good stuff. You know, you're at a mate's barbecue or something, and you go check the esky and there's nothing left but a couple of Extra Drys, just floating there in the ice. And you're thinking to yourself, you know 'Who brought these?' But you rip into 'em anyway."
Despite not being "the sharpest tool in the shed" Toohey's is proudly embracing the ordinary with its new campaign. Coming from the big wigs at Lion breweries, brand director, Amy Darvill said: "Working with 72 and Sunny and our wonderful partners meant really owning our brand truth – celebrating the proudly ordinary – and we're thrilled seeing it out in the world".
Head of product Luke Martin explained that the company wanted to "embrace and amplify what was already happening in culture". Clearly aware of the inconvenient truth "Tooheys Extra Dry was being called out as an ordinary beer," which Martin agrees "is the truth".
"The brand knows what it is, and what it isn't, there's no BS, it is proud to be ordinary. It's not every day you get a client partner confident enough to create this type of campaign and it's been an awesome experience working alongside the team at Lion to get this project out into the world."
Coming a few months after Sassy's SWEET FA beer collaboration with Yullis Brews, this one isn't expected to have anything 'extra' in it so you can certainly drink responsibly with a few TEDs.
Further collaborations are planned with Inspired Unemployed, Struthless and Gocsy – but this beer drinker wants to know, where's the trippa snippa to go along with it? I wanna taste that Sassy Food Magic.
You'll also like:
Head to the Ballpark with French's Mustard Beer
50 Best Bars in the World for 2020
Westward Whiskey Launches 'One-of-a-Kind' Opacus Stout Cask
General FAQ
How many seasons did Big Lez have?
The Big Lez Show had 4 seasons.
When was big lez made?
The Big Lez Show was started in July 2012 by producer Jarrad Wright.