Blend Your Finest Whiskey Today With This Home Kit
Calling all mixologists, whiskey lovers, and those bored during COVID-19 lockdown! Master of Malt has the perfect item for you in the Home Blending Whiskey Kit for just US$62.14 from their website. Containing everything you need to get started at creating the next great scotch whiskey, Master of Malt wants you to make a bottle.
With this kit, and the help of the Blend Your Own Whiskey website, you will receive all the ingredients to start your whiskey blending experience. Included in the kit is as follows: grain base (x2), malt base (x2), Speyside Single Malt, Highland Single Malt, Islay Single Malt, Lowland Single Malt, Very Old Single Grain and Very Old Highland Single Malt. To keep your mixes accurate, the kit also contains a 3ml and 1ml pipette, a 10ml and 25ml measuring cylinder, a 100ml conical flask and crystal tasting glass. And for the personal touch, Master of Malt have also included a detailed explanatory letter as an introduction into the art of blending whiskey.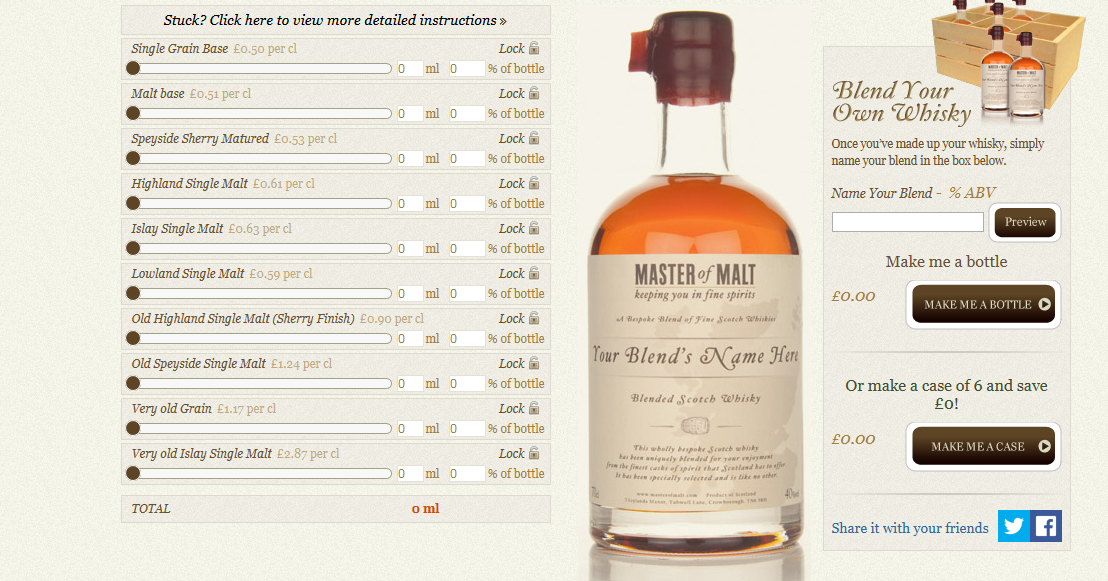 On their helpful website are easy to use sliders to set each ingredient amount. Each of the sliders corresponds to the ingredients included in the kit. Once you've dialled in each of the ingredients, you can go about mixing it yourself, and even give it it's own name. Plus Master of Malt also give you the option to purchase your blend directly, should you find a perfect mix. Or if you're feeling even more generous, and make a case of 6. So don't worry novice mixologists, this is not going to be rocket science, though patience is certainly a requirement if you want to blend the perfect bottle.
It doesn't matter whether you drink whiskey neat, on the rocks, or not at all, the Home Blending Kit from Master of Malt makes for a fantastic gift for any gentleman.