Blue Swift is a Bourbon Finished Cognac Spirit from Martell
"Blue Swift" might sound like an ad for a cheap Suzuki on Gumtree, or a depressed bird, or even a tacky celebrity baby name (when Taylor spawns I guess we'll find out), but, at least in this instance, it is actually one of the most interesting products to disrupt the whisky category in a very long time. And this is largely thanks to the fact that it isn't whisk(e)y.
Classified as an eau-de-vie, Blue Swift is a new product from Cognac juggernaut Martell, who for years have been innovating their highly-regulated product to attract new customers. Cognac, which is also an eau-de-vie much like brandy, is a product which is heavily controlled by appellation of origin laws, and as such, experimenting with its production is anathema.
But the rules are open-slather if you're happy to release your product to market without actually calling it a Cognac.
Enter Blue Swift, the latest product to take on a growing consumer interest in whisky, and brown spirits in general. Essentially, it is still a Cognac, but thanks to its final finishing in Kentucky bourbon barrels, it is simply labelled by the brand as a "spirit drink", so as not to upset the purists (and regulatory bodies which govern the strictly-policed industry).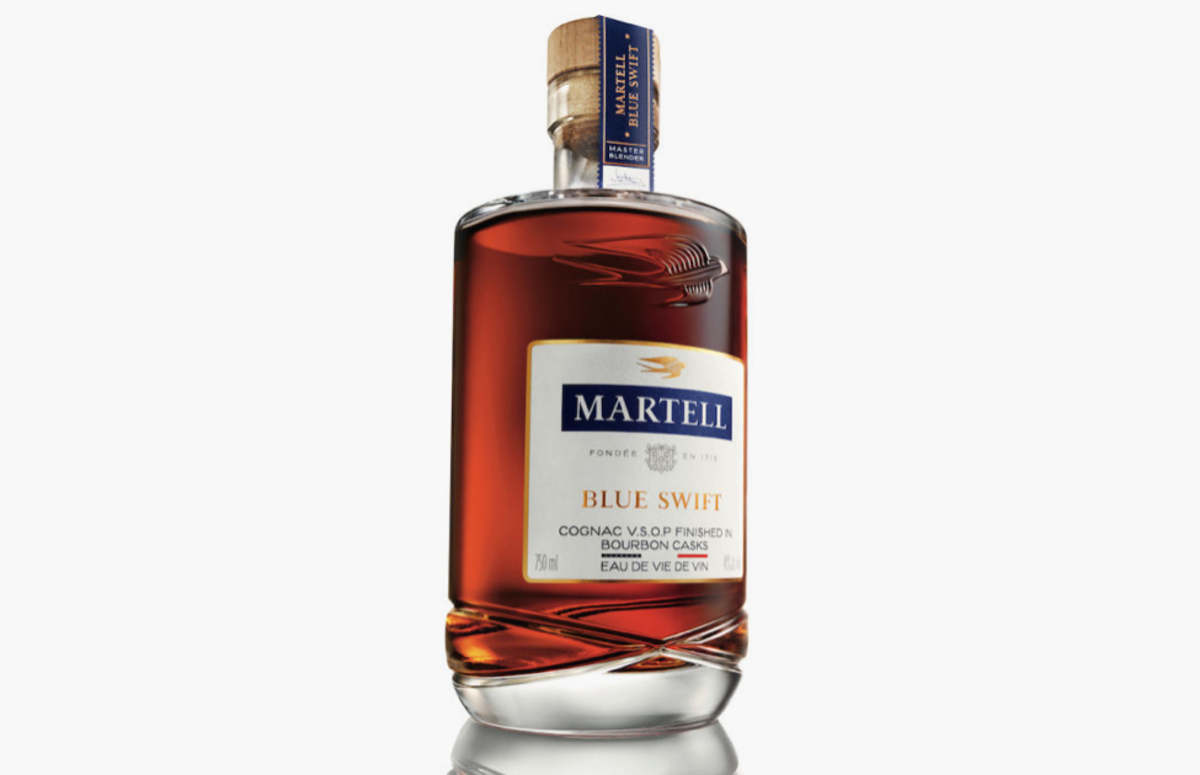 And when you think about it, Blue Swift makes a lot of sense.
Martell was the first producer to ship barrels of Cognac to America way back when, and as such, has decided to celebrate this affinity with the land of the free and the home of the brave by ageing its famously delicious VSOP expression further in the very same barrels that once housed Kentucky bourbon.
US laws dictate that all bourbon must be aged in new white American oak, whereas cognac must be aged in French oak. One of the results of these conflicting laws (in terms of, say, calling Blue Swift a Cognac), is that there is an abundance of used American oak barrels available to the market. Most of these make their way to Scotland and Ireland, to be reused in their respective whisky production industries there, but Martell has cleverly taken a bunch off an undisclosed US distillery and turned them into a whole new product.
Displaying the smoothness of Martell VSOP, Blue Swift also benefits from the sweet, toasty notes of an American oak barrel that's been used for ageing bourbon. With banana and caramelised pears on the nose, as well as subtle hints of vanilla and coconut, it also boasts a soft and rounded mouthfeel with ginger and white candied fruits on the palate.
Whether Martell is trying to shift the focus from whisky to Cognac or just wants to provide a new approach to its already celebrated product is unclear, but however you look at it, it's a fantastic and brave release from one of France's most adept and high-quality liquor brands, but one which has sat in the shadows of whisky, and perhaps other brown spirits, for long enough.