The world's oldest licensed whiskey distillery, Bushmills Irish Whiskey has been operating out of their namesake village in Ireland since the year 1608. To this day, they remain perched on the rugged coastline of Country Antrim, less than three miles away from the Giant's Causeway. From their signature malts to limited-edition releases, this iconic brand continues to define–and then redefine—the best of the Irish single malt tradition. What's even more impressive is that they appear to be just getting started.
Indeed, despite centuries of experience, The Old Bushmills Distillery still has plenty of new tricks up its sleeve. That brings us to their latest range of aged single malts – The Causeway Collection – the home for all limited editions from The Old Bushmills Distillery.  Each expression aims to showcase the excellence and craftmanship of Bushmills with each release being as innovative as it is rare. These delicious spirits have only just started to roll out to consumers worldwide, making now the perfect time to pick up what the historic brand is throwing down. Should you live in Australia, we can think of no better way to start than with The Causeway Collection 2008 Douro Cask Finish, which is exclusive to online hub The Whisky List.
The 2008 Douro Cask Finish is the latest release from The Causeway Collection. It was made exclusively for The Whisky List for Australians only. This particular release was aged for nearly eight years in oloroso and bourbon casks, before being finished in Douro wine casks for an unprecedented five years, transforming from golden to a vibrant red along the way. The Douro wine casks bring copious colour and complexity to the table. A classic Portuguese red from the Douro region, the wine imparts robust flavours into the cask, which then work their way into the whiskey itself. Non-chill filtered and bottled at cask strength with no colour added, this is a truly unique and sought-after release for The Causeway Collection.
"It's something truly special to bottle a whiskey from the oldest licensed whiskey distillery in the world and we're humbled to have partnered with Bushmills for the release of the Douro cask. On taste, you'll see the ripe dark berries & plum sweetness instantly shine through, and with a few minutes to breathe, the whiskey only gets better in your glass. Each of The Causeway Collections are unique in their own right, highlighting the innovation at Bushmills and dedication to taking all your senses on a flavour journey. We at The Whisky List are huge fans of these ultra-rare, cask-strength single malts that make up the theme of the Causeway releases, with each focusing on a different flavour profile unique to the cask it was finished in. This release showcases the amazing wine regions of Portugal and how using unconventional varietals can bring about a new array of flavours to an established whisky flavour profile. Even with a high ABV of 56.6%, this whiskey is crafted incredibly well, balanced between cask and spirit, no alcohol burn and has a nice long finish. We love it!"  – Chris Ross, The Whisky List Co-Founder.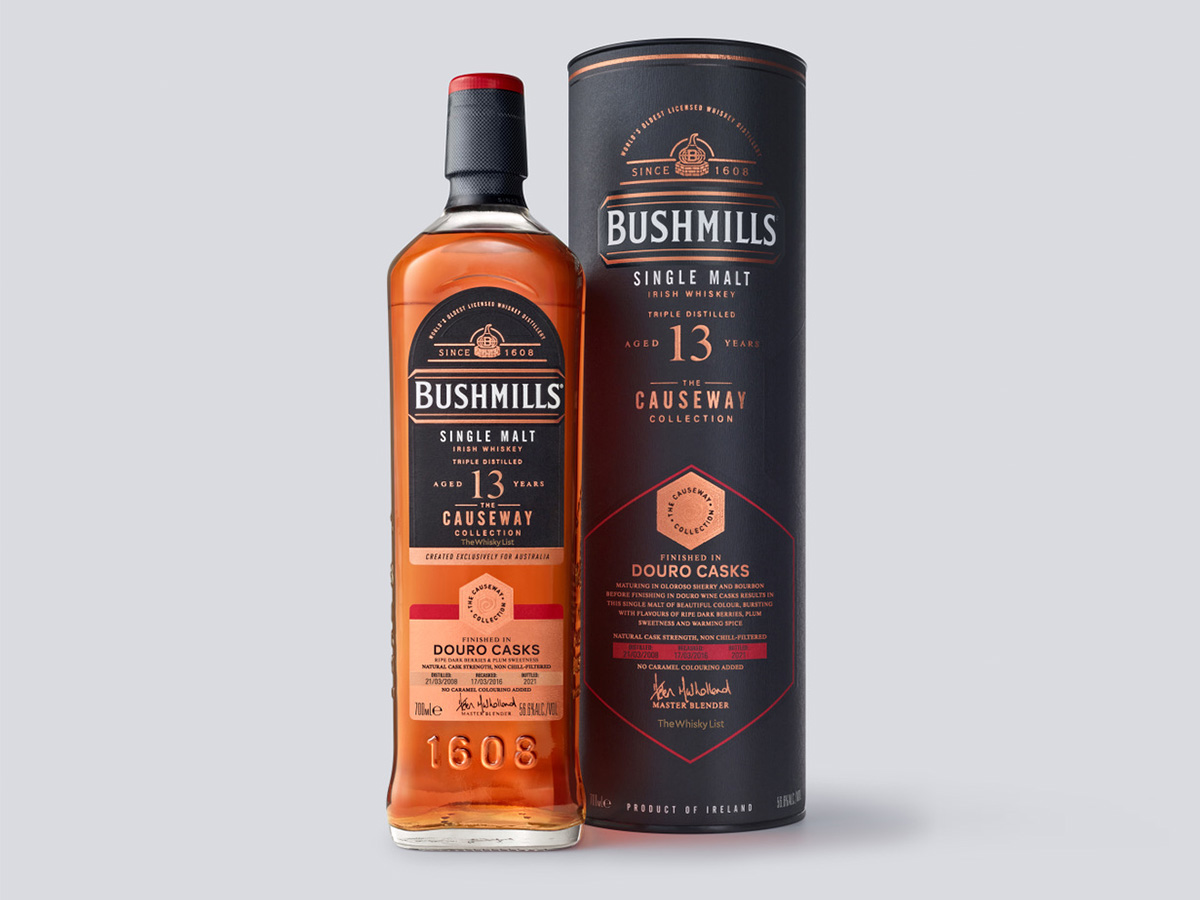 Standing with the best of Irish single malts, this whiskey is an absolute giant in its own right.
Whiskey-loving Aussies should be particularly excited, as this expression has been created for and released exclusively through The Whisky List, our nation's #1 whisky website. To become a member is to receive all kinds of choice benefits, including personalised recommendations, terrific deals, maps of whisky bars and distilleries, an adjoining app, and so much more. Joining is free and all new members will receive a $15 discount for the 2008 Douro Cask Finish upon sign up.
Oliver Maruda, Co-Founder of The Whisky List says "Part of our promise to our customers is we help them find great whiskey. It's been our mantra from the start and this Bushmills that we've bottled exclusively for our whisky lovers is exactly that. It's just downright delicious, great whiskey. We're incredibly proud to be able to bring this exclusive bottling to Australia and share with you all. TWL members have developed a high level of trust in the whiskies that are offered to them as a benefit of membership. They definitely won't be disappointed with this Douro release. It's the perfect holiday season dram".
The Old Bushmills Distillery is putting centuries of experience to use whilst crafting some of the best products in its entire history. Consisting of limited-edition single malts, The Causeway Collection is every bit as unique as the rugged coastline upon which it was forged. Score the 2008 Douro Cask Finish exclusively through The Whisky List and act fast because once it sells out, this baby's gone for good.