Bushmills Launches the First Edition of Its New "Rare Casks" Series
Bushmills might be the world's oldest licensed whiskey distillery, but they have some delicious new tricks up their sleeve. Not one to let 400 years of experience go to waste, the Irish brand recently kicked off a limited edition line of annual releases, better known as "The Rare Casks" series. First up to bat is 28-Year-Old Single Malt Cognac Cask and it's an out-of-the-park home run. Bottled at 46.7%, it simply swims in nuanced layers of flavour and aroma. This is not your grandpa's Bushmills, to say the least, with all due respect to both your grandpa and the distillery.
You may also like:
Guide to Australia's Best Distilleries
15 Best Irish Whiskey Brands
20 Best Bourbon Whiskeys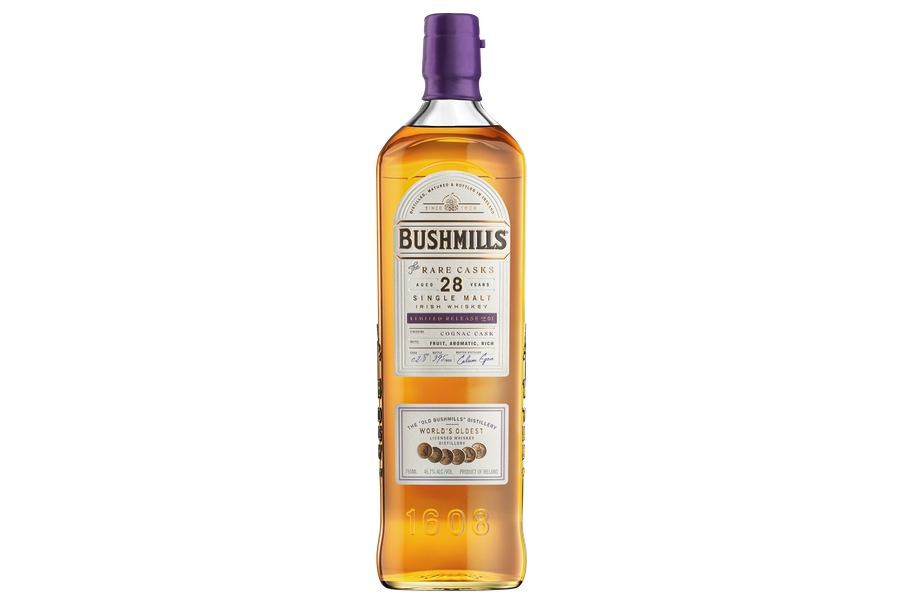 First distilled in 1992, the new single malt was crafted by Master Blender Helen Mulholland, one of the most respected names in the game. At its heart is the same unique recipe that's kept the award-winning label going for hundreds of years. What starts with 100 per cent unpeated malted barley and fresh local spring water is then triple distilled in small batches inside traditional copper pot stills. Next comes 11 years of maturation in former bourbon and Oloroso sherry barrels, followed by 17 years in rare Cognac casks.
The result is an outright flavour bomb that brims with a creamy texture and quintessential character. Mulholland explains, "Throughout my almost 30-year career at Bushmills, I have nurtured this special whiskey from its distillate, experimenting with different taste profiles and finally resting it in some of the world's rarest and highest quality casks."
Despite all that time sitting in wood, the new single malt isn't over-oaked in the slightest. While there is some sweet and spicy wood on the nose, it quickly gives way to deep aromas of vanilla, barley, and dried fruit. The taste is a masterclass in balance and versatility, swirling with notes of warm vanilla, almond, sherry, spice, and blasts of sour apple. Cinnamon undertones follow through to the long finish, where some of the oak returns in a wonderful and complex fashion.
Limited to under 500 bottles, Bushmills 28-Year-Old Single Malt Cognac Cask was available exclusively through US retailers and online at Flaviar.com. Meanwhile, the brand is already forging ahead with the next "Rare Casks" series release, dispensing samples to Flaviar members and asking for feedback. We tried a handful and they were resoundingly unique in character, with one even tasting like a premium dark rum. It's simply amazing what different finishing programs can do to the same core recipe. We can't wait to see where this program goes next.
You may also like:
Guide to Australia's Best Distilleries
15 Best Irish Whiskey Brands
20 Best Bourbon Whiskeys