Carlton & United Breweries' New Actual Vodka Seltzer has Zero Sugar
Want to drop the kilos without dropping the booze? Well, unless you like the taste of straight gin, it's not exactly a simple task, but the good folks over at Carlton & United Breweries are making it a little easier. Australia's largest brewery has just unveiled Actual Vodka Seltzer, its first white spirit premix in 25 years. Even better, the hard seltzer is vegan, uses 100 per cent natural ingredients and is under 70 calories.
You'll also like:
Good Pair Days Wine Service is Like Having Your Own Personal Sommelier
Monday Gin Gives You the Flavour without the Hangover
Starward's Rare Ginger Beer Cask Single Malt Whisky is Limited to Just 850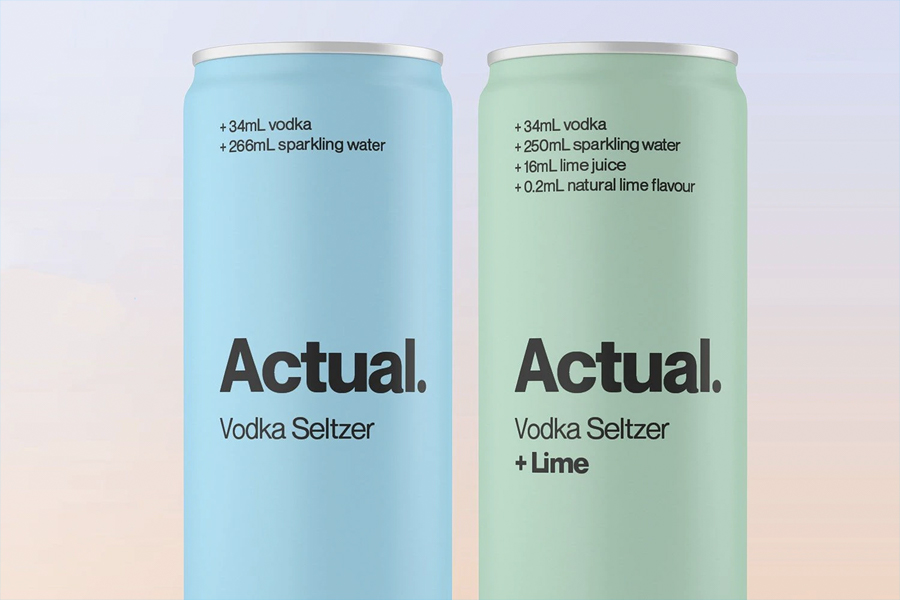 It's not a bad time to make the move, either. Marc Lord, Actual senior marketing manager revealed that the seltzer category recently became one of the biggest in the US, with on-premise sales growing five-fold in 2019 to USD$1.2 billion. "The hard seltzer market grew from nothing to become a multi-billion-dollar business in just five years in the United States. This is the next big thing here in Australia, and that's why Carlton & United Breweries created Actual," he said.
"Consumers now want simple, no-nonsense alcoholic drinks and that's what Actual is. Standing in front of the RTD and craft beer fridges with thousands of flavours it's hard to make a choice, so we've made it simple. Australians are also becoming increasingly conscious of what they are drinking, so we think the boom will be repeated here."
The alcoholic, low-calorie carbonated water comes in two varieties, pure and lime. Pure has no sugar and just 65 calories, while lime is low in sugar and contains 69 calories. You can pick up the new Actual Vodka Seltzer now.
You'll also like:
Good Pair Days Wine Service is Like Having Your Own Personal Sommelier
Monday Gin Gives You the Flavour without the Hangover
Starward's Rare Ginger Beer Cask Single Malt Whisky is Limited to Just 850