Champagne Bollinger Releases Limited Edition La Grande Année 2014
French Champagne House Bollinger still does things the hard way and the effort pays off. Amongst their bevvy of timeless techniques is the practice of artisanal vinification, which occurs in oak barrels that are approximately 20 years of age, and uses micro-oxygenation to produce complex aromas and signature taste. These 4,000 barrels sit in the company's own Cooperage, where they're overseen by the industry's lone resident cooper. Every vintage is also riddled and disgorged entirely by hand to create a hand-crafted wine in the most literal sense of the concept.
You should be craving some bubbly right about now and we have just the thing for you. Unique in texture and taste alike, Bollinger's new La Grande Année 2014 offers an intense flavour profile with palpable minerality. The vintage that produced it survived a somewhat tumultuous year, during which rainy autumn and winter gave way to some of the driest and sunniest months in decades. And that was before summer arrived, bringing some cold weather along with it.
Bollinger began harvesting in mid-September and completed the task in nine days, as opposed to the traditional two weeks. The grape quality stayed the course with perfect composure, delivering a supreme balance between maturity and acidity. La Grande Année 2014 is all the more exceptional as a result and conspicuously multi-faceted. Creating harmony between various temperaments, the wine is equal parts precise, complex, refined, versatile, subtle, and intense.
Lightly golden in colour as a result of its signature vinification, La Grande Année 2014 brings forth a bounty of delightful characteristics. The nose interweaves fruity aromas of cherry, lemon, quince, and orange with notes of hazelnut, almond, peach, plum, and a hint of salty maritime air. A creamy effervescence gives way to a brilliant vinosity—counter-balanced by gentle acidity—as the taste reveals glorious orchard fruit and citrus before trailing out on a sea-air finish. A fine texture and multi-tiered profile persists, making this a wine that truly unravels in layers.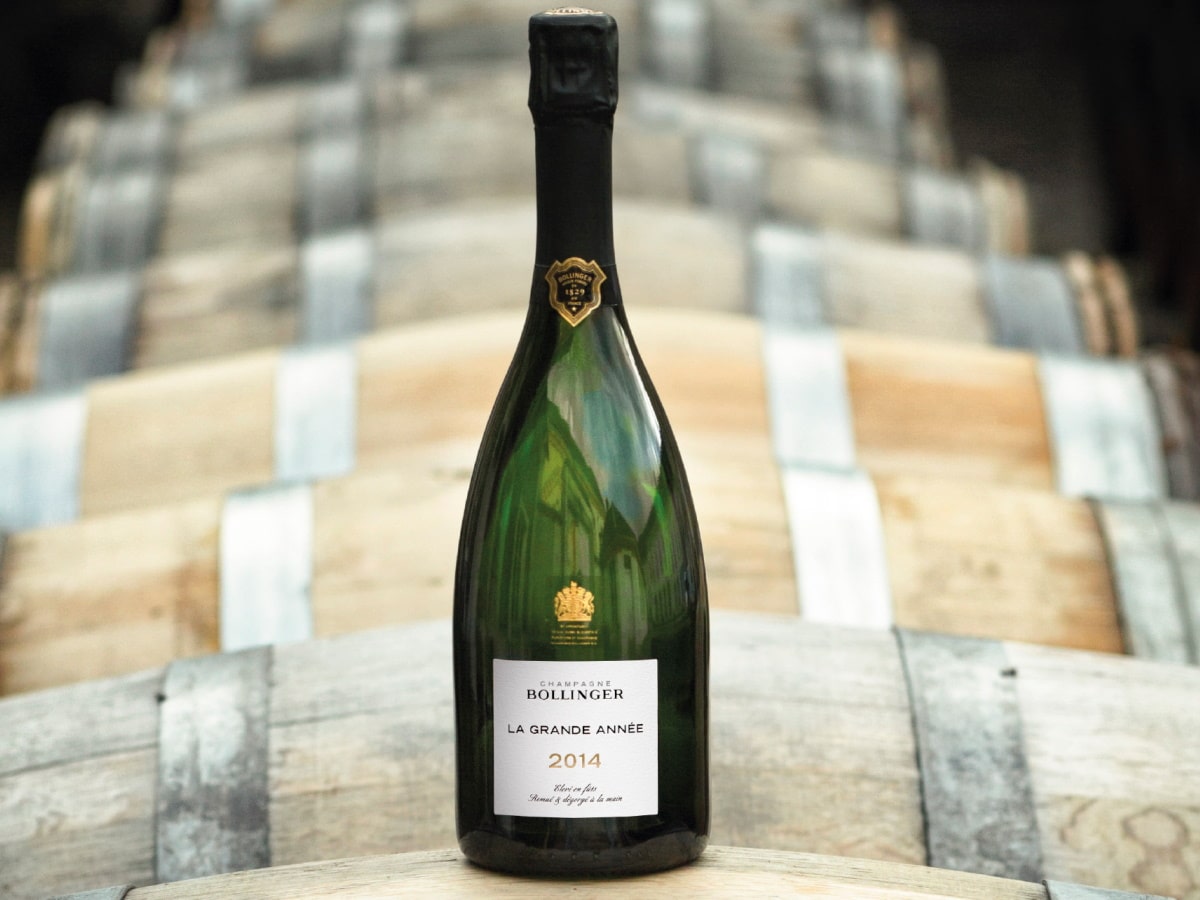 We attended a luxurious tasting event at Wolgan Valley Resort and can attest to the many glorious qualities of La Grande Année 2014. The exceptional champagne makes a bold statement on its own and also provides the ideal complement to a variety of dishes. Compositionally, it blends 61% Pinot Noir with 39% Chardonnay, culling from 79% Grand Crus and 21% Premier Crus. Most of the 19 Crus used for the Pinot Noir hailed from Aÿ and Verzenay, and Chouilly and Oiry were used for the Chardonnay.
Whilst the La Grande Année 2014 goes beautifully with all kinds of meals, Bollinger is heading in search of the perfect food pairing. Their experts will embark on La Grande Traversée across seas and oceans, which will put them in touch with a host of different cultures and cuisines. The ultimate goal is to cultivate the sea-air quality of the latest release whilst uncovering pairings that will bring out the wine's mineral aromas and flavours. Through this diversity of experience, their already multi-faceted product will unveil an even greater dimension.
As with all Bollinger releases, La Grande Année 2014 is the result of pure passion, detail, quality, hard work, and technique. It's available in Australia (in limited supply) through fine wine retailers including David Jones, Qantas Wines, Vintage Cellars, and Kent Street Cellars, for a suggested retail price of AU$260.