Flaviar Blends Seven Craft Bourbons with its Latest Release
The good folks at Flaviar are at it again. Tapping the full power of their industry-wide connections, the iconic spirits club has produced its very first bourbon. Blending seven different straight bourbons from seven different craft distilleries from seven different states, Corn Trooper 2020 unifies flavours and competitors alike. Bottled at 101 proof, it's as versatile a spirit as its very origins would suggest.
For the inaugural edition of Corn Trooper, Flaviar blended seven whiskeys from the following sources: Breckenridge Distillery (CO), OOLA Distillery (WA), Balcones (TX), Kings County (NY), New Holland Brewing (MI), High Wire Distilling (SC), and Hartfield & Co. (KY). Whereas these various entities are normally in competition with one another, they're now operating under one proverbial umbrella.
You'll also like:
Still Austin's Straight Bourbon Whiskey is a Homegrown Home Run
Countdown to Christmas with Flaviar's Amazing Whiskey Advent Calendar
To Peat or Not to Peat: The Whisky Drinker's Dilemma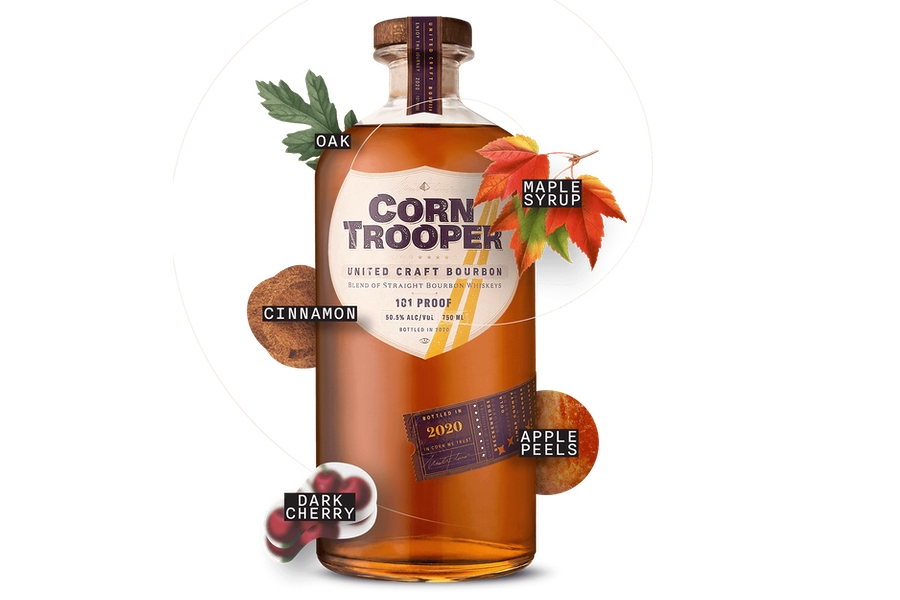 To quote Flaviar co-founder and master blender Grisa Soba: "Corn Trooper is a union of our favorite craft bourbons from all around the U.S. coming together for the first time. For us, it's as much an incredible whiskey as it is a map of memories and America itself."
Soba went on to say that Corn Trooper has "been more than three years in the making, with a vision of creating something unique and very American. Countless hours went into finding the right juice, tweaking the recipe, and coming up with the identity that would represent the spirit."
It should come as no surprise that this bourbon fires on multiple cylinders. That's because each source brought something unique to the table. OOLA and King's County go big on corn while Hartfield favours malted barley. Balcones capitalises on Texas' extreme temperature swings while Breckenridge crafts their whiskey at 2 miles above sea level. New Holland Brewing provided the beer barrels in which the blend was finished.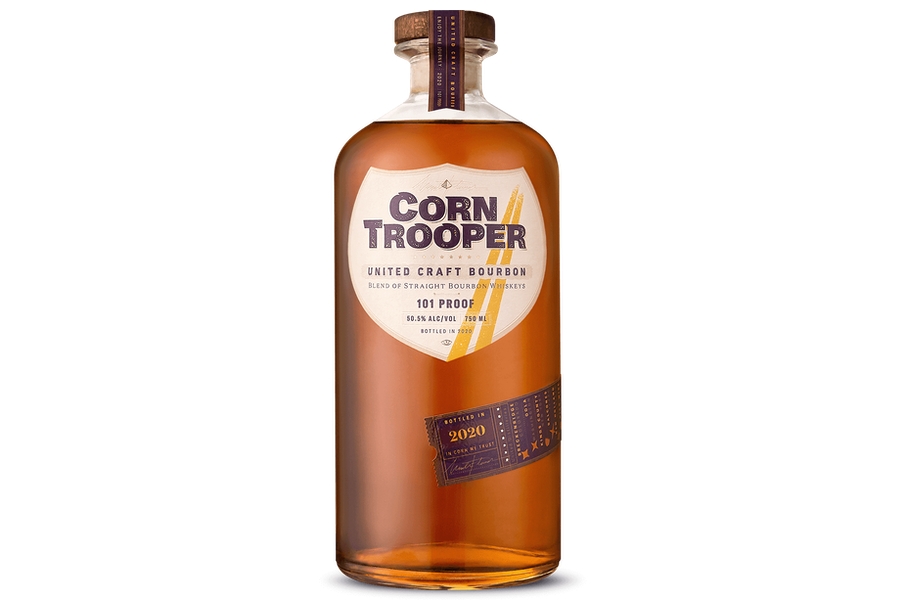 It all comes together to form a harmonious but dynamic message and a tasty one at that. Corn Trooper 2020 opens on a robust nose of maple syrup, oak, vanilla, and banana. Those notes carry through to the taste, which brings in detectable undertones of cinnamon, cherry cola, citrus peel, oak, and ginger, with a light and lingering effervescence. A buttery texture and medium body ensure a mellow ride from start to finish, making this one heck of an easy and interesting sipper.
Flaviar's latest is available to members and non-members alike, though non-members have to pay a little more for the privilege. True to its thematic underpinnings of unity and inclusion, Corn Trooper will also donate part of the proceeds to the Michael James Jackson Foundation for Brewing and Distilling. The organisation provides training and opportunities to underrepresented groups, putting them on the path to careers in the spirits industry. We'll certainly raise our glass to that.
You'll also like:
Still Austin's Straight Bourbon Whiskey is a Homegrown Home Run
Countdown to Christmas with Flaviar's Amazing Whiskey Advent Calendar
To Peat or Not to Peat: The Whisky Drinker's Dilemma