The Glen Grant Dennis Malcolm 60th Anniversary Edition
Historic distillery The Glen Grant has been operating out of the heart of Rothes, Speyside from 1840 to this day. Known for their stellar range of aged single malts, they continue to use the tall slender stills and groundbreaking purifiers that they introduced over a century ago. The result is a supremely smooth and consistent whisky, hence the global following and legion of prestigious awards. Underscored by a proud heritage of distinct craftsmanship and steadfast innovation, each expression puts living history in a bottle.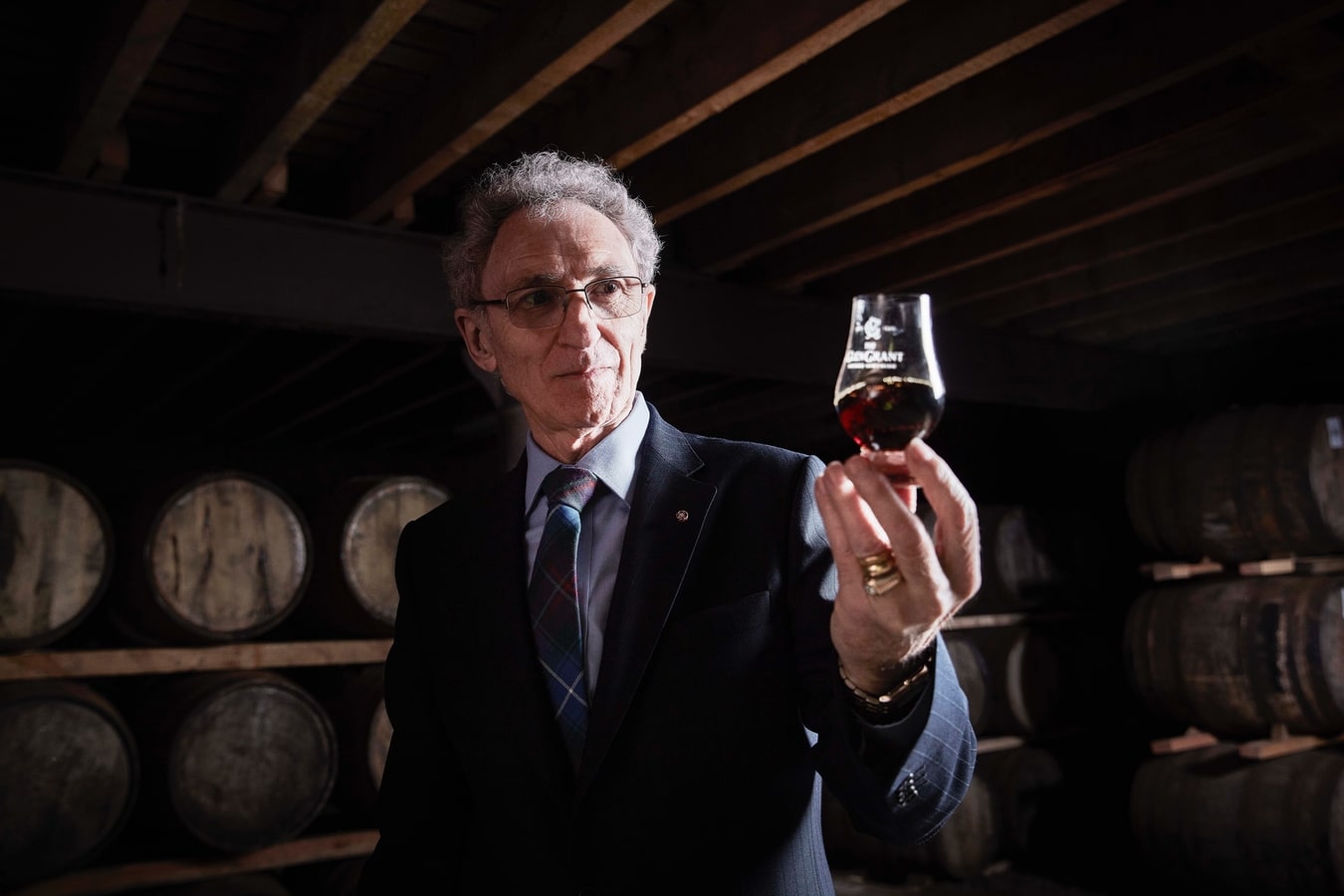 Master Distiller Dennis Malcolm
Speaking of heritage, The Glen Grant's own Dennis Malcolm is a bona fide industry legend. The third in a line of whisky masters, he was literally born on the distillery's grounds in 1946. Thus began an auspicious career, which found him working as an apprentice cooper by the young age of 15 and then later a supervising manager. Now the Master Distiller with six decades of experience under his belt, Malcolm imparts an insane level of knowledge and passion into every aspect of the production process.
Suffice it to say, The Glen Grant Distillery would not be where it is today if not for Dennis Malcolm. Carrying the brand's iconic heritage into modern terrain, he continues to innovate whilst expanding upon their range of award-winning expressions. That includes the recent Arboralis line and its respective core statements of 10, 15, and 18 years. And so the legend continues.
Celebrating Malcolm's six-decades-long career in the best possible way, The Glen Grant has just released a limited edition 60-year-old single malt whisky in his honour. A gem amongst gems, it reaps maximum complexity out of the alchemy between spirit, wood, and time. Having been lucky enough to score a sample for ourselves during a virtual tasting, we were blown away by its impeccable smoothness, despite all that time spent in the barrel. With a retail price of $38,950, this one is for elite collectors only.
The Dennis Malcolm 60th Anniversary Edition Single Malt
Now available for purchase, The Glen Grant's new 60-year-old single malt is their oldest bottling to date. Only three decanters are being offered in Australia and each one was bottled from a single ex-Oloroso sherry oak cask, which was filled all the way back on 24 October 1960. We previously described the distillery as putting living history in a bottle and this luxurious release takes the concept to glorious extremes.
It was Malcolm himself who hosted our virtual tasting of this rare liquid, which spans all six decades of his illustrious career. As we swirled, sniffed, and sipped, he regaled us with brilliant insights about both the single malt and the distillery's unique history. Not only have The Glen Grant been using the same kind of stills and purifiers for over a century, but they still use wooden washbacks for fermentation (whereas most distilleries use steel).
Tradition remains vital to Malcolm's ongoing production process. However, the distillery's heritage-based approach also leads to a better-tasting and more consistent spirit. For instance, the use of wooden washbacks helps maintain both character and quality from one statement to the next. Then we have the historic stills, which are taller than most and equipped with historic purifiers. The liquid is double-distilled through those very purifiers and it leads to a lighter body with fruitier overtones.
Now, back to the star of the show (sorry Dennis, but we meant the whisky). Bottled at 52.8%, The Glen Grant Dennis Malcolm 60th Anniversary Edition Aged 60 Years is non-chill filtered so as to retain optimal flavour and aroma. Upon pouring ourselves a dram, we detected fresh mint on the nose along with notes of fruit, pecan, and light smoke. Given the epic age of this particular expression, we took its aromatic vibrancy as a welcomed surprise. The taste was similarly unexpected and not overbearing in any way. In lieu of heavy oak, layers of rich fruit, dark chocolate, and toffee rolled over our palate in silky waves. The finish was long and delightful, leaving notes of fig, dates, and a hint of smoke in its wake.
"Liquid fruit cake" is how the distillery describes this rare beast and we're inclined to agree. It's creamy, layered, sweet, and smooth. Yet nothing took us by surprise more than the spirit's blatant freshness and luscious texture, as if it jumped out of the cask with the vigour and vitality of something half its age. Of course, with more age comes even more nuance and complexity, making this a true best-of-all-worlds scenario.
Paolo Marinoni, Marketing Director for Campari Australia & New Zealand, said, "The launch of Dennis Malcolm 60th Anniversary Edition is an exciting time for The Glen Grant, as we celebrate and pay tribute to the career of a globally recognised Scotch Whisky craftsman and a true Scottish gentleman. Dennis has not only created some of the most-awarded single malts in the world, but also serves as a champion and legend for the industry. This refined, remarkable liquid is a luxurious homage to a life spent doing what he loves most."
Malcolm himself reflected upon his diamond anniversary with the following words: "It's never been a job to me, it's been a way of life. I don't like my actual birthday—that makes me a year older. But I like my milestones with The Glen Grant because it's a year longer that I'm here. I can keep doing what I was destined to do."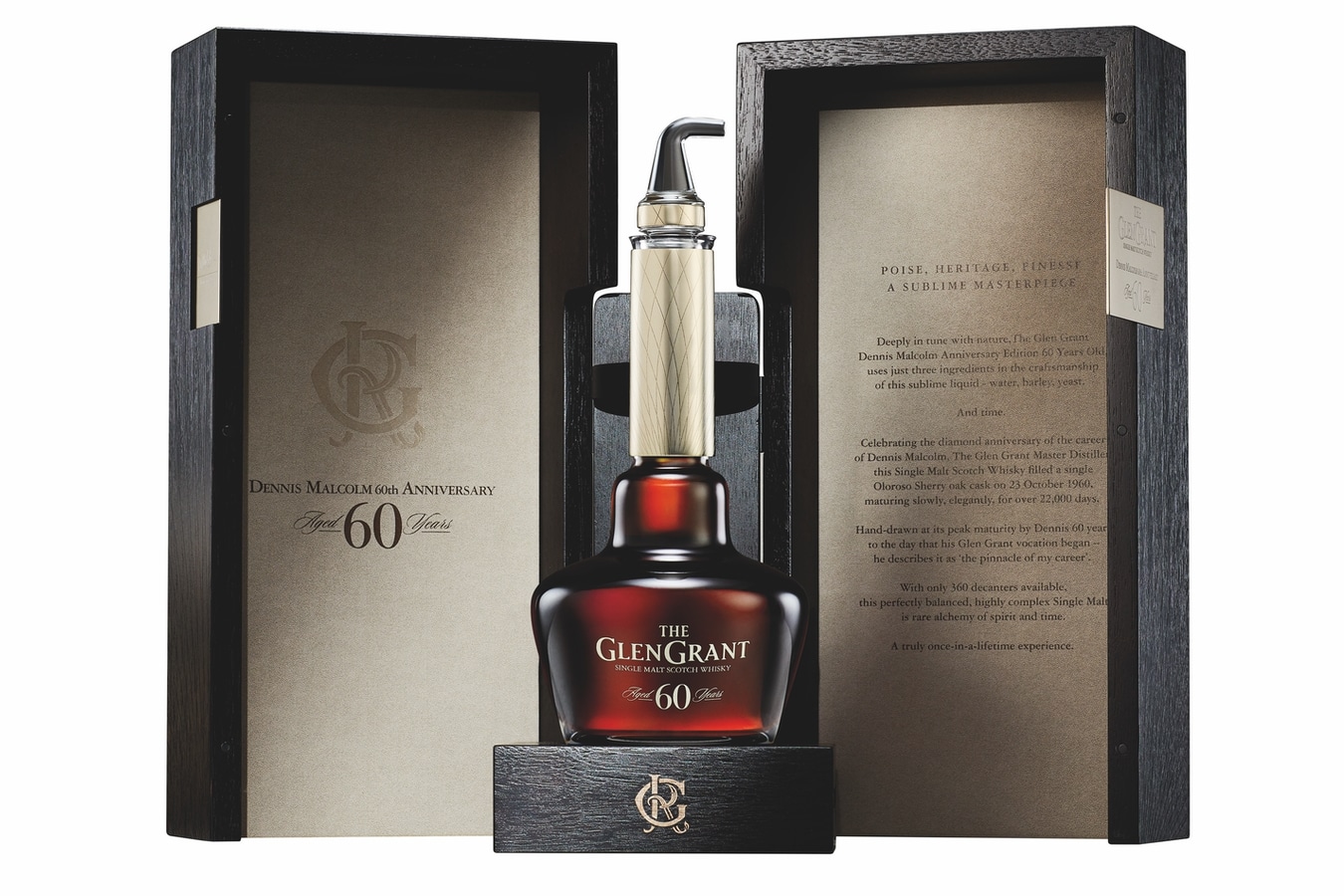 It was an incredible and genuine honour to be included in the virtual tasting with Dennis Malcolm, as only four samples went out to Australia. No less rewarding was the whisky itself, which features a deep chestnut colour, impeccable texture, and multi-layered taste. Thanks for the unforgettable experience!
The Glen Grant Dennis Malcolm 60th Anniversary Edition Aged 60 Years is supremely limited in supply and priced at $38,950 RRP. Each decanter is made from hand-blown crystal glass, designed in the mould of the distillery's tall and slender pot stills, marked with a bespoke number, and presented in an elegant case of sustainable walnut, complete with Malcolm's engraved signature and a Certificate of Authenticity (signed by Malcolm). It's now available at Dan Murphy's stores in Mermaid Waters QLD, Double Bay NSW, and Prahran Cellar VIC.