Got a Hard Earned Christmas Thirst? There's a Victoria Bitter Advent Calendar For That
On the first day of Christmas, my true love gave to me, an ice-cold stubby of VB. They also sent me one on the second day of Christmas, and the third and the… Because a hard-earned holiday thirst needs a big cold Christmas beer, and the best cold beer is Vic, Victoria Bitter. And now, thanks to the geniuses over at Carlton & United Beverages, you can celebrate the end of a tough year with the ultimate advent beer calendar.
You'll Also Like:
Bundaberg Rum Launches IPA with Eumundi Brewery, the Ultimate Queensland Beer
Guinness' Non-Alcoholic Pint is Still a Full-Meal
You Can Now Get Betoota Bitter at Dan Murphys
Coming off the back of their highly successful collaboration with budgy smuggler, the blokes over at Victoria Bitter have been busy with Santa and his elves. Working day and night in the North Pole to ensure all the little boys and girls get the presents they deserve, VB made sure that we men got what we deserve too – a cold beer and plenty of them.
While most advent calenders offer an element of surprise (it's always chocolate), this one trounces them all with predictability and 24 satisfying VBs to enjoy each day in the lead up to Christmas. This limited-edition Advent Calendar turns your typical slab of VB into something that deserves to be under the Christmas tree. Offering 24 individual cutouts for housing a single VB stubby in each, you can count down the days to the holidays as you complete the ultimate knock-off of the year.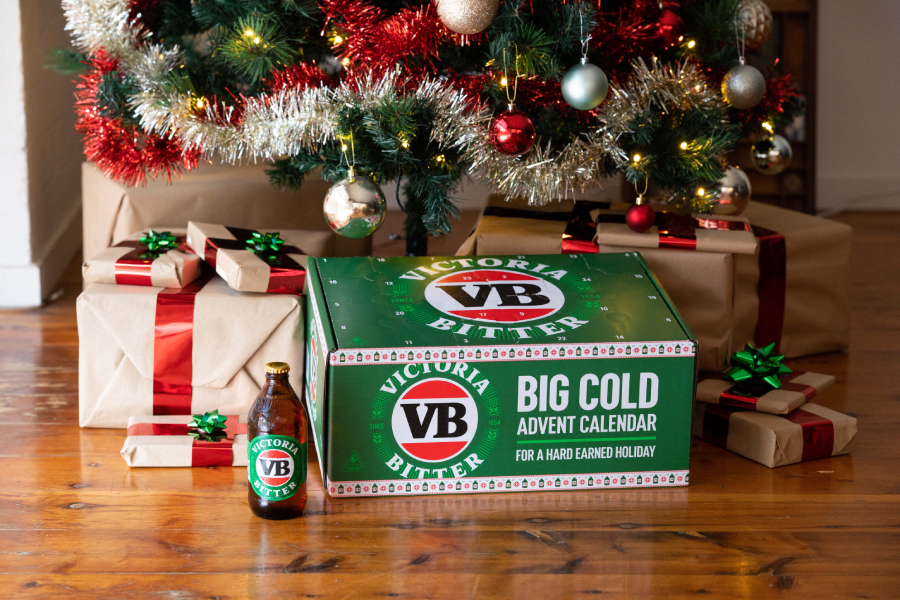 Describing 2020 as a year of "hard work," Victoria Bitter's Marketing Director, Hayden Turner hopes "the VB Advent Calendar spreads some festive cheer to loyal VB fans in the lead up to Christmas."
Head over to BoozeBud right now to secure your Victoria Bitter Advent Calendar, and if you're a new customer, you can use the code BESTBUD to get 10 per cent off and free shipping on orders over $100. At AUD$52 each, why not get two? One for you and the missus.
All Calendars will be delivered directly to consumers nationally, alongside a personalised note for all the hard-working Australians, straight from the VB team. But hurry, this is sure to sell out faster than you can say Happy Holidays.
You'll Also Like:
Bundaberg Rum Launches IPA with Eumundi Brewery, the Ultimate Queensland Beer
Guinness' Non-Alcoholic Pint is Still a Full-Meal
You Can Now Get Betoota Bitter at Dan Murphys