Characteristic of social occasions, sharing a glass of wine with your friends is just one of many things we've come to take for granted in the last 6-months. While restrictions might ease in the coming months, securing a booking at your favourite wine bar or restaurant might be difficult. Taking your social events online has become second nature to many. You name it, we've done it online, and as in-person bookings fill and vaccination logistics become irritating, planning a safe, stress-free social gathering online is a great alternative.
5 Easy Steps to Host a Successful Wine Tasting
Prior planning always prevents poor performance and the same goes for a successful wine tasting. Coordinating a tasting can feel challenging, to the point you don't even consider it at all. With the help of Grant Burge Chief Winemaker Craig Stansborough, we've put together a list of 5 easy steps to take most of the thinking out of the equation so you can share a moment with your family, friends or colleagues and make the most of your time together – in person, or virtually. Let's take a look.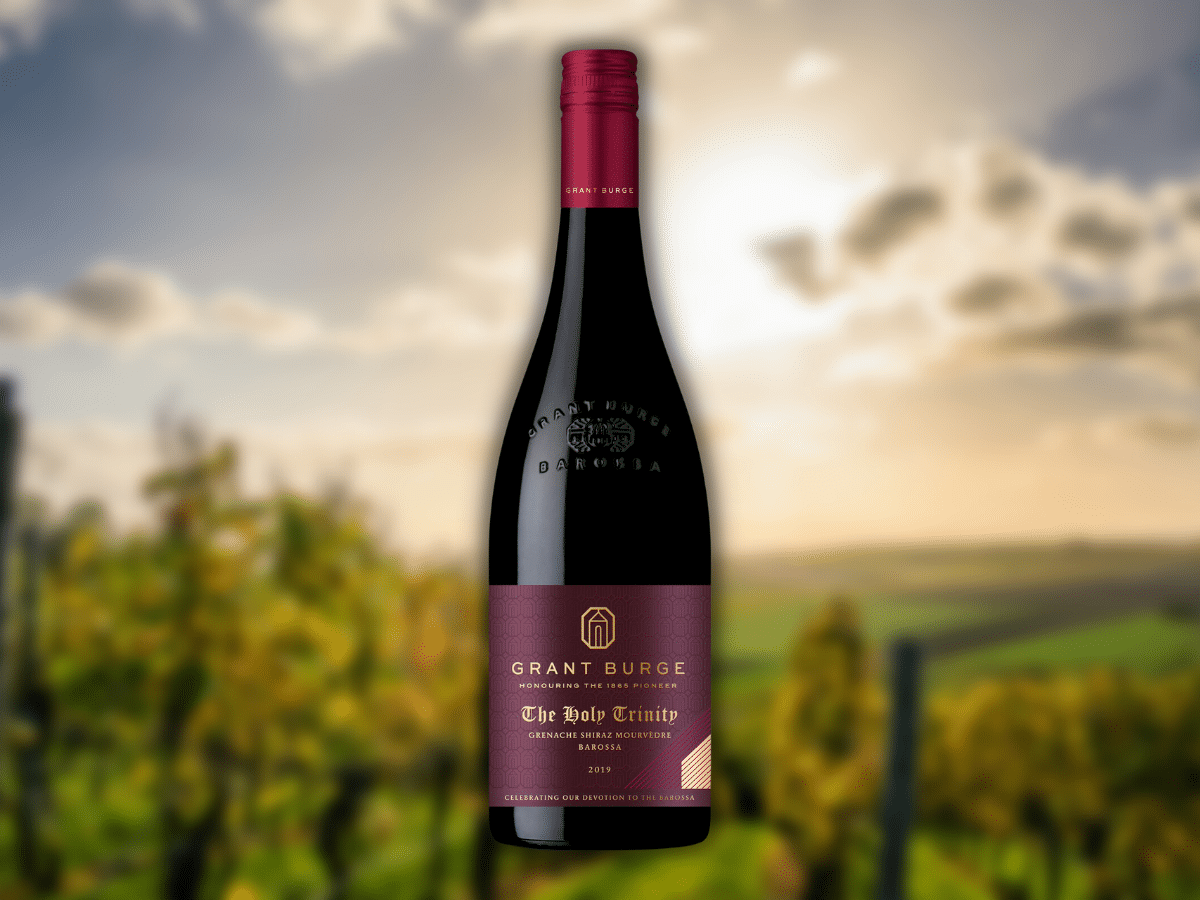 1. Order the Wines
The most important step in the entire process is ordering the wines. What can be the simplest step in the process for some, can also be the most confusing for others, particularly those who aren't trained in the art of choosing, storing, or keeping wine. We spoke to Grant Burge Chief Winemaker Craig Stansborough to get his expert insight into the entire process, from storing the wines to choosing the bottles themselves.
Once the Wines Arrive
Once your wines have arrived, following a few simple guidelines will help keep them in ideal conditions until you're ready to drink them. Starting with the cap itself, you must determine if they're a screw cap or corked type. The majority of Australian wines are produced with a screw cap, a style that doesn't allow in oxygen, keeping the wine crisp, fresh and well-preserved. With screw cap bottles, you can store these either horizontally or vertically. If you are going to be tasting a wine sealed by cork, it is best to store the wine on its side to ensure the cork doesn't dry out and lead to oxygen exposure and spoiled wine. 
Choosing the Wines
Choosing the wines has never been easier. The Grant Burge Annual Vintage Release for this year is made for sharing these special occasions. Combining decades-long winemaking heritage, with an unwavering focus on the land and the vineyard, the 2021 vintage release is a demonstration of superb conditions, remarkable terroirs, and hands-on winemaking. The best part – you can enjoy the annual release right now – available from Dan Murphys, you can customise the packaging with a special message if your guests will be attending virtually. Alternatively, purchasing a case and putting your own special touch on the presentation before hand-delivering them to your friends is a great option too.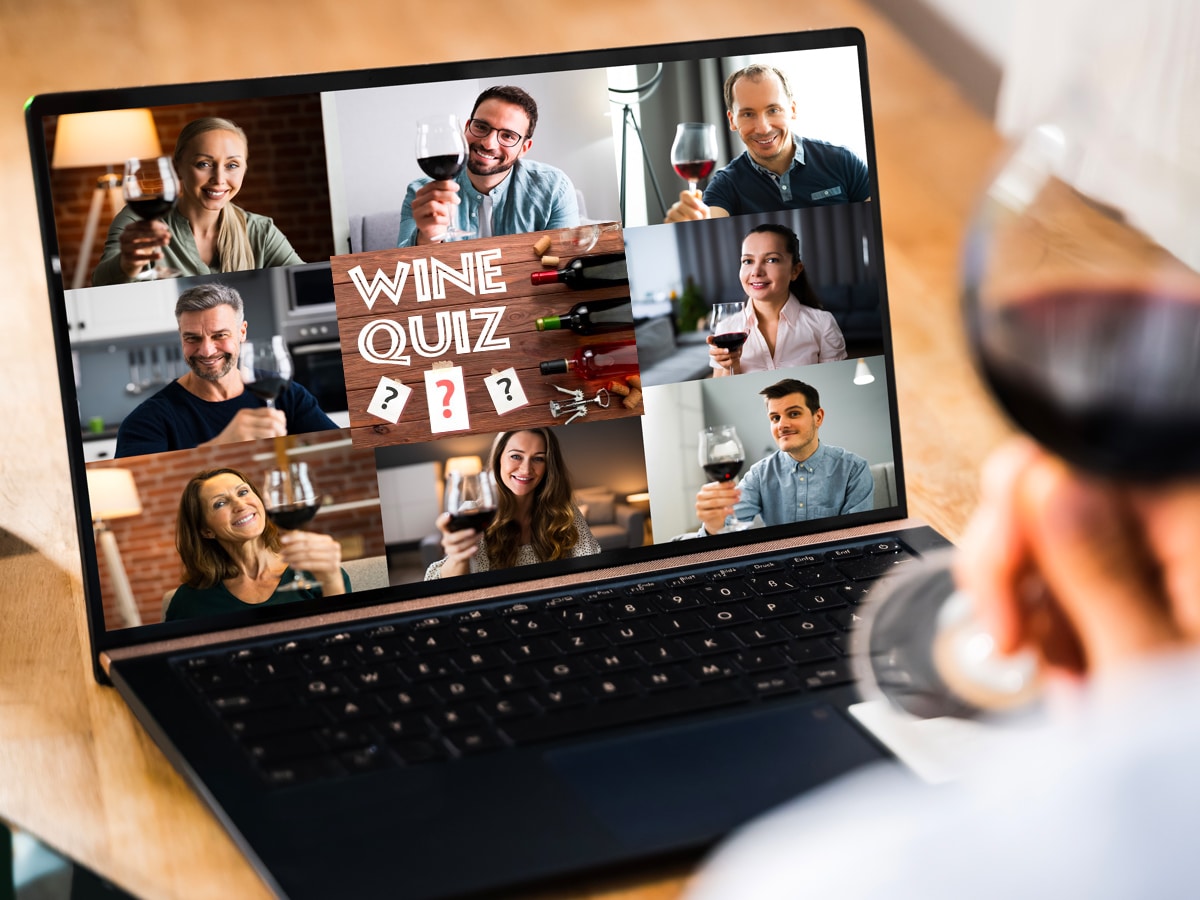 2. Theme it
Engagement is key when it comes to hosting events, and although a 'theme' might seem a little cliche by today's standards, it adds an interesting twist that's bound to keep folks involved. Putting in a little effort and dressing up is a bit of fun because as much as you probably don't want to admit it, you've been wearing the same trackies every day for the last few months – haven't you.
The theme doesn't have to be too fancy either, wearing a particular colour, accessory, item, or maybe even theme it around the region your wine is from. If dressing up isn't your thing, alternatives such as Q&A's, Kahoots, and Trivia are always a sure-fire winner. When all else fails, talking about your experiences with certain wines, regions and other wine-related journeys and moments will be a great conversation starter amongst any wine-loving crowd.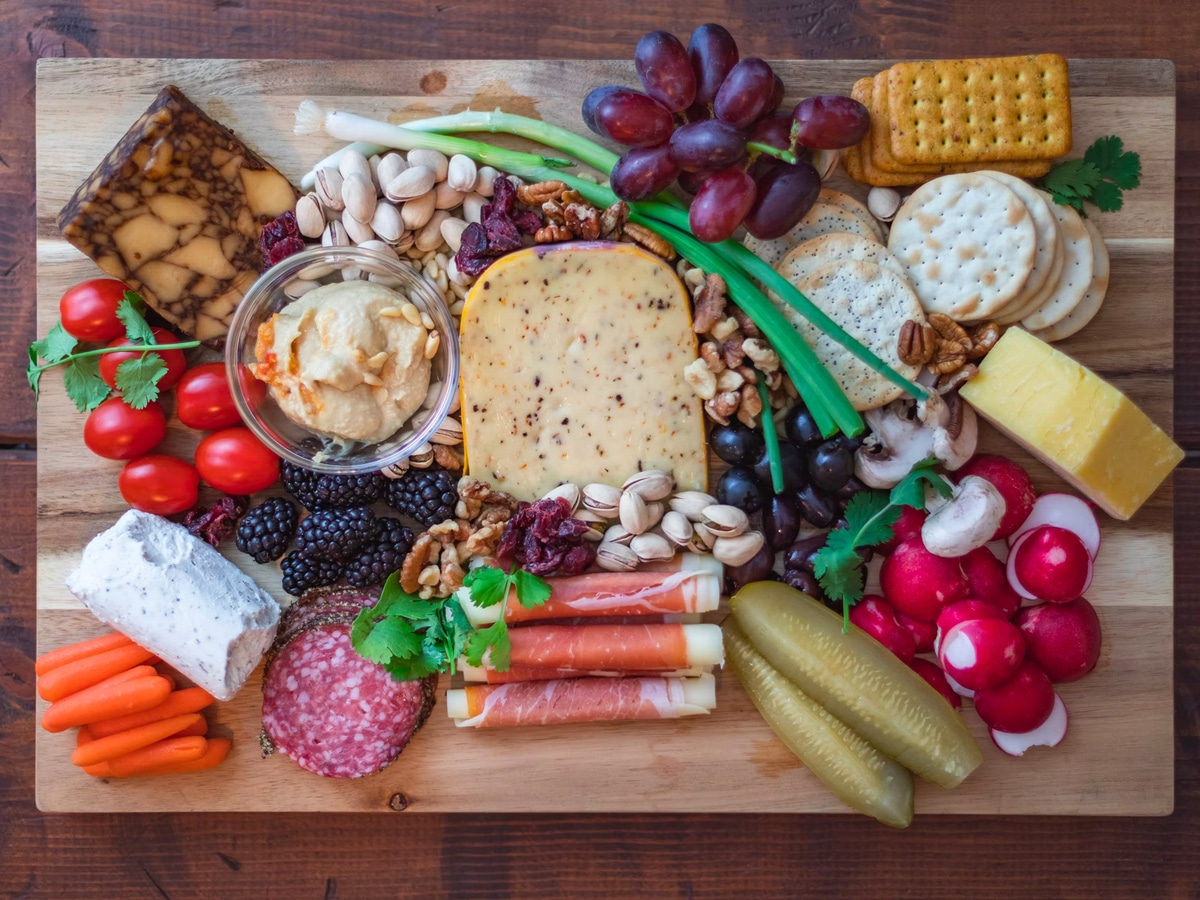 3. Include food
You would be correct in assuming the majority of food pairings are wine dependent, but a few fool-proof combinations can be found for even the most decadent wines on offer. Remember, while restrictions are easing, household guest limits still apply for now, so you're not catering for an entire group here (thankfully). Something like a basic cheese board with dates and mixed nuts is enough for starters. If you prefer to keep things simple, ordering some food from a local restaurant will do the trick, however, if you want to go all out in the kitchen, we don't blame you for wanting to indulge a bit more on this occasion. 
If you're looking to take things to the next level with some deeper reds and other more sophisticated drops for the occasion, your food will have to be up to the task. We spoke to Grant Burge Chief Winemaker Craig Stansborough to gauge his recommendations for the 2021 Annual Vintage Release, with red meat and chocolate being the order of the day.
The 2019 Grant Burge Filsell is a single-varietal shiraz from near-century old vines considered to be one of the finest in the Barossa Valley. With rich, full-bodied and textured characteristics this is an excellent pairing for red meat, especially a steak like a filet mignon.
The 'Holy Trinity' vintage is one of the longest producing Barossa Grenache, Shiraz and Mourvèdre blends in the valley. Elegantly complex with a mid-weighted palate this wine is perfect for duck, as well as chocolate mousse alike.
Lastly, the 2018 Grant Burge Nebu. The third release of this great vintage embodies the best of the 2018 season, which was kind to both Barossa floor Cabernet and Shiraz. There is no holding back with this intense, rich and powerful red. A balanced bottle with warm spice and sweet vanilla, this one is perfect for roasted red meats and indulgent rich chocolate dessert.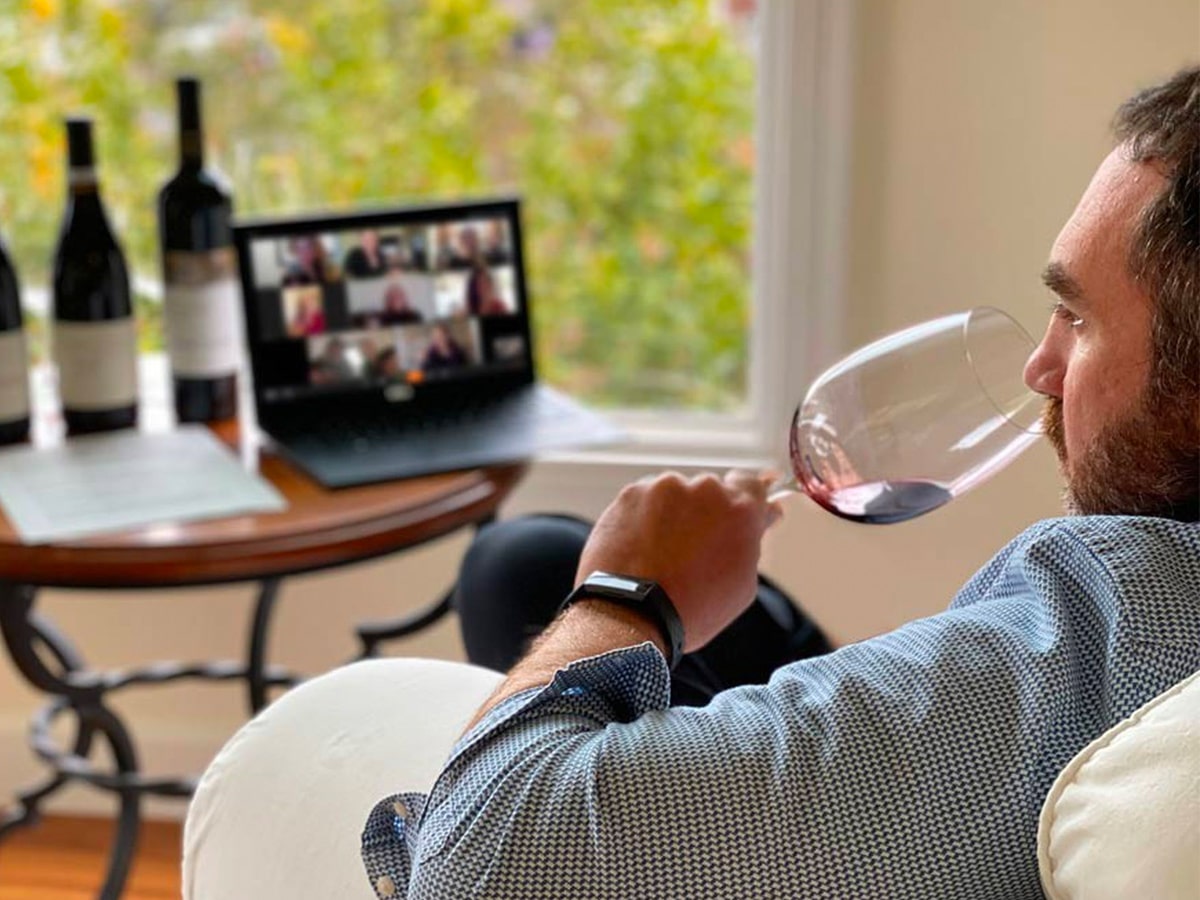 4. Virtual Tasting – Streaming Platform
When conducting your tasting virtually, you'll have to consider the streaming platform most guests are comfortable with. We're personal fans of Google Hangouts and Zoom, but overall, choosing a platform should be the least of your troubles when organising a virtual wine tasting. It's more a matter of preparation and explanation for those who don't use these features every day. Ultimately, setting up a test call with someone else in your household beforehand will reduce most of the stress in the setup process.
After the test call is complete and you have a handle on the meeting software, there are a few small methods to implement and guarantee a trouble-free video call.
Pick a comfortable area of the house.
How do you look on camera? Is the lighting sufficient?
Is the internet connection strong enough? Is anyone else using the internet?
Mute yourself when not talking (don't forget to unmute).
Name one person to host (moderate) the call.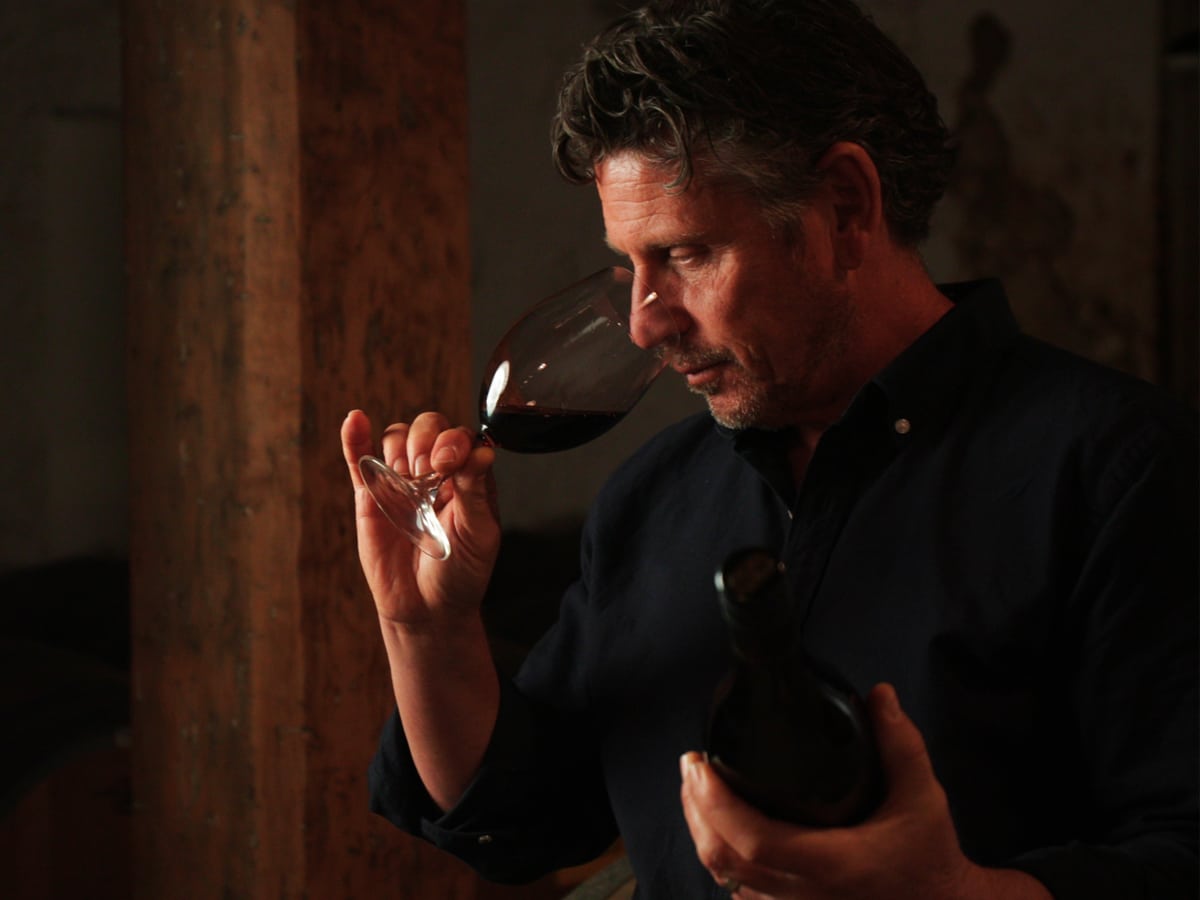 5. Taste the Wines and Enjoy
Next to ordering the wines themselves, tasting them is equally as enjoyable. Meeting up with friends and family is the backbone behind a successful winel tasting and drinking the wines is to celebrate the occasion. We spoke to the experts at Grant Burge to lean on their expertise when it comes to tasting the wines themselves, because while there might not be a 'wrong' way to taste wine – there's a few key tips and tricks to add levels of appreciation for the wines complexity. Their key tips are as follows;
Nothing but time and practice will help you learn faster. 
Don't be afraid to be adventurous with varietal and step outside of your comfort zone.
General tasting notes can be found on the producer's website.
Take the time to look, smell and taste the wine. Refer to notes if necessary.
Identify the important details, producer, varietal, vintage, and conditions.
Even use an app such as Vivino to help you keep a record of wines you've tasted.
For the more advanced palate, comparing two wines' differences is a lot of fun.
Then comparing a greater number of wines in one sitting is the ultimate.
Build up until you can appreciate a wine flight. Before you know it, you're no longer a novice.
Maybe the most important thing to remember when hosting your wine tasting is to have fun. These are special moments that require a good amount of preparation, but this step-by-step guide will have made things a little simpler along the way. Sharing a memory has never been easier, and the Grant Burge Annual Release takes the thought process out of what wines to buy when hosting your next wine tasting.