Huckberry Finds – November 2020: Whiskey Lover
The holidays are upon us and that makes this edition of Huckberry Finds a potential gift guide. Meanwhile, we'll also be releasing a separate 2020 Christmas Gift Guide just for all the boozehounds out there. In summary: if you or someone you know has a true love of alcohol (and whiskey, in particular), you've come to the right place. And we're not talking about your average problem drinker, but someone with a genuine passion for the diverse world of modern spirits. Use the following products to bolster your bar set-up or someone else's. 'Tis the season, after all.
You'll also like:
Huckberry Finds – September 2020: In the Kitchen
Huckberry Finds – August 2020: Business Casual
Huckberry Finds – October 2020: Sweater Weather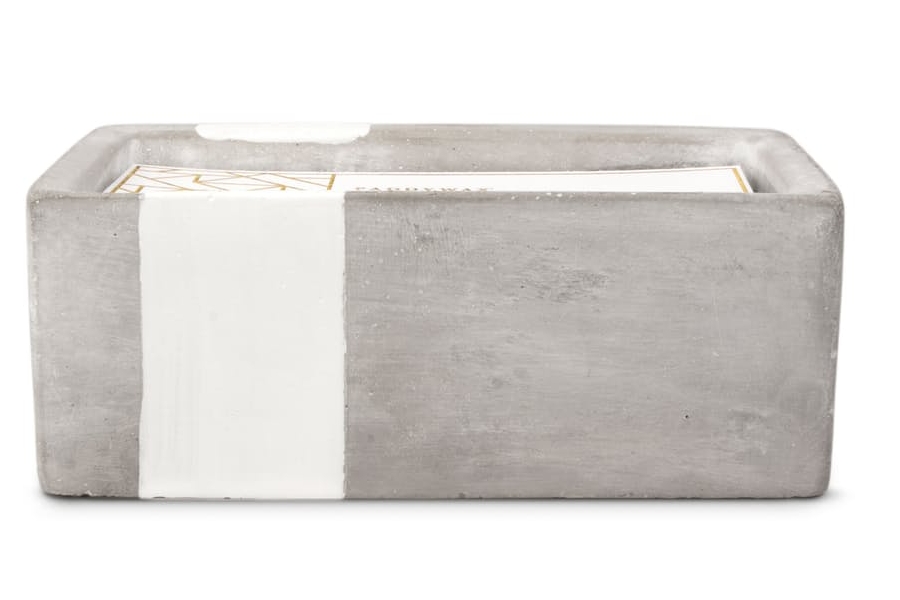 Paddywax Tobacco + Patchouli Concrete Candle
Evening has fallen and you're gearing up for some good sippin'. But first: a little ambience. Set the right aromatic mood with this hand-poured soy wax candle from Paddywax. Housed in a handmade and reusable ceramic vessel, it delivers warm notes of cinnamon, nutmeg, patchouli, vetiver, tobacco, and creamy vanilla.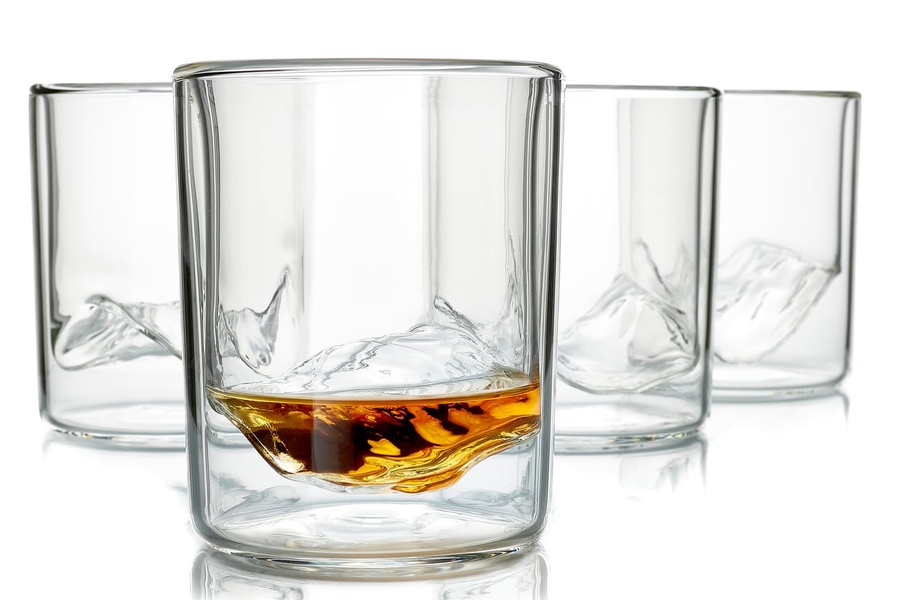 Whiskey Peaks The Rockies – Set of 4
You're not a true whiskey lover if you don't have a set of signature drinkware. These distinguished drinking glasses should do the trick. Each one is made from 100 per cent lead-free handblown glass and supremely light as a result. What really makes them special are the raised topographic impressions at the bottom, modelled directly after the iconic Rocky Mountain range. It's the next best thing to drinking out in the open mountain air.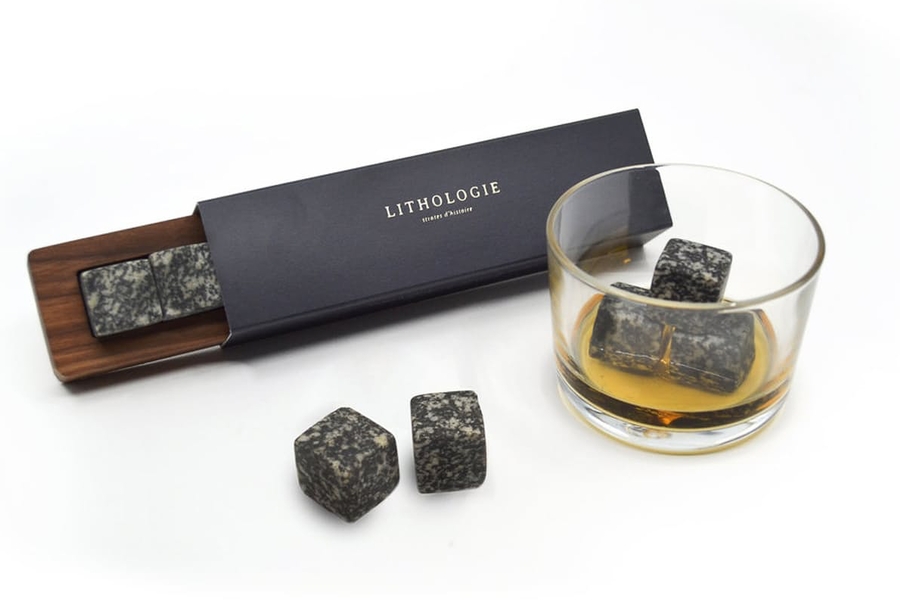 Lithologie Gabbro Whiskey Stones with Tray
For those who like their whiskey cold but not diluted, we present these high-quality whiskey stones from Lithologie. Each one is made in Canada from premium gabbro rock, which formed over 2.5 billion years ago and thus travelled quite a distance to your drinking glass. Rinse the stones with water, let them dry, put them in the freezer for at least half an hour, and then drop them in your whiskey. Now, sip and say, "Aaaaahhhhhhhh…"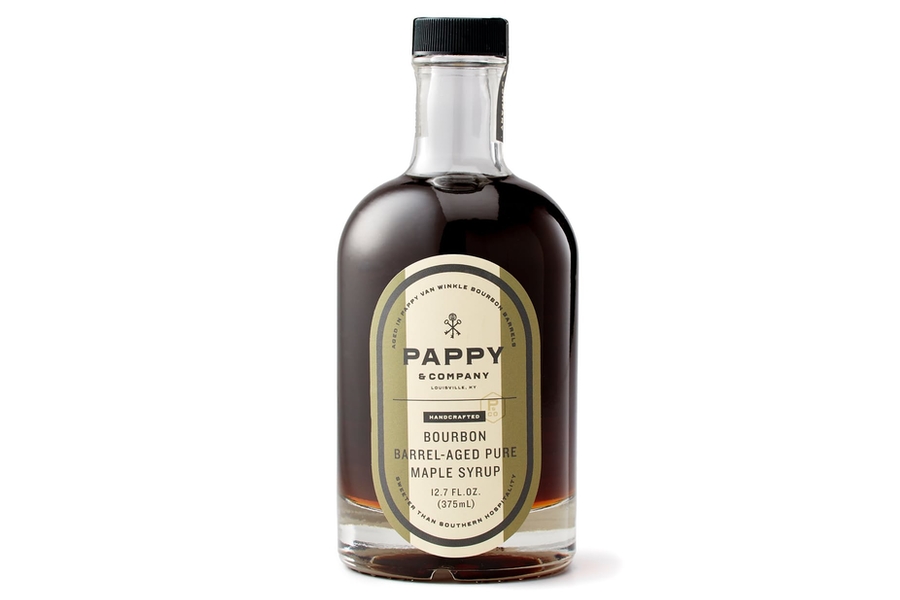 Pappy & Company Barrel-Aged Maple Syrup
Pure Ohio maple syrup was harvested in 2015 and then aged for 6 months inside the same barrels that once held 15-year Pappy Van Winkle. The wondrous results sit inside this very bottle. If you know anything about either maple syrup or bourbon, a little drool just formed on the side of your mouth. We envy your next pancake breakfast.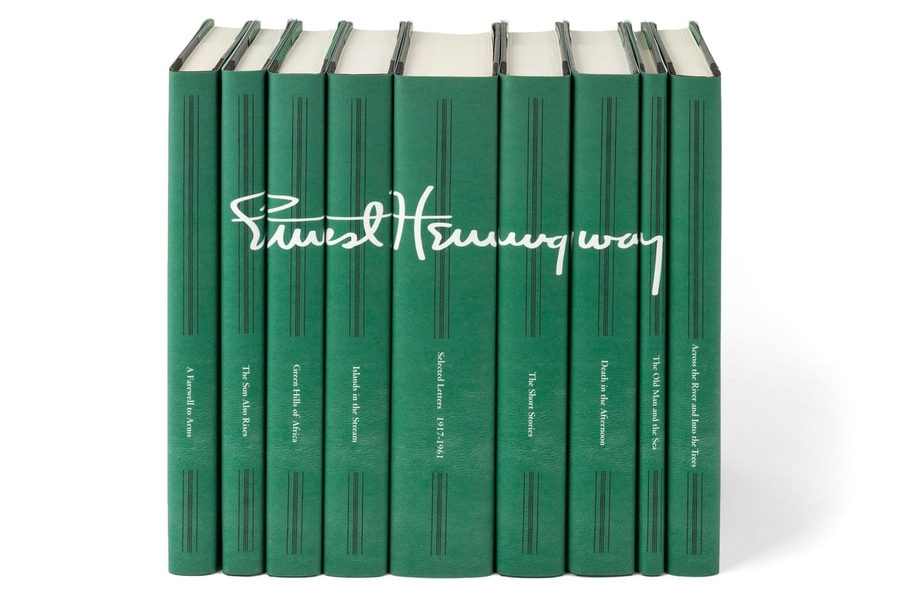 Juniper Books Ernest Hemingway – Signature Set
They say Ernest Hemingway was more of a rum drinker, but we're fairly confident he was no stranger to whiskey. He also happened to be an incredibly talented writer and avid reader. Immerse yourself in his world with this handsome set of his acclaimed works. The dust jackets are custom-designed and hand-assembled and they combine to form Hemingway's signature across the spines. Read them as you drink or leave them on the shelf for decorative purposes…as you drink.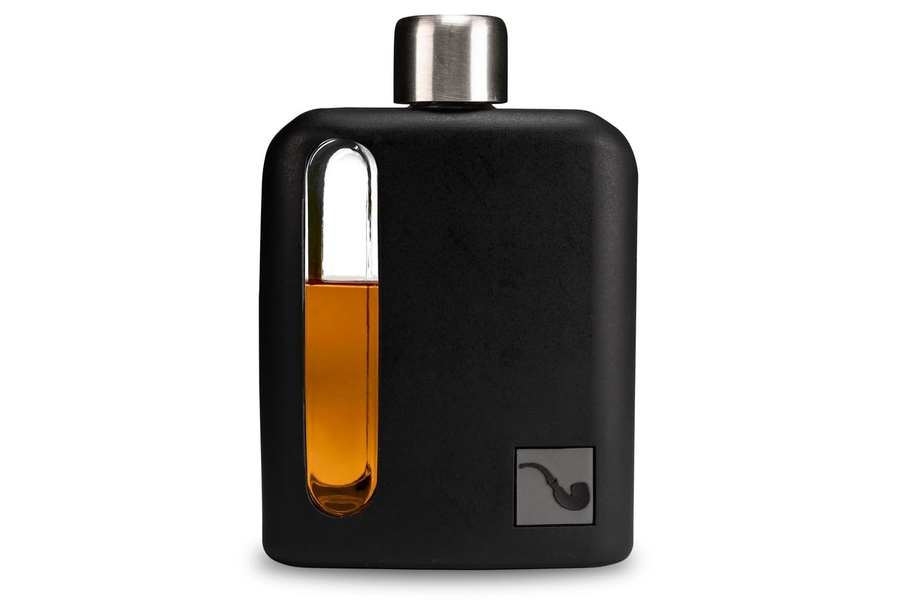 Ragproper Black Silicone + Glass Flask – 100ml
Putting the standard flask to shame, this one from Ragproper is every bit as worthy as the good stuff you put inside it. Wrapping easy-grip silicone around a base of break-resistant glass, it features a nifty brand emblem and helpful display window. The glass is non-reactive, by the way, meaning it won't alter the look or taste of your whiskey. A metal and plastic lid are respectively included with purchase and Huckberry suggests using the plastic one so as to keep the purity theme intact.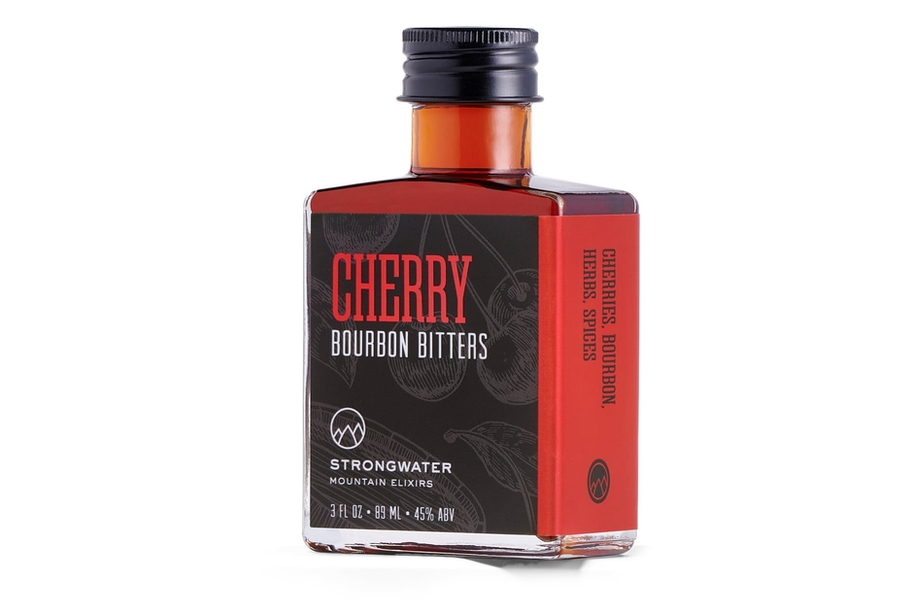 Strongwater Cherry Bourbon Cocktail Bitters
If you enjoy the occasional whiskey-forward cocktail, Strongwater Bitters are your new best friend. This particular batch was made in the old school tradition using both tart and bing cherries, along with 7-year-old bourbon and spices. Use them for your next Manhattan and thank us later.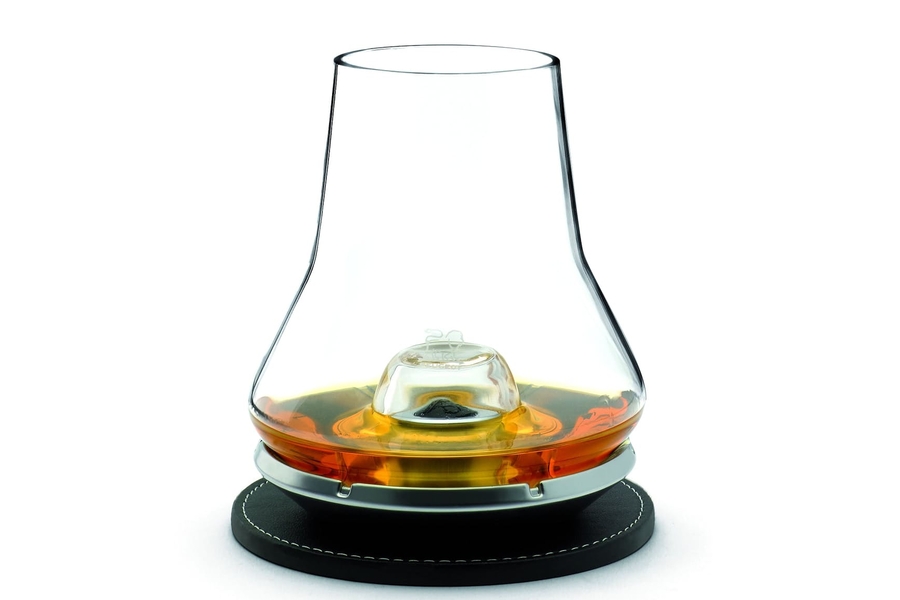 Peugeot Whiskey Tasting Set
A perfect gift for whiskey-lovers, this French-designed sipping glass is even more than meets the eye. Thanks to its optimal shape, the glass itself reduces alcohol heat while releasing key aromas. Peer closer and you'll discover a unique metal chilling base, which cools whiskey from the outside without watering it down. A black leatherette coaster is also included.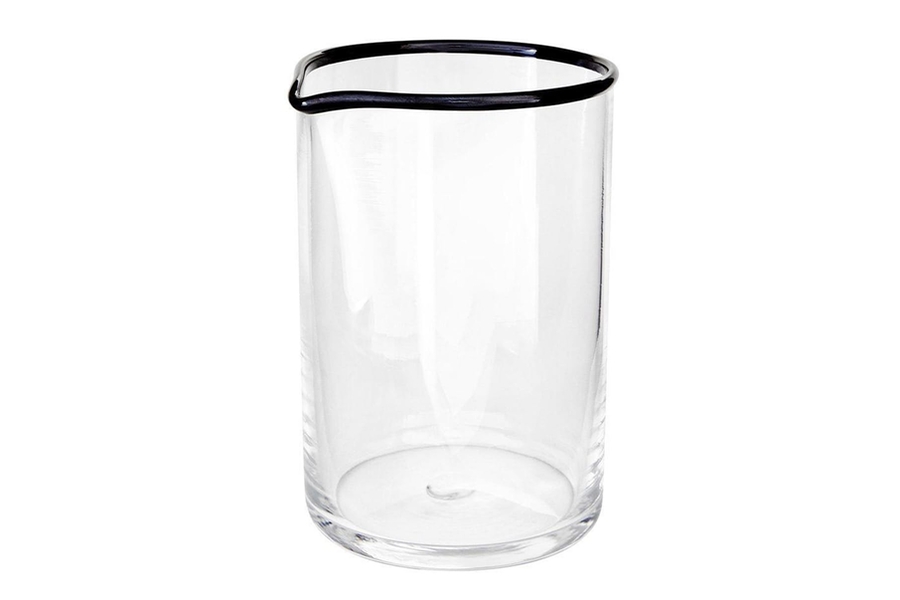 Jack Rudy Mixing Glass
When it comes to timeless whiskey cocktails like an Old Fashioned or Manhattan, a number of top mixologists go with stirred, not shaken. Should you do the same, you'll want a quality mixing glass like this one from Jack Rudy. Not only does it look great on your bar cart, but it can hold up to four cocktails at a time. To be clear, that's one for you and three for your guests (lest you go overboard).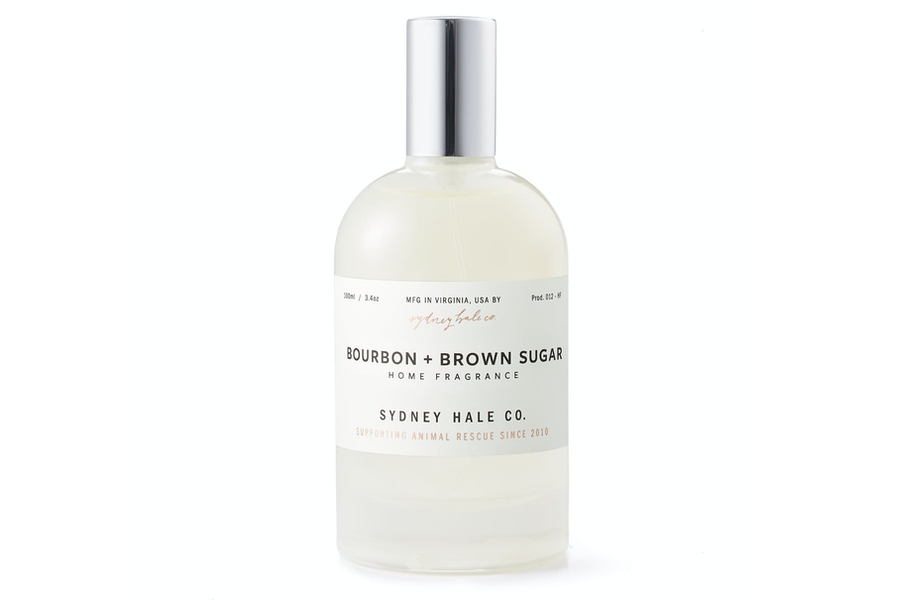 Sydney Hale Bourbon + Brown Sugar Room Spray
With its aromatic profile of double-oaked bourbon and salted brown sugar caramel, this fragrant room spray is exactly as enticing as it sounds. One of Sydney Hale's most popular varieties, it's made with organic sugar cane alcohol and ready to spruce up any decor.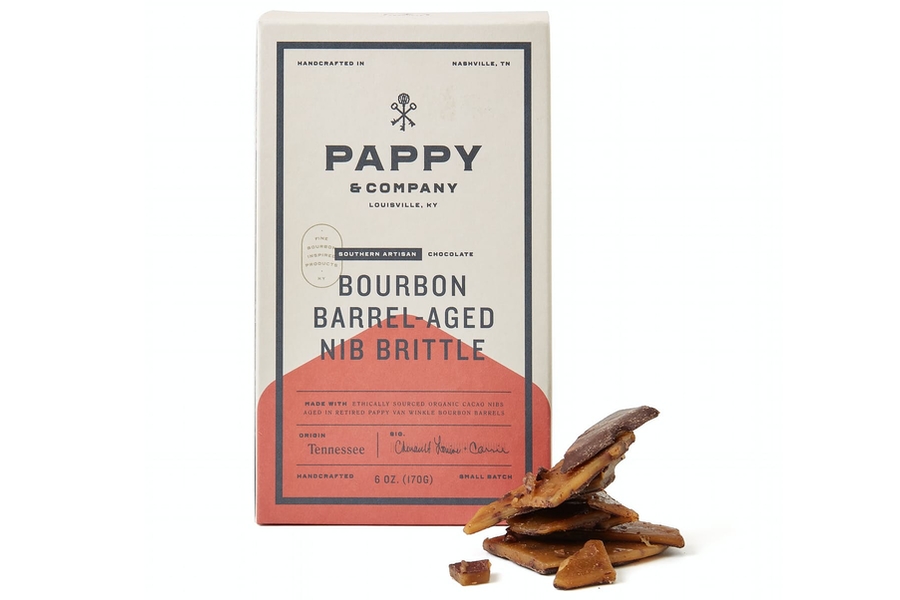 Pappy & Company Pappy Van Winkle Bourbon Nib Brittle
Here's something to snack on while you tirelessly hunt for an affordable bottle of Pappy Van Winkle bourbon. Organic cacao beans from Olive & Sinclair are slow-roasted, stone-ground, and then aged inside Pappy barrels. The resulting brittle is nut-free and chock full of signature flavour. You don't need to love whiskey to love this, though it certainly doesn't hurt.
You'll also like:
Huckberry Finds – September 2020: In the Kitchen
Huckberry Finds – August 2020: Business Casual
Huckberry Finds – October 2020: Sweater Weather