3 Top Irish Whiskey Cocktails to Celebrate St. Paddy's Day This Year
In Partnership with Slane
St. Patrick's Day is nearly upon us and that means it's almost time to whip out the green undies and put on your drinking cap. Speaking of which, we can think of few better ways to celebrate than with a dram or two of Slane Irish Whiskey. Bolstered by expert craftsmanship and triple-cask maturation, it makes for a perfect drinking companion on this quintessentially Irish occasion.
You may be wondering: who was this St. Patrick guy anyway? And why does he have his own day? Also, what makes Slane such a great whiskey? Join us for a dram (or a cocktail, if you prefer) as we partake in a brief history lesson. Here's everything to know and love about St. Paddy's Day and Slane Irish Whiskey, followed by some exclusive cocktail recipes.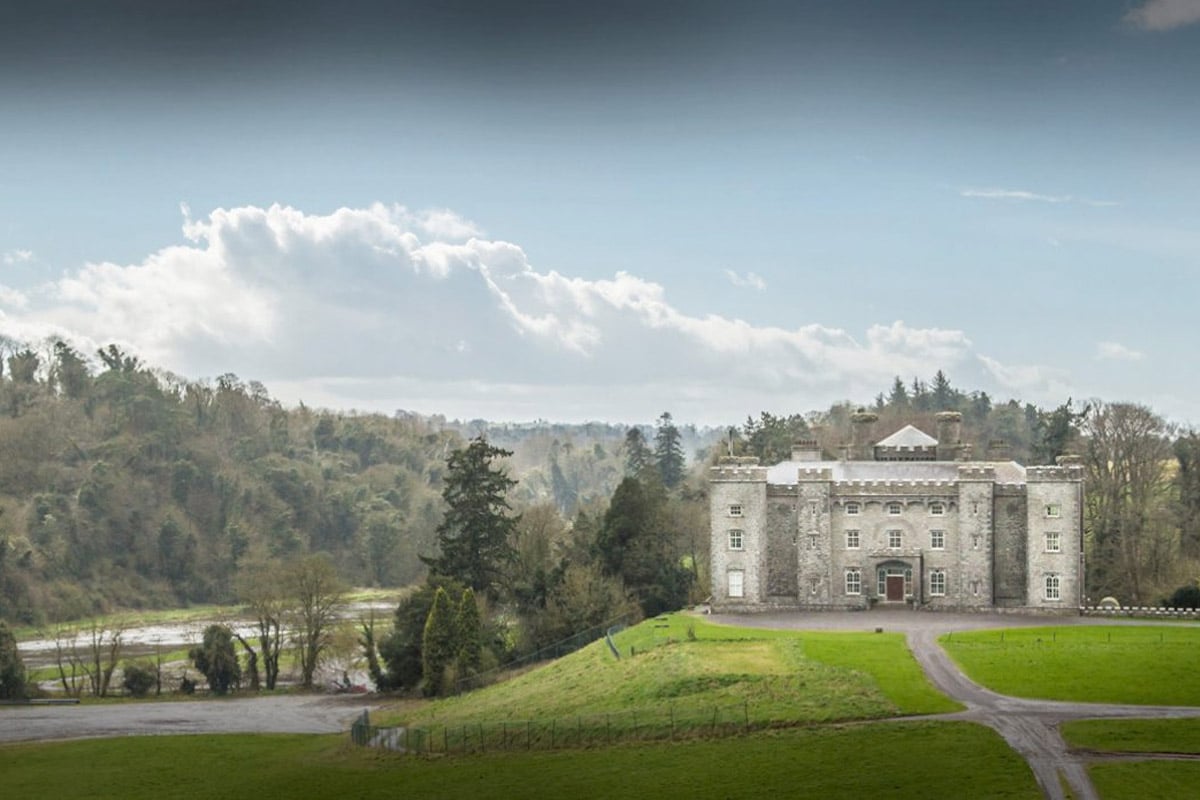 History of St. Paddy's Day
You have whiskey on the mind so we won't bog you down with too much history. According to the "Declaration"—a work supposedly penned by the saint himself—Patrick was born in Roman Britain in the 4th century. The son of a wealthy Christian family, he was reportedly kidnapped by Irish raiders and then sold into slavery as a teenager. He spent six years working as a shepherd in Ireland until finding God and making his way back home.
Patrick became a priest (later a bishop) and returned to Ireland as a missionary, with the goal of evangelising local pagans. It's said that he roamed throughout the northern half of the country, converting thousands to Christianity in the process. He also squared off against druids and famously banished all the snakes (despite the ongoing expert opinion that Ireland never had any snakes).
As Christianity continued to expand across Ireland, so too did Patrick's legacy. To this day, he remains that nation's foremost saint. St. Patrick's Day is technically a religious feast celebration—not necessarily an excuse to get blind drunk—and it occurs once a year on 17 March, the traditional date of his death.
When in Ireland, St. Patrick touched down on a number of historic places and events. One of the most significant took place in 433 AD on the grounds of Slane Castle. Upon climbing a hill, Patrick lit the seminal "Easter fire" in defence of a High King, representing a spiritual turning point for the nation at large. It's on those very same grounds that Slane Distillery operates today.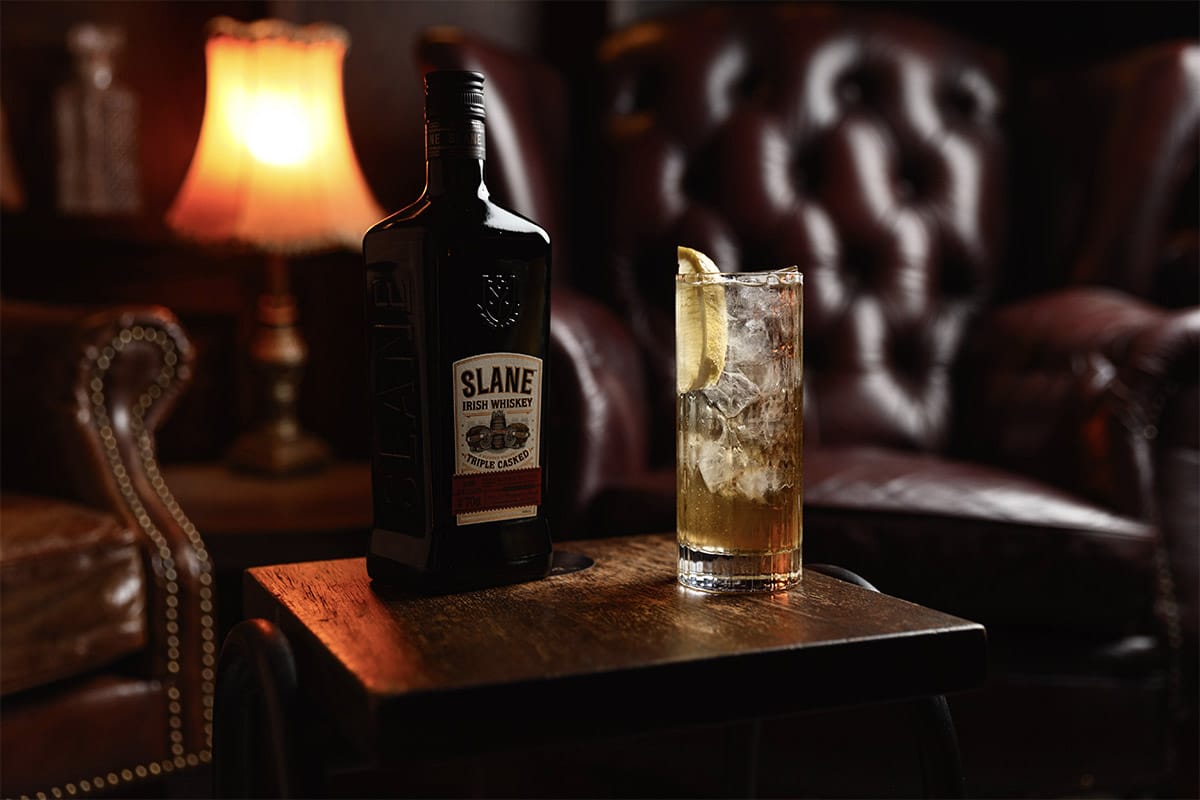 Why Slane is a Superior Irish Whiskey
Irish whiskey is an iconic tradition that dates back many centuries. Not only was Ireland the first place in the world to open a licensed distillery (in 1608), but the very word "whiskey" is Gaelic in origin, translating to "water of life." Then we have the warm and fruit-forward characteristics of the spirit itself, often the result of single pot still distillation and the use of both malted and un-malted barley in the mash.
Making a great spirit even greater, Slane Distillery upgrades Irish tradition with a number of innovative techniques. Nowhere is that more evident than through their legendary triple-casked maturation process, which uses virgin casks, medium char, and seasoned casks alike. In fact, Slane is the only brand to use hand-raised Brown-Forman Cooperage Tennessee whiskey and bourbon casks, along with Oloroso sherry casks out of Jerez, Spain.
Slane garners further distinction through their use of local ingredients and time-tested distillation methods. Specifically, they use the local River Boyne as a water source and reap all their grains and barley from the fertile soil of the Boyne Valley. Pair that with the signature triple-casked maturation—during which each cask lends a unique characteristic to the ageing juice—and you end up with an exceptionally smooth and complex Irish dram.
With its silky profile and nuanced flavours, Slane Whiskey makes for a perfect sipper. It also functions just as well as the base ingredient in a classic or craft cocktail. Put simply, there's no wrong way to enjoy this uniquely delicious whiskey. On St. Paddy's Day, we suggest doing just that.
Special Slane Cocktails
Slane gets pretty excited when St. Patrick's Day rolls around in Australia and with good reason. Indeed, we definitely know how to celebrate in these parts! Knowing as much, the brand asked an expert bartender from each major Aussie city across the East Coast (Sydney, Melbourne and Brisbane) to create a signature cocktail for the occasion. Should you live nearby, hit up one of the following venues for an exclusive drinking experience: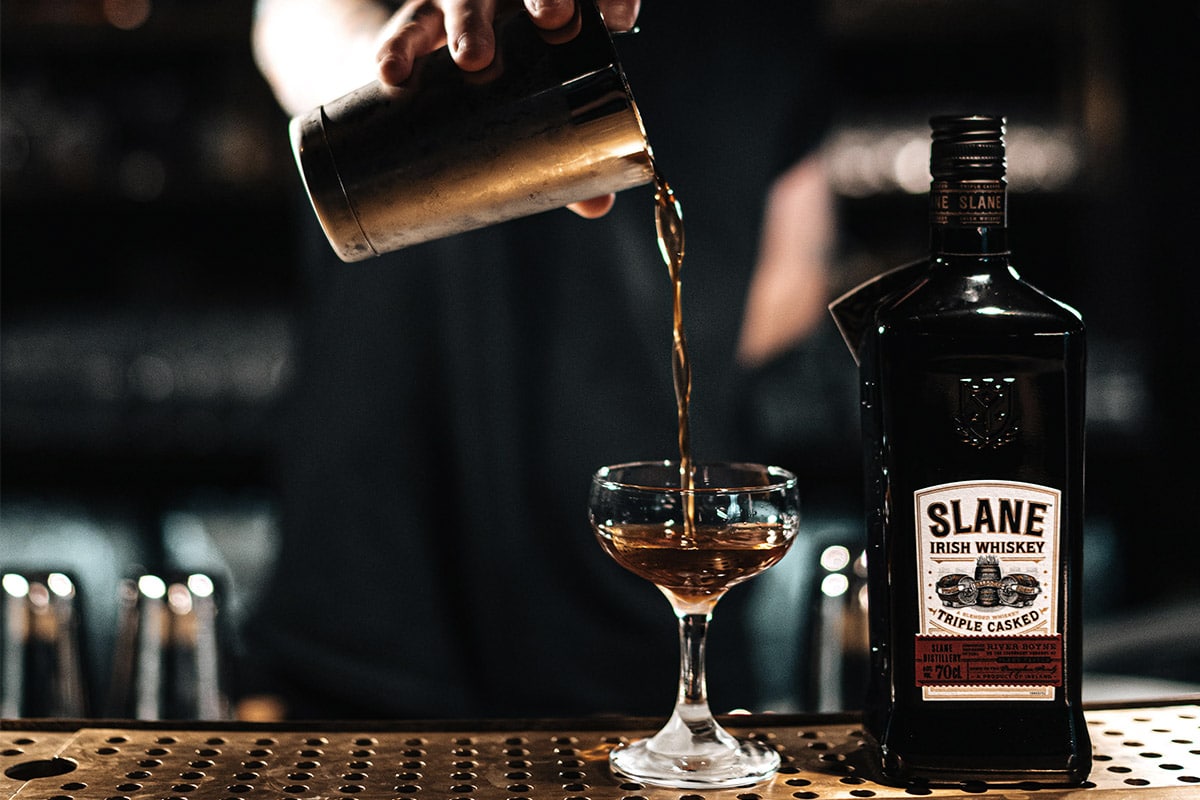 1. Victoria – Valhalla Cocktail Bar, Melbourne
Basement/477 Collins St, Melbourne VIC 3000
One of Melbourne's latest cocktail venues is also one of its greatest. Putting an Aussie twist on Scandi-style basement bars, Valhalla has quickly established itself as a premier destination, particularly amongst the after-work crowd.
Bartender: Tim Pope
Bartender Tim Pope grew up in central London before moving to Melbourne, where he honed his passion for modern mixology. With over 6 years of experience under his belt, Pope retains the philosophy that the best cocktails are the ones that stay true to the taste and character of their respective base spirit. He's competed in a number of major competitions, most recently winning the Woodford Reserve VIC. For St. Paddy's Day, Pope has created the B.O.C. (Breakfast of Champions), a spirit-driven cocktail that's straightforward but complex.
Drink: B.O.C (Breakfast of Champions)
45ml Slane Irish Whiskey
45ml Coffee Liqueur
10ml Native Shrub (Davidson plum • River mint • Tasmanian pepperberry)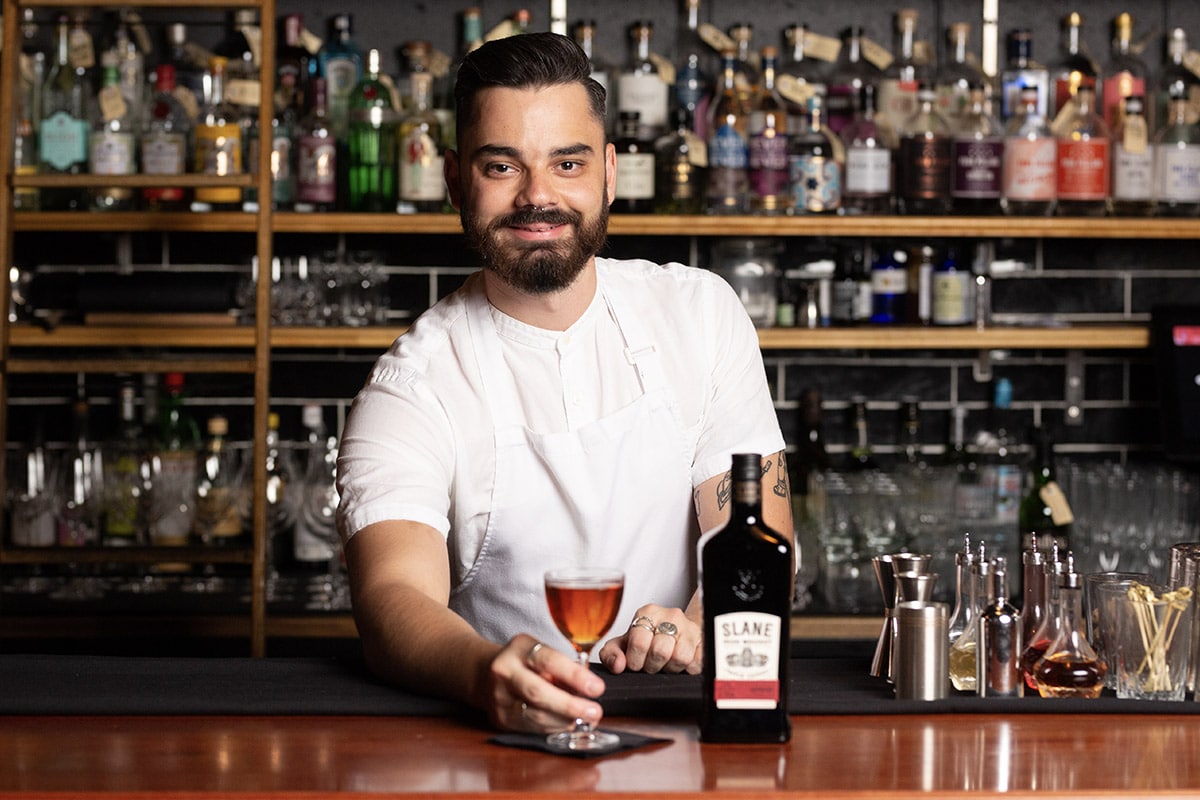 2. Queensland – Death & Taxes, Brisbane
36 Burnett Lane, Brisbane City, QLD 4000
Take a trip down Burnett Lane—i.e. Brisbane's oldest laneway—and gaze upon the local street art until you arrive at two large double wooden doors. To venture beyond these doors is to discover one of the city's best-kept secrets, also known as Death & Taxes. Taking direct inspiration from the underground bars of London and Paris, the venue hosts plush booths, intimate lighting, and a jaw-dropping back bar with over 1000 spirits on display.
Bartender: Joe Steadman
Bartender Joe Steadman fell in love with whisky while tending bar at Brisbane-based Cobbler and has been expanding upon that love ever since. Not only does he value the spirit for its exceptional taste, but for its epic history as well. You'll often find him telling stories about world-famous distilleries as he makes simple but multi-layered cocktails like the one below.
Drink: Dancing Thief
30ml Slane Irish Whiskey
15 ml VSOP Cognac
10ml Amaro Montenegro
10ml Sweet Vermouth
10ml Blackcurrant syrup
1 Dash Ango/pastis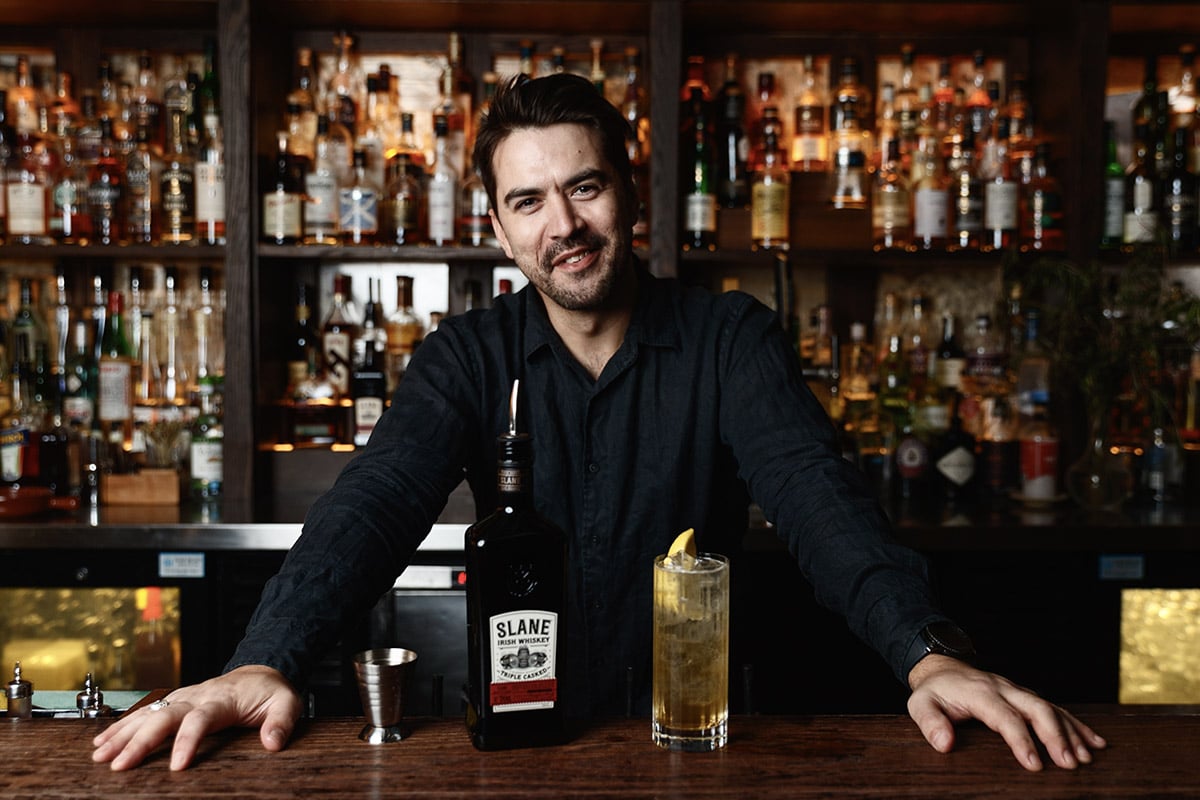 3. NSW – The Doss House, Sydney
77/79 George St, The Rocks New South Wales 2000
We Aussies love ourselves a great underground locale and The Doss House is amongst the best. The beloved bar makes expert use of its historic space, which dates all the way back to the 1840s. Step into this cosy vintage domain and pass by time-worn sandstone walls, eclectic antiques, and original fireplaces as you make your way to one of five bars. You'll feel like you've been transported to another era altogether.
Bartender: Alex Rogerson
Doss House is all about classic retro vibes and for bartender Alex Rogerson, that means strong cocktails with spirit-forward flavours. A refreshing Irish Twist on a Highball. The flavour combinations of the highball amplify the distinctive flavours of Slane's three casks process. Vanilla, Banana, Butterscotch, dried stone fruits and subtle baking spice, each sip takes you on a sensory journey.
Drink: Whiskey Lemon Cheesecake
45ml Slane whiskey
30ml Clarified Milk punch (milk, digestive biscuits, lemon curd, and butter)
20ml Lemon Juice
Charged with soda