Johnnie Walker's Sweet Peat Scotch Whisky
A limited-edition whisky from Johnnie Walker is launching this month. It's called Sweet Peat for blending caramel sweetness with peated smoke. Sweet Peat is the latest in the Blended Batch series following on from Johnnie Walker's experimental Rum Cask finish and Espresso Roast whiskies. Sweet Peat is exclusive to Dan Murphys and retails for $55 a bottle.
At the heart of Sweet Peat is whisky from the island distillery of Caol Ila, chosen for its soft bonfire smoke and hidden sweetness. Speyside malts, including Cardhu, add sweet fresh fruit flavours such as apple, orange and pineapple. Whisky from Glendullan, aged in sherry casks, brings additional sweetness, rich fruity notes and balance.
Over a decade ago, a small team of Johnnie Walker blenders began a series of experiments matching flavours and aromas, exploring what happens when different types of smoke and sweetness collide. The result is a series of small batches with Sweet Peat being the latest release.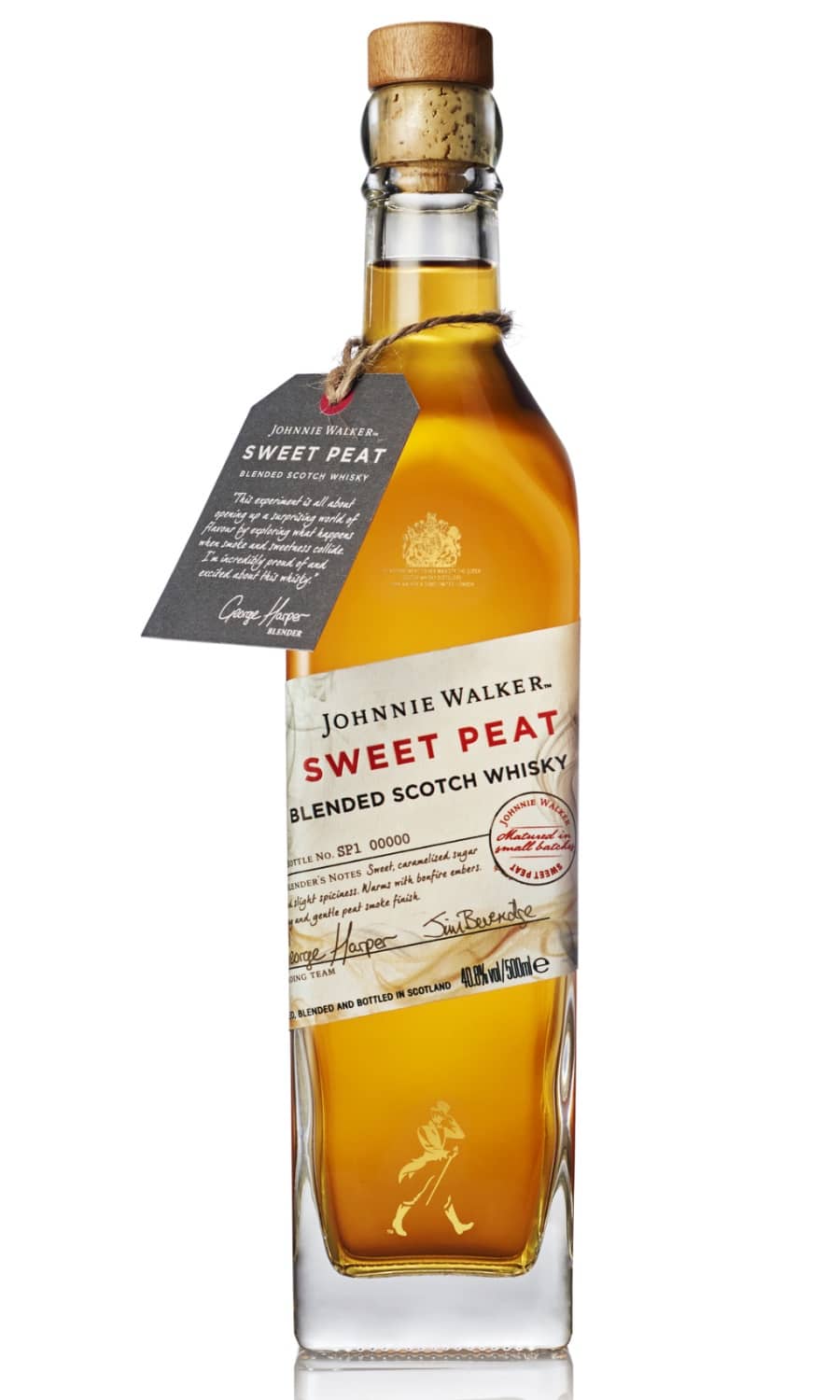 Blender George Harper led the creation of the new whisky in collaboration with two-time Master Blender of the Year Jim Beveridge. "I'm incredibly proud of this whisky," says George. "Johnnie Walker Blenders' Batch Sweet Peat is equal parts exciting, delicious and unexpected, and I think whisky fans – both those who are really into smoke and those who prefer a sweeter Scotch – are in for a treat."
The limited-edition Johnnie Walker Blenders' Batch Sweet Peat is bottled at 40.8% ABV and is expected to be available this month. Johnnie Walker was even kind enough to share a cocktail recipe for the Highland Gold Rush.
Highland Gold Rush
• 60ml Johnnie Walker Blenders' Batch Sweet Peat
• 30ml Honey syrup (mix of half honey, half water)
• 20ml Fresh Lemon Juice
Add all the ingredients to a cocktail shaker with ice and shake vigorously. Strain into a rocks glass filled with ice and serve with three slices of fresh ginger.
General FAQ
Which Johnnie Walker is the sweetest?
With its blended caramel sweetness abnd peated smoke flavors, Sweet Peat is the sweetest of the Johnnie Walker whiskies.
What does peated whiskey taste like?
Peated whisky has a smoky flavour given to it by the peat fires used to dry the malted barley. The intensity of the peat smoke flavour depends on the length and intensity of exposure to the smoke.