The Lagavulin 11 Year Old Guinness Cask Finish Approved By Ron Swanson Himself
If Lagavulin owes its success to anyone, it just may be Nick Offerman. Never mind the more than 200-year tradition behind the Lagavulin Distillery, it was Offerman's portrayal of Ron Swanson from Parks and Recreation that brought this single malt whiskey to the forefront of popular culture. Now, the Lagavulin 11-year-old is a direct result of both Offerman's and Swanson's love for the whisky.
You'll also like:
Drake's Whiskey 'Virginia Black' Has Finally Landed in Australia
Woodford Reserve's Oldest Bourbon Ever is Headed Down Under
Whisky & Scotch Glasses – A Complete Guide
There are plenty of reasons why Swanson preferred Lagavulin. For starters, the smooth and flavorful whisky comes from the Isle of Islay, where the Lagavulin Distillery has been distilling spirits since 1816 using the miles of peat bog as a raw material, giving the whisky its signature peat flavour. But for this distillation, Swanson was looking for something special that he could dedicate to his father.
So, the funny man turned to his two loves—Lagavulin and Guinness (Swanson inherited these loves from his father). The whisky was first distilled using the extra-long "low and slow" distillation, which has been noted for creating whiskies that are exceptionally smooth and more flavorful. The Lagavulin 11 Year Old is then finished for four months in barrels used by the Guinness Open Gate Brewery in Baltimore, Maryland. Finishing the whisky in these barrels adds chocolate, vanilla, and chilli pepper flavours to the smokiness of the peat whiskey. It also created the perfect Father's Day gift for Offerman.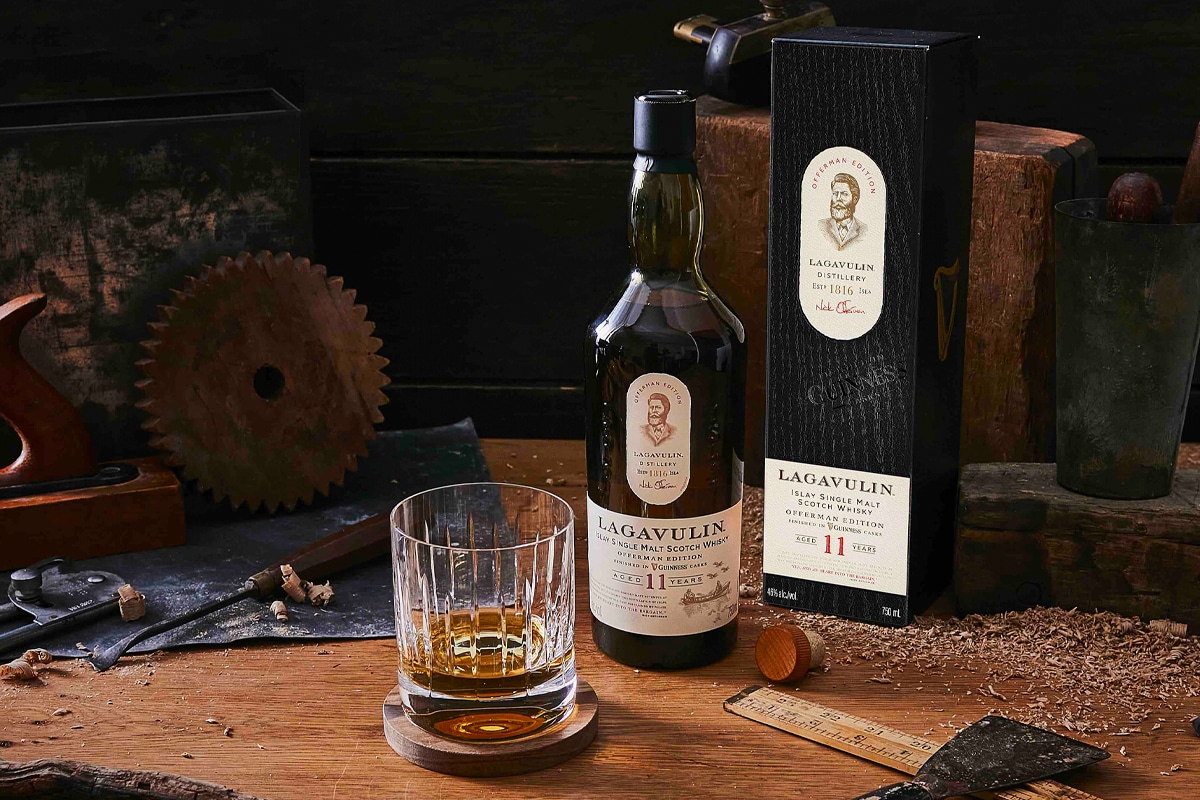 "I have no business having such an opportunity, but I mind my manners and I do the dishes," Offerman told a group of reporters when discussing this recent collaboration with Lagavulin Distillery. Whether his dad would agree with that statement or not, no one is saying. But what is amply evident is that Offerman does know a thing or two about creating an excellent whisky. The proof, as they say, is in the pudding—or in this case, the whisky.
You'll also like:
Drake's Whiskey 'Virginia Black' Has Finally Landed in Australia
Woodford Reserve's Oldest Bourbon Ever is Headed Down Under
Whisky & Scotch Glasses – A Complete Guide