Off-White x Moet & Chandon Impérial Rosé Champagne
Virgil Abloh has been designing everything lately and having plenty of success doing so. Considering that all those successes are most likely toasted with a glass of bubbly, it shouldn't be a surprise that the designer has teamed up with Moet & Chandon for a limited edition Off White Moet champagne bottle. Abloh uses his cult brand Off-White as the inspiration for the Imperial Rose Champagne from the 275-year-old Maison.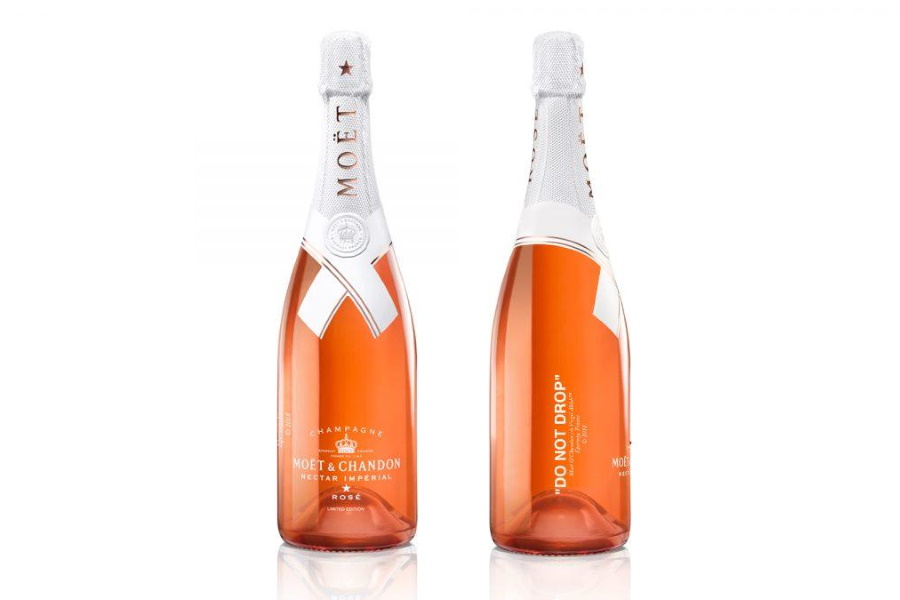 "They approached me saying they had an opportunity to work on a special edition of their champagne and I thought it interesting—so I agreed," Abloh explains. "For me, Moet is the best in class, you know. It's an authentic product with authentic history, you know, all the elements—that usually intrigues me to think of ideas." Those ideas centred around a 750ml bottle that's been described as "ready-to-wear." There's also a three-litre jeroboam, but you'll have to be a member of Abloh's family and friends (a circle that includes Kanye West and Rihanna) to get one of those bottles.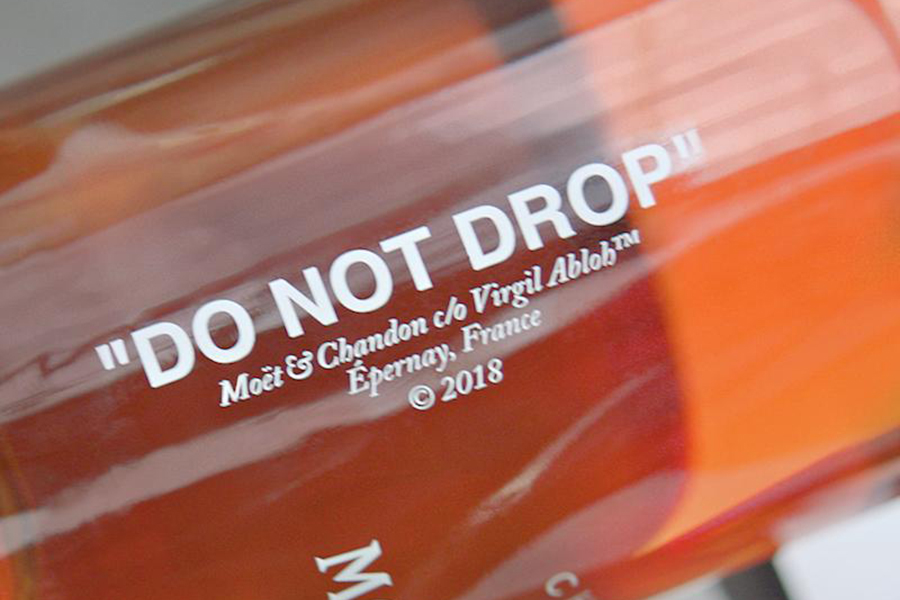 As for the design itself, you can tell that it's not along the same lines of Moet's traditional look. The bottle is labelled with the warning "Do Not Drop" while the box explains that this champagne is "For Display Only." Abloh explains, "While I'm a designer at this moment, it is sort of having my footprint—or thumbprint, rather—on a sort of iconic thing to lifestyle. And you know what happens in fashion, it happens within architecture, it happens within the music. So at the best of its time, I'd like to make a version or articulate an idea through it. And to me, that was working with Moet on a version of their product that recalls what the product means. And that's where I found the idea to do my version, which is, you know, Champagne—even the word itself sort of represents celebrations and this moment of 'making it.' And it's sort of an icon for that. That's what I found interesting…. Champagne, to my mind, is to celebrate an achievement. And to have that embedded in its content in an emotional way. So that's what came. You know, that's where the notion of 'Don't Drop,'—like, physically 'don't drop and break the bottle'—or 'don't break that moment' came into play." That's a sentiment we can all raise a glass to.