PewDiePie's Unveals Second G Fuel Flavour 'Yuzu Slash'
If you're familiar with Esports, then you've no doubt heard of G FUEL. The purveyor of energy drinks has the mission of providing healthier and performance-driven alternatives to standard energy drink products to the gaming world. Their sugar-free lineup includes the fare you would expect from an energy drink company—powdered energy formula, cans, powdered hydration formula, edible energy crystals, and sparkling hydration—and they've garnered the attention of many popular gaming content creators, such as FaZe Clan, NoisyButters, NICKMERCS, Luminosity Gaming, Activision, SEGA of America, Capcom, Bethesda Game Studios, Warner Brothers, Disney, Lucasfilm, and more. One of their partners, PewDiePie, has partnered with G FUEL on a new drink: Yuzu Slash.
You'll also like:
Pewdiepie Launches New Unisex Clothing Brand Tsuki
PewDiePie's Gaming Setup & Gear Behind all that Money
PewDiePie Reveals the Workout That Got Him Jacked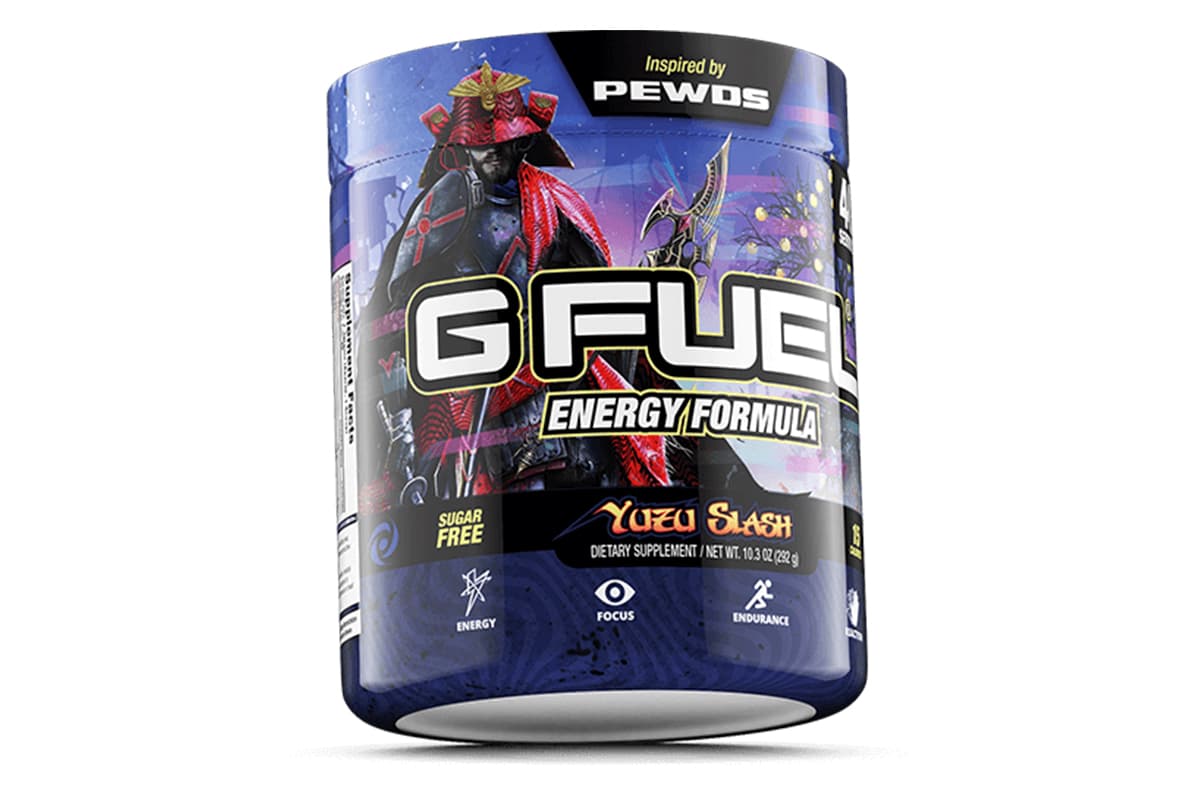 "We're very thankful to collaborate with Felix and expand our successful G FUEL PewDiePie product line to include the unique and refreshing Yuzu Slash. It's the perfect sequel," says Cliff Morgan, the G FUEL Founder and CEO. Morgan is referring to the lingonberry flavoured "PewDiePie" flavour previously launched by the brand. Yuzu Slash follows in the same vein, being a sugar-free drink loaded with antioxidants from 18 different fruit extracts. Each serving of Yuzu Slash has just 15 calories and comes with 140 mg of caffeine in addition to the proprietary energy complexes. The drink has a citrus taste as well as ingredients that help to maintain focus. Yuzu Slash comes in "cyber futuristic packaging" that features PewDiePie wearing samurai armor.
G FUEL Yuzu Slash is available in tubs that provide 40 servings as well as a limited edition collector's box that comes with one 40-serving tub and a 16 ounce Yuzu Slash shaker cup. The tub costs $35.99. Staying hydrated, alert, and focused are important as you game, and Yuzu Slash can help you do just that, as attested to by PewDiePie.
You'll also like:
Pewdiepie Launches New Unisex Clothing Brand Tsuki
PewDiePie's Gaming Setup & Gear Behind all that Money
PewDiePie Reveals the Workout That Got Him Jacked