Starward Projects' Limited-Edition Dolce is an Aussie Whisky With 'Sicilian' Notes
Coming straight outta lockdown, Melbourne's Starward Projects is releasing a brand new whisky, named after the Italian word for 'sweet.' From the program that allows distillers to get down and dirty with experimentation across a bunch of different whiskies, Starward creates a flavour forward drink with a unique expression. For a whisky unlike any other, check out Dolce from Starward.
You'll Also Like:
The Glenlivet 12 Year Old Illicit Still Whisky Embraces its Rebellious History
Applewood's Debut Single Malt Whisky is Australian to the Core
Cowboy Up before Requesting Garrison Bros. Cowboy Bourbon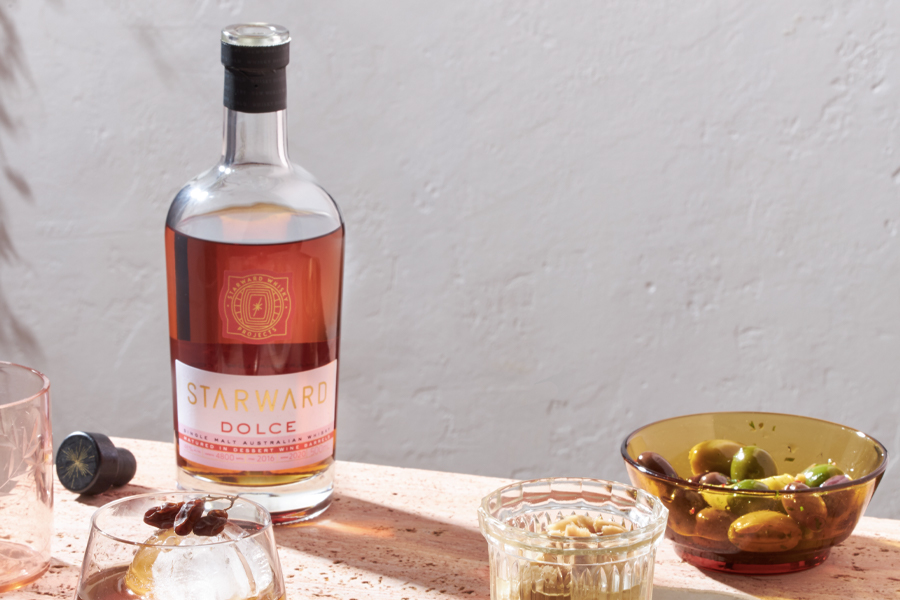 The Starward Projects Dolce single malt Whisky is a melding of juicy wine and oak characters with sweet 'Sicilian' notes made in Australia. Available at select retailers nationally, Starward Projects whisky Dolce will set you back AUD$119 for a limited release 500ml bottle.
"The whisky is from our 'playground' of Starward projects. It was an experiment borne from some very interesting local barrels," Starward founder David Vitale said. "Of course, regulations and rules mean we are creative with what we call these barrels – I just think this whisky is THE embodiment of the Italian word for sweet; Dolce…!"
Being a single, limited release, Dolce brings a bunch of Sicilian notes such as marshmallows and cola. Matured in Australian red wine barrels and finished in barrels that held an Australian interpretation of a Sicilian Dessert Wine.
"Coming from Sicilian origins myself, this is a whisky that is close to my heart, one that screamed right from the first tasting, 'TRY ME!'" Vitale explained. "The sweet aromas of marshmallow and cola meld perfectly with our trademark juicy and balancing stamp of red wine barrel maturation."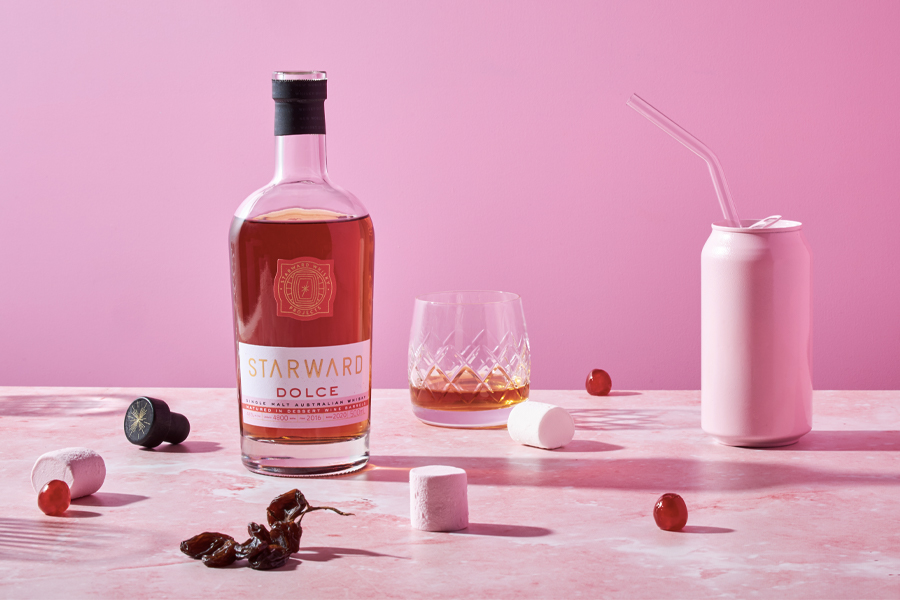 Starward Projects Dolce Whisky Tasting Notes
Colour: Golden Brown
Nose: Dried fruits, toasted marshmallows, and marzipan
Palate: Initial sweetness on the front palate, rich dried fruits, brown sugar, cola, and toasted marshmallows
Finish: viscous, carmelised but enough tannin leaving a well-balanced finish
Alchohol – Size: 48% – 500ml

Food Pairings: Starward Dolce pairs perfectly with rich desserts and sweet cheeses, as an aperitif with rich pate or a fresh light Caprese salad.
You'll Also Like:
The Glenlivet 12 Year Old Illicit Still Whisky Embraces its Rebellious History
Applewood's Debut Single Malt Whisky is Australian to the Core
Cowboy Up before Requesting Garrison Bros. Cowboy Bourbon