Introducing Starward Red Manhattan Cocktail in a Bottle
For a limited time, craft whisky brand Starward reimagines the classic Manhattan cocktail with a local twist. Partnering with Adelaide Hills Distillery, Starward Red Manhattan blends signature red wine barrel-matured whisky with bespoke vermouth infused with native botanicals, then topped off with bitters. The result is a uniquely Australian cocktail in a bottle.
Like with white wines, Red Manhattan is best served after being chilled in the fridge (no need to stir with ice). Serve as a 70ml pour in a coupe glass and garnished with a cherry or red grape.
Starward Red Manhattan retails for $49 per 500ml bottle. It's currently available at the Starward Distillery and website, and will soon reach stores nationwide.
Red Manhatten is the second release in Starward's bottled cocktail series following on from Starward (New) Old Fashioned, described as an aromatic blend of whisky, orange bitters, and wattle seed demerara sugar.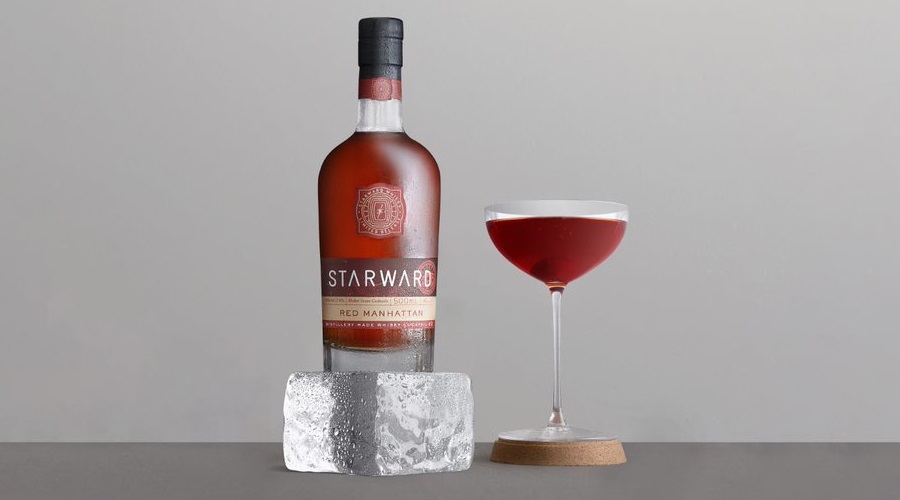 "Starward whisky is uniquely matured in Australian red wine barrels and Adelaide Hills
The distillery sources the very best of Australian native produce and South Australian red wine for its red vermouth," says Sam Slaney, Starward's Head Distiller.
"The result of this collaboration is the Red Manhattan, a one-of-a-kind bottled cocktail that is bright, balanced, and full of flavour."
Tasting Notes
Colour – Earthy Red.
Nose – Christmas spices and dried fruits, supported by oak and subtle grain sweetness.
Palate – Dark stone fruits, baking spices with subtle notes of vanilla and juicy cherries.
Finish – Bright, balanced, and herbaceous with a medium finish.