The Great Aussie Beer Drinkers Quiz
In Partnership with Stubbie Beer
There are few things more Australian than enjoying a cold beer after a bit of hard yakka. It's a true blue Aussie ritual and probably about as close to god as you can get while still breathing. But these days we're spoilt for choice. Picking the right beer at a bottle-o is about as easy as deciphering the 15-page menu at the local fine dining joint.
There's low carb beer, no-carb, full strength, imports, exports, half-strength, extra strength, pale ales, porters, pilsners, stouts, schooners, craft beers, larger beers, summer ales, Belgians, Melbournes, rattlers, sitters, stayers, low-alc, no alc, and extra dollop.
"I just want beer that tastes like real beer"
Well, we hear ya. To cut through the crappacinos, we're keeping things simple. Stubbie offers an easy-drinking, classic German Kolsch-style beer that's stubbornly refreshing and bloody tasty. Brewed using ale yeast to provide smooth, balanced flavour, but finished cold like a lager, this is a beer that won't just put hairs on your chest, it'll whack a schnitty in the oven and hand you the winning ticket in the meat tray raffle.
So take it from us, save yourself the trouble and look for the true blue slab. That'll cut your bottleshop meandering down to a minimum and leave you with extra time to test your wits on the official Great Aussie Beer Drinkers Quiz that we've put together for you.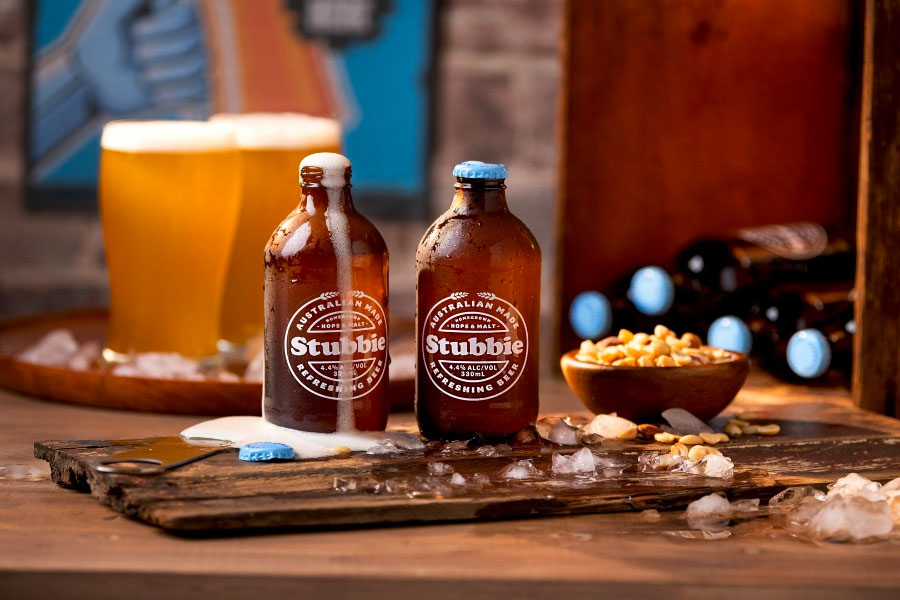 The Great Australian Beer Drinkers Quiz
Gather the fellas around and sharpen your noodles. Australia is a nation of stubby drinkers and if you consider yourself a beer connoisseur then this deep dive into Aussie beer facts, myths and legends should be no problem for you to ace, right?
How'd you go? Tally up your points and then crown the winner. His prize is – drum roll please – another ice-cold Stubbie. Well, it is the perfect no-fuss summer beer after all.