Cutwater Tequila Añejo Rests in the Distillery's Own Whiskey Barrels for Over 1 Year
While best known for their ever-expanding canned cocktail program, San Diego-based Cutwater Spirits doesn't slouch when it comes to the hard stuff. They previously wowed us (and various competition judges) with a Reposado Tequila and now they're back with a finely-aged follow-up.
Crafted in partnership with family-owned Jalisco distillery NOM 1110, Cutwater Tequila Añejo rests inside the brand's own whiskey barrels for at least a full year. Rich in colour and taste alike, it's warm and honeyed the way a great tequila should be. The brand also took things up a notch with the bottle design, which is now just as distinguished as the tasty stuff inside it.
You'll also like:
Rayador Tequila Reposado is So Good it Will Stun You
Cutwater Spirits Canned Cocktail Range is 18 Strong and Counting
Cutwater Spirits Introduces New and Refreshing Tequila Soda
The story of Cutwater Tequila goes back to 2014, when brand founder Yuseff Cherney was still head bewer at Ballast Point. While teaching brewing classes as a side gig, he met a student from Jalisco named Joaquin Lopez Orendain. As it just so happened, Joaquin's family had been producing tequila for nearly a century. Bolstered by his lifelong dream to craft a traditional tequila, Cherney visited the Orendain's family-owned and operated distillery. A unique partnership was thus born.
Jump ahead to the present day and Cutwater now has their own dedicated space inside the Orendain distillery (NOM 1110). Cherney carefully oversees every stage of the production process, during which blue Weber agave is slow-cooked in traditional brick ovens, open-fermented, and double-distilled on a custom-designed "alambique" still of stainless steel and copper. What will become the Añejo statement is first aged inside Cutwater's own whiskey barrels for at least one year.
Additive-free and beautifully balanced, Cutwater Tequila Añejo delivers a glorious golden colour with amber hues. The nose is as classic as they come, offering up distinct aromas of black pepper and agave. On the palate are warm and complex notes of oak, caramel, agave, black pepper, and honey, all of it infused with subtle bourbon vanilla accents. This is the stuff of great sipping and it's presented in a brand new bottle of recycled glass. Gracing the label is a hand-drawn illustration in the Mexican folk art style by San Diego artist Dave Warshaw.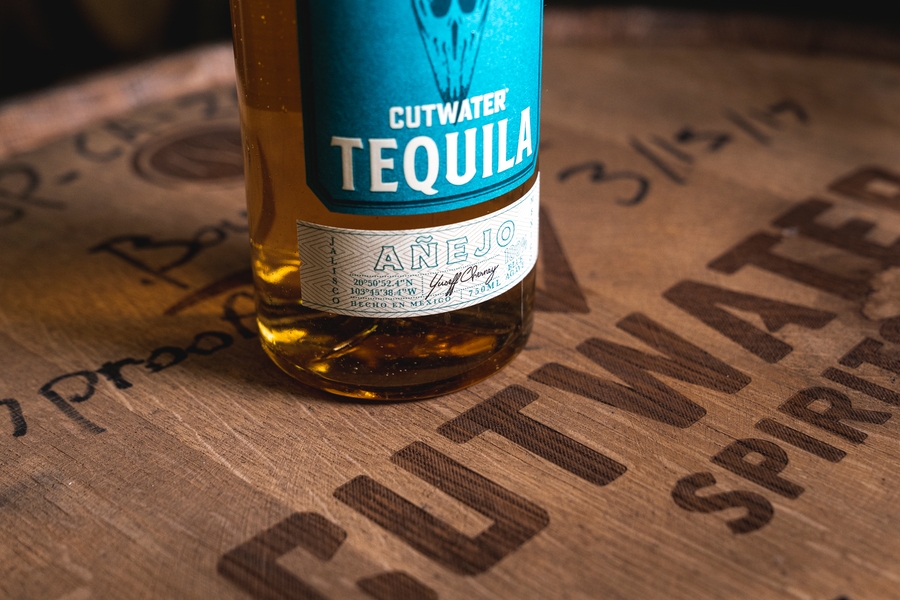 "Following the critical acclaim of our Blanco and Reposado, the team is very proud to introduce Cutwater Tequila Añejo," said founder and master distiller Yuseff Cherney. "We are so grateful for the Orendain family and our partnership as we work closely to create Cutwater tequilas using traditional methods that harken back to the golden age of tequila. Our tequilas are a testament to our meticulous passion and relentless commitment to quality in everything we produce. The Añejo is full of oak while still retaining the agave's presence, perfect for sipping neat."
Cutwater Tequila Añejo is currently available from select retailers for US$49.99. Consumers can find a retailer near them by emailing [email protected] and we suggest they do because this stuff is gooooood.
You'll also like:
Rayador Tequila Reposado is So Good it Will Stun You
Cutwater Spirits Canned Cocktail Range is 18 Strong and Counting
Cutwater Spirits Introduces New and Refreshing Tequila Soda