3 Cocktails That Are Aussie AF
As our great southern land begins to embrace top-shelf spirits and native ingredients more and more, we thought we'd further investigate some of the emerging trends in the big bad world of local booze.
Though there's absolutely nothing wrong with enjoying the occasional mid-summer Brojito (FYI: it's a Bundy Mojito topped up with VB and garnished with a Winnie Blue), we turned to our friends at Archie Rose to learn some new recipes that are a little more, er, sophisticated.
Fill your ice cube trays, get yourself a bottle of Archie Rose and whip one of these out at your next garden party to impress even the most know-it-all cocktail connoisseur in your address book.
#1 'Bloody Matilda'
Ingredients:
30ml Archie Rose Original Vodka
10ml Beetroot Shrub
120ml Fresh Carrot Juice
10ml Lemon Juice
5ml Hot Sauce
2 Drops Saline
Method:
Build all ingredients in a Can Glass, top with ice then stir.
Garnish with Cherry tomato & Mint sprig
#2 Our Mate Peat
Ingredients:
50ml Archie Rose White Rye
10ml Margan Hunter Valley Dry Vermouth
5 drops Vanilla
Pinch of Hickory Salt
Australian Peated Whisky Rinse
5ml Sugar Syrup
Spritz of Honey Distillate
Lemon Peel
Method:
Add everything besides peated whisky and honey distillate into mixing glass
Add ice & stir
Rinse a small stemmed cocktail glass with peated whisky and discard
Strain liquid from mixing glass into cocktail glass, garnish with Spray of Honey Distillate and Twist of Lemon
#3 The '1842'
Ingredients:
45ml Archie Rose Signature Dry Gin
20ml Lemon Juice
15ml Wattle Seed Cola (from PS40)
5ml Egg White
2 Bar spoons of Fig Jam
Juniper Salt
Method:
Pour all ingredients into Boston
Shake without ice
Shake with ice
Strain into Rocks Glass over a Large Rock.
Garnish with Juniper Salt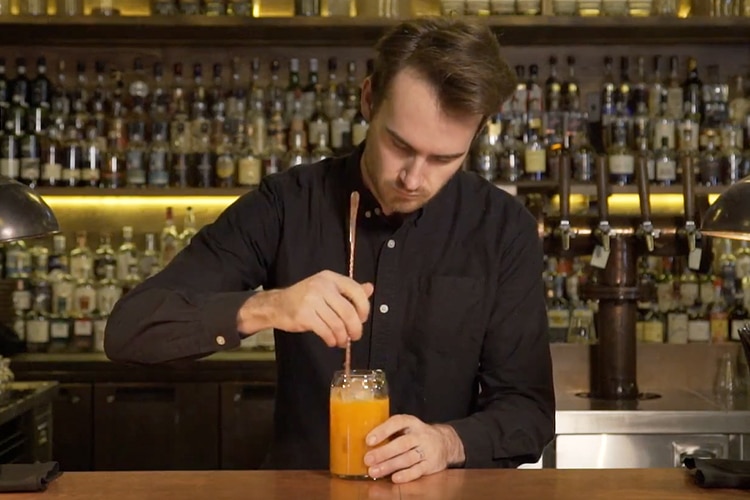 Interview With the Bartender
If there's one thing that can be said for Australian drinking culture, it's that our tastes as a nation have undeniably improved in recent times. Upgrading from UDLs to premium spirits, mainstream lagers to craft ales and West Coast Coolers to Pinot Gris, the palates of this wide brown land have matured exponentially, and there's never been a more exciting time to be a drinker in Australia.
While people are getting #woke about the huge world of spirits and cocktails, hungry for education on whisk(e)y from the Highlands to Honshu, the differences between a London Dry Gin and an Old Tom and why rum from a solera system tastes so goddamn good, there's an even greater move toward supporting what's become a burgeoning local scene for craft spirit production.
When Tasmania's Sullivan's Cove won best single malt whisky in the world back in 2014, the spirit quaffing world's ears pricked up and Australia was officially on the map in terms of distilling prowess. Since then, other regions and expressions have started to carve their own name on the mantel, each distillery bringing something unique to the young, exciting table. One such trend is the use of Australian botanicals in the production of gin.
"The Bush Tucker movement is seemingly all too slow to take off … but we're starting to see it creeping onto more and more menus" says Greg Bampton, Bar Manager at Rosebery's Archie Rose distillery (and handsome chap behind the bar in the above video).
"We use a fair amount of Lemon Myrtle, which you do see occasionally around the traps. It's one of our native ingredients in our Signature Dry Gin (Which also won the prestigious award for World's Best International Contemporary Gin)."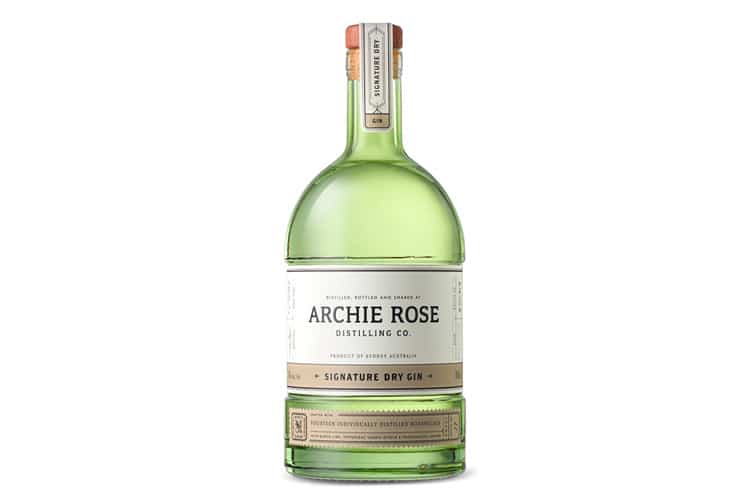 "It's reminiscent of a Peter's Lemonade icy pole, which you used to get from the corner store after a scorching school day. It's not surprising that it's found it's way into today's cocktail world. I also see Pepperberry, Saltbush, Finger Limes and Blood Limes appearing here and there."
Archie Rose is in the process of ageing whiskies, but while we wait hotly in anticipation for these to be ready for release, we're invited to cool down with some of their Australian-centric cocktails and mixers, many of which focus on their highly-lauded Signature Dry Gin. So what makes a cocktail fundamentally 'Australian' you ask?
"Australia is widely regarded internationally as punching well above its weight in terms of both mixology and service more generally. If you travel to the best restaurants and bars around the world you will find Australians in every nook and cranny" Greg continues.
"Our bartenders frequently win international competitions, and just this year Melbourne's Black Pearl took out Best International Cocktail Bar at the Tales of the Cocktail Spirited Awards … and here at home the standard of our bars is second to none. Australia has a proud profile on the world's drinks stage. And spirits are following that well-worn path, slowly getting the world's attention."
Greg takes time out of his busy schedule managing the bar at Archie Rose, which isn't as simple as polishing glasses and putting ice into the wells, to run us through three recipes. Archie Rose's bar doubles as a shopfront for the distillery, and a dedicated homage to craft cocktails. No expense has been spared on the fitout; it's spacious, elegant. Dark and comfortable. You are instantly invited to forget that you've stepped into a warehouse on an industrial estate, the space is international and welcoming, but with a distinctly proud hint of Australiana sprinkled throughout.
When asked about the significance of using local produce, Greg takes the logical approach. "In every business that uses perishables within its product in some way shape or form there is a saying – "fresh is best". That translates to getting from the farm to the plate in the most efficient and quickest way possible. Food miles are an unnecessary modern extravagance. Why pour a gin that was made on the other side of the world when we have such an interesting spirit scene here? Why buy an out of season fruit which was grown in the northern hemisphere when you can utilise the crops of the season grown right here?"
This approach has seen Archie Rose go from strength to (distiller's) strength, with no sign of slowing down any time soon. The growth of our local industry only makes sense when you consider how our tastes continue to develop, with inner-city 'hipster' trends rapidly spreading.
"I'm looking forward to the high standard experienced in inner cities spreading across the country, it takes time but we're already seeing sales of high end products increase in rural areas, soon cocktail trends will follow" – Greg tells us while we're scoffing the last of his cocktails (should we do another take? I think so…)
"I also think the current trend of drinking less but drinking better can only be a good thing, as alcohol is certainly something to be respected."
Have you subscribed to Man of Many? You can also follow us on Facebook, Twitter, and Instagram.