Westward Honours the Northwest with Pinot Noir Cask Finish
Westward Whiskey has been adding to their line of permanent expressions, and now they're here with their third offering—the Westward American Pinot Noir Cask Finish. Much like their other expressions, the Westward American Single Malt and the Westward American Single Malt Stout Cask, the Pinot Noir Cask Finish comes in a beautifully crafted bottle bearing the Westward logo.
You'll also like:
Lark Distilling Co. Double Tawny Dials the Aussie Whisky Experience 'Up to 11'
Bushmills Launches the First Edition of Its New "Rare Casks" Series
Flaviar Blends Seven Craft Bourbons with its Latest Release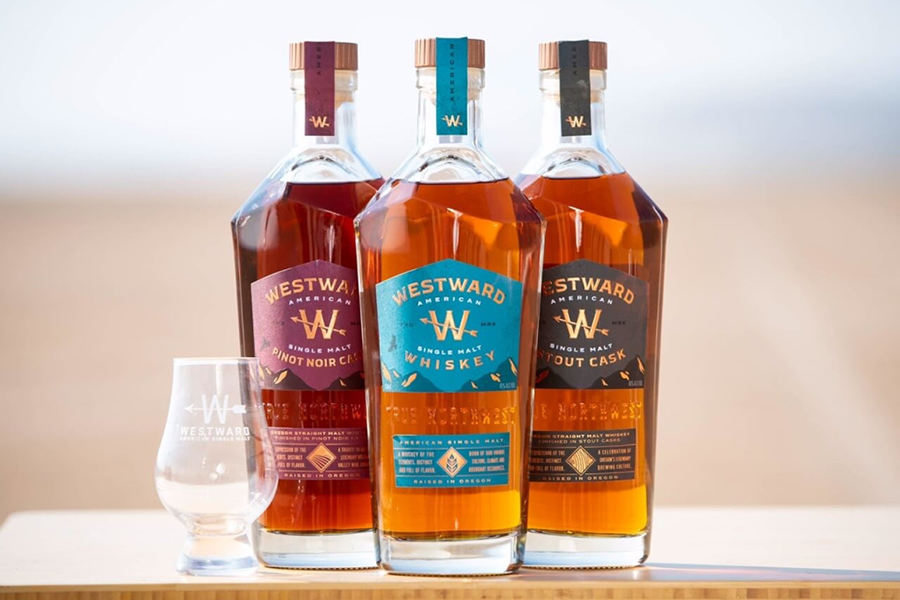 The Pinot Noir Cask Finish celebrates the American Northwest and that region's influence on American whiskey distillation. The spirit is heavily influenced by Oregon's premier grape varietal, the Pinot Noir. With the help of such Willamette Valley producers as Bergstrom Wines and Suzor Wines, Westward Whiskey has been able to create this third expression. The whiskey perfectly blends the bold, robust notes of Westward's whiskey with the unique flavour profile of the grape.
Westward makes their whiskey using Pacific Northwest two-row barley, which they brew with American pale ale yeast. They then double pot distil the whiskey to add more character before sending it out to be aged in 2-char, kiln-dried 53-gallon new American oak barrels. Finally, the whiskey finishes its maturation for two years in French Oak wine casks that were previously used for Pinot Noir.
"At Westward," says Thomas Mooney, the CEO and co-founder of Westward Whiskey, "there are no shortcuts, and therein lies the beauty. We pursue perfection by raising a world-class whiskey through our long, slow, process. Today, we celebrate the culmination of a project we have worked on for the last two years. Our new custom bottle and design expresses the uncompromising spirit of the American Northwest, and they represent Westward's meticulous devotion to our process, culture, climate, and ingredients. We're thrilled to introduce a new, elevated visual identity that further highlights the beauty of our award-winning whiskeys."
Westward Whiskey's Pinot Noir Cask Finish is bottled at 90 proof and is available for USD$89.99.
You'll also like:
Lark Distilling Co. Double Tawny Dials the Aussie Whisky Experience 'Up to 11'
Bushmills Launches the First Edition of Its New "Rare Casks" Series
Flaviar Blends Seven Craft Bourbons with its Latest Release