WIN: 1 of 3 Bottles of Matthew McConaughey's Wild Turkey Longbranch Bourbon
In Partnership with Wild Turkey
"This has been the biggest year for me", says a newly clean-shaven Eddie Russell, as he pours out two glasses of water and sinks into an oversized pink chair in the overdesigned meeting space at Sydney's QT.
It's exactly one year since his last visit, where we first met in exactly the same spot, though a great deal has happened in twelve months. Since releasing the Master's Keep 1894, an exclusive bourbon to the Australian market, his brand has continued to find a strong antipodean fan base, as drinkers become more and more sophisticated, and move towards the premium straight spirits for which the brand is initially famous, and further from the once-burgeoning RTD market. Australia is, in fact, the largest export market for Wild Turkey. 1894's exclusivity to the Australian market was Eddie Russell's way of saying, "Thanks".
This time, he's here to promote Longbranch, a bourbon which was produced in collaboration with Oscar-winning actor and proud southerner Matthew McConaughey. In his new role as Creative Director for Wild Turkey, his hands-on approach has been embraced by the Russell family, who, in hiring McConaughey, got a lot more than they were expecting.
"The idea was more about doing a few commercials, maybe doing a few events … that was sort of what they thought. But when he came there and met our family — my father and me and my son — he didn't understand how authentic Wild Turkey was. It was still a family-type business, and between me and my father having a hundred years of experience, he really got behind that", Eddie tells me in between sips.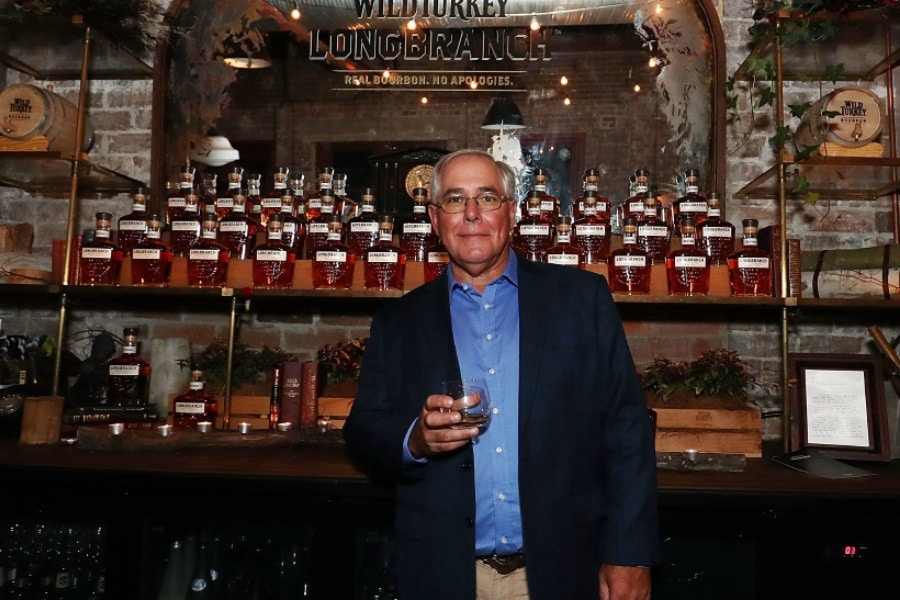 Longbranch is the first bourbon released by Wild Turkey to sit at 40 percent ABV (the brand's flagship liquid in Australia is bottled at 43.4 percent, and in the states, Wild Turkey 101 is their biggest seller, at 50.5 percent). This is a deliberate decision, to make the final product as palatable as possible when served neat, which was McConaughey's main request (the Dazed and Confused star likes to sip his whiskey in its most natural form). And while Eddie and Jimmy Russell's heritage comes through in each drop of their famous Kentuckian bourbon, finding a way to build the actor's famously Texan roots into the product proved to be tricky.
Kentucky bourbon is the most heavily regulated alcohol to produce, even more so than champagne. The idea to use a small amount of mesquite in the filtration was one clever way to introduce some Texan flavour, without messing with the fundamentals that make a bourbon a bourbon.
Mesquite, a hardwood, is very commonly used in Texas for barbecuing brisket, loved for the slightly sweet, citric smoke it imparts on the fatty cut of beef (hickory is favoured in Kentucky, where they primarily barbecue pork).
"We started out with some six-year-old bourbon and got some mesquite and char. And what we do basically, I call it a tea bag.–It's simpler to explain–but it's a big stainless steel container with holes in it, so we put that charcoal in there and basically all we do is just recirculate it through. So the first time we just used mesquite. It came out really smoky, like a peaty scotch.
"It was another five or six sets of samples where we had both the chars together and then we did mesquite first, and then oak second, and then we realised we'd shifted around to where we did the American White Oak first. So basically I take that teabag and I set it down there, and recirculate for a day. Pull that one, put the mesquite char and recirculate that for a day. The American White Oak took some of the high notes out of it, those stringent notes.
"But it also got it ready for that mesquite to bring what I was looking for, which was those fruity, citrus flavours. Just hints of smoke."
The resulting bourbon still tastes like Wild Turkey, but with a distinctive, pleasant sweetness; the efforts to make this a bourbon to be enjoyed unadulterated don't go unnoticed. And at a time when brands are scrambling to get a famous face selling their wares (Russell confides in me that it'd, "Be nice to have Mila Kunis around, but it's not as believable as it is for Matthew", in reference to his best friend Freddy Noe's choice of ambassador for rival brand Jim Beam), McConaughey's efforts with Wild Turkey provide a legitimacy to the alignment; his southern accent and hands-on approach to hard work very much in line with that of the Russells.
"It just goes back to what he's about. He's a big family man, his wife and kids go everywhere with him. He didn't just want to tell the story in commercials, he wanted to be part of it. So I told him, I said, "Well, I won't let you make any bourbon, but we can do some stuff."
"And then as we got to hang around together and talk about different things, he sat with my family … his family, his mother came around. We just got to talking, we tasted through all of our products, he got to talking about how he'd love to do a bourbon with what he thought was his favourite.
McConaughey is the first person outside the Russell family to have his signature emblazoned across a Wild Turkey label.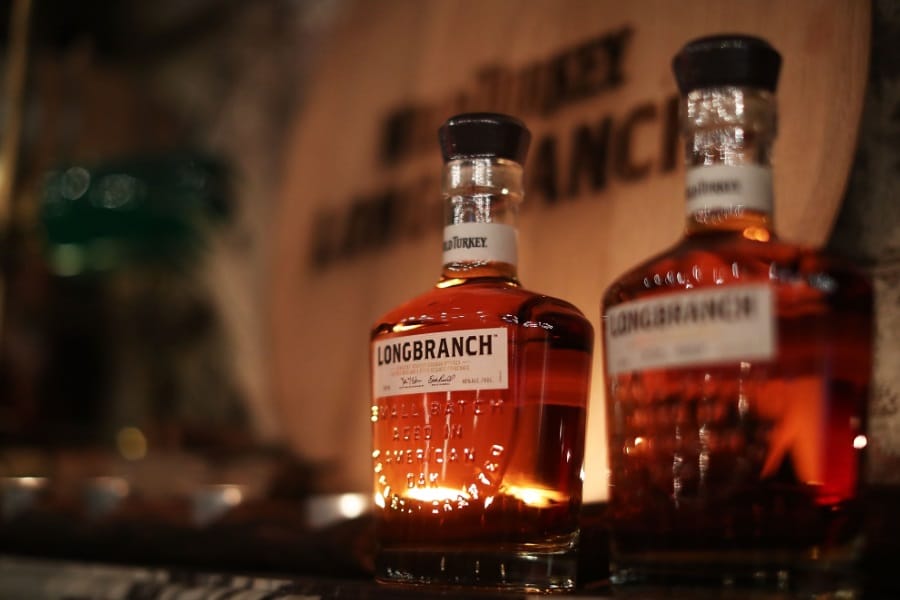 "This was one of the hardest processes ever for me because it'd always been just me or my father", Russell admits.
"Normally a new product for me will take about a year, but this was twice as long because I was sending samples to him as he was doing movies around the world, or even at home or whatever. At the beginning, it was always about connecting Kentucky and Texas, because he grew up in Texas. His mother and father met and married at the University of Kentucky, which is just a few miles away from me."
And as for the ongoing support, McConaughey has gone on talk shows to spruik the product without being asked, and continues to show his endorsement for the brand whenever possible, proving that, for Eddie and his family, they're so much more than just another booze company with a pretty poster boy.
"I think that's what Wild Turkey's always been about. Authentic and true. You know where other people are having some guy pick it for 'em, and then, "I'll put my name on it."
"Matthew, sometimes he's overzealous. I mean, he's out in bars with one in his pocket, trying to taste it and we keep saying, "You can't do that. It's not legal!"
"But he's so much behind it because he has been involved since the beginning."
Wild Turkey has given us a few of these bottles to give to lucky readers, enter your details below for your chance to win.