Using a Theragun G3PRO for Muscle Recovery
Wildly popular amongst fitness freaks and professional athletes, percussive therapy has become fundamental to a slew of workout routines across the world. For those unfamiliar with the concept, percussive therapy involves a high-powered and hand-held massage gun, which reportedly assists with muscle recovery, improves flexibility, increases blood flow, and even reduces chronic pain.
Given how taxing your average circuit training or weightlifting routine can get these days, it's no surprise that this revolutionary concept has exploded by way of various products, brands, and adopters. Leading the charge is Theragun, who continues to improve and innovate on its wondrous range of highly effective recovery tools. At long last, this best-in-class brand has arrived here in Australia.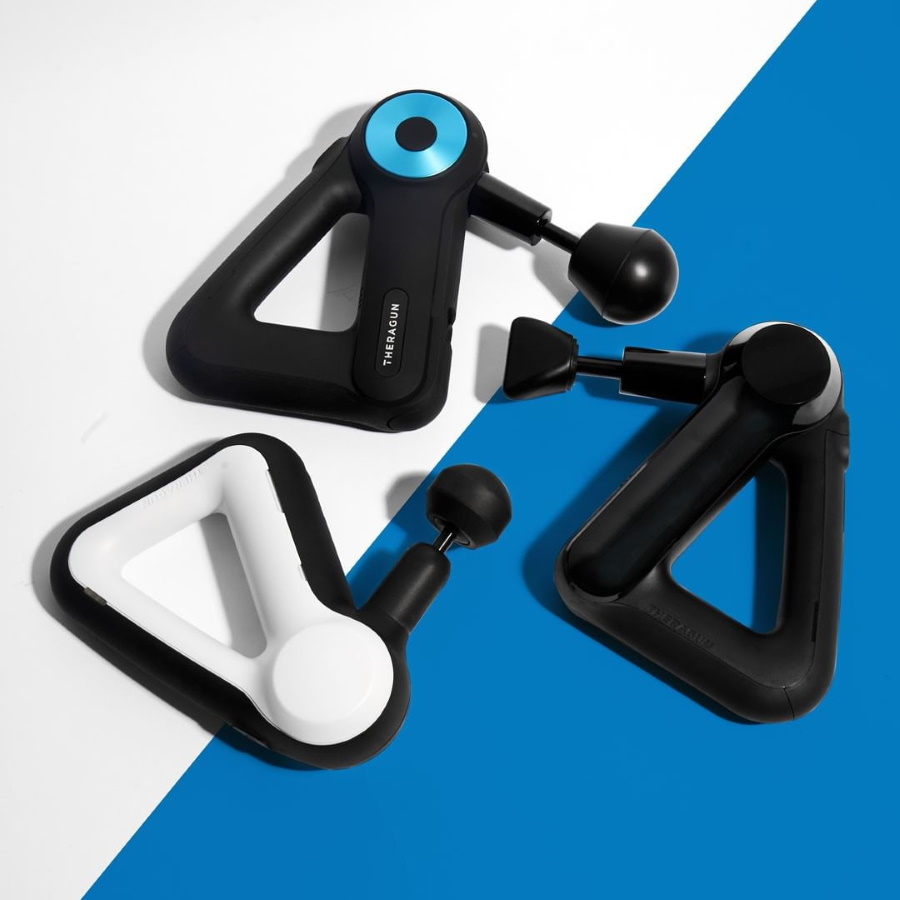 Theragun was originally founded by chiropractor Dr. Jason Wersland, on the heels of a harrowing motorcycle accident. Suffering from injuries and chronic pain, Wersland developed early prototypes as a way to accelerate his rehab. He spent over a decade performing additional research and development until finally arriving on the percussive therapy devices we see today.
True to Wersland's initial vision, these devices relieve muscle tension, improve performance, aid with recovery and muscle repair, increase flexibility, and naturally reduce pain, stress, and tightness. It's then no surprise that Theragun has completely taken off with the fitness crowd, which strives for absolute optimisation in terms of workouts and recovery routines alike. Meanwhile, the brand's products are just as popular amongst weekend warriors, stressed laborers, and those recovering from surgery or injuries.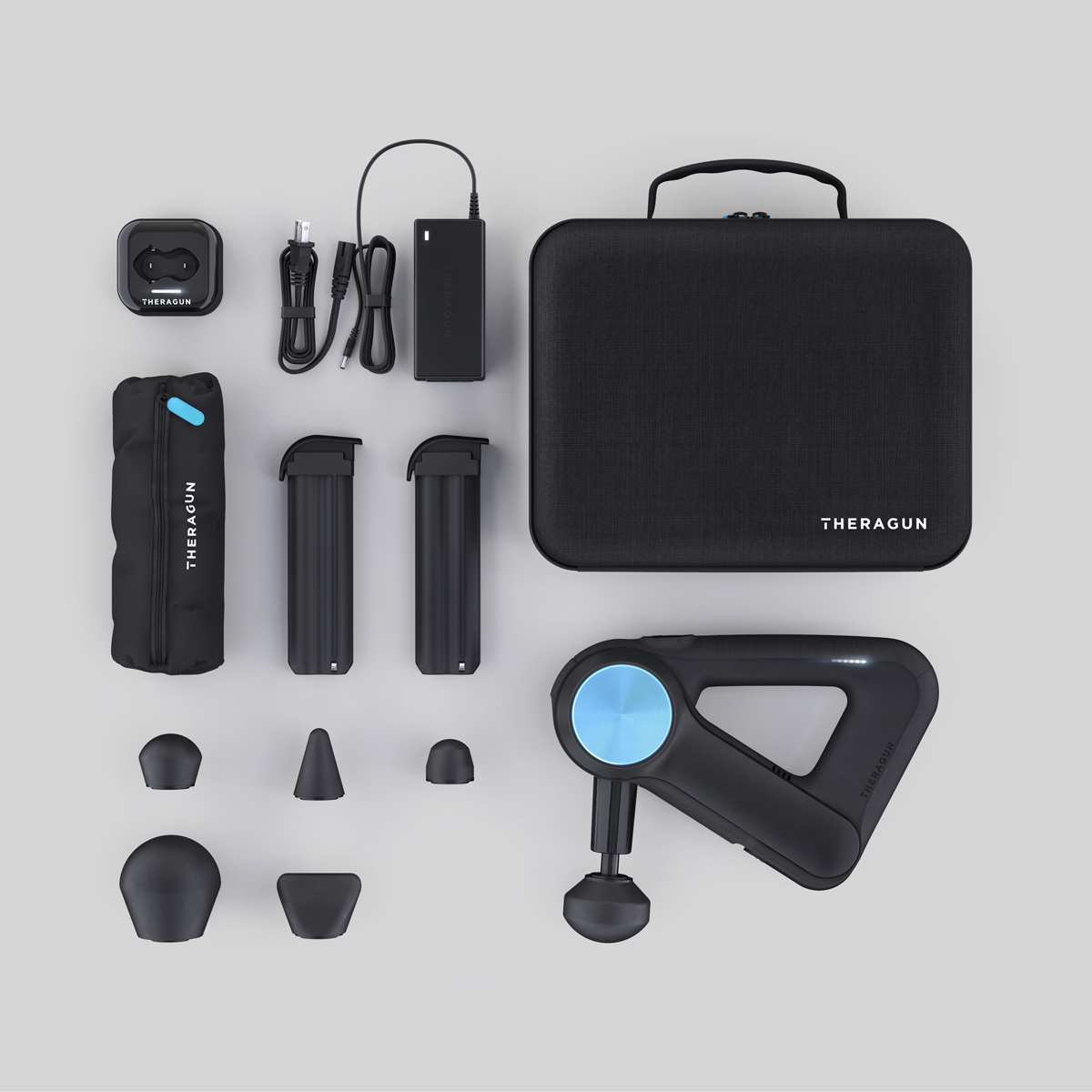 Already spreading like wildfire across the globe, Theragun has brought three new devices onto Australian shores (and just in time for Christmas). The best among them is the G3PRO, a professional-grade model that picks up where its acclaimed predecessor (the G2PRO) left off. Effortlessly usable and fully customisable, the powerful massage gun includes six head attachments and goes straight to the top shelf of percussive therapy. With this extraordinary device at your disposal, you can engage in trigger point therapy, pinpoint muscle treatment, pain management, and much more.
The six attachments on the G3PRO are as follows: a dampener, large ball, standard ball, cone, thumb, and wedge. The dampener targets tender areas, including the parts of your body that are near bones. Handling the lower back and trigger point therapy is the thumb, while the large ball tackles larger muscle groups. The wedge is for scraping, shoulder blades, and IT bands and the cone is for pinpoint muscle treatment. Last but not least is the standard ball, which handles overall use.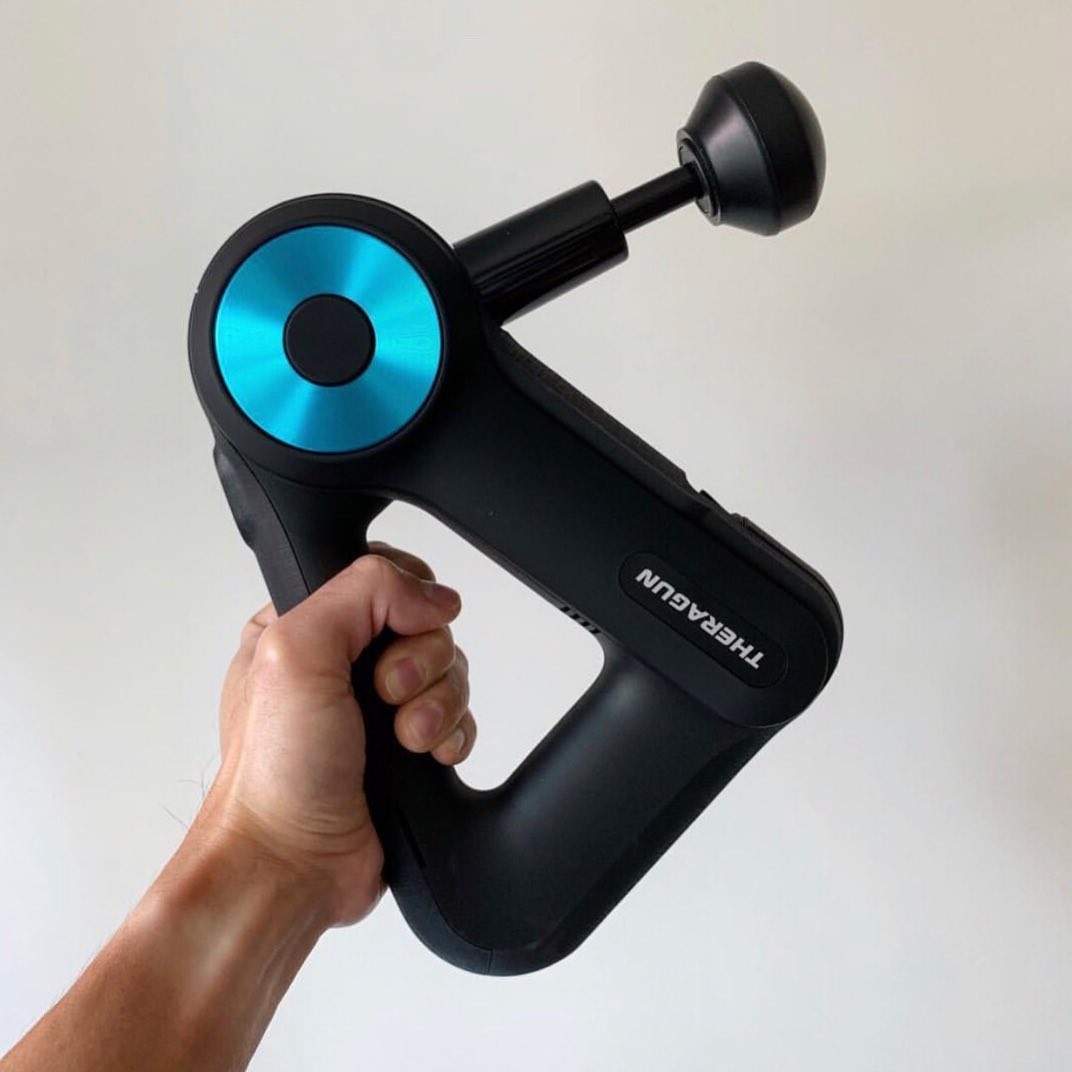 In addition to the head attachments, the G3PRO features a proprietary ergonomic multi-grip design and comes in a protective travel case. Unlike its predecessor, the device now offers two different speeds. One is a base speed while the other takes things up a notch, paving the way for a more intense massage session. Along similarly customisable lines, you can adjust the massage arm by pressing a large button on the side of the device and then moving the arm to your liking.
Upon taking the G3PRO out of its box, the first thing we noticed is that it's sturdy, light, sleek, and completely manageable. This is all fairly important because you want to be able to use the gun freely and without creating additional stress. Put simply, the thing just feels good in your hands and emanates with the kind of quality that Theragun has built its reputation on. At the end of the adjustable arm was the dampener, which could be easily swapped out for any of the five head attachments. Also included are two separate battery packs, each of which delivers about 75 minutes of wireless charge time.
To use the gun, you first need to load in the battery pack. That involves sliding the battery into the device the way you might load a nail gun. After that, it's simply a matter of pressing the power button, which automatically sets the gun to its base speed. If you want to take the speed up one level, all you need to do is press the same button. Our recommendation is to start at the standard speed, going up a notch only if and when necessary.
Once active, the massage arm and head attachment will pump at a fairly fast rate, almost like a jackhammer (complete with somewhat loud noise). From there, it's a matter of kneading the device over your muscles and letting it do its thing. Should you need to target a specific muscle group or area, swap out the head and proceed accordingly. When only the most intense massage will suffice, crank the speed up to its second level.
For the first few times, the sensation will take some getting used to, the same way that an intense therapeutic massage takes some getting used to. As with a professional massage, however, the end result can be felt all over your entire body. This is the magic of percussive therapy, which provides an utterly palpable and effective tier of deep muscle treatment. Meanwhile, the G3PRO—which just launched in Australia—is as good as percussive therapy gets. You do the math.