Arnott's is Releasing Tim Tam Scented Candles
We're not sure whether this is one of those therapy candles that help curb your addiction to arguably the greatest chocolate biscuit on the planet because honestly, this makes us want to do a Tim Tam Slam even more. If you want your house, office, or maybe your car, smelling like Arnott's Tim Tam Biscuits all day long, then this scented candle (milk not included) could be the answer you've been looking for.
You'll Also Like:
Lucky Charms Pouch is Just Magic Marshmallows
Got a Hard Earned Christmas Thirst? There's a Victoria Bitter Advent Calendar For That
The Billboard Fail That Scored Menulog Fans a Whopper Deal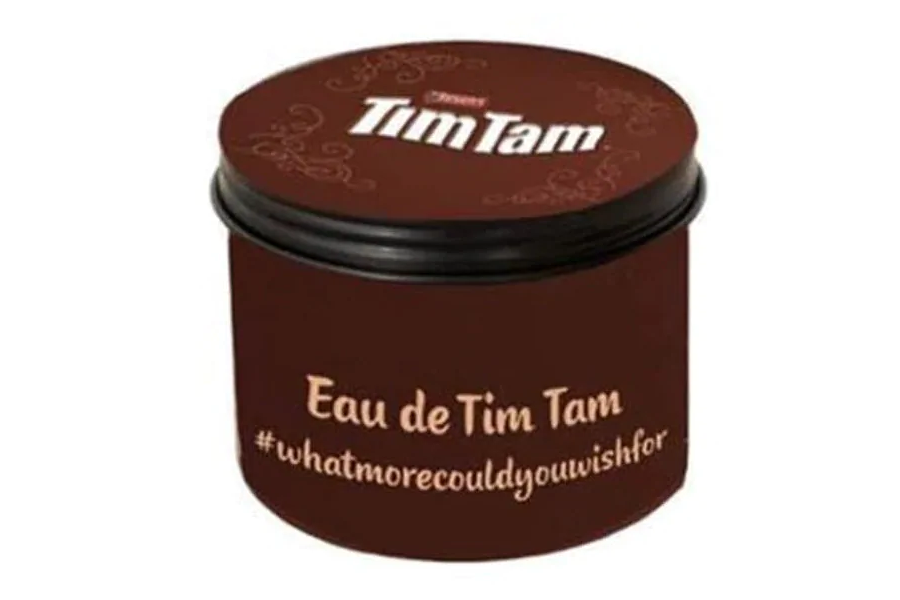 Dubbed the Eau de Tim Tam, all other candles will pale compared to this deliciously scented cylinder of wax. Fill your room with a subtle yet decadent aroma of malted biscuits and chocolate cream filling, and transport yourself to delicious serenity.
Released as part of a limited edition care package from the great people at Arnott's, only 100 people will be selected to receive the tasty treat. Packed full of extra goodies, the Tim Tam Sleigh Giveaway comes with one pair of Tim Tam woolly socks, one Tim Tam scented candle, one Tim Tam Keep Cup, but only one packet of Tim Tam biscuits. Seriously, why not one of those double value packs?
Coming off the back of their Dark Choc Chilli Tim Tam release, Arnott's biscuit lovers may be burned again after reading this as the competition has already closed. However, if Victoria Bitter can sell their Hard-Earned Thirst fragrance in-store, why can't Arnott's sell more of these Tim Tam candles?! If there is no substitute for Tim Tam Arnott's Biscuits, then the answer to "what more could you wish for" is a goddamn Tim Tam candle. Please.
You'll Also Like:
Lucky Charms Pouch is Just Magic Marshmallows
Got a Hard Earned Christmas Thirst? There's a Victoria Bitter Advent Calendar For That
The Billboard Fail That Scored Menulog Fans a Whopper Deal