For Dads who aren't Boring F***ers: Trade Your Shit Socks for Free Shots
We don't know when and how this trend started, but it's time for the madness to end. All the dads out there know what we're talking about because it happens every year. You sit down with the family for Father's Day and unwrap your scant selection of presents to discover the one thing you never asked for: socks. That's right, dads. While you're breaking your back to wrap up the latest gaming system for your offspring or buying expensive jewellery for the wife, they're running off to the nearest superstore to pick you up some cheap, shitty socks. Couldn't they at least grab you a bottle of whisky, instead?
Enough is enough, we say, and Fireball Whisky agrees. While some booze brands are actually giving away free socks with purchase this year, Fireball is so fed up with shitty socks, that they've put forth an exchange program at select venues. In what some are calling the best Father's Day campaign of 2019, the cinnamon flavoured whisky brand allows you to bring in a pair of your shitty socks, drop it in the 'sock pit' (pictured below), and you'll receive a shot of Fireball in return. And if that doesn't sound appealing to you, then you're probably the kind of guy who actually looks forward to unwrapping a pack of socks every Father's Day. Good for you, mate. Good for you and your shitty socks.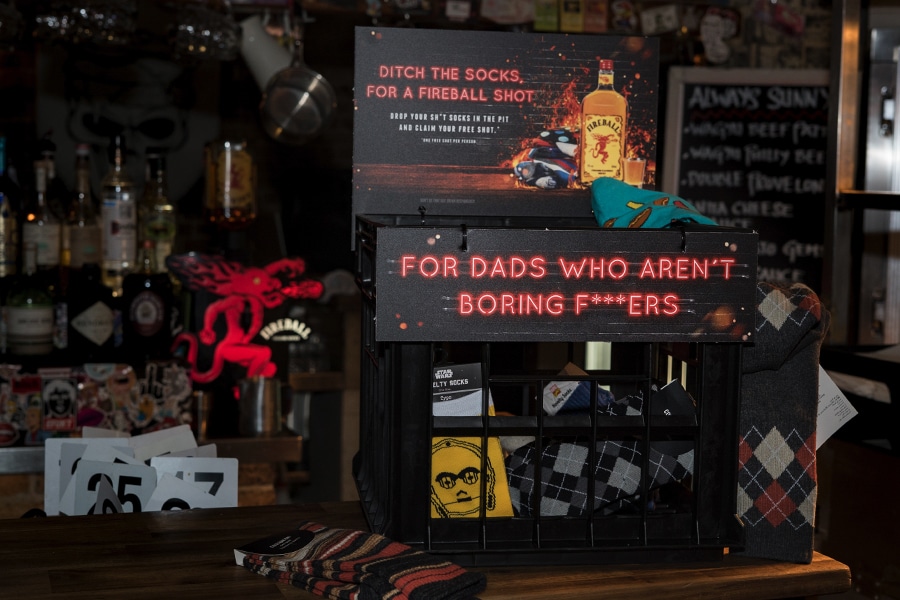 For everyone else, this is what we call a win/win opportunity. First and foremost, no one is going to miss a pair of shitty socks. More importantly, no one argues with a shot of Fireball, which blends spicy cinnamon and smooth whisky to sweet perfection. Best served cold, it goes down like liquid cookies and ripples through every taste bud on its way from your mouth to your toes. Bolstered by the motto "Taste like Heaven, Burns like Hell!," the brand remains virtually ubiquitous around the world, and with good reason. But you already knew as much, presuming you've been to a bar or party in the last couple of years.
Meanwhile, Fireball always goes the extra mile to show how much it cares about all the dads out there. We're not just talking the new "shit socks for shots" campaign, but a sponsorship of the upcoming Burgapalooza Festival (run by Down N Out) as well. Having partnered up with Black Bear BBQ, the brand is putting a Fireball-laced pig on a giant spit this year, among other things. And if that doesn't sound delicious to you, then again, you're probably the same type who likes getting socks for Father's Day. We're not here to judge you, but we are kind of scratching our collective heads and wondering what it is about socks that makes people think "perfect Father's Day gift."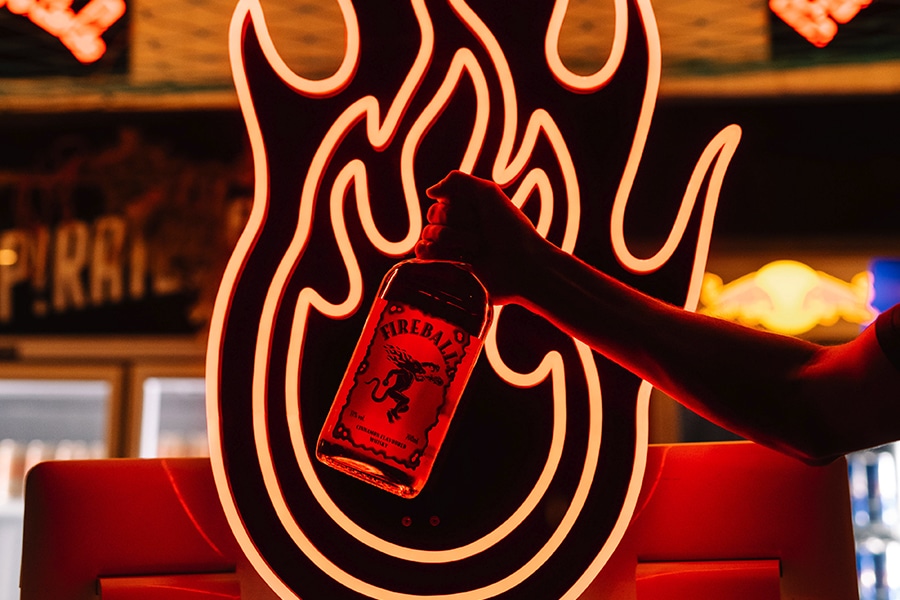 "Okay, I'm in," you say, "but what will become of my shitty socks?" Don't worry, they weren't purchased or exchanged in vain. More to the point, Fireball will be donating every pair of socks to local dog pounds and shelters, where they'll be turned into chew toys. Like we said earlier: win/win. Actually, it's more like win/win/win, since some dogs will be getting a new toy to play with.
So if you, like us, are even slightly fed up with the whole sock thing, Fireball has your back. Asking that we "give a shot, not socks" this year, they've created this campaign just "for dads who aren't boring f***ers" ("f***ers" being "fathers," naturally). Specifically, you can bring your pair of shitty socks into a select venue and receive a shot of classic Fireball Whisky in return. The program will run for a whole week from Father's Day (Sunday 1st September) through to Saturday 7th September. See below for a list of the participating venues.
Of course, this is all the name of the game for Fireball Whisky, which continues to distinguish itself by way of uncompromising attitude, striking intuition, and killer taste. Call the brand crazy, but it just has a hunch that all us dads are tired of getting socks as a gift every time Father's Day rolls around. We're personally peeling our shitty socks off our feet this very moment. It's going to be a fun night.
You could also get your dad (or yourself) some killer Fireball merch here.
Participating Venues:
Surly's (Sydney, Surry Hills) x Down N' Out (Sydney CBD, Crows Nest & Ryde) x Websters (Sydney, Newtown) x Kelly's (Newtown, Sydney) x The Fiddler (Sydney, Rouse Hill) x Fat Belly Jacks (Brisbane) x Johnny Ringo's (Brisbane) x The Defiant Duck (Brisbane) x Village Bicycle (Sunshine Coast, Noosa) x Taps (Sunshine Coast, Mooloolaba) x Beer DeLuxe (Albury) x Freddie Wimpoles (Melbourne) x Village Belle Hotel (Melbourne) x Austral Hotel (Adelaide) x Electric Circus (Adelaide) x Nineteen Ten (Adelaide) x The Lion Hotel (Adelaide) x Holy Smokes (Perth) x Mechanics Institute (Perth) x The Palace Arcade (Perth) x The Moon Cafe (Perth)
*More venues TBC