Forget The Egg Nog, We're Drinking Nespresso Cocktails This Christmas
Written in collaboration with Nespresso
'Tis the season to be jolly and Nespresso is giving us plenty to be jolly about. For starters, the stellar brand took inspiration from Austria's dessert portfolio and introduced three new seasonal Variations bursting with festive flavour: Sachtertorte, Linzer Torte and Apfelstrudel. Secondly, Nespresso managed to pack some extra love under those Christmas trees by launching a new range of both Limited Edition and permanent coffee accessories guaranteed to please club members and coffee lovers alike. As if all that wasn't enough, Nespresso also teamed up with Kurtis to craft three bespoke cocktail recipes incorporating the new flavour Variations along with a slew of deliciously boozy ingredients. Tra la la la la, indeed!
For those who aren't already aware, Nespresso has delivered the perfect cup of espresso coffee to our taste buds and bloodstreams year after year, revolutionising and reshaping the entire industry in the process. By emphasising customisation, quality, sustainability and variety, Nespresso enables us to create the ideal brew, one that tastes good and feels good and never fails to surprise. Furthermore, in spite of being massively popular, Nespresso employs a remarkable business model that allows every coffee bean in their range of 24 unique Grand Crus to be traced back to its origin. Pair that with a recycling initiative with over 19,000 capsule collection points in Australia and we're looking at the new frontier of sustainability and quality control.

Like all good brands and all good cups of coffee, Nespresso loves to keep the momentum going and their new limited edition Variations are surely up to the task. The Sachertorte Nespresso was crafted in honour of the Viennese Sachertorte, a delectable chocolate cake topped with a thin layer of apricot jam. From the espresso expect light but vibrant notes of chocolate and apricot rounded out by the traditional, balanced flavours of Nespresso's Livanto Grand Cru.

The Apfelstrudel Variation takes its name and inspiration from another world famous Austrian dessert: the apple strudel. Accordingly, the espresso flaunts the luxurious aromas of cinnamon, puff pastry and baked apples, those delicately sweet notes again balanced by the natural smoothness and flavour of the Livanto Grand Cru.

Last but not least is the Linzer Torte, which garners inspiration from the Viennese torte, a red fruit tart featuring a signature lattice design at the top. With each sip comes the perfect combination of roasted Livanto Grand Cru, red fruit, and lightly spiced baked pastry dough. Delicious!
Of course there's no harm in doubling down on the celebration this year by mixing that tasty coffee with alcohol in one timeless cocktail. In honour of our two favourite seasonal beverages (espresso and liquor), Nespresso's partnership with Cocktails by Kurtis has manifested in three bespoke cocktail recipes that include the new Variations. Each cocktail explodes with layered, uniform flavour, offering creamy notes of alluring sweetness joined by body-warming bursts of espresso and alcohol. Get mixing and remember to moderate because these boozy concoctions go down smooth and fast.
And since the season doesn't just mean indulging the senses, but giving to others as well, by all means consider perusing Nespresso's new limited edition and permanent coffee accessories when looking for that perfect gift. Each one is guaranteed to satisfy the coffee lover in your life because after all, nobody argues with coffee…or coffee accessories. Needless to say, Nespresso has got you duly covered for the 2016 holidays!
Sachertorte Espresso Martini
Description
'VDKA6100 Vodka, Pedro Ximenez Sherry, Crème de Café & Espresso'
Garnish
Bitter Chocolate
Glass
Coupe
Recipe
30ml VDKA6100
30ml De Kyper Crème de Cafe
10ml Pedro Ximenez Sherry
40ml Espresso of Nespresso Sachertorte Grand Cru
Method
– Add all ingredients into a cocktail shaker
– Add Ice
– Shake hard for 10 seconds OR until shakers are frosted
– Strain into a nice glass & Garnish with Bitter Chocolate
Description
The Sachertorte expression of Nespresso highlights the flavours of soft chocolate and apricot. Staying true to these flavours, the 'Sachertorte Espresso Martini' features VDKA6100, a whey based vodka that is soft, with a buttery mouth feel allowing the other flavours to shine. The addition of the Pedro Ximenez sherry with its bouquet of raisins and molasses, gives the drink a great depth and complexity and is the perfect match to the chocolate and apricot notes of the coffee. Finally, the crème de café rounds out the drinks flavour profile, bolstering the coffee note in the Sachertorte and giving the drink a lovely creaminess.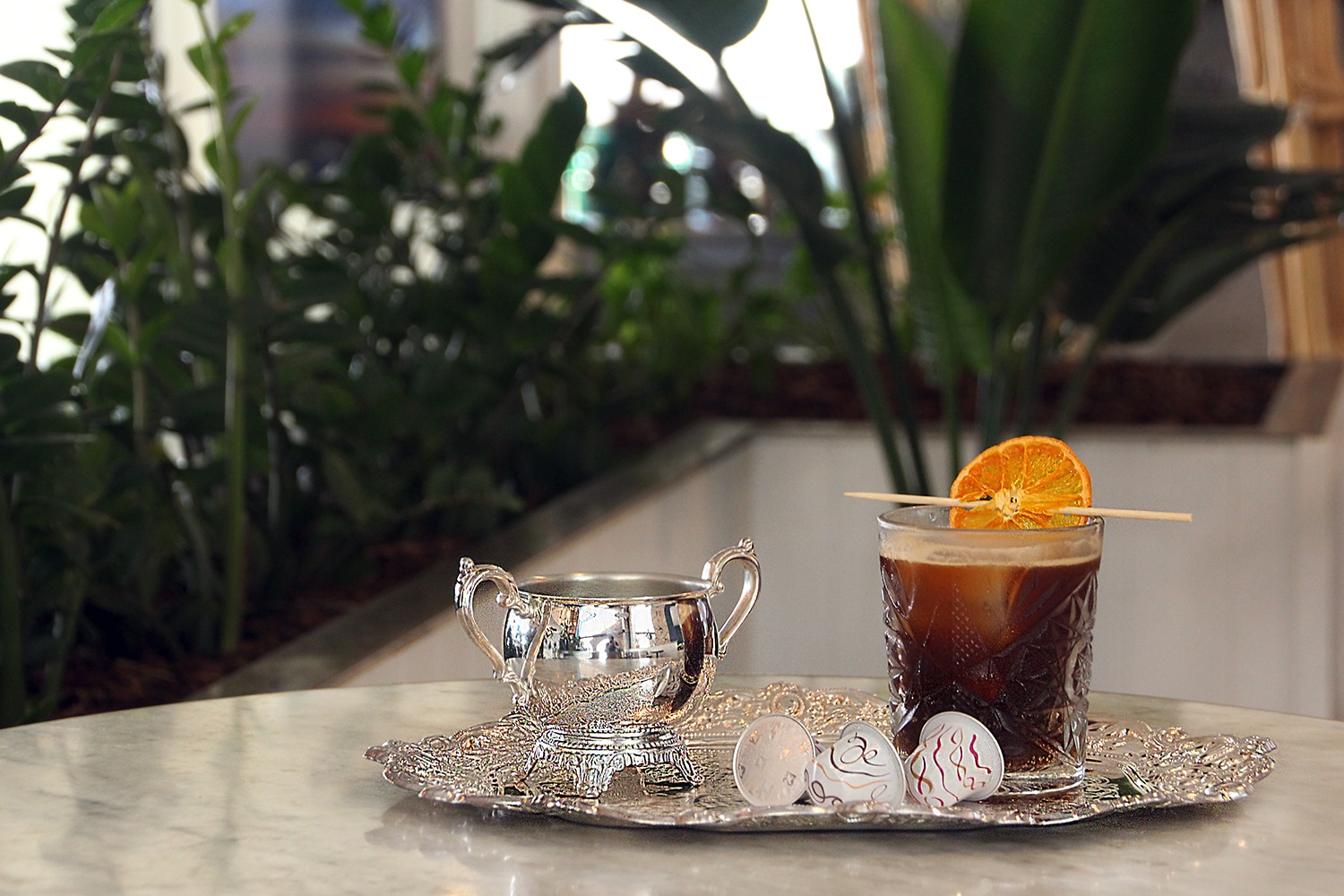 Apfelstrudel Nespresso
Description
'Cinnamon Syrup, Fever Tree Indian Tonic, Orange Bitters & Apfelstrudel Nespresso'
Garnish
Dehydrated Orange
Glass
Double Rocks
Recipe
200ml Fever Tree Indian Tonic
2 Dashes Regan's Orange Bitters
10ml Cinnamon Syrup
40ml Espresso of Nespresso Apfelstrudel Grand Cru
Method
– Build ingredients in order of the recipe over ice
– Stir until ingredients are all incorporated
Description
The Apfelstrudel Nespresso highlights rich aroma of pastry, baked apple and a hint of cinnamon spice. Looking to create a mocktail style drinking experience, the Fever Tree Indian tonic forms the base of the drink. The complex bitterness from the quinine in the tonic water complements the Apfelstrudelespresso, whilst the refreshing fruitiness from the citric acid, gives the drink a good effervescence and balances the sweet  from the coffee of baked apple and cinnamon. The Regan's Orange bitters give the drink a pleasant depth of flavour and complexity with its fruity notes that complement the other flavours.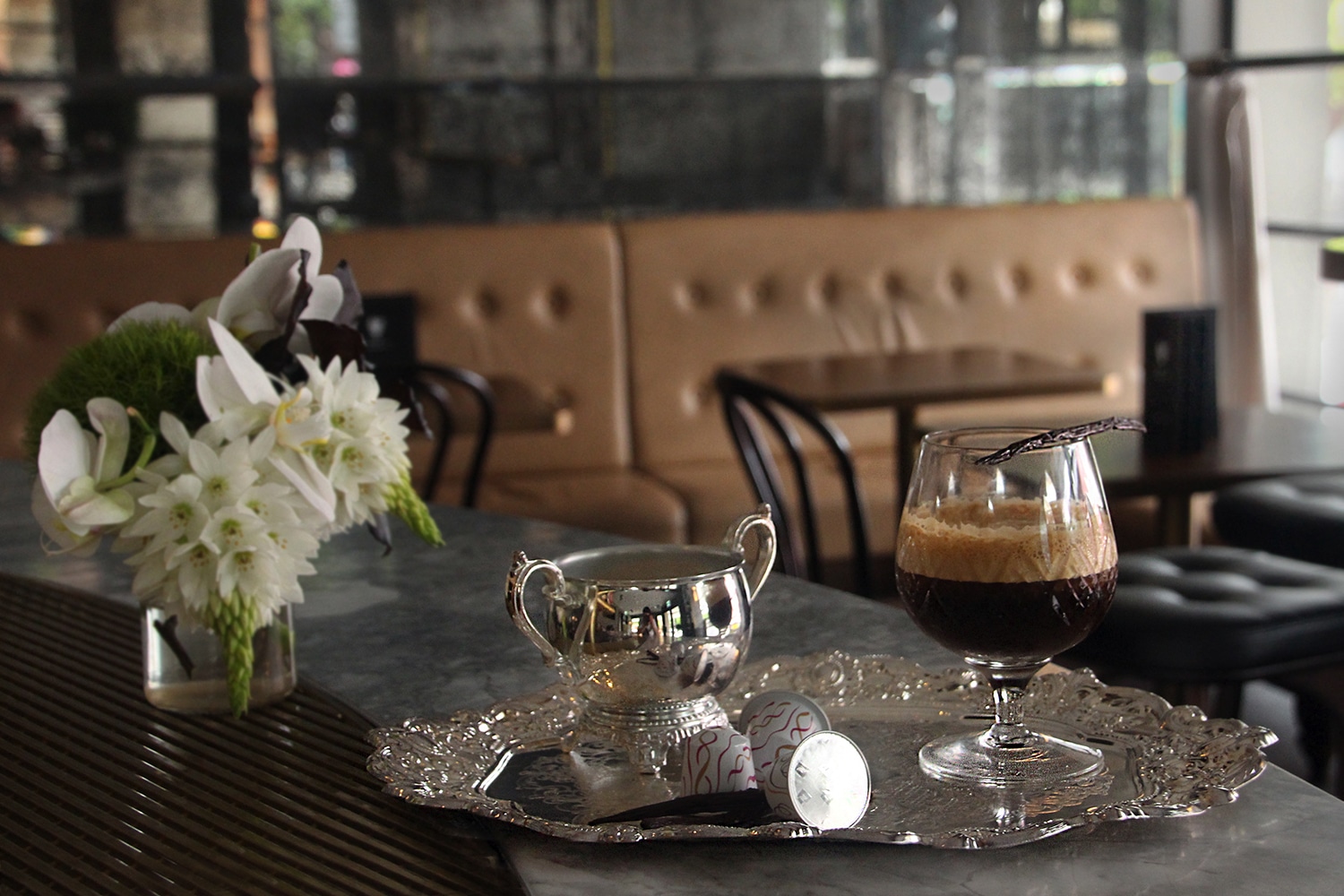 Linzer Torte Espresso Martini
Description
'Hennessy VS Cognac, Vanilla Galliano, Kahlua & Linzer Torte Nespresso'
Garnish
Split Vanilla Pod
Glass
Vintage Coupe Glass
Recipe
30ml Hennessy
30ml Kahlua
10ml Vanilla Galliano
40ml Espresso of Nespresso Linzer Torte Grand Cru
Method
– Add all ingredients into a cocktail shaker
– Add Ice
– Shake hard for 10 seconds OR until shakers are frosted
– Strain into a nice glass & Garnish with Vanilla pod
Description
The Linzer Torte expression of Nespresso highlights the taste of red fruit and notes of spiced dough.  With this in mind, the 'Linzer Torte Espresso Martini' features the Hennessy VS Cognac, with its subtle spiciness and hints of vanilla and oak, working harmoniously with the fruitier notes found in the Nespresso. The tannins and sharpness in the Cognac then play off the sweet, full mouth feel of the Galliano Vanilla without taking away from the Linzer Torte. Finally, the addition of the Kahlua completes the drink, boosting the coffee note and rounding out the flavour profile.