5 Ways to Commemorate ANZAC Day From Home
Going to a dawn service is an Australian rite of passage. Paying our respects to the brave men and women who fought for our freedoms is something that we don't do enough, but every year on April 25, we take the time to make sure their memories are honoured. Whether it is on the banks of the Gallipoli cove or in the local park, ANZAC Day services and marches are among the most moving and culturally significant events on the Aussie calendar. But this year is a year like no other.
You'll also like:
#EarthHourLive is the One Party Quarantine Isn't Shutting Down
"Devastated" Organisers Cancel SXSW Music Festival
11 Inspiring Women to Celebrate on International Women's Day 2020
For the first time in nigh on a century, no ANZAC Day services will take place, a victim of the COVID-19 pandemic. There will be no marches or parades, with the traditional gathering places falling deathly silent. But that shouldn't be enough to stifle our enthusiasm for the day. Thanks to a bit of Aussie ingenuity and spark of ANZAC spirit, you can mark the occasion, albeit in a decidedly different fashion.
Here is a list of four ways you can celebrate ANZAC Day from home.
1. Play Two-Up Online
If you are itching for your two-up fix this ANZAC Day, fear not, one Aussie genius has come up with a solution. Ben McCarthy was inspired to bring the iconic gambling practice reserved solely for ANZAC Day online after playing a game of Cards Against Humanity on the web. "A shocking thought occurred to me; a great Australian tradition is endangered this year," he told PEDESTRIAN.TV. "ANZAC Day without to-up is bloody un-Australian. Our diggers fought for our right to play two-up on ANZAC Day, so it felt like my patriotic duty to through together a game of online two-up."
The site is currently on a countdown right now in preparation for the big day, ironically similar to past years where no one bats an eye about two-up until April 25.
2. Watch the Commemorative Service Stream
As traditionally occurs each Anzac Day, the Australian War Memorial will host the National Dawn Service, but in 2020, this will look vastly different. The commemorative service will be attended by dignitaries representing the Commonwealth of Australia, the people of New Zealand, the Returned and Services League and veterans. There will also be a ceremonial piper, didgeridoo player and bugler among other traditional elements.
This commemorative service will be broadcast live on ABC TV with viewing starting from 5am.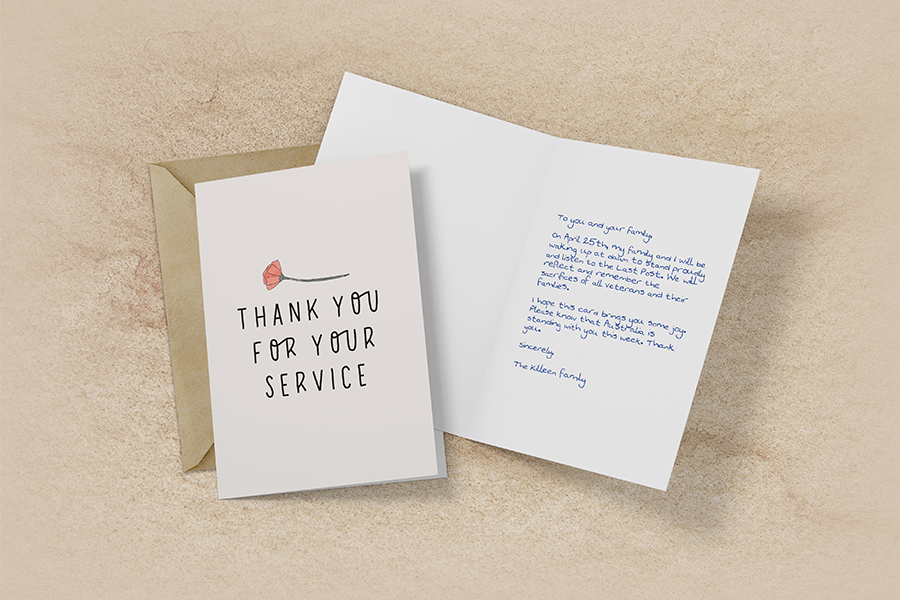 3. Send a Cardly ANZAC Day Card
If you prefer a more personal touch, Aussie startup Cardly is working closely with veterans organisations such as Legacy, War Widows Guild, RSL Lifecare and others to help get thank you cards to veterans and their families. Cardly's technology allows people to select and write an artist-designed greeting card on their PC or Mobile, which is then printed and posted.
"We hope that it will serve as a reminder that a few months of reduced freedom to keep Australian's safe, is nothing really compared to what our military community has given up to keep us safe," Cardly CEO and founder Patrick Gaskin said.
4. Download the ANZAC Day App
If you want to celebrate in person, various organisations are advocating for at home ANZAC Day commemorations. Justin Wilbur, the son of a Vietnam war veteran launched an ANZAC Day 2020 app earlier this month to prepare for the big day. Available for free on both Android and iOS, the app calls on Australians to continue the dawn service tradition from their driveways. Starting at 6am on Saturday will display a single burning candle and contains either a live broadcast of the National Service or a pre-recorded short recitation of The Ode, The Last Post, a minute of silence and Reveille.

5. Join the Light Up the Dawn Movement
RSL Victoria has endorsed the growing movement whilst also launching their own campaign Light Up The Dawn. To take part in the Light Up the Dawn campaign, simply head to anzaclive.com.au. Here, you'll find a virtual candle for you to turn your phone into a shining illumination, along with other relevant Anzac Day content: the traditional Ode and the Last Post.
While the circumstances that we find ourselves in are unusual to say the least, it doesn't negate the need to commemorate those who laid down the ultimate sacrifice for our freedom. This Saturday, April 25, take the time to share a special moment from your driveway by making use of one of the innovative new ANZAC Day apps on offer.
Lest we forget.