London's Best Pub Crawls – Where to Drink & Stay
In London, there's always a pint around the corner for that wayfaring drinker. The only thing keen pub crawlers need to decide is which corner they take. Will they turn onto Trafalgar Square, down Camden Town, into George Orwell's favourite haunt or wherever the London Underground takes them?
The best part about London's pub crawls is that no two crawls are the same, and for a Man of Many, well, excess is the best part of living the good life. Next time travellers are in London, they should challenge themselves with one or more of these six iconic pub crawls. They might also consider staying in one of the below hotels, so they don't have to drag their drunk alter ego too far across town.
Visitors even have the option of combining the pub atmosphere with boutique accommodation in one of London's top 12 pub hotels, which were recently revealed by HotelsCombined.

1. Monopoly Board Pub Crawl
Travellers around the world adorn the white moustache and silky top hat of Uncle Pennybags, aka "Mr Monopoly", while attempting one of London's most epic pub crawls. We're talking 26 pubs, each one connected to a location on the Monopoly board, including the four railroads.
Those aiming to visit every pub will need an Oyster card because one does not simply walk on the Monopoly Board Pub Crawl. Start the day early and prepare to traverse across London, from Mayfair in the east to Pentonville Road in the north, Whitechapel in the west and Old Kent Road down south.
It's best to start at The George, which opens at 10.30am and is the only Monopoly pub south of the river. Other popular stops are The Rose & Crown (Park Lane), Ye Olde Cheshire Cheese (Fleet Street) and The Captain's Cabin (Regent Street). Follow the official Monopoly Board Pub Crawl for the best route.
Monopoly Pub Crawl: Where to Stay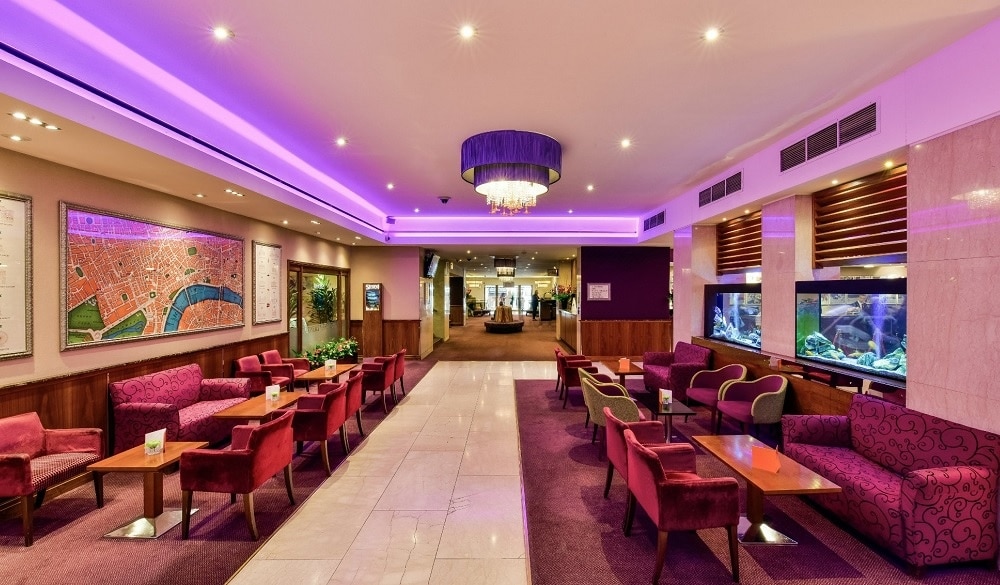 Strand Palace Hotel London
Strand Palace Hotel London is a short walk from two recommended pubs for The Strand Monopoly square, Radio Rooftop Bar and The Wellington. Those who follow the official route will hit The Strand square at the halfway point, making this a great hotel for a half-time power nap, meal or shower. It's also close to the centre of London, nearby popular restaurants, theatres and attractions such as The National Gallery.
The rooms at this four-star hotel are contemporary and comfortable, with complimentary Wi-Fi and mineral water, plush bedding and flat-screen TVs. The Executive Room also boasts bathrobes and a Nespresso machine. There are numerous on-site dining and drinking establishments including The Gin Palace, Nook Sports Bar and Daawat Indian Restaurant.
Star Rating: 4*
Price: £50-£300
Guest Rating: 8
Address: 372 Strand, Covent Garden, London, United Kingdom

2. London Literary Pub Crawl
Combining a walking tour with a pub crawl, the London Literary Pub Crawl lets visitors follow the likes of Charles Dickens, Virginia Woolf, George Orwell and other literary greats into their favourite drinking establishments around town. The official walking tour, hosted by an actor dressed as Dickens or Woolf, is more focused on history than drinking, but visitors need only retrace their steps at the end to wet their whistle.
Alternatively, it's possible to skip the official tour and embark on a more thorough crawl that includes reaching the bottom of a few ales. There are a myriad of historic pubs around London, but for lovers of literature, the following are a must: The Dog and Duck, where Orwell was a regular; The Lamb and Flag, frequented by Dickens and poet John Dryden; Ye Olde Cheshire Cheese, a favourite of writer Samuel Johnson; and The Black Friar, once saved by poet laureate John Betjeman.
London Literary Pub Crawl: Where to Stay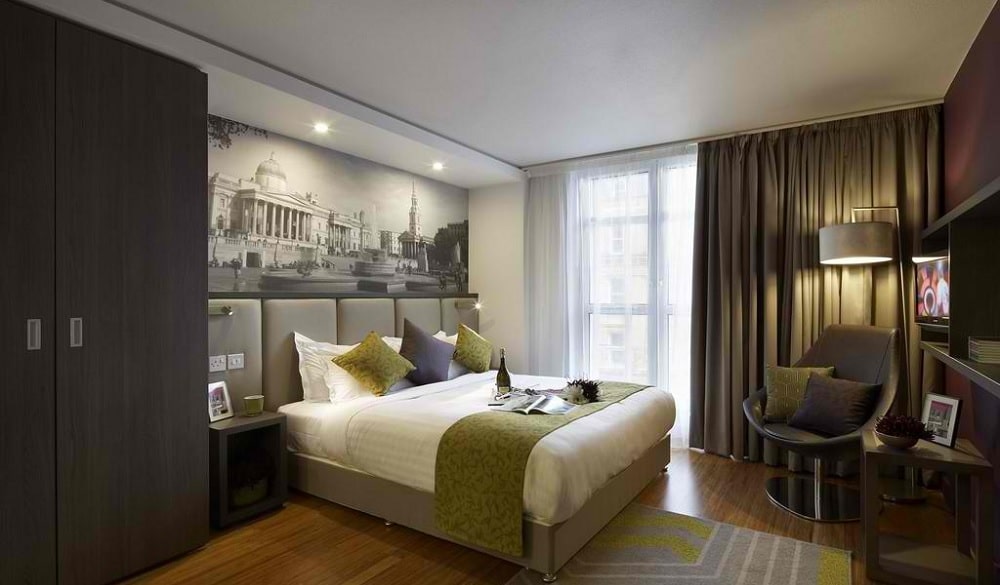 Citadines Trafalgar Square London
Less than a 10-minute walk from The Lamb and Flag, Citadines Trafalgar Square London is conveniently placed for visiting one of Charles Dickens' favourite haunts and kicking off a London Literary Pub Crawl. It's also next door to the Sherlock Holmes-themed pub and close to public transport, only a few reasons why HotelsCombined guests rave about this hotel's location.
The hotel is housed in a historic, Victorian building and features a breakfast restaurant, which stays open until 11.30am on weekends. However, visitors may prefer to cook their own breakfast in their stylish self-contained apartment. These charming residences, ranging from a studio to one and two bedrooms, feature fully-equipped kitchenettes, separate lounge rooms and complimentary housekeeping.
Star Rating: 4*
Price: £73-£346
Guest Rating: 8.3
Address: 18-21 Northumberland Avenue, St James, London, United Kingdom

3. Circle Line Pub Crawl
Some time ago one brilliant discovery was made, perhaps even over a couple of pints, that the Circle line route makes the shape of a beer bottle. It was shortly after that fateful day when the Circle Line Pub Crawl was born; a marathon of 27 train stations, 27 pubs and 28 drinks intended to be completed in a 12-hour session. Visitors can walk or catch the tube from one stop to the next, eventually finishing where they started for that final celebratory drink.
Before they come full circle, visitors will tick off such popular watering holes as The Globe (Baker Street station), Dickens Tavern (Paddington station), St Stephens (Westminster station), Barley Mow (Barbican station) and The Crown & Anchor (Euston Square station).
Circle Line Pub Crawl: Where to Stay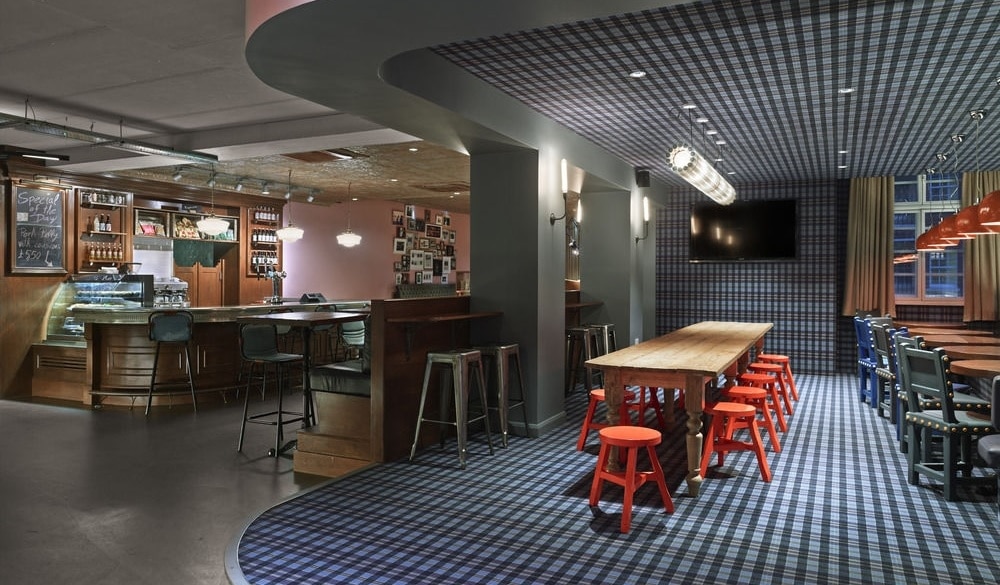 Generator Hostel London
Generator Hostel London is one of the city's boutique hostels, providing a range of shared and private rooms in a very social and lively setting. Guests can opt for budget dorm-style rooms, which have bunks with privacy boards and lockable storage, or they can pay a little extra for a twin, triple or quad room. Some twin rooms even come with a private bathroom.
The hostel is located minutes from local pubs and Kings Cross station, one of the stops on the Circle line. However, there are plenty of reasons to enjoy drinks on site at the late-night bar at Generator Hostel, which has speciality cocktails, ice-cold beer, bar snacks and themed nights. There's also a chill-out room, which holds movie nights, perfect for enduring a next-day hangover.
Star Rating: 3*
Price: £8-£259
Guest Rating: 7.7
Address: 37 Tavistock Place, Kings Cross, London, United Kingdom

4. Camden Pub Crawl
Camden Town is one of London's most eccentric neighbourhoods, possessing a vintage and unadulterated style that flows from its daily markets to the live music venues, quintessential British pubs and warehouse clubs. The Camden Pub Crawl can be done as an all-inclusive official tour with free shots and drink specials or independently by stopping off wherever is most inviting.
Regardless of how visitors choose to approach a night out in Camden, they should begin their night at the Camden Town tube station on Camden High Street and head north. They would be wise to explore such clubs and bars as Proud Camden, a former horse hospital with stables turned into drinking booths; Soundtracks, which plays movie soundtracks; The Cuban for its vibrant salsa music; and Koko, a club housed in an old theatre with opera boxes and a giant mirror ball.
Camden Pub Crawl: Where to Stay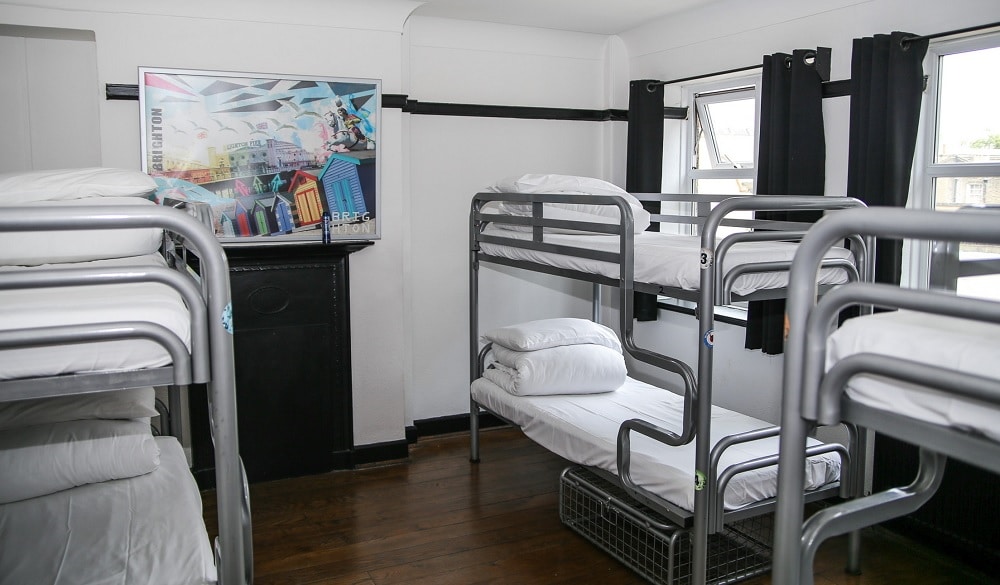 St Christopher's Inn
Positioned on the southern end of Camden High Street, St Christopher's Inn is the perfect starting point for the Camden Pub Crawl. The chic hostel is partnered with the official Camden Pub Crawl and even has a popular bar on site, where guests enjoy 2-for-1 drink specials and a 25-per cent discount on food. There's also a free breakfast every morning, along with complimentary walking tours and unlimited Wi-Fi.
Guests can choose between shared and private rooms, ranging from 10 beds to twin beds, ensuring travellers can have their desired sleeping atmosphere. Each room also features its own bathroom and comes with lockable storage and heating. The local staff are friendly and will happily map out the best bars and clubs in the area.
Star Rating: 3*
Price: £8-£101
Guest Rating: 7.7
Address: 48-50 Camden High Street, Regent's Park, Westminster, England, London, United Kingdom

5. Wimbledon Six
Deceased English actor, Oliver Reed, starred in such films as Gladiator, Oliver! and Funny Bones, but may be forever remembered for creating one of London's best pub crawls. Reed was known for living a vibrant lifestyle, which eventually led to him founding the Wimbledon Eight, now the Wimbledon Six, which is a brisk lap around the pubs surrounding Wimbledon.
Two of the original pubs are no longer running, so visitors now make their way through each of the six remaining pubs around Wimbledon Common: The Dog & Fox, Rose and Crown, Crooked Billet, Swan, Hand in Hand and Fox and Grapes. As a rule, Reed limited himself to 15 minutes at each pub and would often go for a second lap.
Wimbledon Six: Where to Stay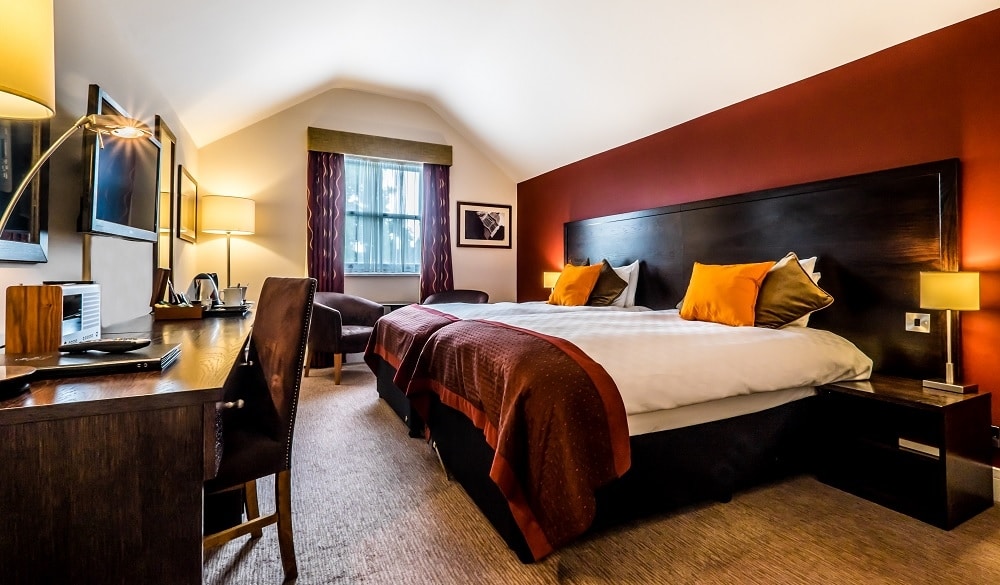 Rose and Crown
What better way to partake in the Wimbledon Six than by staying upstairs at one of the pubs. The Rose and Crown is a favourite among travellers attending Wimbledon, which is a short drive away. This traditional British pub hotel dishes out plenty of welcoming vibes with its award-winning local brews, sunlit beer garden and traditional decor.
Upstairs, guests can reside in comfortable silence while staying in elegant Double and Classic Twin rooms complete with wall-mounted TVs with SKY channels, air conditioning, heavenly Hypnos beds, tea and coffee facilities and work desks. Classic British lamb, beef, pork and chicken roasts are served at the on-site restaurant every Sunday.
Star Rating: 3*
Price: £92-£100
Guest Rating: 9
Address: 55 High Street, Merton, London, United Kingdom

6. 12 Days of Christmas
12 Days of Christmas is one of the newest pub crawls on this list, and what an addition it makes to an already festive season. On this unique pub crawl, visitors are tasked with drinking their way through all the presents featured in the beloved 12 Days of Christmas song. It is a crawl that was made perfect for London, where pubs have names like The Pear Tree, Blue Eyed Maid and Swan.
Most of the days give revellers a couple of pub options whose names suit the song lyrics. For example, both The Dove in Hammersmith and The Dove on Broadway Market work for the second stop. For logistics sake, a linear approach isn't required. In fact, many visitors opt to begin at The Drum in Leyton, which opens at 8am. Other popular stops include The Crusting Pipe and The Ring.
12 Days of Christmas: Where to Stay
Best Western Plus Seraphine Hammersmith Hotel
Best Western Plus Seraphine Hammersmith Hotel is a mere seven-minute walk from The Dove, where visitors can begin their boozy journey through the 12 days of Christmas. It's also surrounded by restaurants and shops, including the popular Kings Mall Shopping Centre. This modern hotel offers affordable accommodation with an on-site bar called The Seraphine.
A wide assortment of rooms caters to a variety of preferences and group sizes. Solo travellers who can stay in the cosy Standard Single room, while the Executive Double Room is better for larger groups, featuring a double bed and pull-out sofa. Each room is naturally lit and boasts comfortable furniture, wall art and soft beds. A tasty breakfast rated highly by HotelsCombined visitors is often included in the total cost.
Star Rating: 3*
Price: £47-£141
Guest Rating: 7.9
Address: 84-94 King Street, Hammersmith, London, United Kingdom
London: A Fresh Pour of the Pub Crawls
London may be home to centuries-old traditions, but its innovative pub crawls prove this city is always thinking about the next best way to drink, party and become immersed in the history and culture. Each of these pub crawls bring something different to the scene, boasting unique venues, fun novelties and plenty of satisfying local and international drinks.
Visitors can organise the perfect pub crawl experience by staying in one of the nearby London hotels. Many of these establishments feature their own on-site bars, perfect for a pre or post-crawl drink and meal. The hotel's variety of rooms also accommodates a range of travellers, from singles to couples and large groups.
The next time travellers are in London, they shouldn't ask where to drink, but rather where to start drinking, because in this historic city, one pub always leads to another.
Resources:
1. Visit London
2. Undiscovered London
3. Time Out London
4. Camden Pub Crawl
5. Monopoly Board Pub Crawl
This article was written by Ben Stower.