Are you ready to meet the future of personal hygiene? It goes by the name of LUMIO and it just launched on Kickstarter. Inspired by Apple product designs and created for modern travellers, the retractable electric toothbrush self-cleans by way of UV light, killing 99.9% of bacteria and viruses. Talk about great timing! On that note: any chance we can expedite some of these orders?
Here's something you probably don't want to know (but should anyway): it turns out that most bathrooms are filled with crap. Unfortunately, we're being literal. That's because every time you flush the toilet after going number two, tiny poop particles are projected all over the bathroom. Yes, those particles can get onto your toothbrush and into your mouth. In fact, some studies have discovered diseases such as staphylococcus and E. coli on toothbrushes and toothbrush holders alike. Gross.
Tackling these potential hazards on multiple fronts, LUMIO's brush head automatically retracts into an Apple-like holding case when not in use. Each case is fully waterproof, battery-powered, and equipped with built-in Ultraviolet light technology. At the push of a button, you can activate a self-cleaning process, during which the UV light scrambles the DNA lurking within germs, bacteria, and viruses. As a result, you're killing off those bacteria and viruses with 99.9% efficiency.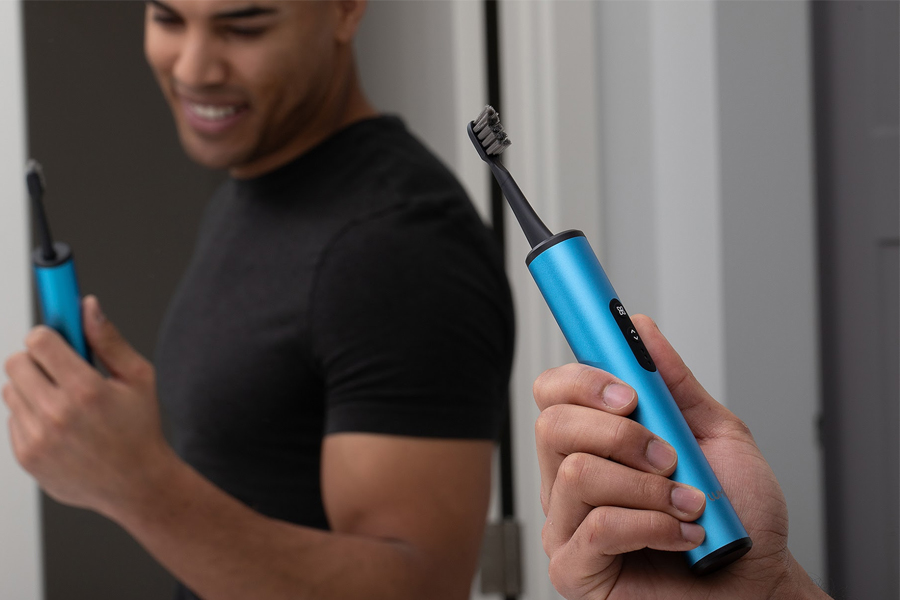 To make a great thing even greater, LUMIO uses DuPont brush heads and features three ultra-sonic brushing modes. Meanwhile, the sleek holding case is both travel-friendly and fully charged right out of the box. The battery lasts for a full two weeks before needing to be recharged atop a discreet charging base. Put it all together and you get a best-in-class bathroom essential that couldn't come at a better time.
Pledge as little as US$70 over on Kickstarter and you'll receive the LUMIO UV Toothbrush with a charging base and 3 DuPont brush heads. For just US$45 more, you can get in on the Early Bird Special, which doubles up on the number of brushes, charging bases, and brush heads. This is everything one could ask for in a modern toothbrush so don't let it slip away.