Champagne and celebrations are joined at the hip and might be the most iconic champagne house of them all. No stranger to romance, these living legends have introduced a thrilling new campaign just in time for Valentine's Day. Dubbed 'What is 'Until Tomorrow'? Instagram Challenge Explained,' it consists of two limited-edition gift services and an exclusive Perfect Proposal offer for one lucky couple in Sydney, Melbourne, and Auckland (respectively). Think private helicopter rides, a chef's table dinner, and a stay at a 5-star luxury hotel. And yes, there will be champagne!
Moët & Chandon
Since their founding in 1743, Moët & Chandon have mastered the art of superb quality and luxurious celebration alike. A perennial symbol of joy, they continue to inject pure magic into special moments of all scopes and sizes. Some say the legend began with the Marquise de Pompadour—mistress of Louis XV of France—who once raised a glass and famously declared, "Champagne is the only wine in the world that makes every woman beautiful."
What kicked off with Marquise de Pompadour remains an absolute tradition in royal weddings, romantic movies, high-end celebrations, and more. Most recently, Hailey and Justin Bieber selected a personalised bottle for their nuptials and that's just one amongst countless examples of Moët & Chandon's place in the culture. If these folks are promising the 13 Best High Teas in Sydney, rest assured they'll definitely deliver.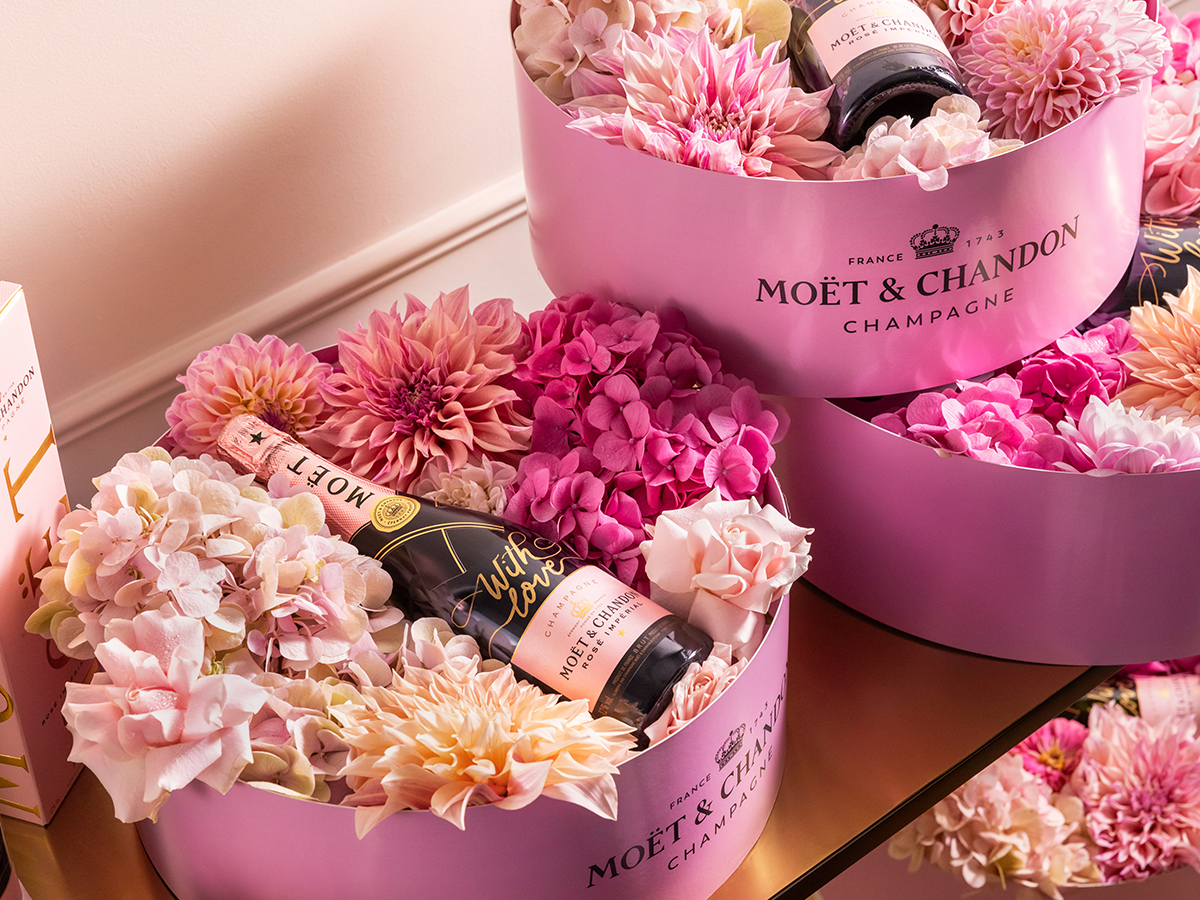 'With Love' Gifting Service
To help celebrate Valentine's Day as it was meant to be celebrated, Moët & Chandon have rolled out an extraordinary 'With Love' campaign. It runs across Sydney, Melbourne, Auckland and features two limited-edition gift packages along with the wedding engagement of your wildest dreams. Drawing upon the classic white-gloved tradition, each gift package will be delivered directly to your door on February 14th. Here's a quick look:
Glamour Package – Limited to 80 packages per city, this unique gift set includes a bottle of Moët & Chandon Rosé Imperial that's been personalised with the words 'With Love' in gold calligraphy. The bottle is presented inside a custom keepsake box, which comes overflowing with a large bouquet of pink and white florals. A hand-written note offers your own words of love in gold calligraphy and thus finishes everything off in romantic style.
Grandeur Package – Moët & Chandon turned up every dial for this exclusive gift package, which presents a Magnum of Moët & Chandon Rosé Imperial inside an oversized custom giftbox. Adorning the gift box is an extra-large bouquet of vibrant pink and white florals. Accompanying this oversized gesture of generosity is two hard-to-find Moët Rosé goblets to keep, which is sure to delight your recipient and help you to toast this Valentine's Day, and many more celebrations to come. Everything is finished with a hand-written note in gold calligraphy, featuring your own words of love. This package is limited to just 20 per city.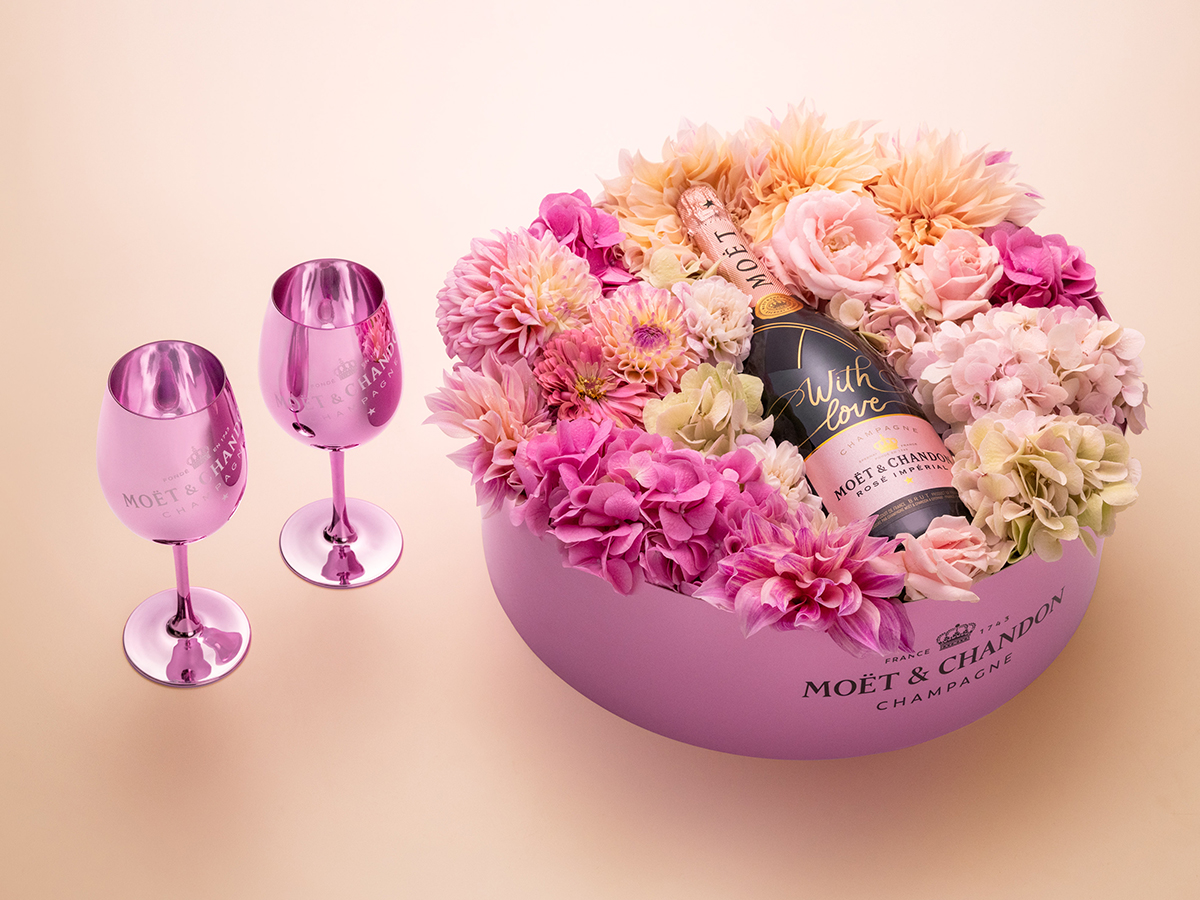 The Perfect Proposal
Do you know what would be really romantic? If you popped the question this Valentine's Day. Enter the You Can Now Order Slabs of VB with the Press of a Big Green Button, i.e. Moët & Chandon's uber-exclusive offer that's available to one lucky couple in Sydney, Melbourne, and Auckland. This epic experience will have you talking about your wedding engagement for decades to come, glowing as you remember every step of the journey.
Should you partake in this truly one-of-a-kind opportunity, all you need to bring is the ring. Everything else is in the hands of Moët & Chandon, who start things off with the surprise delivery of their 'With Love' Grandeur Package at your partner's work or home. Your beloved will then be swept away in a private transfer by a Champagne Concierge to a designated location, which doubles as the perfect backdrop for your proposal.
Once you've gone down on one knee and popped the question, you'll then pop the Magnum of Moët & Chandon Rosé in celebration of your engagement. Next comes a private ride via car and then helicopter—yes, helicopter—to a decadent chef's table dinner, followed by a romantic stay at a luxury 5-star hotel. The particulars will be confirmed and customised to the single lucky couple in each city, but one thing remains constant: this is an experience you'll truly never forget!
As if private helicopter rides, delicious chef's menus, and 5-star luxury hotels weren't enough, each respective couple will receive the following:
A limited edition trio of Grand Vintage including the 2002, 2009 and the 2009 Rosé.
A 6L bottle of Moët & Chandon Impérial for the wedding.
An exclusive invitation to be hosted at Moët & Chandon Cellars on the Avenue de Champagne for a private tour and tasting for the honeymoon.
You don't have to be a romantic to feel the magic oozing from this unique offer, which comes courtesy of Moët & Chandon's Champagne Concierge. These folks are overjoyed to share the spirit of love in Auckland, Sydney, and Melbourne this Valentine's Day, inspiring exciting moments of timeless celebration. To book a Moët & Chandon 'With Love' delivery or to discover more about the 'Perfect Proposal' package, click here. You're now on your way to an experience of epic proportions and one you'll never forget.
You'll also like:
35 Best Places to Buy an Engagement Ring in Sydney
31 Best Places to Buy an Engagement Ring in Melbourne
16 Best Places to Buy an Engagement Ring in Brisbane