Mumm and Usain Bolt Make For a Winning Team
After winning Olympic gold medals and shattering world records, most athletes go to Disney World. Usain Bolt, however, had much bigger ideas. In 2016, the legendary sprinter took on the role of CEO (Chief Entertainment Officer, that is) at Maison Mumm Champagnes. The latest order of business? Roll out a stunning short film that features Bolt dancing and dispensing pointers on what it takes to be a winner in today's times.
Few, if any, men on the planet are more qualified to talk about winning. Usain Bolt is, after all, one of the best athletes in the history of the world. And we're not being hyperbolic in the slightest. Among his slew of accomplishments is achieving the 'Triple Triple', i.e. taking home three gold medals at three consecutive Olympic games. He also holds world records in the 100m and 200m dash. To call him a winner is practically an understatement. He's the winner's winner.
Meanwhile, Maison Mumm has a triumphant history of its own. For nearly 200 years, the French brand has been a leading name in Champagne, while their Napa division remains at the forefront of sparkling wine. As an official sponsor for the Kentucky Derby and Melbourne Cup, and now with Bolt as their CEO, Mumm has maintained a close relationship with champions of sport. Likewise, their "Menus de Legende" gastronomic events gather some of the most renowned chefs in the world. Suffice to say, Maison Mumm keeps great company and makes a great product.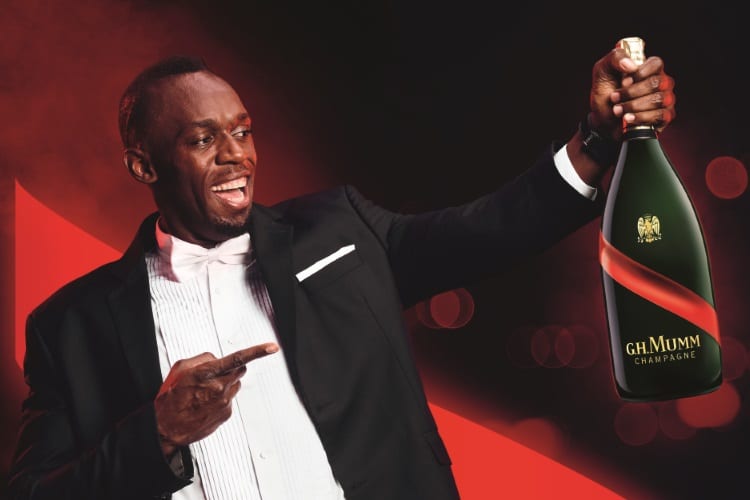 The short film is therefore a crash course on victory itself. However, viewers should expect far more than Usain Bolt addressing the camera like some college professor. Directed by music video prodigy Luis Cervero– who's worked with the likes of Pharrell and Justice– the cutting edge film touts immaculate production value and never goes short on narrative. Furthermore, Bolt exhibits an uncharacteristically candid side to himself by way of some truly savvy dance moves.
To offer a quick summary, the video opens with a well-dressed Bolt heading into a hot nightclub. With the party underway, the athlete leaps on stage with Jamaican Miss Universe contestant Yendi Philipps. What follows is an extraordinary, choreographed dance routine easily worthy of the director's previous work. As Bolt dances up a sweat, he strips down to racing gear. Suddenly, he's at the starting blocks and ready to sprint. That's when we realise Bolt's celebratory dance routine went down before the race even began.
Bolt closes the video with a memorable quote: "Don't win to celebrate, celebrate to win." It's a poignant message to say the least, cementing the video's intrinsic themes while unifying Bolt, the winning runner, with Mumm, the winning brand. We can certainly raise a glass and drink to that.
This article has been sponsored by Mumm Champagne.