Oahu – The Other Side of an Island Paradise
Here is a travel story you won't find in your Lonely Planet guide. One of our contributors spent some time looking into the cracks and crevasses of one of the world's favourite holiday destinations, to get a finger on the pulse of what lies beneath the surface of a real city, a place surreal in beauty and almost fantastical in location, but still scored with the realities faced by every other populated place on Earth.
It's 11:54 pm on a Friday night. It's only seven hours since my plane landed at Honolulu International Airport, and my contact Kris* has promised me a night out I won't forget in the night spots of Waikiki. Like something out of a movie, we join a queue of young, scantily clad females outside a place I am told is called 'Addiction'. 'It's the best, bro, we're gonna get so hooked up, this place is full of girls' Kris tells me, as he discreetly sprinkles a line of cocaine out over his apple watch and sniffs it, while the bouncers turn couple after couple away at the door. Kris's friend, Rocco*, a large Polynesian with a neck tattoo, turns up after another ten minutes of waiting and peels two $100 notes off a roll in his front pocket, slips them to the doorman and we are ushered in from the back of the queue. 'He's got the coke game locked up in this town', Kris tells me, discreetly handing me the small plastic bag behind his back.
I should preface by saying that I didn't really come to Hawaii to do drugs and party with loose women, not specifically anyway, but I also didn't come to do a bus tour of Pearl Harbour and go snorkelling with the turtles for $25 including flipper hire. I came here because I'd heard of the diversity and positivity of this crazy, tiny place. From the multicultural, multinational communities not dissimilar to my home in Sydney, to the deep scars left behind by a brutal war, to the rich Polynesian history of this place, which is shared so freely and lovingly by the locals, I can say I know of a Hawaii that is different to the brochures and travel mags.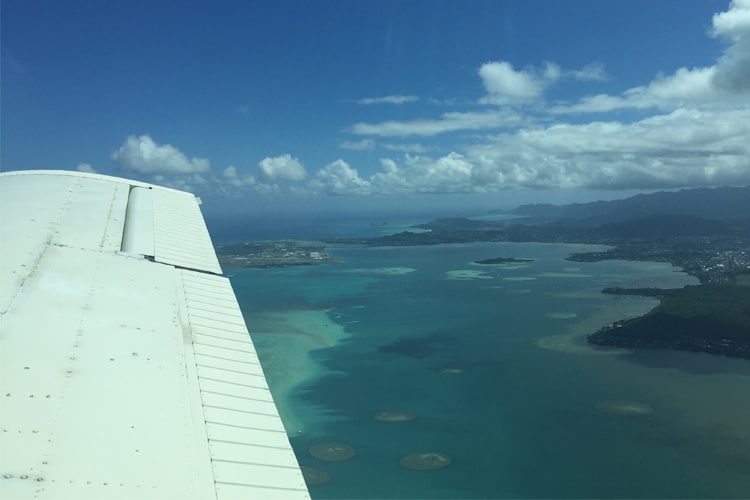 We head to the bathroom for an obligatory line and, upon re-entering the dance floor, we are ushered to a backroom, presented with a magnum of grey goose by three girls in playboy bunny outfits (I promise this is as it happened verbatim), and the party is on. All of this has cost me nothing, by the way, my contact on Oahu insists on paying for everything, 'just a little Hawaiian hospitality my friend' he keeps saying as he hands over a twenty for a couple of drinks, or pulls out his bag for another line of blow. 'We'll see how we go here man, we either pick up a coupla hotties, take 'em back to the house and blow lines all night, or if you wanna chill we just go roll a joint and sit on the beach.'
This, my first of many nights in Waikiki over the coming two weeks, was no rude shock. I had partied with Kris before when he was in Sydney and I know his particular bag of flavours. But he's the perfect tour guide. At six foot two and two hundred pounds, Kris is a regular at the gym, trains as an MMA fighter, and has a tan that suggests he's spent the best part of his twenty-seven years living in a tropical paradise, which would be an accurate summation. Matched with his broad white smile and his daredevil antics, he's hard to miss and is well known around the streets of Oahu, as I soon learn.  For all the white powder, late nights and nefarious characters we encounter, he never stops having fun. For every joint we smoke at 3am to help us sleep, he wakes me in the morning with a coffee to take me on another nature walk, for every night club we frequent, he suggests another waterfall to check out 'later on'. On one of our night time excursions we took this literally and left a bar in the backstreets of Honolulu to hike Manoa Falls at 2am.
There is something to be said for sitting in a rocky, three foot-deep puddle underneath a natural torrent of spring water at 2am, high as Willie Nelson circa 1968, looking at a flawless, starry night sky.
Hawaii, as anybody who has ever been there knows well, is naturally a very beautiful place. There's a truth to the brochures. The beaches are pristine and the water is a beautiful blue. There are turtles that swim in the surf. It's sunny almost every day. Where I'm staying, in the mountains of Manoa, it rains lightly for about twenty minutes every day, leaving an enormous, stark rainbow over the whole valley, which winds south to Waikiki.
There's a great history to the place as well. We visit a bar called Sarento's above the Ilikai Hotel, overlooking Waikiki harbour, which was opened in the early sixties. 'That stool you're sitting on', Kris tells me' 'Elvis used to sit there'. It's true, I looked it up. Elvis Presley once owned the entire 24th floor of the Ilikai Hotel, and used to holiday in Hawaii frequently (he never travelled outside the US.)
There are also the reminders everywhere of iconic parts of American history, nestled in between the vast concrete halls of commercial enterprise and capitalism that is the streets of Waikiki (which were commercialised by US and Japanese ventures long before Hawaii got a star on the flag.) The Moana Surfrider Hotel, which sits wrapped around a century-old, seventy-five-foot-tall banyan tree on the beachfront, is one of the most intricate examples of late nineteenth century architecture, and was the playground of King Edward VIII when he was just the Prince of Wales. The private pier with which he reportedly fell in love, an enthusiastic diver, is no longer there, but it's not hard to imagine it.
Even Agatha Christie stayed here in the twenties. Fitting, as the hotel is also the home of one of America's most famous murder mysteries. In 1905, Jane Stanford, one of the founders of Stanford university and former wife of a Californian governor was found dead in her room at The Surfrider due to strychnine poisoning. Nobody was ever charged.
One of the most alluring qualities of Waikiki is the ability to travel in any direction for about half an hour away from its centre, and find yourself either on a private beach with perfect white sand and warm waves, unblemished by property developers, on the side of a mountain, with no effort required to imagine yourself in the middle of Jurassic Park (this is where they filmed it, after all) or in any version of an all-American neighbourhood, with kids playing on the front lawn and UPS trucks delivering packages from Amazon.com.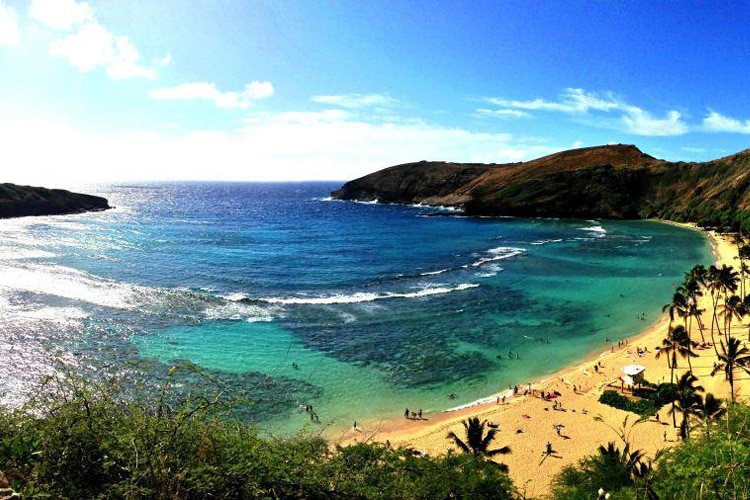 And then you've got downtown Honolulu. As beautiful as the daily rainbow over Manoa is, or as the hundred-year-old banyan tree at the Moana Surfrider might be, like any city, you have the scars of a capitalist economy and therein live the forgotten people of Oahu. Honolulu is like a tiny, tiny New York. The streets are lined with dive bars, tattoo parlours (including the one where Sailor Jerry himself used to famously tattoo sailors in the 1940s), strip clubs, bad traffic and the broadest demographic you will likely find. There's also the Hawaii Theatre, dubbed 'the pride of the pacific' when it first opened in 1922.
Amidst the history of these mean streets lies the junkies, derelict strangers, wayward folk, prostitutes and dealers that make Honolulu no different than any other city in the world, when you strip it back to just the bones. The slums and miniature tent cities that have been set up underneath the network of only three or four freeways in and out of the city are a constant visual reminder of a real, flawed socio-economic system existing within a perfect tropical setting.
And the freeways are representative of a failed system as well, with the island of Oahu boasting the fourth worst traffic congestion in the whole of the US, after Los Angeles, San Jose and Seattle. It's hard to believe that an island so small, with so few inhabitants, could be so poorly planned, but the effects are there for all to see, every day. I sit in a late model Tacoma with a friend of Kris' named Vivian*, who was born on Big Island to Vietnamese migrants and moved to Oahu to study law. 'Nobody in the US really believes those statistics can be real, but it's true' she says as we sit, not moving, for fifteen minutes. 'It's a small population, but there's only really one road in and out of Honolulu to distribute the traffic, so it's a nightmare for anybody who has to commute, which is most people here. There's no subway like other cities – the roads are the only way to travel. It makes it really hard to make the decision between living in a nice house and commuting every day, or living closer to work, close to the slums.'
Back on a night out with Kris in Waikiki, we are joined by his friend Luke*, who wants to come out and sing karaoke with us. As we walk past a row of prostitutes, I notice that they are all operating right outside the main early-opener of Oahu, a clichéd Irish pub called Kelly O'Neill's. The reason I find this such a peculiarity is that the pub has at least three cop cars, full of police officers ready for action, at any given time after 8pm every day.
'It's illegal, but the cops all fuck the hookers. That's why they work the streets outside where all the cops are' Luke tells me. 'It's fuckin' weird, they used to fuck them in return for not arresting them, but a few cops got done for it, so now the hookers make them pay. Some give discounts but I guess it's still safer for them. It's real fuckin' weird but everybody here knows about it.'
Perhaps apart from the street workers, you can actually draw a lot of similarities between Waikiki and Sydney. The clubs are all the same (albeit the drinks are much cheaper and more generous in Hawaii), it's full of a mix of Australians and Asian tourists alike, and it's a place of great natural beauty that has been dumbed down to the n'th degree to make way for commercial tourism and in some areas, property development. What's so alarming is the number of homeless people, the number of people living in low-income housing and the disparity between the sun-drenched mansions of Hawai'i Kai (that's where Dog, The Bounty Hunter lives) and just forty minutes on the moped away, in the back streets of Honolulu, which are lined with block after block of 'affordable' apartments, which look no different to any other government scheme to provide for its people for as little money as possible.
I sit on the top floor of one of these apartments with a new friend I made in town named Jay*. Jay sits over a bucket bong, watching cartoons in his one-bedroom apartment in a blue mini-skyscraper of affordable living. There are no water views from Jay's home, no five-minute walk to the beach. Just the freeway to look at and, curiously, a graveyard, right next door.
'There are loads of different graveyards on Oahu' he tells me, in between bong rips. 'Lots of different Asian cultures have different beliefs' he says, quite earnestly, as though surprised that a white tourist is actually interested in how this place came to be so confusing. 'And then a lot of people died in the war' Jay is of course referring to World War II, after The US marine base on Pearl Harbour was attacked by Japanese forces in 1942. 'There are different graveyards for each culture. This one is a Japanese one, nobody has been buried there in a long time, they ran out of room years ago. There's another one about a mile away that is all Chinese.' I told him that I had noticed the Chinese one on my way over, at how it had looked more grand. It had larger, black marble gravestones and mausoleums. The Japanese graveyard was more crowded with smaller gravestones or just simple plaques. 'They had more money back then.' He simply said, referring to the Chinese occupants of the time. 'Japanese were outcast here during and after the war. It's sad. In the 1920s almost half the population of Hawaii was Japanese. Now it's like fifteen percent or something.'
He's correct, rudimentary research shows the Japanese population of Hawaii to be just over sixteen percent. But while the Japanese population may have dwindled, the cultural reminders are there, mostly in the cuisine. Most tourists will have been exposed to the most famous dish of Hawaii, the loco moco. A questionable combination of burger patty, rice, fried egg and onion gravy, this can be politely passed over to enjoy Hawaii's other delicacy, poke (pronounced poh-keh). Poke is simply fresh caught fish, diced raw and dressed with either a soy, vinegar and sesame seed dressing or a spicy mayonnaise. It's sushi in it's most basic form and it's delicious. Served over warm brown rice, a bowl of poke at the fish markets is $7 for a pound and it's one of the highlights of my trip.
One morning, Kris wants to take me to a place called Morimoto's for breakfast. 'Trust me, this is where frickin' Obama comes when he's back home dude' he tells me. Everybody on Oahu is keen to remind me that the current sitting president is a local, and given how progressive Hawaii is as a state, it's not hard to see why they're proud. Morimoto's, a high-end restaurant, sits on Waikiki harbour, underneath The Modern hotel and is a beautiful setting for fresh fish and simple, classic Japanese food. If you're going to spend proper money on food in this town, this is where to do it.
I've spent the last two weeks riding on a moped. It's the done thing on Oahu, as any vehicle under 50ccs of power is considered under the same laws as a bicycle (or so I am told.) Shirtless, no helmet required, max speed of 50mph, it's certainly one way to mop up the ambience and the sun's rays of this strangely beautiful city.
It's also another great way to again visualise the differences surrounding wealth distribution in Hawaii. The Streets of Hawai'i Kai and the residential roads of Kahala are perfect, pristine flat surfaces of opulence, lined with large white houses and tall, proud flagpoles flying the stars and stripes every second or third home. But a 20mph cruise past The Pint & Jigger, a dive bar wedged in between Waikiki Harbour and the Lunalilo freeway, is uncomfortable and rugged, as it displays the first signs of the potholes and chain link fences that extend for miles around the poorer parts of Honolulu. It's a stark comparison to the flagships of Cartier, Tiffany & Co and Gucci, that sit less than a thirty-minute walk away.
Having spent two weeks absorbing the natural beauty of the island by day, I spend a lot of my evenings in the throes of tourism city, in the very heart of Waikiki.
The stretch of beach that extends from Waikiki Harbour to Honolulu Zoo, about a mile and a half long, is one of the most extreme displays of western capitalism one might experience, and that doesn't even include the vast expanses of the Ala Moana Center, the seventh-largest shopping center in the US and the largest open-air mall in the world, which is just 10 minutes away. And it's not hard to see why. Hawaii has long been the first port of call for rich American and Japanese tourists alike. What impresses me is people's desire to want to spend such amounts of money in such a location.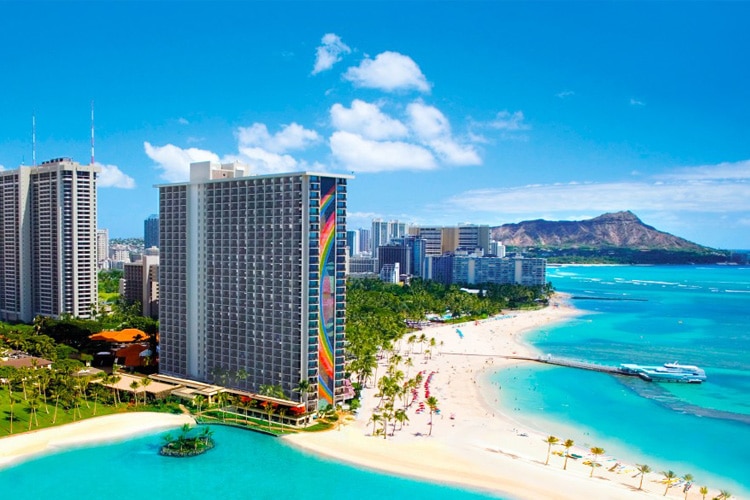 Personally, I felt no desire to reward myself in this place. I sat on Waikiki beach on my second night, looking out at the ocean, smoking a coconut flavoured cigar I'd bought at one of the 56 ABC Stores (Hawaii's brand of convenience store – there's one on literally every corner of Waikiki selling everything from Aloha shirts, drugs, liquor to cheap flavoured cigars) and I felt so humbled by my surroundings. It's somehow easy to block out the concrete jungle of money, the fake luau tiki torches and the synthetic floral leis. The stereotypical fat man with a sarong, playing the ukulele exists, but there's something genuine to it. The locals really do love sharing what's left of their culture. It's easy to block out the fact that a coconut cigar actually tastes more like reef suntan lotion than it does sweetened tobacco. It's easy to take off your leather shoes, roll up your trousers and forget about the tens of thousands of other white people who make this trip each day. It's easy to involuntarily immerse yourself in the organic richness of this place. To see the appeal beyond the streets of Waikiki, the Billabong stores, the Cheesecake Factories, the poorly designed t-shirts. The treasures of an island paradise not yet lost are still there for those who look for them, you just have to subscribe to a special, maybe even twisted brand of what paradise really is.
*Names have been changed