Poco Review: Accurately Target Your G-spot for Full Blown Orgasms
In Partnership with MysteryVibe
Sexual wellness brand MysteryVibe takes such a clean and colourful approach toward design that their vibrators could sit on the shelf next to your gadgets and trinkets. The brand certainly doesn't slouch when it comes to performance, either. These are true 21st-century sex toys in every sense of the concept, complete with multiple motors and an adjoining smartphone app.
That brings us to the mighty Poco, which picks up where the traditional bullet vibrator left off. Modelled after the human finger, it touts the similar ability to bend at two separate junctions (though unlike the human finger, it can do so in both directions). This is a brave new world and a glorious one at that, as our respective female partners soon found out.
Invoking the spirit of exploration, Poco embraces self-discovery and mutual play alike and gives the ultimate G-spot experience. Don't be intimidated, gentlemen, because participation is encouraged. If anything, you've just uncovered one more way to please your partner. Make that multiple ways, actually, as this compact gadget delivers no shortage of options. Here's a breakdown.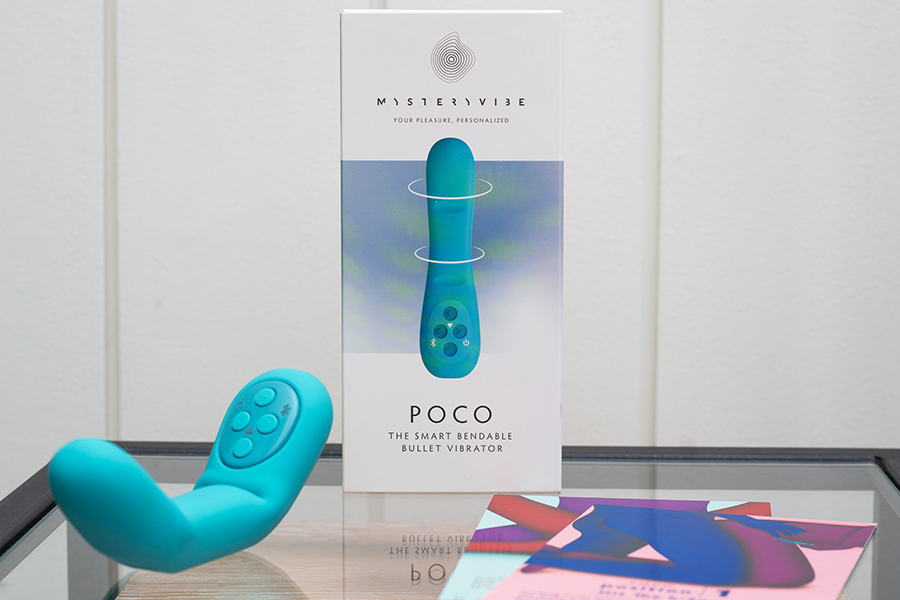 Packaging
MysteryVibe is nothing if not a modern brand and that starts with their exceptional packaging. As if taking cues from Apple, they present products such as Poco in a clean, white, and well-organised box. The instruction card is painstakingly simple, even if the product itself takes on more dimension than first meets the eye. Charge it up via micro USB and you're ready to roll.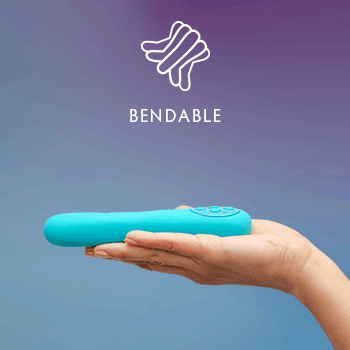 Design
Wrapped in body-safe silicone, Poco is effortlessly smooth to the touch. Upon taking it from the box, we were immediately drawn to its graceful texture and wondrous pliability. There are two specific points at which the vibrator bends, giving way to a host of permutations. Sex toy or not, this thing is simply fun to play with.
At the top of Poco is a small platform with four buttons. The power button also sets vibration patterns once the product is turned on. It's joined by another vibration pattern button and then two intensity buttons.
Under Poco's silicone skin are two individually programmable motors which vibrate throughout the whole length of the toy leaving no dead-zones and arousing your partner every inch of the way. As we played with the buttons, the motors enacted different vibration patterns, each of which was quite unique. Bring in the adjoining app and you can create personalised patterns, should you so desire. Again, the playfulness factor was palpable and that's before we even put this thing to work.
Poco's just long enough to cover the perineum (i.e. taint) on a person of average size. In this position, its respective endpoints go from the anus to the clitoris. However, you won't be able to penetrate either area when using the toy in this fashion, merely flirt with the outer perimeters. Focus on just the vagina and nothing is off the table, including penetration. Poco's ability to bend, imitating a finger, makes it easy to reach and stimulate the G-spot regardless of your body shape or size.
Thanks to its silicone material, Poco is both water-resistant and easy to clean. You can use it in the shower or lube it up without compromising the exterior (or your privates). All the ladies out there are welcome to use the vibrator by themselves or bring a partner in on the action. He can even control the vibrations by way of the app from up to 30 feet away.
Performance
So Poco certainly looks pretty, but how does it perform? Quite wonderfully, is the answer. Even if you strip away all the extra features, you end up with a safe, effective, and relatively powerful bullet vibrator. Set the vibration pattern to steady and you can use this thing as you would any standard counterpart.
Bring all those extra features back into the fold and your options explode. Again, exploration is the real name of the game here. Bend the toy into various configurations as you play with its vibration patterns and intensity levels, unlocking new modes of personal pleasure.
Poco is particularly wide-reaching when it comes to vibration patterns. Some patterns employ both motors simultaneously while others alternate between each one. A number of patterns fluctuate at intervals, as if the gadget has taken on a mind of its own. If you're hoping for more customised control, play around with the app until you land on the perfect vibration.
For up to an hour at a time, you can play with Poco's flexibility, intensity, portability, and patterns. Whether you're alone or with a partner, you can use it in the shower, bedroom, kitchen, or wherever you'd like. The choice is truly yours.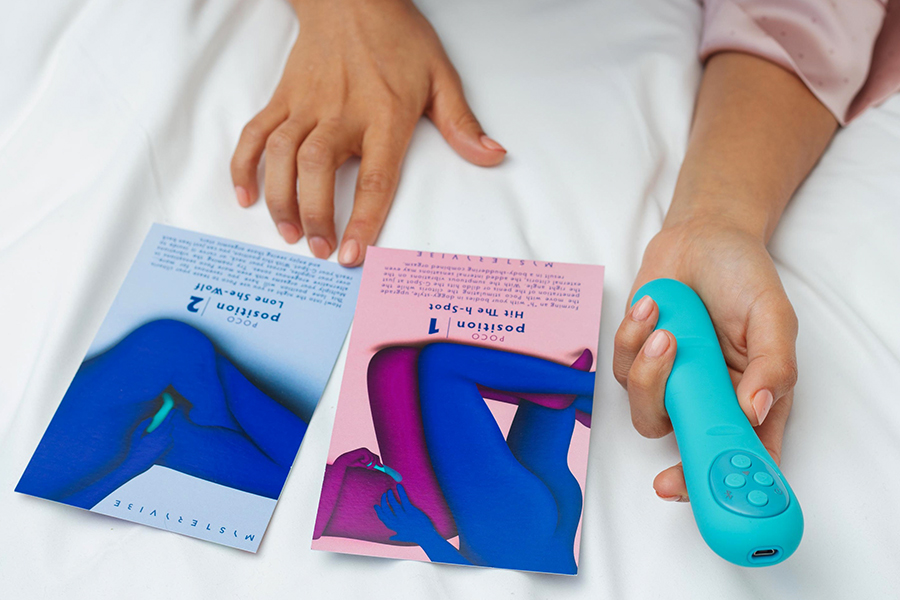 Poco Playbook
Still looking for ideas? MysteryVibe is happy to provide them. Enter the Poco Playbook, which is available for separate purchase. Flip open the deck to find 18 different user suggestions, joined by detailed instructions and helpful illustrations. Some suggestions are relatively tame while others are downright scandalous.
A personal favourite might be "Come Dine With Me." When you're out to dinner, slip the Poco into your panties and let your partner control it via the app. Keep the intensity levels low and maintain social distance and no one has to know…presuming you don't bust out your "O" face right there in the restaurant!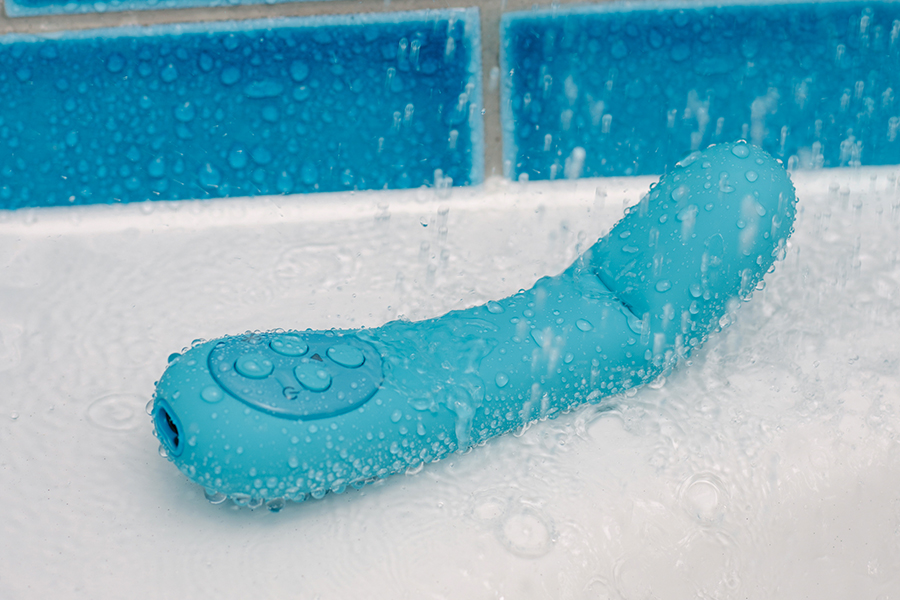 Final Thoughts
No two bodies are exactly the same and MysteryVibe definitely knows as much. Treating every customer as an individual, they pack copious amounts of choice into a resoundingly sleek package. The underlying theme is that you should freely explore your body or the body of your partner, thereby uncovering new sources of personalised pleasure.
Poco is living proof of this very concept. As a gateway to endless possibility, the compact vibrator offers the thrill of discovery as it goes from one configuration to the next. Meanwhile, everything from the vivacious colour to the smooth silicone to the pristine packaging drives home a thoroughly modern vibe.
If there are any cons to the product, it's that certain users might want something more traditional or more powerful at less cost. Even at its most intense, Poco's vibrations are less powerful than some counterparts (though again, our female partners weren't complaining). Meanwhile, some of the more experimental patterns might distract before they titillate.
Hence, your mileage may vary based on things like budget or personal taste. Nevertheless, Poco's impeccable design and versatile performance are beyond reproach. Carnal knowledge has never felt so smart and clean as it does here…or as exciting.