Health in Mind: Sammy Leetham on Style, Fatherhood & Work/Life Balance
In Partnership with MR PORTER
Byron Bay is a melting pot for some of Australia's most influential actors, signers, and entrepreneurs. Often drawing cliches for its holiday-turned-permanent vacation vibes, it's no surprise to find some of the country's most stylish men residing along its seemingly infinite beaches, coves and rolling hills. All the while, embodying a style that reflects the pulse of the land in which they reside.
Melbourne-born entrepreneur and MR PORTER style council member Sammy Leetham found himself doing the same. Always holding an affinity to the sand and water – like many Australians – he found himself living life to its fullest by the beach.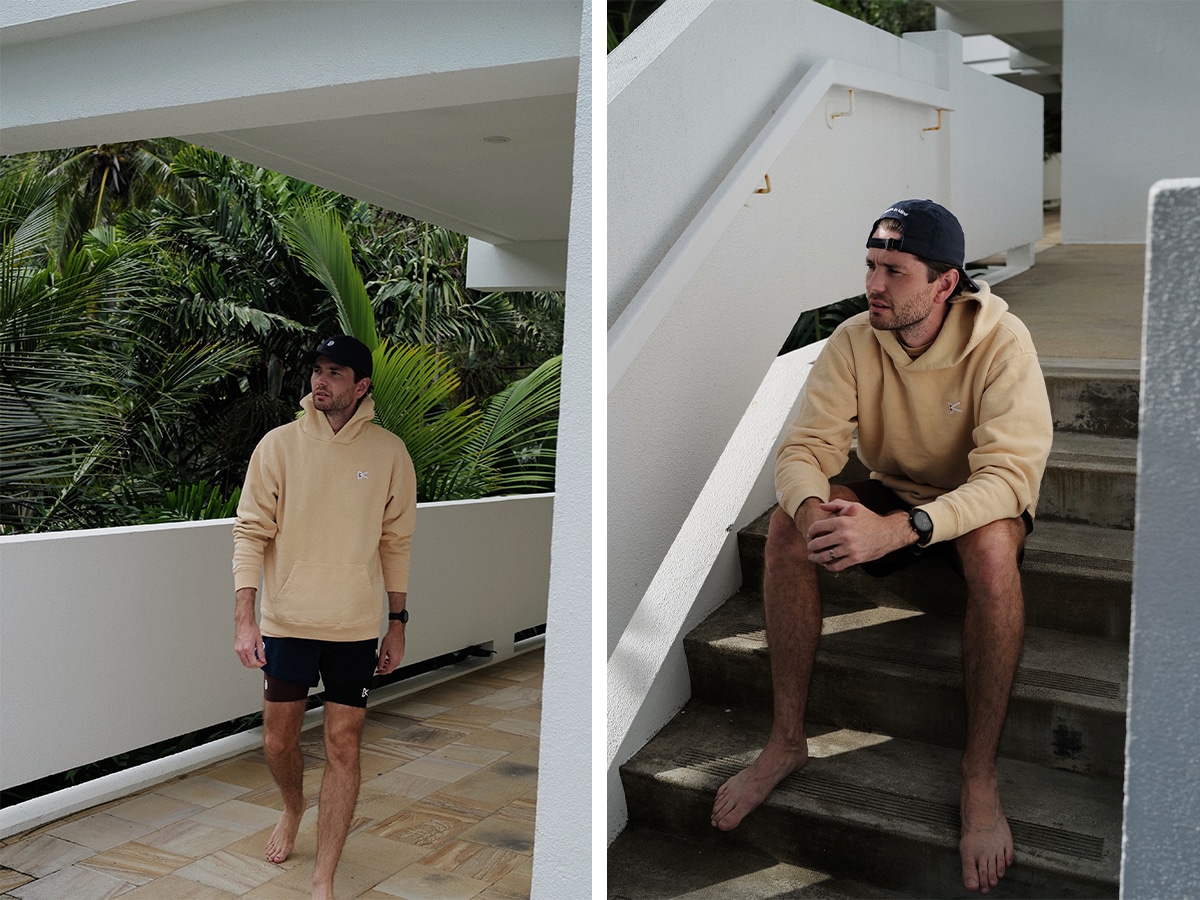 Crafting a work/ life balance with his son Atlas at the centre, even a global pandemic wasn't enough to stop Sammy from finding new perspectives. Looking from the inside out, and cherishing those valuable moments in time, Sammy is a stylish entrepreneur that never takes anything for granted.
Style is an essential aspect of life for Sammy, he gives full credit to his grandfather and wife Saasha. He's a firm believer that fashion can help visualise the appearance of your true self from the inside out, stemming from his first memories of his grandfather who used to rock three-piece suits.
"My Grandfather, a dentist by trade, would get around in these three-piece tailored suits. Obviously, they were of the time but it was amazing to me nonetheless. They're great photos, we still have them actually, my favourite is of him enjoying a whisky, embodying a real sentiment of coolness"
While fashion was always in the back of his mind, that all changed when he met his wife Saasha – a model at the time – her connection to the industry opened doors for the pair. Eventually launching their own lifestyle brand BEAR with Saasha as creative director and Sammy at the lead of sustainability and innovation.
"I took the biggest style leap when I met my Wife Saasha, she was in the fashion industry – a model for a long period of time, now a creative director – when you connect into her work you started to really associate with brands and directors which probably cultivated my thinking from my mid-20s onwards when I really started to find my fashion legs"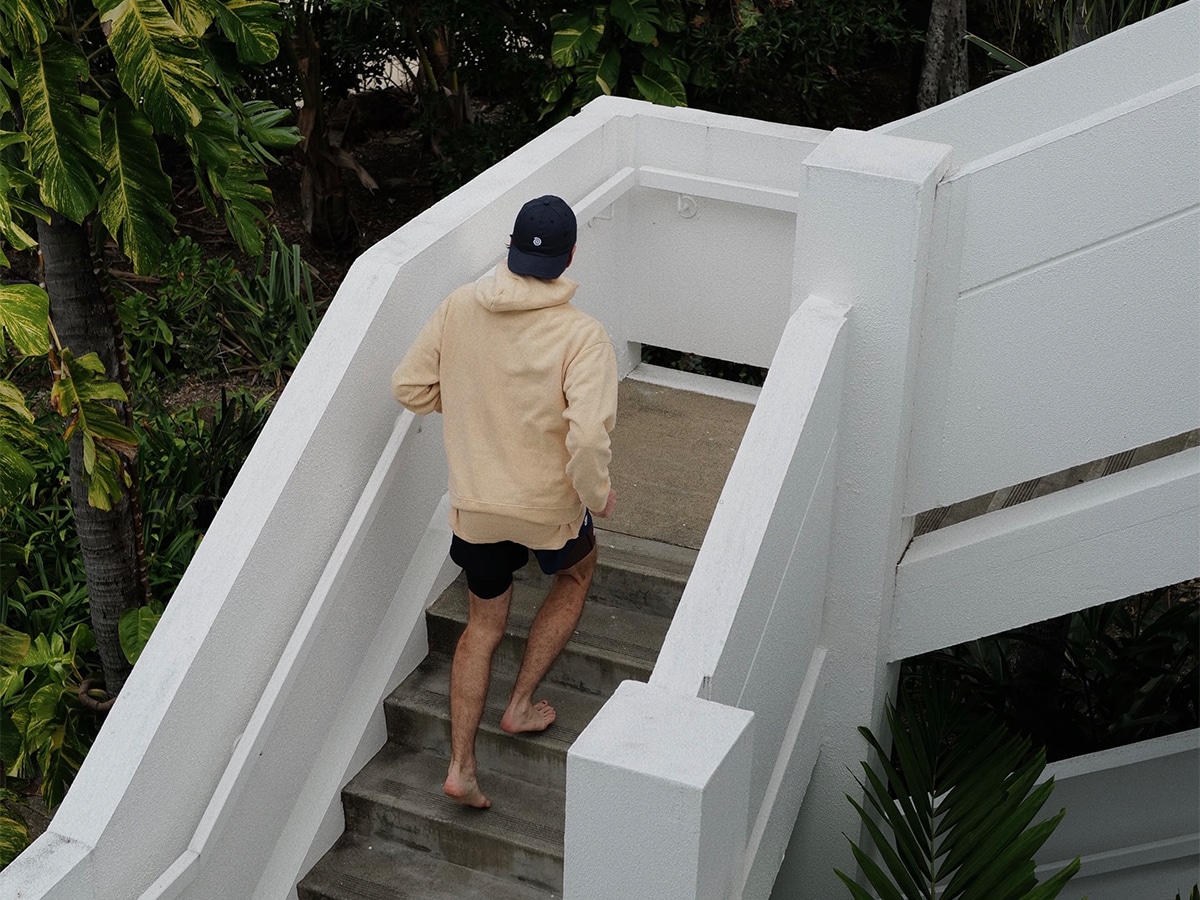 How would Sammy describe his own personal style? Situational, for one, but with a global pandemic throwing a few curveballs at his wardrobe, one day didn't always look like the next. Prior to the pandemic, the pair spent many months of the year working between Los Angeles, New York and Europe. Fashion capitals of the world in their own right, each location required Sammy to focus on different aspects of his fashion mind.
"I would've said previously that my style would really change depending on where we were at that point in the world. In the US I was very influenced by that sport, streetwear aesthetic – converse, denim and white tees. And then in Europe, places like Positano is very much about linen and natural fibres"
Having spent the last 18-months in Australia, like many of us, his style has adapted to the situation. A combination of lockdowns, stay-at-home orders, and restrictions stopped travel plans dead in their tracks, but it allowed us to explore our local environments.
This put everything in perspective for Sammy, who has found an affinity for athletic brands such as District Vision. Finding direction in its combination of "function, sport, and street style" and these aspects play a key role in his day-to-day life as a father and entrepreneur.
"I think as well, we had our first son at the start of the pandemic, that probably just envelopes this concept that you need your clothes to be really functional, comfortable, easy to wash, but still have an element of your personal style"
Brands such as District Vision seemingly blur the lines between function and style, something that he's cherished since the birth of his son. In some ways, while there are certainly pieces in his collection that he cherishes (and keeps away from son Atlas), the perspective of life proves that nothing is "too precious" even for a fashionable guy like Sammy.
"The days are very functional because we look after Atlas and balance working for ourselves, full-time parents, full-time business owners. And while there are some challenges around that, it's such an incredible gift."
"During the day we're running around after him so I'm leaning more towards slightly darker colours for that reason as well (less mess and stains). It's important to make these moments occasions, celebrating opportunities to catch up with others when we can"
The exclusive MR PORTER Health In Mind x District Vision capsule collection will have you looking good and functional on the outside but that doesn't count for much if you don't feel good on the inside, too. As a member of MR PORTER's style council, Sammy has championed the brand's Health In Mind initiative, encouraging the normalising of conversations on mental health. And for this feature, Sammy is seen sporting the exclusive MR PORTER Health In Mind x District Vision capsule collection.
For the month of October, 100% of the profits from the sale of this collection will be donated to the MR PORTER Health In Mind Fund powered by the Movember Foundation (Europe).