How to Make (and Stick To) Your 2020 Sexual Resolutions
Falling into a sex rut can be frustrating and make you feel isolated and helpless. Many long-term couples experience this at some point in their relationship and while it might seem like there's no light at the end of the tunnel, relationships can recover from a sexual rut with some time and effort.
With a new year ahead, it is a great opportunity to break habits and test-out new behaviours. One way to capitalise on this window of opportunity is to sit down with your partner and write up a number of sexual resolutions that you'd like to stick to for the year.
While making sexual resolutions might be daunting, for some individuals even raising the issue to their partner is the most daunting part. I asked We-Vibe Ambassador and Sex Educator Georgia Grace how best to tell your partner that you want to improve your sex life. Georgia recommends, "Focus on the benefits. Instead of approaching the conversation with the desire to 'fix' your sex life, come with a positive approach. Speaking about sex can be a sensitive topic, people are generally more receptive to positive conversations around the benefits of improving sex rather than complaints. Saying something along the lines of, 'A healthy sexual relationship is really important to me, I'd love to explore this with you' or 'I'm curious about trying (this new thing), would you be open to trying it with me?' or 'I was reading a book / listening to a podcast / had an idea and I'd like to practice this with you, how do you feel about that?'."
Once you've expressed your desires to enhance on your sex life with your partner, then comes the part when you can start planning. Start small, don't set unrealistic expectations and be prepared that some weeks you won't stick to the plan – this is okay!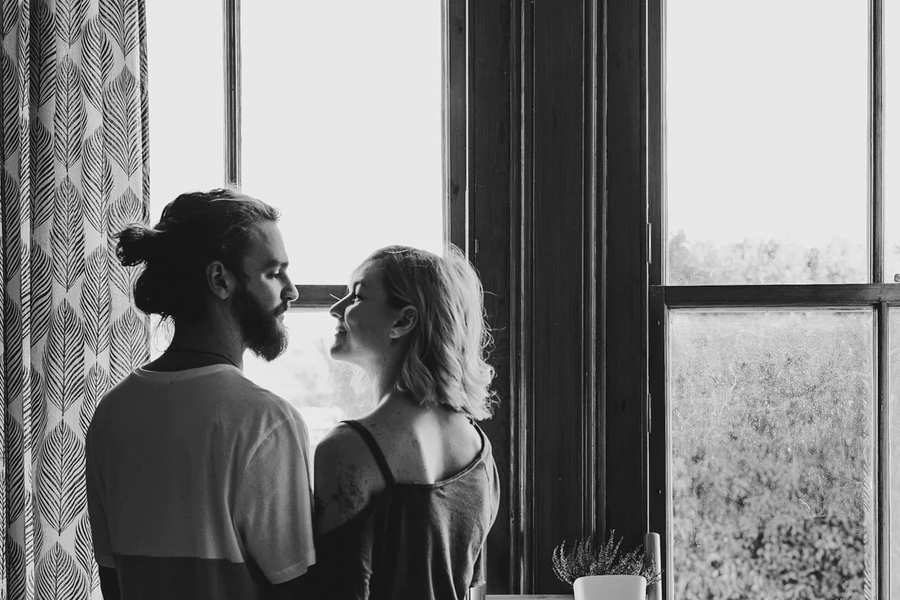 You might like to aim for one hour a week when you can use oil and treat each other to a massage. Or, perhaps try 30 minutes of eye-contact pillow-talk twice a week to work on connecting emotionally with your partner while you're in a space where sex can take place. Another might be to purchase a new sex toy and aim to play with it once a week – with no pressure for penetrative sex. Georgia fully supports sex toys to facilitate a better sex-life; "Toys support equal access to pleasure, and the better the sex, the more you'll want to have it! Choose toys that excite you and find something that you will both enjoy. My top recommendations for couples who want to transform their sex life are We-Vibe's Wand and We-Vibe's Chorus."
Be creative and realistic in your goals. Take into consideration your schedules and when intimate time will work best for both of you. My suggestion, don't set these goals after you've both had a long day at work; you might not be feeling very sexy and you don't need any added pressure on days like those. Instead, designate some time on the weekend when you've spent the day relaxing or catching up with friends, and you're likely to be in a happy mood. This is the time to strike! Good sex starts with the individual, so ensure you designate intimate time when you are both feeling each other as well as yourselves.
And finally, when it comes to sticking to your plans Georgia says "Like all successful resolutions, it takes intentional time and practice to ensure you stick to them. It's important to know that the specific resolutions might change, and that's okay. But come back to the value and why you created the resolution. For example, you may start with a resolution to have sex 3 times a week because you want to feel more connected to your partner. But by the time February rolls around, you're begrudging having sex. So, your resolutions may evolve to sharing intimate moments 3 times a week, so instead of having 'sex' you give a massage, have a bath together, read next to each other, kiss for 5 mins or eye-gaze before bed. Be adaptable in your approach."
As your lives and relationship change, so does your sex life. Don't be hard on yourself if you can't stick to what you initially set – adaptability is key!
Laura Miano is a Sex Therapist in Training whose passion is centred on breaking down barriers surrounding sexuality and encouraging people to explore their sexuality in new ways. She celebrates diversity and believes that each individual is entitled to their own sexual identity. To contact her or see more of her content, email [email protected] or follow @lauramianosexology.