Poco Review: A Powerful Pint-Sized Bendable Bullet Vibrator Perfect For Entry-level Users
Just when we thought sex toy innovators MysteryVibe had mastered the industry with their bendable Crescendo vibrator, they've managed to up the ante again with the release of their latest product Poco – a pocket-sized bendable bullet vibrator. For couples who are looking to spice up their bedroom routine, Poco is the perfect option for both entry and master level sex toy users. And buying a new toy could not have come at a better time, with restrictions tightening in some of the nation's states, we're getting pushed back into our homes and consequently back into our bedrooms (yay!). This means that you have more time to devote to your sex life, especially if you've noticed things falling off track a little lately – which appears to be more common than not, according to a recent survey by MysteryVibe.
Conducted during the lockdown in the US, the survey revealed that 67 per cent of those polled had entered a sexual rut and had become bored with their sex routines. Interestingly, in relation to sex toys, 77 per cent said they considered their use socially acceptable but only 18 per cent said they used them often to spice things up, while 41 per cent used them sparingly. This demonstrates that a large portion of this survey's sample is yet to reap all the benefits that sex toys present. If Australia's population is anything similar, then you might also be missing out on a whole lot of mind-blowing fun too. If that's the case, MysteryVibe's Poco is the perfect product to introduce to your partnered play. With app compatibility, seamless functionality, modest packaging and undeniable effectiveness at providing pleasure, you won't regret a Poco purchase.
App Compatibility
Poco can be controlled remotely up to 10 metres (30 feet) away using MysteryVibe's Smartphone app where you can target and isolate each motor and experience the vibrations you choose in real-time. The app, which is free to download from your app store, also gives you the option of personalising vibration patterns and saving them to the sequence. Additionally, if you aren't a fan of the pre-set options that Poco comes with, you can also remove them or change their sequence around to suit your liking.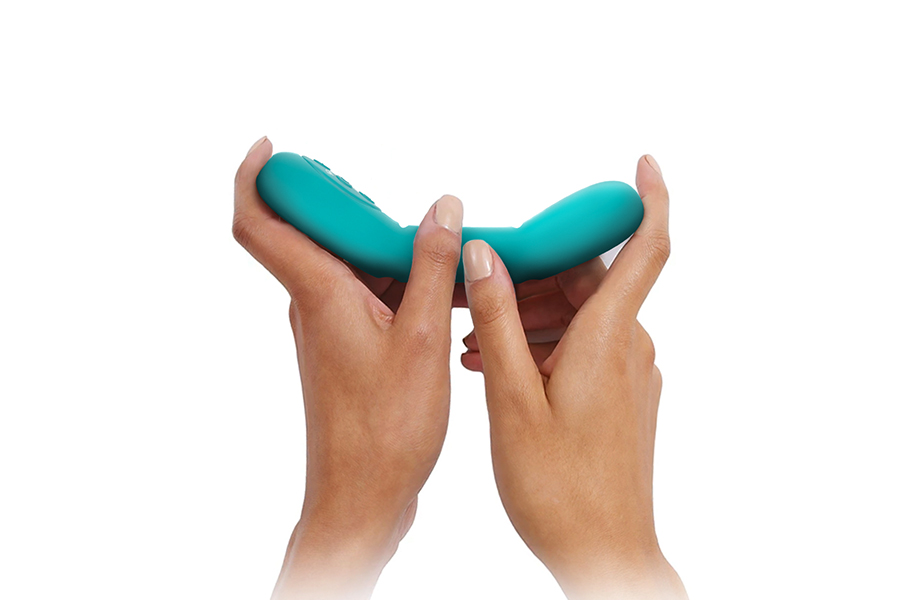 Seamless Functionality
When choosing a vibrator, many people focus on the pleasure-eliciting capabilities of the toy and they tend to overlook its functionality – how easy it is to use, to charge, to travel with, and to integrate into sexual experiences. Imagine you're vibing off your vibrator, no pun intended, and you go to increase the vibration intensity but accidentally change the pattern setting. You're then left fiddling around mid-sex until you get back to your desired setting… it's messy! Poco will not leave you with any functionality issues like this. It's control buttons which consist of a simple 4 (up/down for intensity and up/down for vibration patterns), are easy to distinguish and easy to press. In this domain, Poco is a standout compared to other toys on the market as many others compromise ease of use for a sleek design (with hard to press buttons) or complex settings (that are too confusing). In this domain, simplicity is best.
It doesn't stop there. Another function you might have overlooked when buying a toy is how it's charged. Many toys these days use funny wireless magnetic charges that don't click a cord into the toy but rather sit beside the toy using a magnetic force. If you have a stiff cord or you unknowingly bump your toy they become easily detached and you might find yourself pretty disappointed when you're ready to get your girl off that night and reach to find your vibrator uncharged. Poco will not provide this kind of disappointment! With a micro-USB connection, Poco's charger sits securely in the toy and you can be sure that when you put it on charge, it will stay on charge.
In addition to these two standout features, Poco's seamless functionality is also facilitated by its water-resistant design, 1-hour run-time and premium silicone material.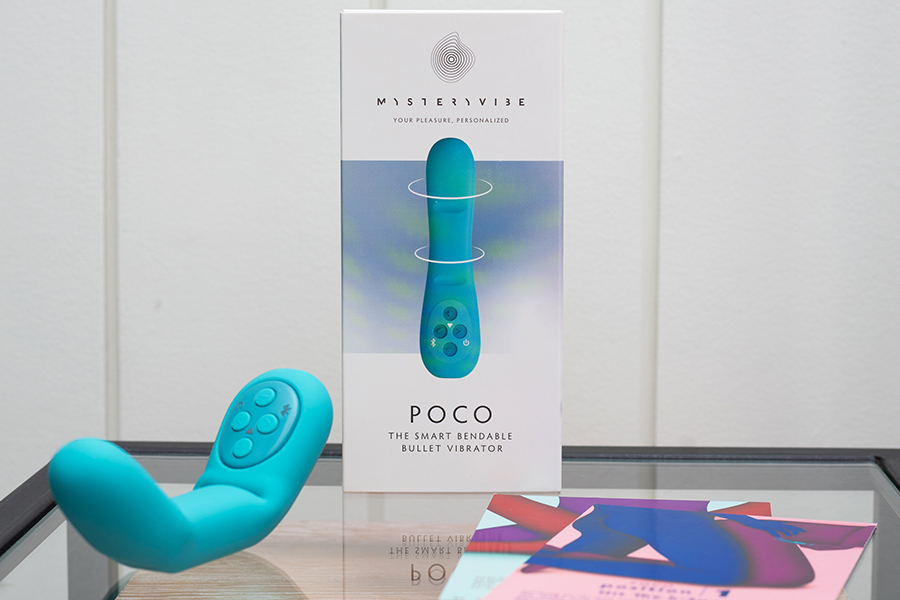 Packaging
Poco comes in a little white box with a micro-USB cable and a simple instructions sheet, presented nicely around hard foam. Its packaging is modest but contains everything you need. The box itself is sturdy and communicates quality. Alternatively, if you're looking for a toy that makes a statement, I'd recommend looking into MysteryVibe's Crescendo.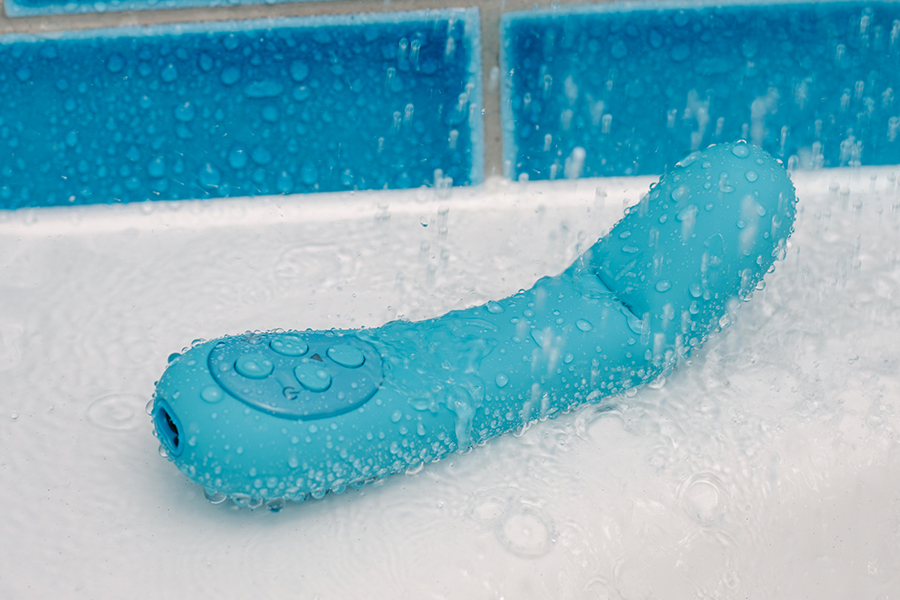 Effectiveness
Of course, I left the best (and most important) to last. How does Poco measure up as a pleasure-eliciting product? Put it this way, you will not be disappointed! With a bendable design that mimics a finger, using Poco is like having an ultra-thick, dual motor-controlled finger pleasure you, that unlike most human fingers, won't get tired until you and your partner receive a whole hour of stimulation. It's pretty perfect.
The two motors I mentioned are individually programmed so that the vibration patterns produce a pleasurable harmony of different patterns and intensities, which run simultaneously. Poco is capable of producing 16 levels of vibration intensity and comes with 8 pre-set patterns (which as mentioned earlier, can be modified through the app).
Finally, another standout of Poco, and other toys designed by MysteryVibe, are its gender neutrality. Whether you're in a heterosexual or homosexual relationship, Poco can be adjusted to fit your individual needs. It can be bent to stimulate a clitoris, perineum and anus simultaneously, used internally on a g-spot, stimulated externally on the anus, used straightened to vibrate along a penis and used to stimulate an anus, perineum and scrotum simultaneously. These are just a few suggestions but the possibilities are truly endless.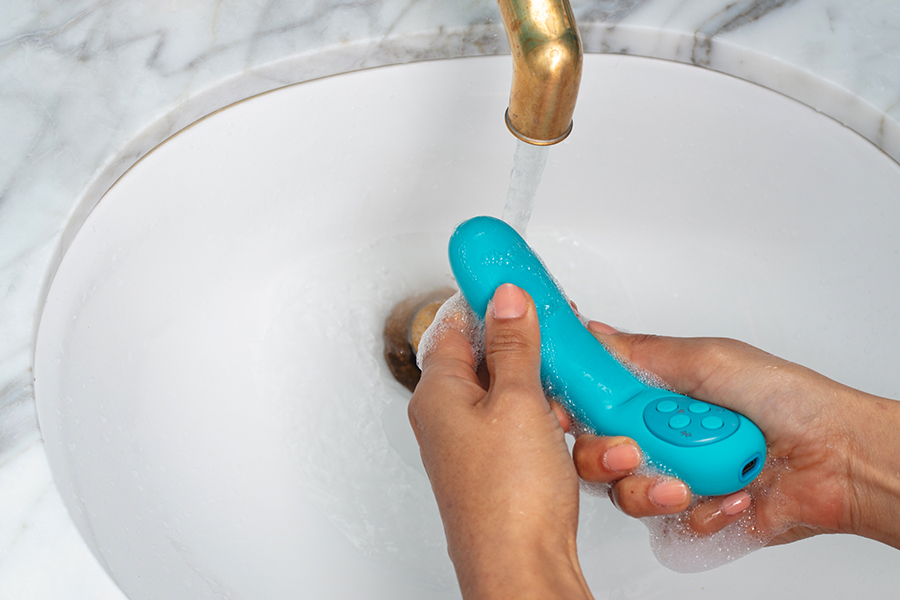 Final Words
Poco is a great bullet vibrator for those looking to purchase their first pleasure product and suitable for the more seasoned sex toy users as well. It's small and compact design makes it easy to use on the go, meaning you can have fun anywhere, anytime. MysteryVibe is offering immediate shipping on Poco so you won't have to wait too long before you have it in your hands and ready to use! For more information, click over to the Poco and MysteryVibe web page. Alternatively, you can check them out on Facebook, Twitter and Instagram.