This His & Hers Product Bundle Will Revolutionise Your Sex Life
In romance novels and erotic films, sex is a perfectly synchronised ballet in which both participants are absolute masters of their respective domains. But in real life, premature ejaculation (PE) is a thing and female orgasms are far from guaranteed. Meanwhile, one simple rule remains constant: pleasure is always better when you're experiencing it together. What's a man to do? Well, he can start by picking up a product bundle from sexual wellness brand Promescent.
Formulated for maximum and mutual enjoyment, Promescent's foremost bundle features two pleasure-boosting products: Climax Control Spray and Female Arousal Gel. The names pretty much say it all and you'll experience longer sex and better orgasms, amongst other things. Working in tandem, both products tackle the most consistent bedroom issues in one stimulating swoop. The delay spray helps men stay the course while the arousal gel heightens female sensitivity. This is what we like to call win/win and you'll surely agree, should you put this combo to the test.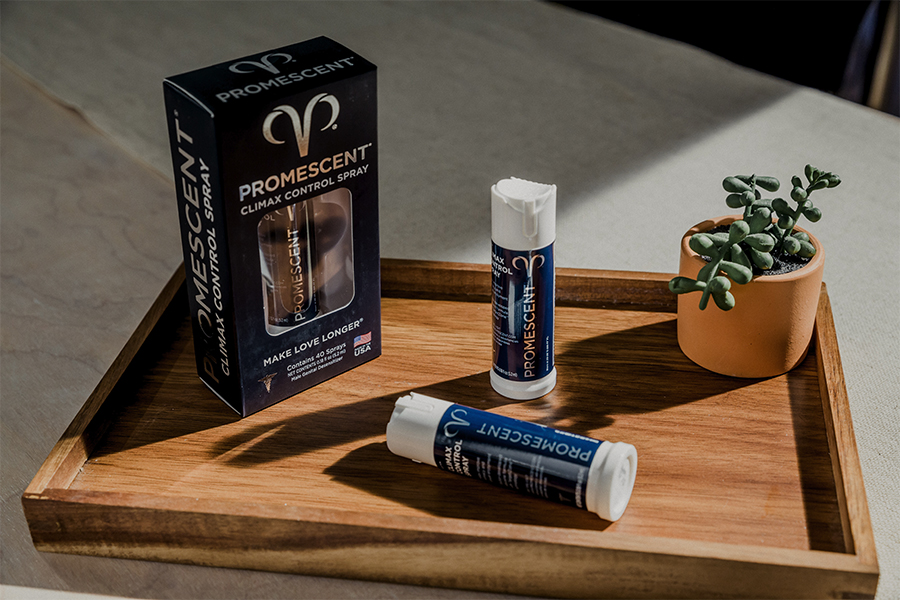 Here's everything you need to know about Promescent Climax Control Spray, aka the #1 recommended PE solution in America. Created by a renowned urologist, it's the only delay spray in North America that's backed by a certified IRB clinical study with statistically significant results. Thanks to a eutectic formula and patented TargetZone technology, the spray absorbs directly into the skin rather than just sitting on the surface and works in 7-10 minutes (just enough time for some quality foreplay). It doesn't require a prescription and nor does it deliver the side effect profile of other PE remedies. The last bit of great news? You can expect next-to-normal sensitivity instead of sheer numbness, allowing you to actually enjoy all those pleasurable sensations.
Don't worry–we didn't forget about her needs or desires (and nor should you). That's exactly where Promescent Female Arousal Gel comes into play with its hint of peppermint and two vasodilators. The peppermint generates an intense and warm buzzing sensation to stimulate her most erogenous areas, while the vasodilators promote healthy blood flow to the clitoris. Water and silicone-based, the gel is free from parabens and hormones. She can expect toe-curling orgasms and up to 25 minutes of sensual pleasure.
Bring Promescent Climax Control Spray and Female Arousal Gel into the bedroom and you'll be cranking that satisfaction dial allllllll the way up. To spell it out in just two words: BETTER SEX. It also means prolonged pleasure, intenser orgasms, and stronger chemistry between you and your partner. If the two of you are in a relationship, Promescent's product bundle will bring both of you closer together. If you're playing the dating game, prepare to stand out from the herd and in more ways than one. Naturally, she'll need to consent to the use of female arousal gel or any type of sex product. Trust is key no matter what the context.
Of course, female arousal gel and delay spray are but two amongst a stellar selection of sexual wellness products from Promescent. Founded and backed by the medical community, the brand tackles common sexual problems with a host of safe and innovative solutions. That includes high-grade lube, ultra-thin condoms, and a libido-boosting supplement, to name a few. Each product is made in the United States in FDA approved facilities that adhere to strict cGMP guidelines. Safe. Effective. Stimulating. Sexy. Get on it.