Turns Out, Shirtless Dating Pics Hurt Your Chances of Swiping Right
She's more likely to swipe right if you don't have a shirt on. So, mate, for the future of your dating life, cover up. According to a recent poll by Dating.com and The Dating Group, shirtless dating profile pictures hurt a man's chance of finding love online, asking its users to determine once and for all – shirt on or off? The results: on average, men with shirtless pictures displayed on their profile have 25 per cent fewer matches. Ouch.
You'll also like:
The Crazy/Hot Scale is Real and Supported By Science
The Simple Intimacy Hack Women Wish Men Knew
75 Funny Tinder Pick-Up Lines for Guys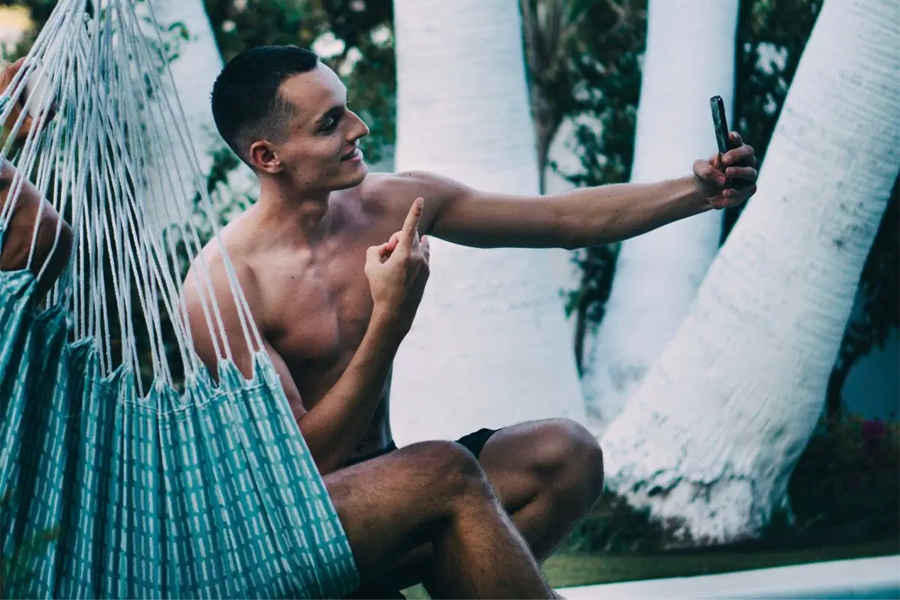 Revealing a significant disconnect between a majority of men, according to most guys, they believe shirtless pictures actually improve their chances of finding love. While the women just think it makes you look immature. Nearly 90 per cent of men believe that shirtless pictures help their chances of landing a match. Women, on the other hand, indicated that 66 per cent of them thought shirtless pictures implied a lack of maturity and self-awareness. To twist the knife a little further, 76 per cent of women said they'd be unlikely to consider dating a man without a shirt on. To put it bluntly, if you're shirtless, you're not the committed relationship type.
While 15 per cent did say they'd be open for hooking up, there was a small percentage (9 per cent) that said they'd be down to friendzone you. So the odds really aren't in your favour. Especially since three out of every five male dating profiles contain at least one shirtless picture, seriously, put a shirt on already! Curiously though, only one out of every five female dating profiles included at least one bikini/bathing suit picture. For the girls that went with showing a little extra skin, their chances of matching increased by 40 per cent compared to their covered up counterparts.
So what's the lesson here. Well, the experts over at the Dating Group recommend replacing any shirtless pictures. Go ahead and represent the real you; just do it in a less promiscuous manner. They reckon photos of your family, pet and travels are tried and true methods for landing a match. If you really are hell-bent on getting your kit off, they recommend waiting until you get to know each other well. So, boys, you gotta get that match first before you get to show her your manhood. The best bet is to plan a day at the beach.
Whatever you plan to do, Maria Sullivan, dating expert and vice president of Dating.com is "here to make online dating more effective for all involved by sharing what we know about dating preferences". "As masses of new users enter the online dating scene, given the current lack of in-person relationship-building opportunities amid the pandemic, we want to inform the public of common profile pitfalls before they miss out on a match."
So put that shirt on and go find that special someone online.
You'll also like:
The Crazy/Hot Scale is Real and Supported By Science
The Simple Intimacy Hack Women Wish Men Knew
75 Funny Tinder Pick-Up Lines for Guys