Should You Buy an Engagement Ring Online?
In Partnership with Janai
Virtually everything is available on the internet and engagement rings are no exception. Perhaps you're thinking of buying an engagement ring online at this very moment, and you figure you could save some money and time purchasing one online. While it may seem advantageous in part, buying a diamond ring online does come with some risks. If you want to make the perfect proposal, it's worth seeing the product with your own eyes. After all, you don't wing it when getting engaged in the first place, so the in-store experience may have the upper hand…or should we say finger?
Convenience vs Quality
At the risk of giving out obvious information, most engagement rings feature diamonds. As you may be aware, diamonds have a bevy of subtle details that can be nigh-on impossible to inspect online. One of those details is the laser inscription— which proves the diamond you are purchasing matches the official certificate—which can only be seen through a microscope. When purchasing a ring online, you don't have the chance to inspect the physical diamond inscription. Compare that to the in-store experience, where you can inspect the laser inscription along with the diamond's other attributes at your best convenience. You want absolutely zero risk when it comes to your engagement (or wedding) ring. Anything that goes wrong can cause delays in your romantic proposal or, in some cases, the wedding itself.
Professional Guidance Goes a Very Long Way
You may have a certain degree of diamond knowledge but you cannot consider yourself an expert no matter how much you read about the 4Cs online. You may even think, "some amateurs take the risk when buying an engagement ring online, but not me", but there is so much more to consider when purchasing a diamond. This is especially true amongst those who think they've scored a killer deal when, in reality, they've just purchased a low-quality diamond. You get what you pay for, as the saying goes, and it remains true. Professional and in-person guidance is definitely a must.
"But I know all about 4 Cs!" you say. Yet there are reasons why different diamonds with the same Carat, Colour, Clarity, and Cut vary in price. Factors such as fluorescence, the level of light transmittance, "hearts and arrows" patterning, type and position of inclusions, the tint of the diamond, diamond diameter, and other variables can all affect the value and quality.
By visiting a physical store and consulting with an expert, you can get a guarantee that goes well beyond the 4 Cs. They will walk you through every detail and answer every question (often before you ask it). Are the "hearts and arrows" perfect? Is the diamond milky or does it have a brown or green tinge? If it's a fancy-shaped diamond, does it have a bow tie or heavy make? This kind of information is pivotal for purchasing a diamond.
Furthermore, most diamonds look grey in photos and their level of fire and brilliance are not always best represented in digital images and videos, which can often make diamonds appear extremely white. However, this could be influenced by changes in lighting and instead of exhibiting visual accuracy, which may ultimately give a misleading impression. The last thing you want is to receive a diamond, only to find its colour doesn't match the one you saw online. There's also the matter of material. As with nearly all luxury goods (high-end designer bags, for example), the diamond's physical quality is something you can only glean in person. Even as technology improves, we're a long way from replicating the ability to personally inspect a product before it's shipped to our door.
Does Your Ring Design Suit your Finger?
Pardon our little "Lord of the Rings" pun, but the point remains that different people have different finger proportions. As a result, different carats suit different fingers. For instance, a 1ct round brilliant cut diamond may look big on some but small on others. When buying online, you won't really know how the ring looks on your finger until after you've made the purchase.
Think of it like when you buy clothes. You may assume you're a size M but then the parcel arrives and you realise the shirt's proportions don't fit properly or even look a bit silly. Engagement rings and wedding rings operate in a similar fashion but with far more importance.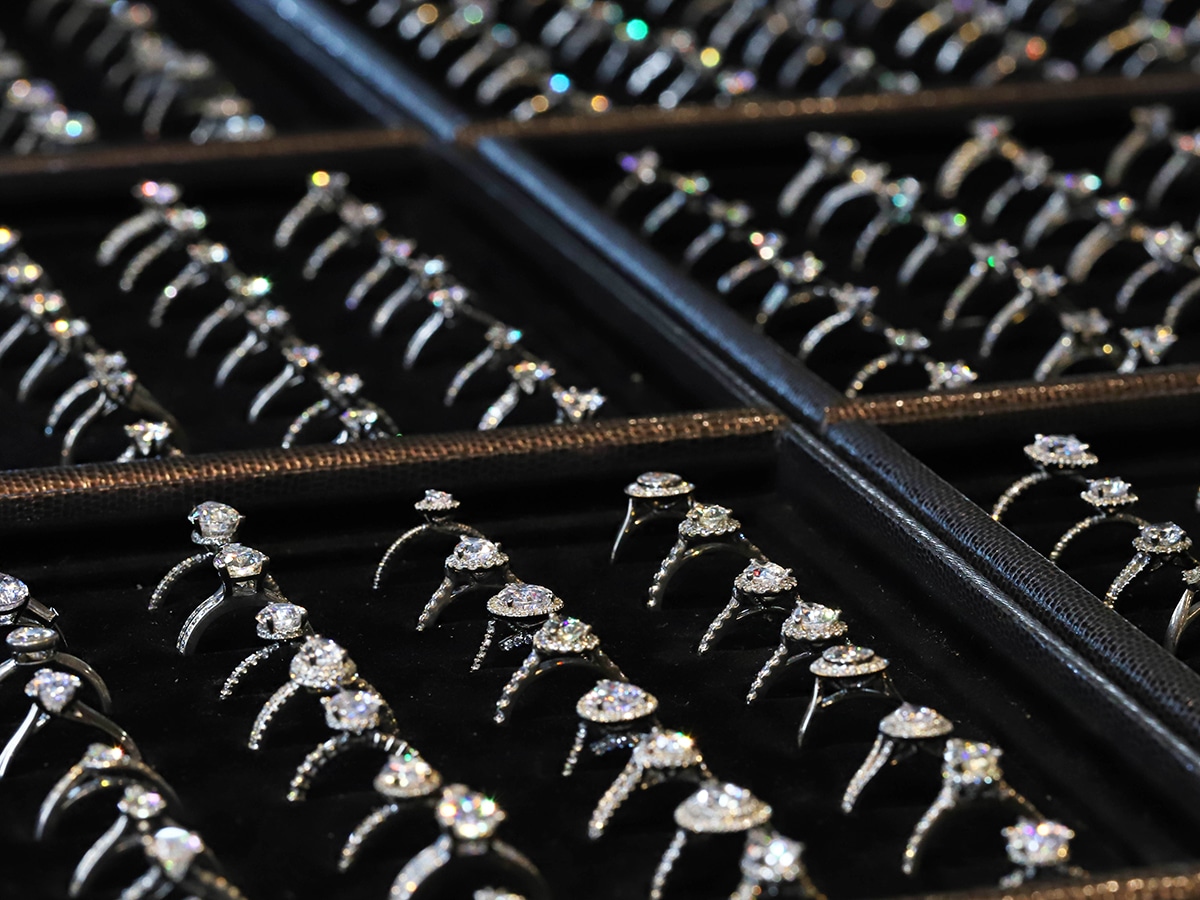 After-Care
As with all luxury purchases, after-care plays an important role, but it's not always as straightforward as you may think. Picture this – You've just purchased an engagement ring through an online store and it's only after checking out your cart that you realise the company is based overseas. This situation could introduce tax implications, potential delays, delivery concerns or even the prospect of a package that can be stolen straight off your doorstep. Now throw in the potential that your ring arrives and its colour doesn't match the photos or it doesn't suit your partner's finger proportions. A return situation is on the cards.
We could go on and on but you get the idea. From the initial inquiry through to after-care, you save a tonne of time and effort by dealing with a diamond specialist in a physical store. You can inspect the ring in person and explore all kinds of different options. If there's a problem after your purchase, you can visit the same store and once again deal with a physical human being. It's no surprise that an engagement ring is a symbol of love, but so too is the effort you put into buying one. Take the time to meet with an expert, inspect the diamond, and really understand the process on every level.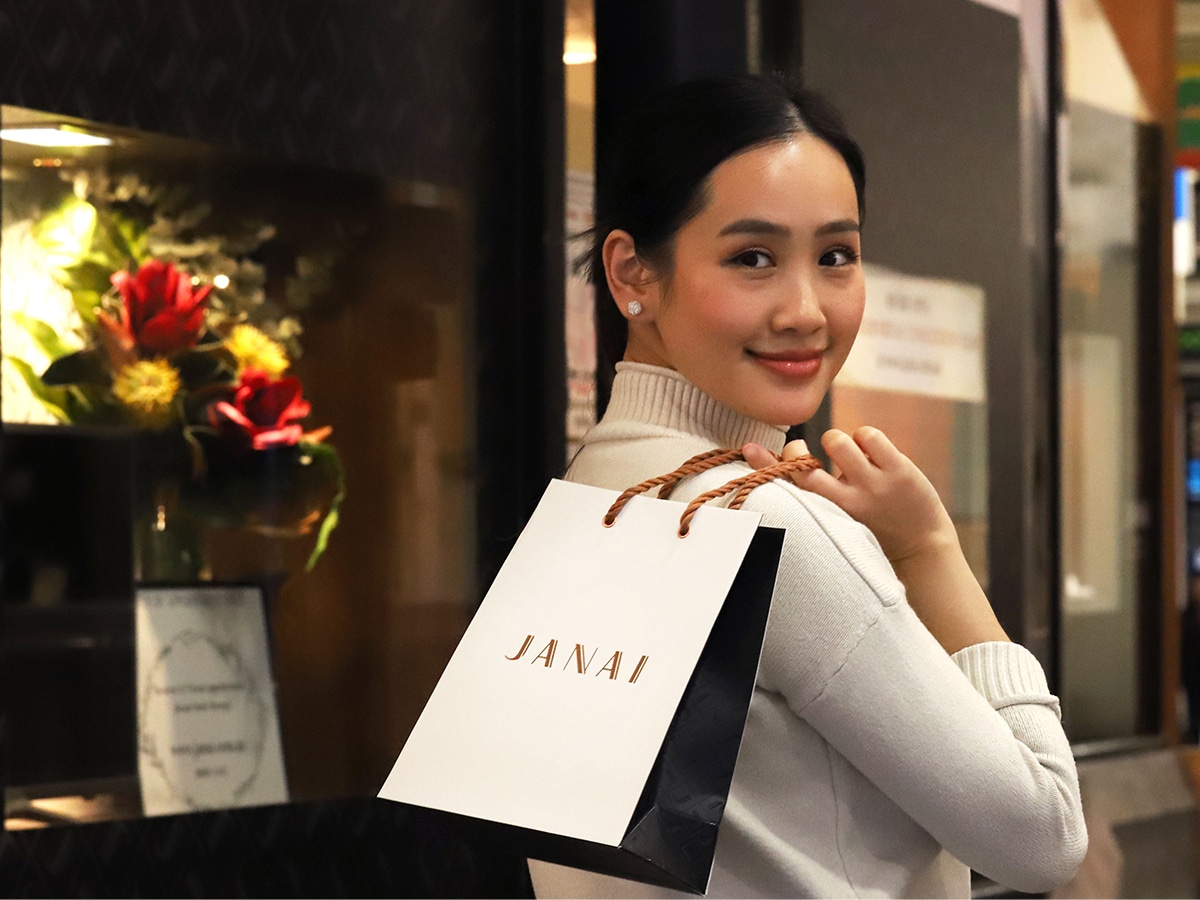 Janai Jewellery
If you want to avoid the potential hazards of buying an engagement ring online, it's time to head in-store, but not all physical stores are created equal. For a jeweller you can trust, look no further than Australia's own Janai Jewellery. Located in the heart of Melbourne, these folks have diamond knowledge and customer satisfaction down to a science. Their experts will guide you through each step of the journey—from selection to size adjustment to after-care—and consider every possible factor along the way. Whether you're custom-designing a ring or plucking one off the display counter, this is the place to do it. They also have stocked rings for emergency situations, and will even lend you a display ring to propose with whilst you and your loved one settle on something permanent.
To give you a better idea of the Janai experience, here are some quick pointers from one of their own diamond specialists:
The same company that sells you the diamond should also make the ring. This is just in case the diamond setter chips the girdle of the diamond or the jeweller damages your diamond during the setting stage.
Most stores outsource the setter, who often works within a limited timeframe. However, you can't rush the setting because this process ensures the diamond's lasting placement in the ring. We have our very own diamond setter right here in our Melbourne workshop.
A lot of stores mass-produce their "ready to go" rings using materials that contain nickel, a common allergen. These "ready to go" rings are also not made to the measurement of the diamond, which can be an issue if you're going for fancy-shaped diamonds (other than round) such as emerald, oval, radiant, pear, or cushion-cut. Consequently, the rings aren't structurally sound and the diamond risks falling out over time.
At Janai, every ring is specially crafted for each customer, by our own jeweller with the highest level of quality.
Visit a physical store instead to get the perfect ring for you and your partner and kick off a proper engagement before you've even popped the question. Janai Jewellery is waiting for your arrival.