Tested: Saint's Unbreakable Motorbike Denim
It would seem a little convenient (or inconvenient for me) to have an accident while testing motorbike denim, but that's exactly what happened. Whilst riding around Sydney on my Harley Davidson FXDR, a seemingly blind gentleman thought he would try and defy the laws of physics by driving through the American hog and my torso. Whilst I've always been an admirer of immersive journalism, I wasn't quite ready to take one for the team in this instance.
Thankfully both bike and rider rode away unscathed, however my dear friend in his hatchback left with a boot size scrape down the side of his car. Whilst I can take a small amount of credit for avoiding further destruction, it was Saint's Unbreakable motorbike denim that proved it's literally stronger than steel.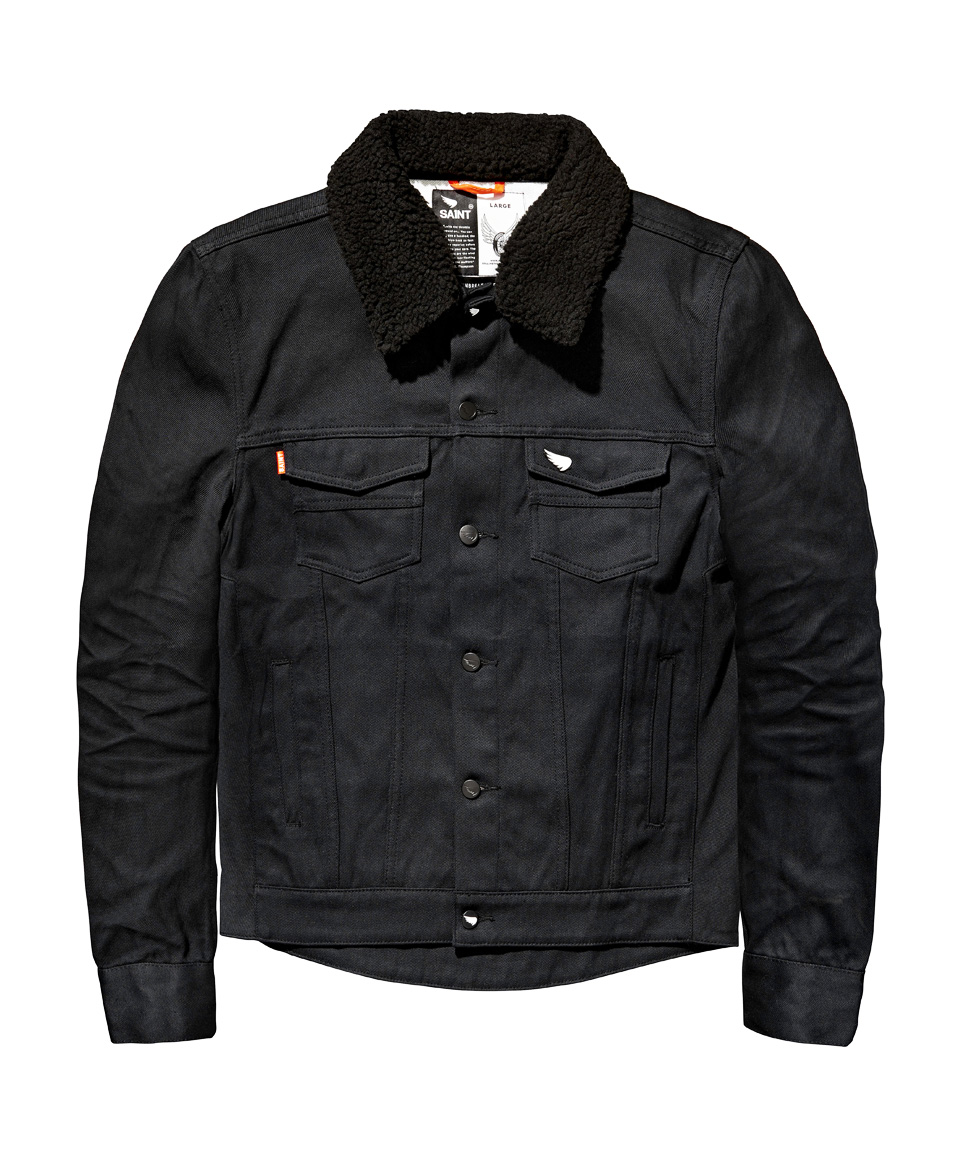 The first item of clothing to grace the Korean hatchback was my Unbreakable Denim jacket. Styled in the vein of vintage workwear and trucker jackets, Saint's version is more than just a pretty sleeve. Made from UHMWPE blended black denim, this little diddy offers 5.9 seconds of slide time protection before you start questioning your existence.
I've been wearing this jacket consistently for over a month now and it's genuinely hard to fault. It's adaptable to various occasions (the detachable fur collar adds to the versatility) and being black, it paired we pretty much everything. I found the buttons to be quite tight initially, but they wear in after a few dress ups and its wide temperature window means that it keeps you comfortable day or night.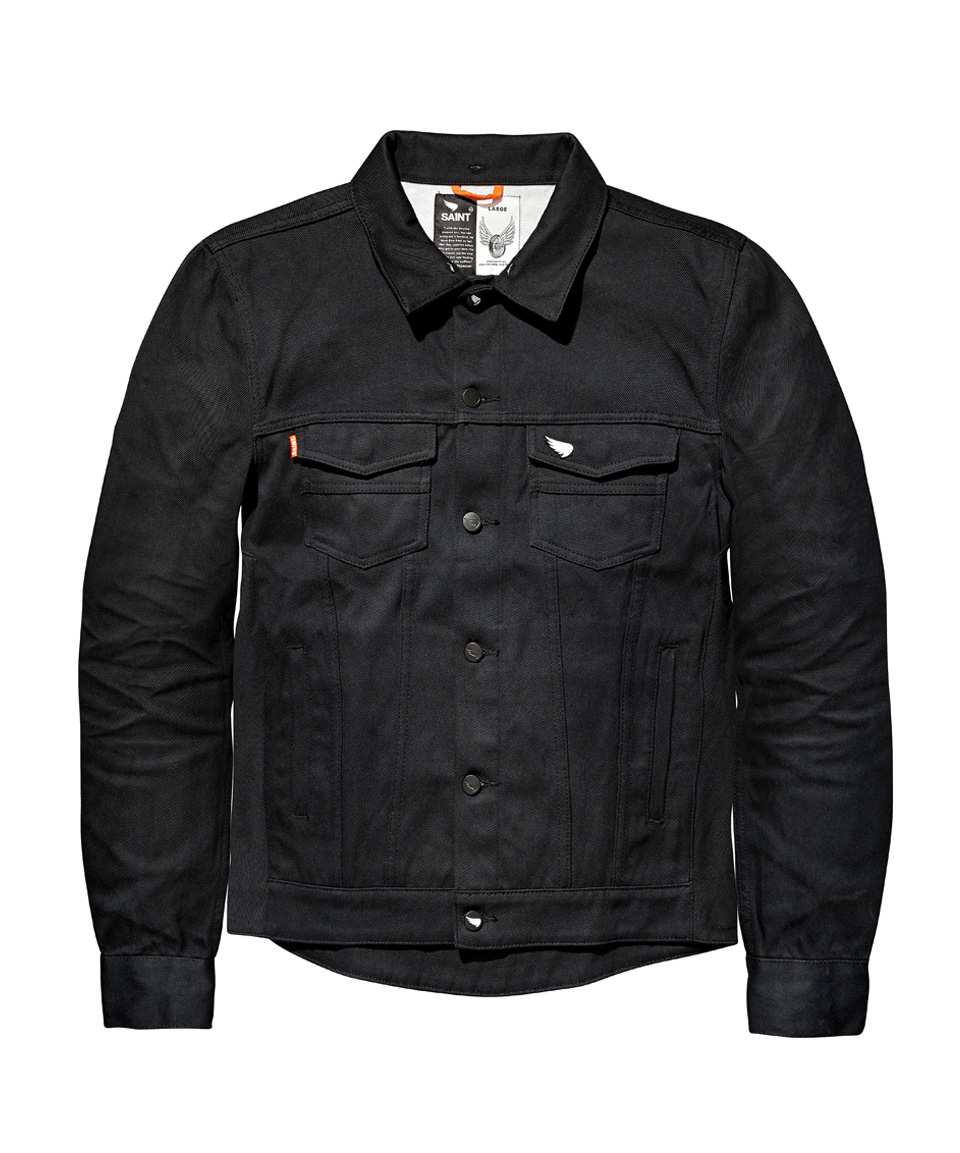 Protecting my legs from the rear bumper were Saint's Stretch Jeans. These pants fuse Unbreakable Dyneema fabric with pliable movement for a slim profile. The result is a durable denim that offers class-leading protection whilst looking like a nice pair of selvedge Jeans. Slide time is slightly reduced to 4.1 seconds due to the aesthetic benefits of the stretch, so try and slide on your jacket after that.
I've spent more time wearing the jeans off the bike than I have on it and they've been reliable companions. Saint use 12 indigo and two black baths to dye the jeans and then wash each pair for a unique shade of Jet Black Indigo. I'd recommend trying on the jeans in person if possible, as there is usually less leeway with stretchy garments.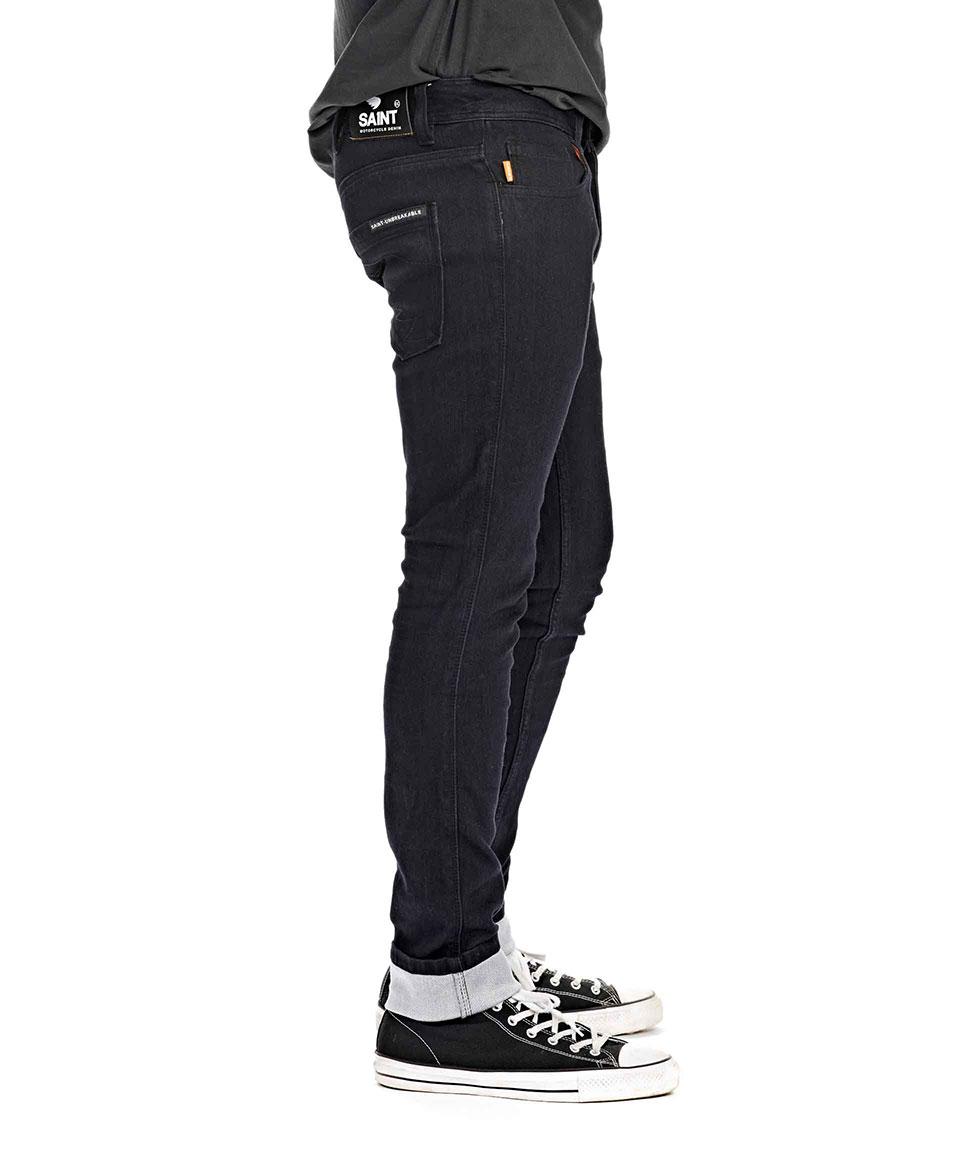 My previous motorbike clothes used to fit into two categories; very protective but looked ridiculous off the bike, or casual clothes that offered very little protection. I know that I haven't been alone in this predicament, and take my word for it, Saint has come up with the best solution to date. Their range of products makes very little compromise between the two.
They are exceptionally well made, extremely strong and they are tailored to a modern silhouette. Even if you're a minimalist, a piece of Saint's Unbreakable denim would serve you in almost any scenario possible. So stop risking your skin and invest in a piece of Saint's Unbreakable denim, it will be the best investment you'll make.