Travel Guide: 5 Epic Vanuatu Adventure Holiday Ideas
Australians are an intrepid bunch and love nothing more than seeking out a new adventure. But increasingly, we're staying closer to home to get our thrills. And why not? It's quicker and easier than ever before to hop on a plane and visit another part of the country or venture slightly further afield, and experience a new culture altogether.
Whilst the Goldie may have lost its sheen and Bali has been done to death, there are still places close to Australia where you can get your adrenaline pumping without pumping your bank account.
Just over three-hours from Sydney, Vanuatu is one such location and is quickly becoming a place of choice for those looking for an action-packed weekend, with incredible activities to do in the day and stunning locations to sink a few beers in the evenings.
Don't believe us? Check out the five reasons below this should be your next weekend adventure!
---
You'll also like:
10 Best Frequent Flyer Point Hacks
City Guide: 48 Hours in Honolulu
We Visited Mike Tyson's $27k Per Night Hotel Suite in Dubai
---
Diving SS President Coolidge
Fancy diving at a genuine piece of World War II history? Good news then, as Espiritu Santo is the resting home for the SS President Coolidge. Originally a luxury ocean liner, it was turned into a troop carrier during the Second World War. On a routine mission to receive orders from Noumea in the French territory of New Caledonia, it hit some mines and quickly sunk to the bottom of the sea.
This is one of the best, and biggest, wreck dives in the world and a bucket list dive. Be prepared to get up close and personal with incredibly well preserved human artefacts and military weaponry, from decorative porcelain statues to unopened bullet boxes.
And as it usually does, life found a way to turn catastrophe into an opportunity, converting the site into the home of an amazing artificial reef boasting a wide variety of marine life.
Zip Lining in Port Vila
Top of the list for the wannabe Tarzans out there is zip lining in Port Vila – the capital of Vanuatu. But it's not your usual urban jungle…in fact it's mainly just a jungle! Offering six zip lines and two suspension bridges that navigate the breathtaking views that overlook the ridgeline down to Mele Bay.
Climb the suspension bridge to get a true Indiana Jones feeling (minus the crocodiles awaiting below) and fly across an 80m canyon and back over the top of amazing waterfalls.
Buggy Fun in Port Vila
Buggies are fun – there's no denying it. Whether on the golf course, the sand dunes (bunkers don't count) or tearing through a dirt track – there's something about four-wheel ATVs that bring out the child in all of us. On the Buggy Tour of Vanuatu you'll discover the streets of Port Vila, stunning remote villages and, of course, a couple of dirt areas for a doughnut or two. There's no better way to experience the island of Efate than by going off the beaten track.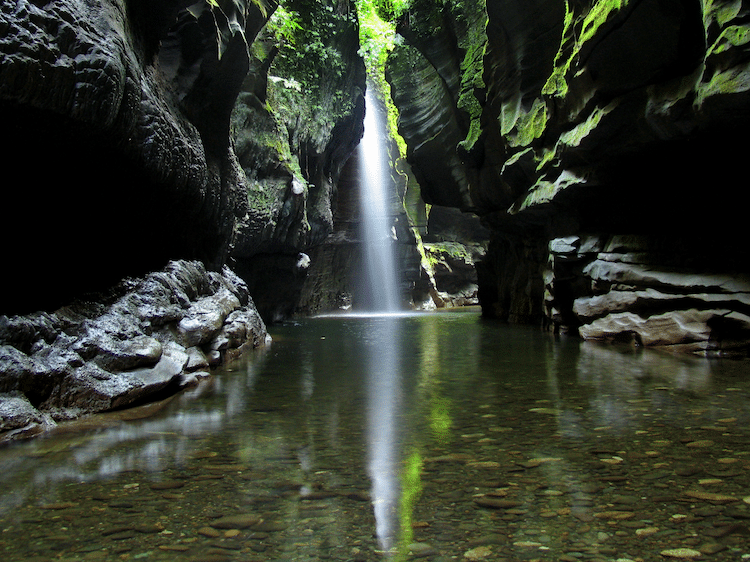 Millennium Cave Tour
Situated in south central Santo, the Millennium Cave Tour is a physically demanding trek through lush tropical jungles, expansive and dark (really dark) caves that reach 50m high and all before finding your way to stunning waterfalls. Not for the faint hearted, this will test your mettle as you traverse bamboo bridges, narrow jungle pathways and river torrents. But for your efforts? Memories of visiting the very heart of Vanuatu.
Break Some Fishing Records
You can lead a man to water, but good luck dragging him out if he has a rod and beer in his hand. Vanuatu is well known for its deep-sea fishing and the chance to catch everything from wahoo, yellow fin tuna and marlin to swordfish and dorado. What, no Nemo?
Sports and game fishing has also seen a big surge in recent years, so whether you enjoy simply dropping a line in and relaxing or you're looking to reel in the biggest catch, Vanuatu offers some of the most unforgettable fishing experiences.
And if you fancy trying to break a record, maybe give Crusoe Fishing a go as they that have won five world records and over 50 Vanuatu records. Go big or go home!
---
You'll also like:
10 Best Frequent Flyer Point Hacks
City Guide: 48 Hours in Honolulu
We Visited Mike Tyson's $27k Per Night Hotel Suite in Dubai
---
Have you subscribed to Man of Many? You can also follow us on Facebook, Twitter, and Instagram.