Footage of China's Record-Breaking Full Glass Bridge
Over the last few years, China's obsession with glass bridges has rapidly swelled, and for one good reason; they're super badass. There's nothing more fear-inducing and spectacular than running across a canyon on a clear-bottom bridge suspended thousands of feet in the air. Just this week, the quest for air supremacy continued in spectacular fashion, with the opening of a new structure in The Huangchuan Three Gorges Scenic Area in Lianzhou; a record-breaking build.
You'll also like:
Watch the Moment Sir Richard Branson Won the Billionaire Space Race
Comparing the World's Deadliest Animals by Deaths Per Year
These 'Between Two Ferns' Bloopers are Even Better Than the Show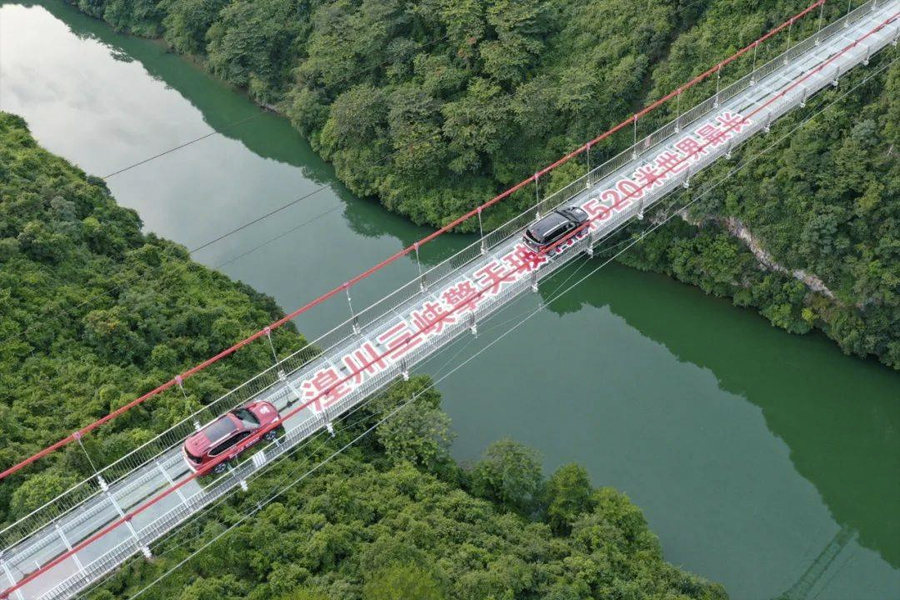 According to China State Media, the full-glass bridge is the world's longest, measuring in at 526.14 metres (1,726 feet). Representatives from Guinness World Records were also on hand at the July 18 unveiling to confirm the record.
Built over the Lianjiang River, the structure will reportedly be able to hold 500 tourists at once, on four observation decks at the middle of the bridge. It will be used for normal foot traffic, as well as for bungee jumping, zip lines and even as a catwalk for fashion events, China State Media revealed, however, the real test of strength came on opening day. Local carmaker GAC was invited to the ceremony promoting its new Triupchi GS8 SUV.
Event-goers looked on as the hefty vehicles made their first journey across the full-glass bridge, which is constructed from three layers of laminated glass that are 4.5cm thick. It's dicey footage, to say the least, but with the bridge claiming to be 99.15 per cent transparent, we can only imagine what the view straight down would have been.
According to China News Service, the bridge took three years to build and cost around 300 million CNY. Work was finished on the full-glass bridge in January, which now lays claim to the title of world's longest and ranks highly on our list of most butthole-clenching places to visit in 2020.
You'll also like:
Video Shows Workers on the Chrysler Building, 1929-1930
Comparing the World's Deadliest Animals by Deaths Per Year
These 'Between Two Ferns' Bloopers are Even Better Than the Show